German Soup Recipes 
These easy German soup recipes ("Suppen") will show you how to make soup with that traditional German taste. As well, these are methods that can be used to make almost any soup.
A staple in our house as I was growing up was soup. Not just any soup, but the kind Germans call "Eintopf" meaning a "one-pot" meal. For us, it was a very delicious and normal meal. Quick soup recipes is what it was for Mutti.
Once I was married, I realized why my Mutti made soup so often.
It was easy to make, easy to clean up after, and very economical.
The great thing was that there were so many, many different types to choose from.
Some were almost all vegetable, others more like a meaty stew.
Many of the recipes given below are easy versions of traditional soups. They use what you probably already have in your fridge or freezer, some water, and spices. That's it! Included are hints to make some of these quick recipes even quicker.
Check out Oma's new eBook below. Quick Fix Soups, 84 full-color  pages filled with step-by-step instructions and hints.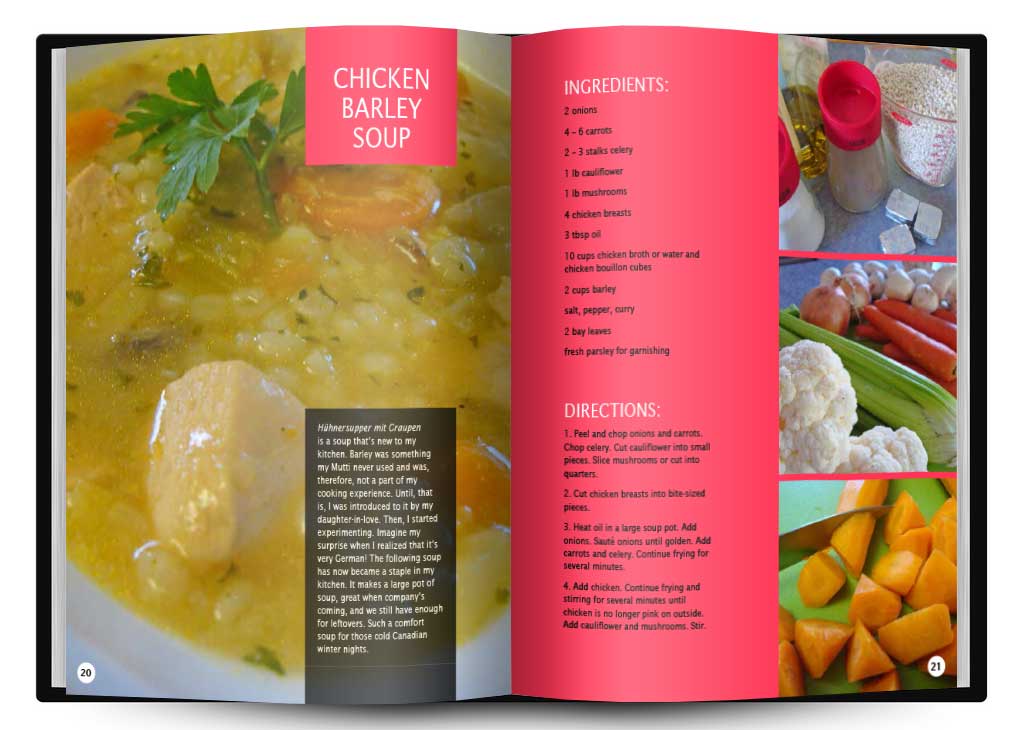 Recipe cards are included with the book. All the help you need to make traditional German soups quickly and easily.
Try these German Soup Recipes
Barley Soup - "stick-to-your-ribs" comfort food!

Broccoli Soup - so yummy!
Cabbage Soup - German comfort food at its best!
Carrot Soup - filling and nutritious, traditional German meal

Cheese Soup - creamy smooth and delicious

Chicken Noodle Soup - easy from scratch - YUMMY!

Chunky Potato Soup - serve this with a salad and some German bread

Cream of Asparagus Soup - a spring-time treat!

Cream of Mushroom Soup - canned soup and canned mushrooms

Green Bean Soup - a one-pot meal, add German bread and salad

Mark's Potato Soup - an adaptation of the original

Potato and Cabbage Soup - hearty enough for the hungriest

Potato Soup - quick creamy and chunky version of the traditional
Potato Soup with Dumplings - sent in by Nana

Red Lentil Soup - easily cooks up in 30 minutes

Sauerkraut Soup - traditional one-pot meal

Slow Cooker Split Pea Soup - start in morning before leaving

Turkey Rice Soup - easy turkey soup recipe from leftovers
Make every day a STRESS-LESS day!
"Give your burdens to the LORD, and He will take care of you." Psalm 55:22 (NLT)
---
Want nutritional information for a recipe? Copy and paste the ingredient list and the number of servings into Calorie Count. It will give you an approximate calculation.
---
Download FREE "Herbs & Spices in the German Kitchen" NOW
by Subscribing to my FREE monthly Newsletter
Experience Germany: food, people, country, & RECIPES!
---
Remember to BOOKMARK this page, so you can find your way back!
German Recipes
› Soups