German Soup Recipes 
These easy German soup recipes, aka Suppen, will help you make soup with that traditional German taste. It's what I grew up with. Not just any soup, but the kind Germans call Eintopf or one-pot meal. And, a delicious meal it was for us. Quick soup recipes is what it was for Mutti. Mutti taught me so much ...
 ... of course, I had to write my own soup cookbook! With the no-risk guarantee ... I know you'll LOVE it! There's 84 full-color  pages filled with step-by-step instructions and hints. Do take a quick peek ...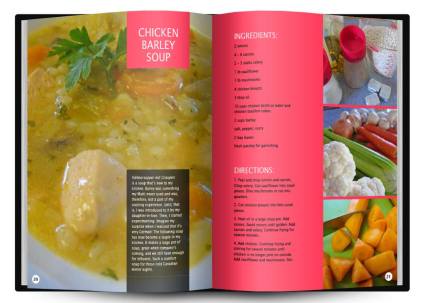 Recipe cards are included with the book. All the help you need to make traditional German soups quickly and easily.
---
Vegetable Soups
---
Beef & Pork Soups
---
Chicken & Turkey Soups
---
Miscellaneous Soups
---
Slow Cooker Soups
---
International Soups
---
Vegan Soups
---
Once I was married, I realized why my Mutti made soup so often. It was easy to make, easy to clean up after, and very economical. Some were almost all vegetable, others more like a meaty stew.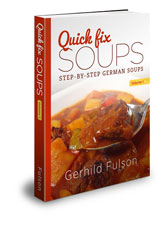 Many of my soups use what you probably already have in your fridge or freezer, some water, and spices.
Included are hints to make some of these Quick Fix Soups even quicker.

They are easy to make and economical as well.
Take a quick peek at my book ... at the bonuses ... with MY personal guarantee!
~ Oma Gerhild :)
*  *  *  *  *

Want nutritional information for a recipe? Copy and paste the ingredient list and the number of servings into Calorie Count. It will give you an approximate calculation.
*  *  *  *  *
---
---
---
Download FREE "Herbs & Spices in the German Kitchen" NOW
by Subscribing to my FREE monthly Newsletter
Just like Oma's Quick German Recipes
Experience Germany: food, people, country, & RECIPES!
---
---
Remember to BOOKMARK this page, so you can find your way back!

German Recipes
› Soups
Make every day a STRESS-LESS day!
"Give your burdens to the LORD, and He will take care of you." Psalm 55:22 (NLT)