Oma Shows How to Make Dumplings ~ Knödel & Klöße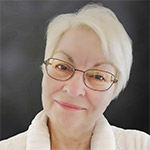 by: Gerhild Fulson  /  Cookbook Author, Blogger, German Oma!
Want to learn how to make dumplings, aka Klöße or Knödel, including the famous and very traditional potato dumplings? You'll find various recipes for those, plus some VERY strange ones in the list below as well.

The potato dumplings are more common in northern Germany and the bread dumplings in southern Germany. Why not give them all a try!
In the north, using either cooked potatoes, grated raw potatoes, or a combination of the two, having potato dumplings is one of the most traditional sides served for special occasions. This is German food at its best!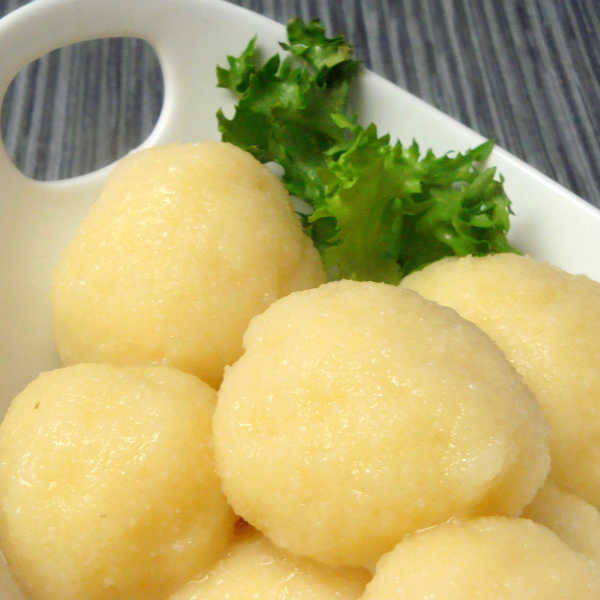 Traditional German Potato Dumplings are the most requested side dish for almost any dinner. Although these are easy to make, Mutti always kept a box or two in her pantry for those days when time was at a premium.
If you want to try something a bit different, there are the traditional bread dumplings that are so common in the Bavarian area of Germany.
It has an interesting method of making dumplings using leftover bread. The results are delicious. Great "soaker-uppers" of gravy!  
These bread dumplings were something I discovered on my first trip back to Germany after having left as a little girl. For me, dumplings ALWAYS meant potatoes. And, I really, really enjoyed my potato ones. 
It really took a step of faith to try these made with bread. Guess what? I got hooked! What a fabulous way to use up stale buns and bread. The only requirement was that one needs to have gravy :) That's true comfort food!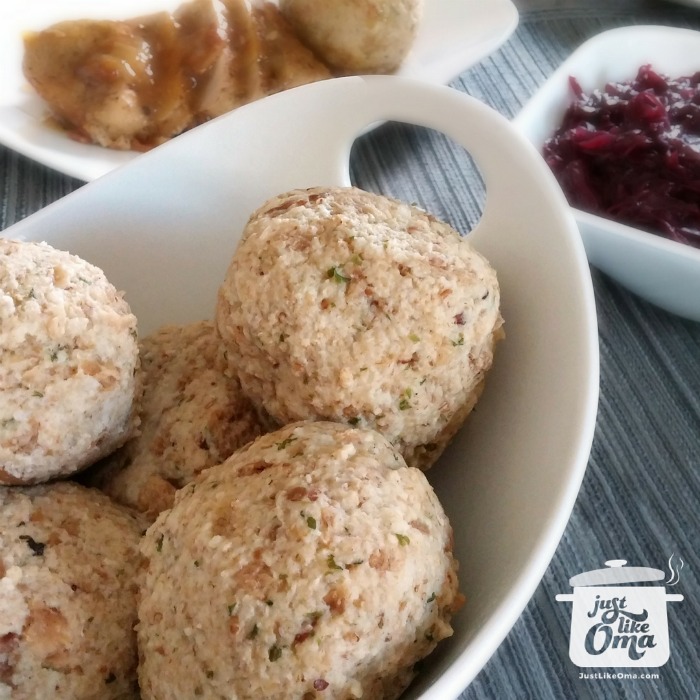 Making German Bread Dumplings are the perfect way to use up leftover bread. Use a good quality German, French, or Italian or homemade bread or hard rolls -- something with a bit of a bite! Slice and fry any leftover dumplings for an extra treat.
My Favorite Dumplings
My very favorite ones are the Thüringer Klösse. These are not only time consuming to make, but also quite a bit of work. Let me be more accurate ... these are my favorite ones to eat. As a child, these were not my favorite ones to make. I would spend, what seemed like hours (in my child's mind) peeling potatoes. :)
Easier are the potato dumplings made from cooked potatoes. Served with my rouladen alternative, flatladen, and sweet and sour red cabbage -- this is a favorite meal at our house.
These dumplings were one of my Mutti's favorites as well, because they were so quick to make. Of course, the homemade croutons in the middle add the extra touch of "delicious-ness".
Below you'll find various types of dumplings. Why not try them ALL and see which your favorites are?
Grab your copy of My Oma's Dumplings & Noodles e-Cookbook and make those traditional German treats for your family today!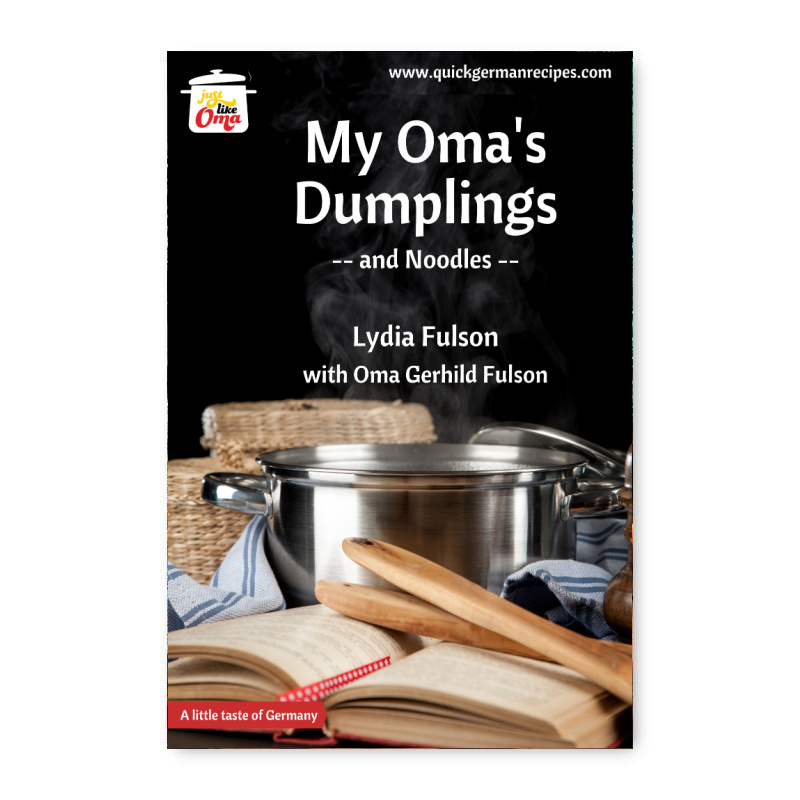 Take a peek at all Oma's eCookbooks. They make sharing your German heritage a delicious adventure!
Oma Says:
Make a Trial Dumpling First!
When I first started, and not knowing for sure if the dough would hold together, I'd just make all the dumplings at once and put them in the pot of gently boiling water.
After my first flop when they all fell apart, I learned to always try one dumpling first. If it held together, I'd form the rest and cook them then.
How to make Dumplings ...
---
Leave a comment about this recipe or ask a question?

Pop right over to my private Facebook group, the Kaffeeklatschers. You'll find thousands of German foodies, all eager to help and to talk about all things German, especially these yummy foods. 
Meet with us around Oma's table, pull up a chair, grab a coffee and a piece of Apfelstrudel, and enjoy the visit.

Make these Fächerkartoffeln aka Hasselback Potatoes with either regular or sweet potatoes. Make them extra crispy with cheese and breadcrumbs and you have a treat that's amazing!

Discover Oma's secret recipe for making crispy-skinned Bavarian Schweinshaxe (roasted pork knuckles). Authentic taste of Germany's traditional dish. Perfectly wunderbar.

German potato dumplings, aka Kartoffelklöße and Kartoffelknödel, invoke great memories of my Mutti's Sunday dinners. Using cooked potatoes, she created these scrumptious traditional dumplings!
*  *  *  *  *
PIN this ...
Make every day a day of JOY!
"Come everyone! Clap your hands! Shout to God with joyful praise!"
Psalm 47:1 (NLT)