Oma's Dampfnudeln ~ German Steamed Buns

➤ by Oma Gerhild Fulson
Dampfnudeln, those delicious German steamed dumplings (literal translation: steamed noodles), are the perfect recipe to learn since they can be used as a main course and a dessert course.
Thankfully, it's a recipe that's not at all hard to master. Just a bit of patience and watchfulness and you'll soon be enjoying this classic German food.
For the full list of ingredients & detailed instructions, see the recipe card at the end of this post. But before you scroll, there's important & interesting stuff to know right below.
Popular in southern Germany, these are usually something people remember from their Oma's kitchen.
Steaming hot Dampfnudeln with a silky vanilla sauce poured all around or enveloped in a most delicious gravy as shown below. (Yes, this is rouladen gravy. THE BEST!)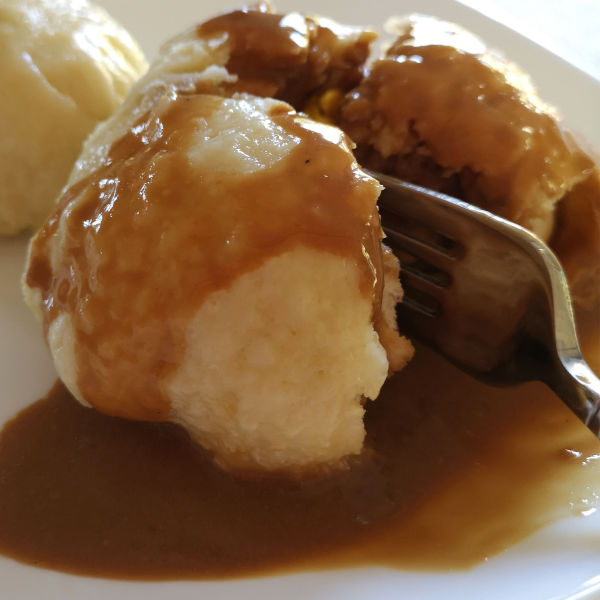 I was in such a hurry to eat the Dampfnudeln in the photo at the top, that I totally forgot to put the veggies on the plate. After all, who needs veggies when this steamed bun is drenched in rouladen gravy? Even the rouladen aren't necessary!
Dampfnudeln are also known as German steamed buns ... because they truly taste like freshly baked buns, only without a crusty interior ... but a yummy crusty bottom.

Show off your knowledge of German culture
 ... by NOT using a knife and fork to cut into these dumplings! Use two forks or two spoons to gently pull apart the steamed roll to expose the fluffy interior. 
Once pulled apart, pour in the gravy or sauce. Yes, you can use your knife and fork to help cut it into pieces to eat, but just make sure you use those 2 forks or spoons to start with :)
How to use leftover Dampfnudeln?
Although it's unlikely that there will be leftovers (unless you make more than you need), they are delicious sliced and fried in butter the next day. Topped with your favorite gravy/sauce, you'll enjoy them this way as well. 
I've also added the leftover Dampfnudeln on top of some simmering goulash soup I was cooking the following day. Covered and left to warm, they were ready to eat in about 5 - 10 minutes and fit wonderfully with the soup. A yummy "left-over" meal. Tasted just like freshly-made.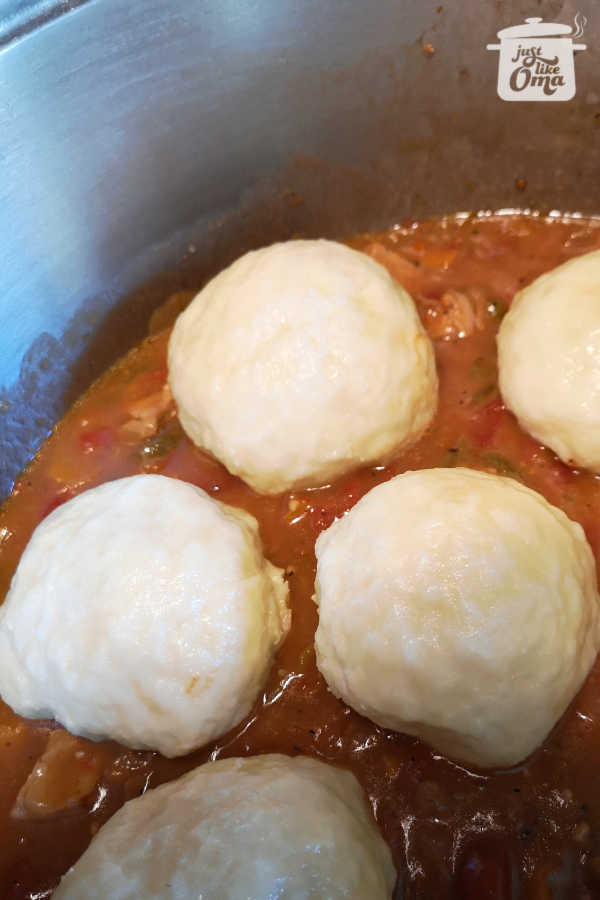 How do you test yeast to see if it's still good?
Yeast is a living organism. At least, it should be for it to work in baking. That's why the little packets one buys have an expiry date. 
I had a packet lying around and, oops, it was expired by just 2 months. I figured I'd test it first and see if it still had life in it. I'm glad I tested it. Below, you'll see the result. On the left, the expired pack and on the right, a fresh pack.
Just put 2 tablespoons lukewarm water into a small bowl. Lightly stir in 1 teaspoon sugar and 1 teaspoon yeast. Let sit, undisturbed for 10 minutes.
It should get all bubbly and increase in volume. If it does, go ahead and continue with the recipe. If not, STOP! Don't even attempt to bake with this. It will be a flop! Ask me how I know ;)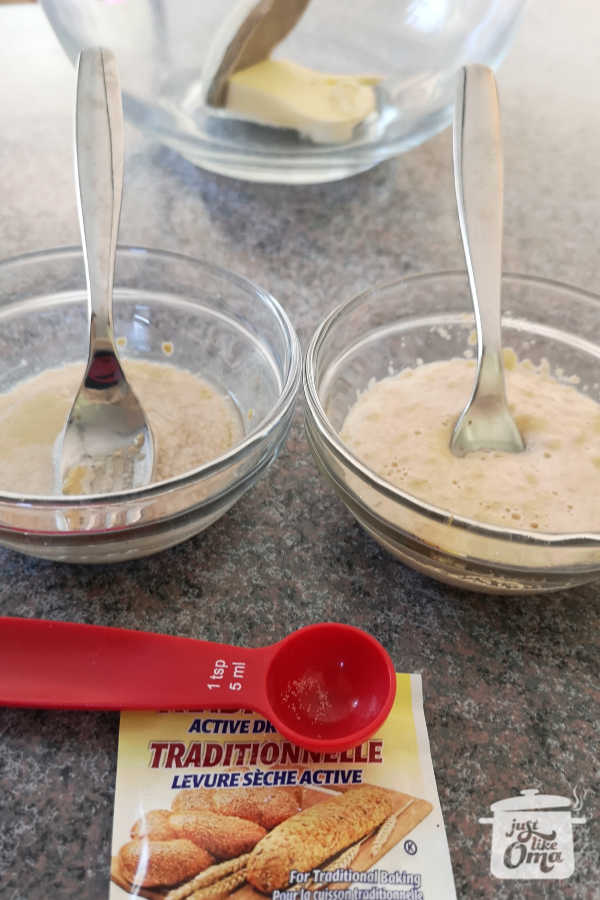 Before you start, pre-warm your eggs!
When baking with yeast, all ingredients should be at room temperature. 
But, what if you forgot to take the eggs out of the fridge earlier to let them warm up? Easy, just submerge them in a bowl of very warm (not hot ... you don't want to cook these!) water while you wait for the yeast to proof.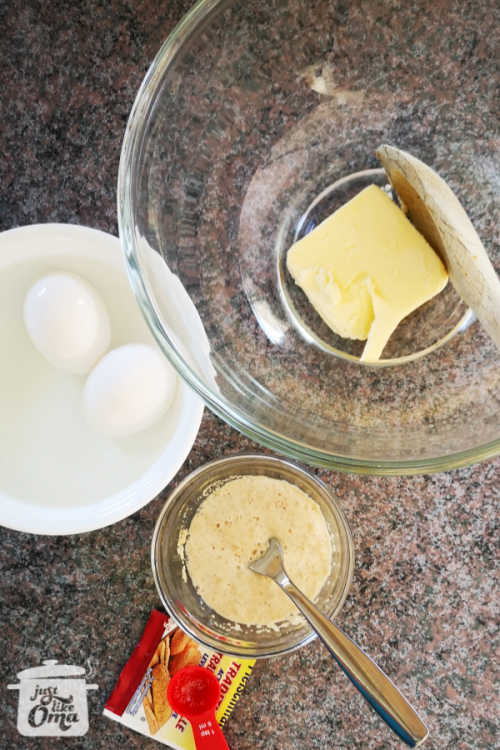 ---
Lydia Remembers ...
I have so many wunderbar memories in the kitchen with my Oma and have had MANY of her most popular and traditional recipes, like this dampfnudeln!
I have had lots of dumpling recipes with Oma, and this one is certainly one of the favorites, especially with gravy. If there's one thing I learned about German dumpling culture with this recipe, it's that you ALWAYS pull it apart first with two forks before pouring gravy inside. 
I thought that this was a pretty fun tradition! My sister and I used to make mashed potato 'volcanoes' when we were younger and make a hole in our potato mountain with a fork before pouring gravy inside it. This new dumpling tradition reminded me so much of that! I love when food brings back special memories.
Oma's dumplings are so lecker, and every bite is a treat. With the moist, soft, gravy-covered goodness, what's not to love! Dumplings are a must-have at a German family dinner! Your family will love this recipe. It's fun to make and eat, and best of all ... it's made the best way, the German way!
Learn a little bit about me, Lydia, and my kitchen adventures with Oma!
---
Is your yeast good? Are your eggs warm?
Ready to make Oma's Dampfnudeln?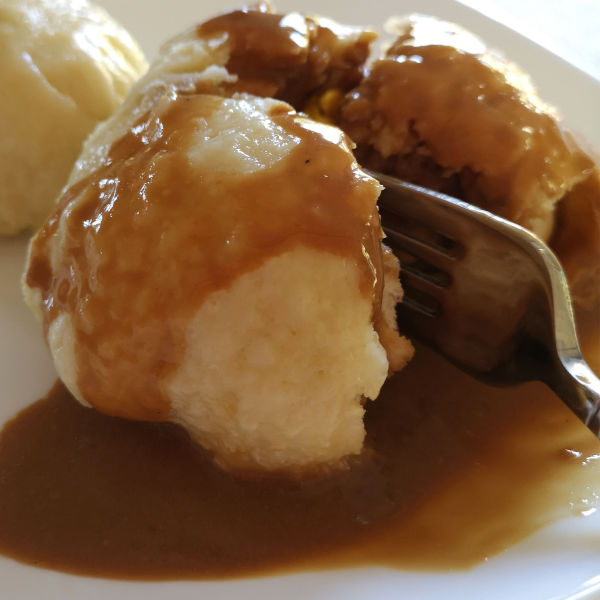 Oma's Dampfnudeln ~ German Steamed Buns

Dampfnudeln, those delicious German steamed dumplings (literal translation: steamed noodles), are the perfect recipe to learn since they can be used as a main course and a dessert course. Yummy with vanilla sauce.
Thankfully, it's a recipe that's not at all hard to master. 

Prep Time


20 minutes


Cook Time


30 minutes


Total Time

50 min + 1.5 hr rising

Servings:

Makes 8 - 10 dumplings
Ingredients:
Yeast Dumplings:
2 tablespoons lukewarm water
1 teaspoon granulated sugar
1 teaspoon active dry yeast
¼ cup lukewarm milk
Optional for sweet dumplings: 2 tablespoons granulated sugar
¼ cup soft butter
¼ teaspoon salt
2 large eggs
2 - 2½ cups all-purpose flour
Poaching Liquid:
1½ cups milk
3 tablespoons butter
pinch salt
Optional for sweet dumplings: 1 tablespoons granulated sugar,1 teaspoon vanilla, lemon rind
Instructions:
Grease a baking sheet and set it aside.
 To make the dumplings, add the water into a small bowl, add the yeast, and 1 teaspoon sugar. Stir and let sit 10 minutes. (This mixture should become bubbly, indicating that the yeast is "alive & working". If it's not, throw out and use new yeast.)
In a large bowl, cream the butter with the 2 tablespoons sugar (if using) and add the eggs, milk, and salt. Stir in the yeast mixture. Mix in enough flour to make a rough dough. Turn out onto a lightly floured surface and knead well until a smooth dough forms, adding more flour as necessary. Put the dough into a clean bowl. Cover and let sit in a warm draft-free place until double in size, about 1 hour.
Punch down. Shape the dough into 8 to 10 dumplings (about 1-inch in diameter)
Place the dumplings onto the greased baking sheet. Cover lightly and let rise about half an hour in a warm, draft-free place.
In a large saucepan with a tight-fitting lid, place all the poaching ingredients. Bring to a simmer. Add the dumplings, making sure they are not overcrowded.
Cover and simmer over low heat for about 20 to 25 minutes until you hear the butter sizzling meaning that all the milk has evaporated. Do not open the lid during this poaching time or the dumplings will stop rising. 
Open the lid, either as soon as you hear them sizzling or at 25 minutes even if you don't hear them sizzling. Check that the tops are firm to the touch. Leave the lid off and continue to simmer to evaporate any remaining liquid and let the bottoms become browned in the butter.
Serve immediately, using two forks to make a hole in the top of the dumpling into which gravy or vanilla/fruit sauce is poured. 
Notes/Hints:

The "sweet" dumplings can also be served with a topping of melted butter, poppy seeds, and sugar
If you use a glass-lidded saucepan, you can watch to make sure everything is simmering properly
*  *  *  *  *

Unless otherwise noted recipe, images and content © Just like Oma | www.quick-german-recipes.com

Leave a comment about this recipe or ask a question?

Pop right over to my private Facebook group, the Kaffeeklatschers. You'll find thousands of German foodies, all eager to help and to talk about all things German, especially these yummy foods. 
Meet with us around Oma's table, pull up a chair, grab a coffee and a piece of Apfelstrudel, and enjoy the visit.

Vanillekipferl are melt-in-your-mouth vanilla crescent cookies, similar to shortbread cookies made with ground almonds. Austrian & German traditional Christmas cookies!

Oma's Christmas Stollen is the BEST. Why? Because it's always moist, has a wonderful flavor using Greek yogurt (instead of Quark) and is super quick to make. And it's got Marzipan in it!!!

Oma's Lebkuchen recipe is SO easy. Made in one bowl, baked, decorated, & cut. It's authentic German gingerbread that smells like Christmas. The bars taste wunderBAR!
*  *  *  *  *
PIN to SAVE this recipe to your Pinterest board!
And let's be friends on Pinterest!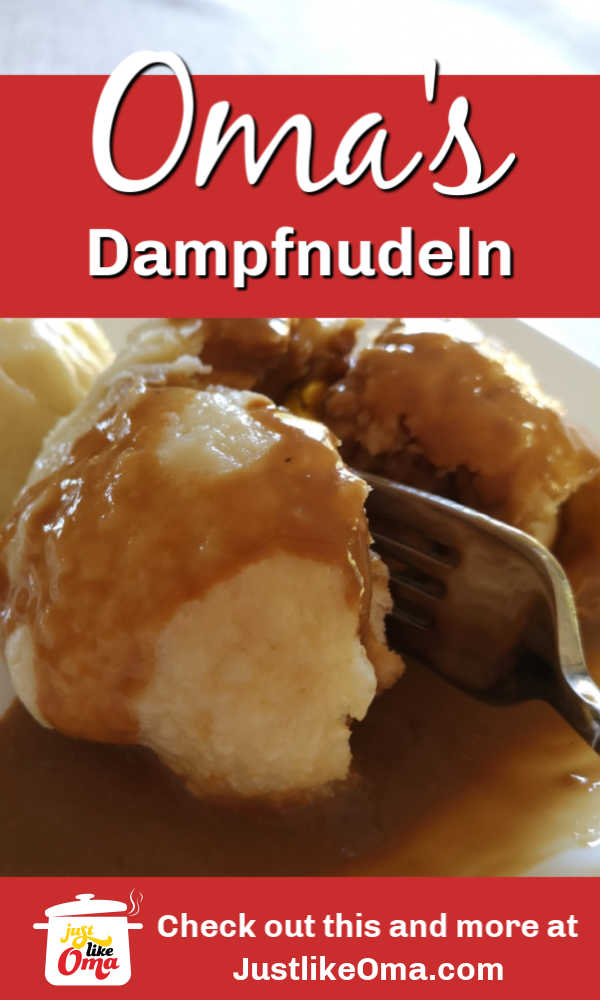 ---
Oma's Dampfnudeln ~ German Steamed Buns


By
Oma Gerhild Fulson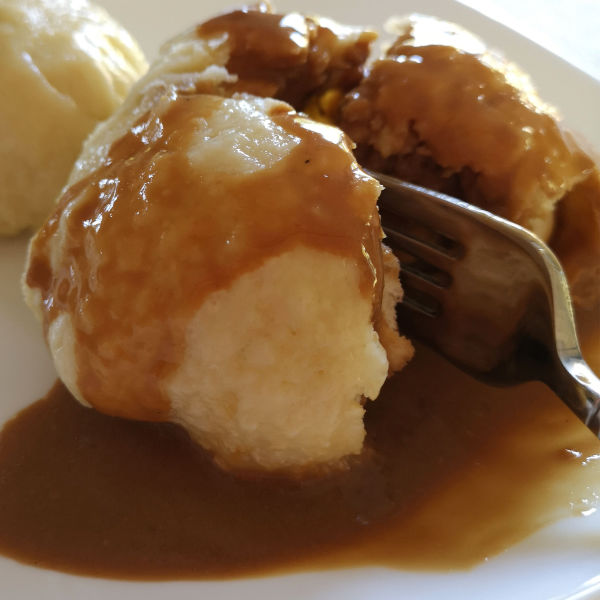 Dampfnudeln are the German steamed buns that are used either as a main dish or a dessert. They surely bring back memories of Oma's kitchen and are easy to make.

Ingredients:
sugar,
yeast,
milk,
butter,
eggs,
all-purpose flour,
For the full recipe, scroll up ...
Words to the Wise
"Gray hair is a crown of glory; it is gained by living a godly life."
Proverbs 16:31 (NLT)