Oma's Kartoffelklöße – German Potato Dumplings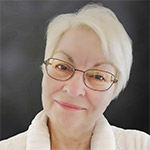 by: Gerhild Fulson  /  Cookbook Author, Blogger, German Oma!

This post may contain affiliate links, which means I'll receive a commission if you purchase through my links, at no extra cost to you. Please read full disclosure for more information.
German Potato Dumplings, aka Kartoffelklöße or Kartoffelknödel, bring back great memories of my Mutti's Sunday dinners. Her recipe used cooked potatoes to create a traditional dumpling that goes well with almost any meat and gravy.
I found this recipe, the one I've added below, in my Mutti's handwritten cookbook.
It is one that I have made often, always with success ... and always brings me back to sitting at a wonderfully laden table, usually with rouladen and red cabbage.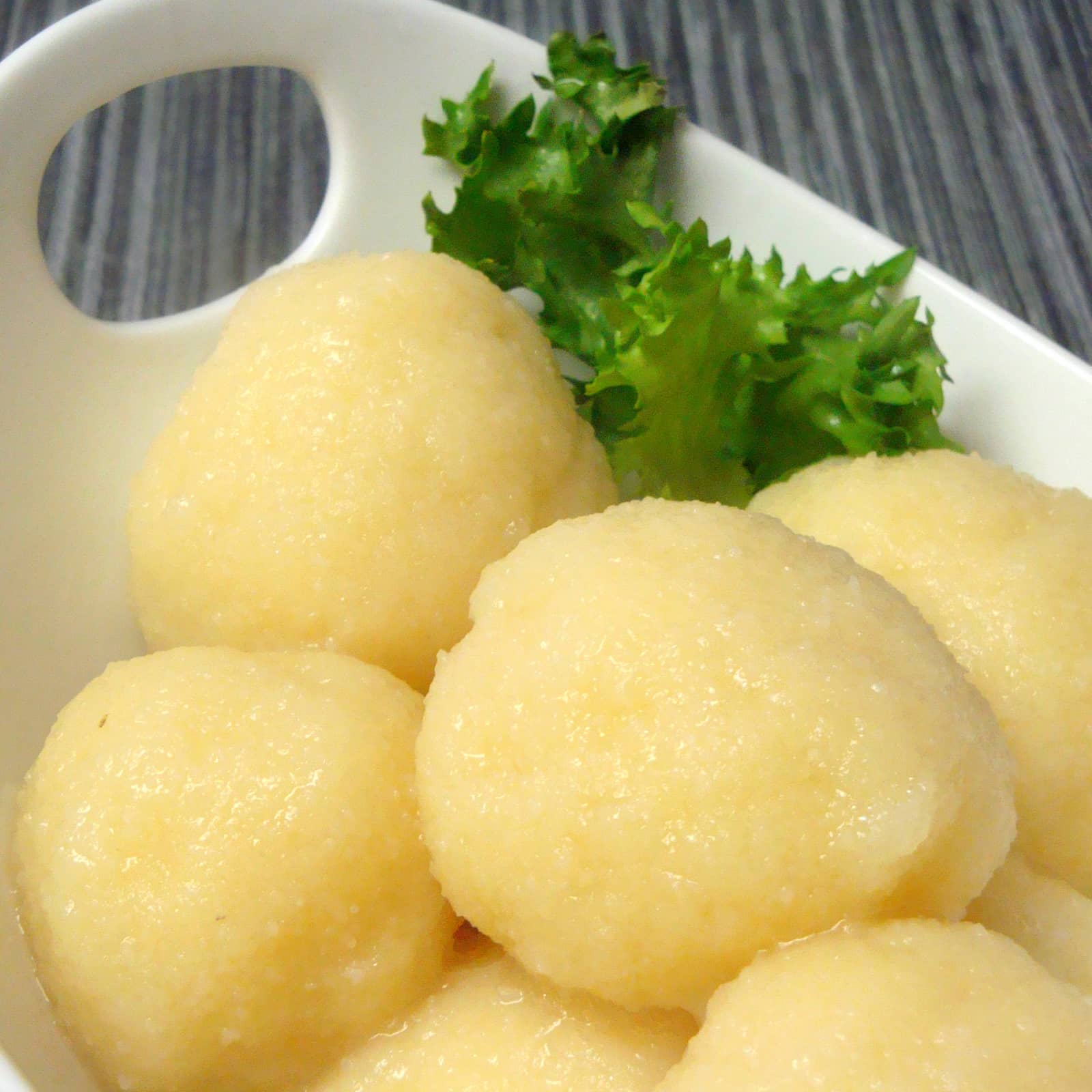 There really is NOTHING that compares to having potato dumplings as the side dish to a meal that has gravy. It's the PERFECT pairing! Mutti really did know best!
This page in her cookbook for potato dumplings is so worn!

Why? It's THE traditional side dish that she served with almost any meal. It's German food served at its best!
Although it was always served with rouladen, it was just as delicious with her sauerbraten or pork roast.
Best of all was that if there were leftovers. They tasted so fabulous sliced and fried in melted butter the following day. Served plain or with leftover gravy ... memories!
Below, I've served them with some leftover Dicke Bohnen and Speck. (That recipe is in my book, German Meals at Oma's.)
Perhaps make a double batch of Kartoffelklöße, just to have leftovers!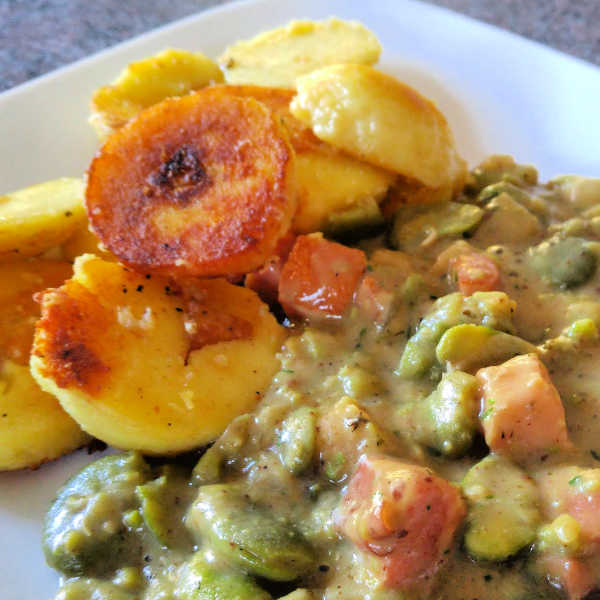 OH, MY! Doesn't this look delish? I always set out to make more potato dumplings than needed, just to have leftovers in order to fry them up the next day.
These dumplings really taste best when they've got the butter-fried bread croutons in the middle, so try not to miss that step, even if you're in a hurry.
There's also a super good reason to put the crouton in there. They ensure that the center of the dumpling is cooked!
How do the croutons do that?
Well, since there's no 'raw' dough in the middle, the dumplings cook quicker and through and through. I don't think I explained that well, but, I think you'll understand once you make them. :)
Grab your copy of My Oma's Dumplings & Noodles e-Cookbook and make those traditional German treats for your family today!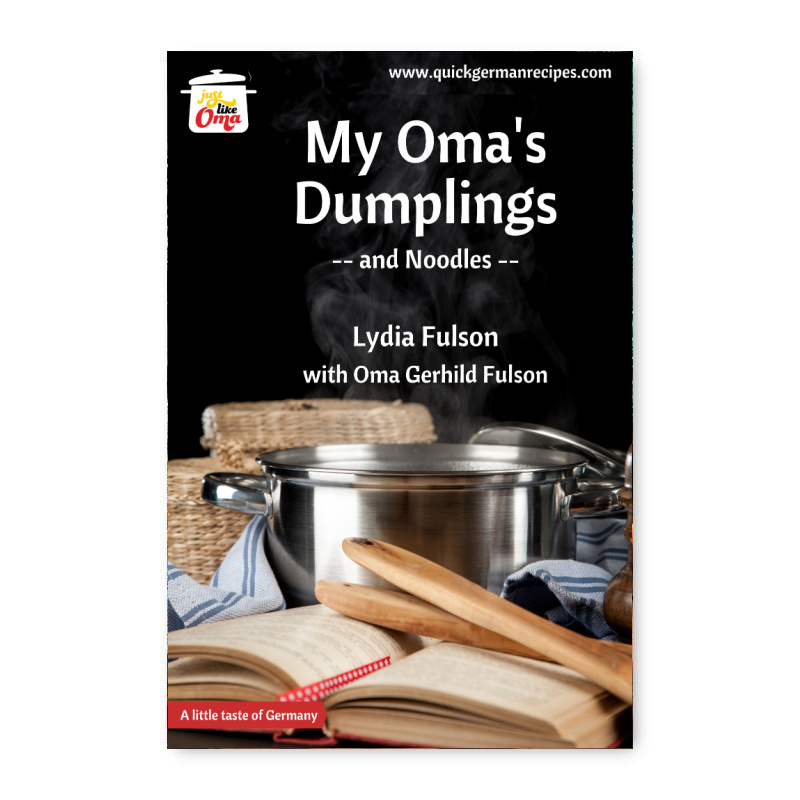 Take a peek at all Oma's eCookbooks. They make sharing your German heritage a delicious adventure!
What are the best potatoes to use for Dumplings?
The best potatoes to use for potato dumplings are:
Russets, a starchy baking potato
Yukon Gold (my favorite), an all-purpose potato 
How to make potato dumplings from scratch:
Either cook your potatoes the day before or early on the day that you need them. Don't peel beforehand. Cook them in their skins.
Once they are done (a knife poked in them slides easily to the center), let them cool slightly before peeling. Rice or mash the potatoes and place in fridge until cold or overnight.
The best way to make riced or mashed potatoes

The best tools to use are:
a food mill
an old fashioned potato masher
a potato ricer or potato press (my favorite)
DO NOT USE A MIXER unless you want gummy mashed potatoes resulting in gummy dumplings. Not a good result.
I prefer to use a potato ricer. If the potatoes have become cold, they are harder to press through. Therefore, it's best to do this while the potatoes are still quite warm. 
Now then, it's on to make the potato dumplings! 
But first you'll want to make the bread croutons, if you are using them. I explained the purpose for the croutons above, but for me, the real reason for including them in the middle of the dumpling is the flavor. They just taste so great!

Once the croutons are ready, it's time to make the dumplings. Add the ingredients to the cold riced potatoes, either on the counter or in a large bowl.

You can use either potato starch, potato flour, or cornstarch. The potato starch is more traditional, but since it wasn't available for my Mutti, she subbed in the cornstarch and it worked just fine.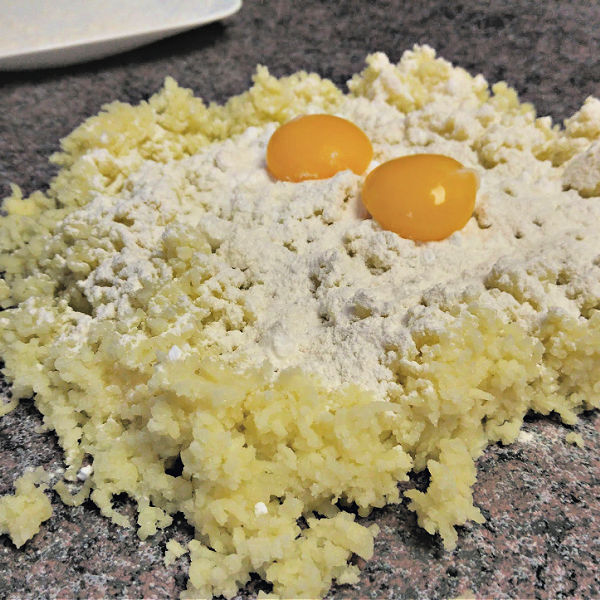 Mix together with your hands until the dough holds together. Then divide the dough into portions and form the dumplings.
I like to use an ice cream scoop to measure out the dough. That way the dumplings are similar sizes.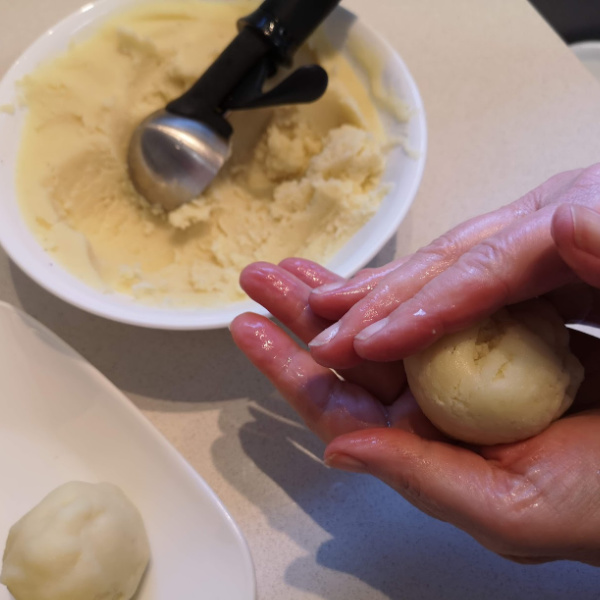 To keep the dumplings from sticking to your hands when you are forming them, you can either wet your hands with water, or dust your hands with flour. Either way works.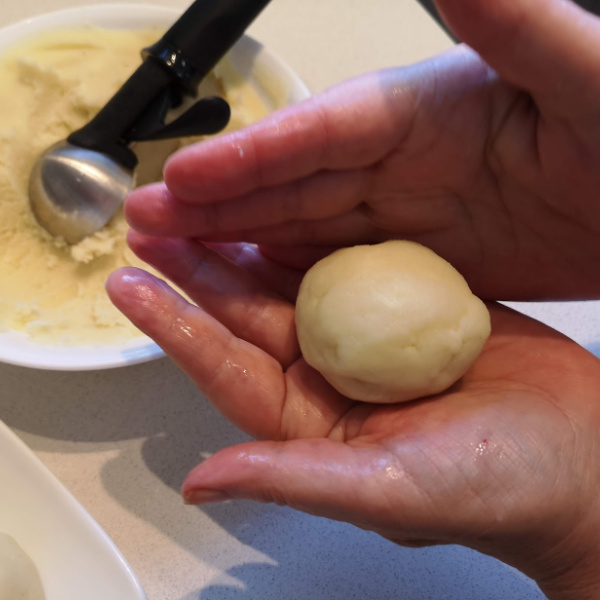 Make sure you hide a couple of croutons in the middle. Push the croutons into the middle and then re-roll the dumpling to make sure the opening is totally closed.
Gently drop them into lightly salted, simmering water. They will sink to the bottom. As the water comes back to simmering, gently stir them so that they don't stick to the bottom.
Very gently simmer the dumplings. It's said that they are ready once they rise to the surface of the water.
For me, they often rise to the top shortly after they start to simmer. I let them continue to simmer for the 15 to 20 minutes, in order to assure that they are cooked through.
When they are finished, remove them with a slotted spoon and serve immediately.
---
How to keep your potato dumplings from falling apart:
Test cook one dumpling to make sure it stays together, before you cook the rest. If it doesn't, you'll need to add a bit extra starch or liquid, depending on how sticky or dry your potato dough is.
By the way, that 'test' dumpling is a great treat to nibble on while you cook the rest of the dumplings. One of the advantages of being the cook!
---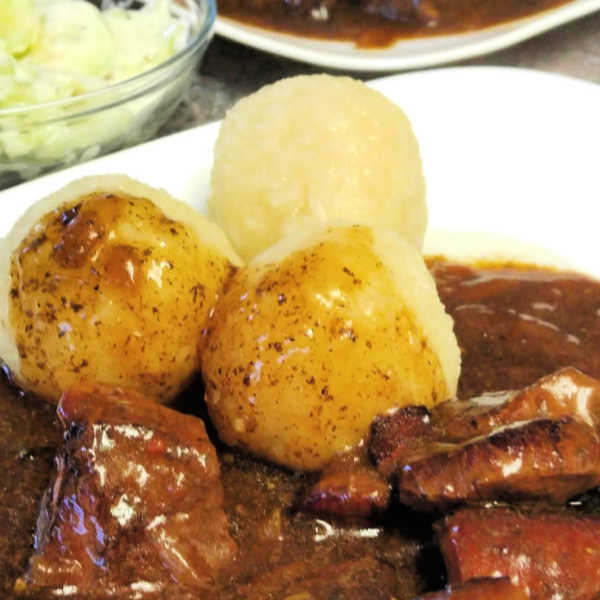 Potato Dumplings and gravy. The perfect pairing. Add some meat and veggies. A dinner fit for royaly.
For me, it's most important that there is LOTS OF GRAVY! Rouladen gravy or Flatladen gravy is best!

---
My Mutti ...
She had another recipe she often used, but I can't find a copy of it anywhere. She called it "Halbseidene Klösse" meaning "half-silk dumplings."
I remember her using a mixture of boiled potatoes and raw potatoes. Not sure if this was her attempt to mimic the Thüringer Klösse and minimize the work.
However, these potato balls that I've posted here, were the ones she made especially as she was older, because she loved to do as much work ahead as she could.

That meant she'd cook the potatoes and rice them the day before, so she could quickly mix up the dumplings just before we came to visit. And, she'd always insist we come for dinner (how could we refuse?) since she enjoyed seeing us enjoy her food.

Ready to make this German dumplings recipe?
Is the recipe below locked? Here's why.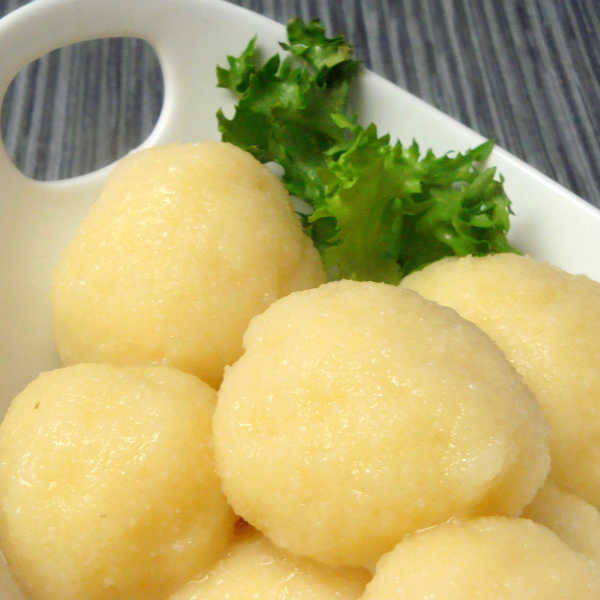 Oma's Kartoffelklöße – German Potato Dumplings

These delicious potato dumplings, aka Kartoffelklöße or Kartoffelknödel, invoke great memories of my Mutti's Sunday dinners. These classic dumplings are the perfect side dish that go well with most meat dishes, especially sauerbraten and gravy.
I found this recipe in my Mutti's own handwritten cookbook.
Prep Time


30 minutes


Cook Time


25 minutes


Total Time

55 minutes

Servings:

This will make 4 servings.

Ingredients:
about 2¼ pounds (1.14 kilograms) starchy potatoes, cooked in their skins
4 slices day-old bread
2 tablespoons (28 grams) butter
about 1⅓ cups (203 grams) potato starch or cornstarch
2 large eggs
1 teaspoon (6 grams) salt
Instructions:
In a large pot of boiling water, cook the potatoes (in their skins) until fork tender the day before or early in the day. Cool slightly and peel. Rice the potatoes (or mash if you don't have a ricer). Let them become totally cold, cover, and refrigerate several hours or overnight.
Make croutons by cutting bread into small cubes.
Melt butter in a frying pan over medium heat. Add the bread cubes and fry, stirring frequently, until golden brown on all sides. Remove from heat and set aside to cool.
Mix into riced potatoes 1 cup potato starch, eggs, and salt to make a smooth dough that holds together when formed into dumplings. If the mixture is too moist, add a bit more starch.
Form 12 to 14 dumplings, about the size of a tennis ball, adding a few croutons to the middle of each dumpling. Use floured or wet hands, if needed.
Drop gently into a wide pot of salted, simmering water. Simmer gently, uncovered, about 15 to 20 minutes.
Remove the cooked dumplings with a slotted spoon and serve immediately.
Notes/Hints:

Test cook one dumpling to make sure it stays together, before you cook the rest. If it doesn't, you'll need to add a bit extra flour or liquid, depending on how sticky or dry your potato dough is.
This popular side dish is also amazing with creamy mushroom sauce, mushroom gravy, or onion gravy.
There are different German potato dumpling recipes. Try Mutti's Thüringer Klösse ... these delicious dumplings are made with raw potatoes and SO good!
Another German dumplings recipe: German Bread Dumplings.
*  *  *  *  *

Unless otherwise noted recipe, images and content © Just like Oma | www.quick-german-recipes.com

12.07.2021 revision update
Leave a comment about this recipe or ask a question?

Pop right over to my private Facebook group, the Kaffeeklatschers. You'll find thousands of German foodies, all eager to help and to talk about all things German, especially these yummy foods. 
Meet with us around Oma's table, pull up a chair, grab a coffee and a piece of Apfelstrudel, and enjoy the visit.

Cooking just like Oma, making those German meals, is actually quite easy. Let me, Oma Gerhild, help you with my step-by-step methods to re-create those yummy meals you remember from your Oma.

If you're looking for tasty, traditional, and easy German cake recipes (in English) to try, then you've come to the right place! Check out these lecker treats!

Discover the ultimate German schnitzel recipe with Oma's quick and easy method - perfect for any occasion! Taste the authentic flavors of Germany today.
*  *  *  *  *
PIN to SAVE this recipe to your Pinterest board!
And let's be friends on Pinterest!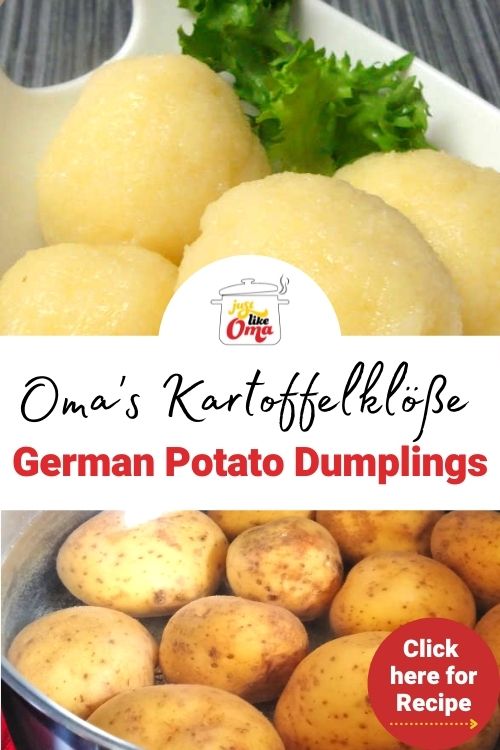 Oma's Kartoffelklöße ~ German Potato Dumplings


By
Oma Gerhild Fulson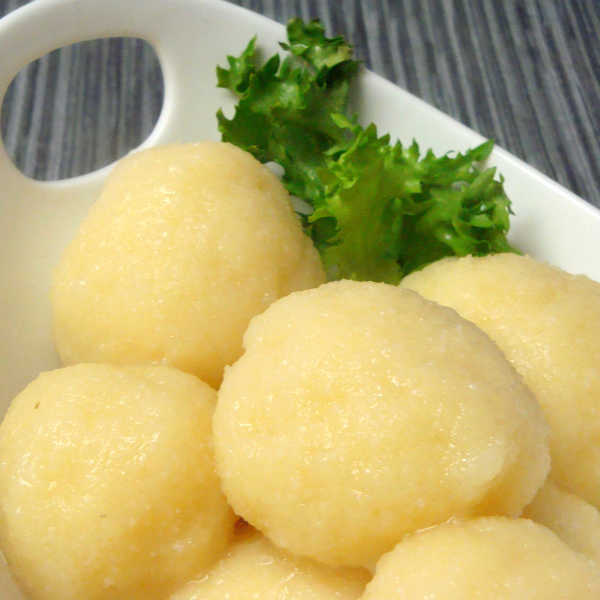 German potato dumplings invoke great memories of my Mutti's Sunday dinners. Using cooked potatoes, she created these scrumptious traditional dumplings!

Ingredients:
potatoes,
bread,
butter,
potato starch,
eggs,
salt,
For the full recipe, scroll up ...
Words to the Wise
"A wise child accepts a parent's discipline, a mocker refuses to listen to correction."
Proverbs 13:1 (NLT)
---