Mutti's German Potato Dumplings ❤️
➤ by Oma Gerhild Fulson
FTC Disclosure: Making a purchase via a link on the page? I may earn a small commission on the transaction - at no added cost to you. Thanks!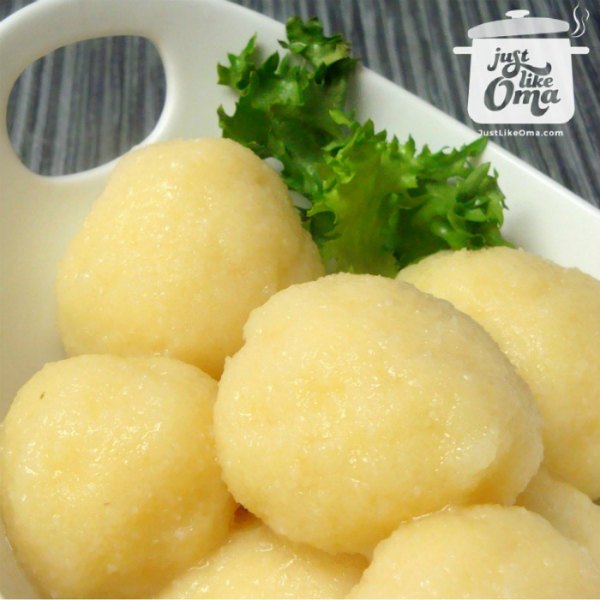 Yum
German Potato Dumplings, aka Kartoffelklösse. This invokes great memories of my Mutti's Sunday dinners.  Her recipe uses cooked potatoes to create a traditional dumpling that goes well with almost any meat and gravy. I found this recipe, copied below, in my Mutti's handwritten cookbook. 
This page in her cookbook for potato dumplings is so worn! Why? It's THE traditional side dish that goes with almost anything. 
Mutti's German Potato Dumplings ❤️
Ingredients:

about 2¼ lb starchy potatoes
4 slices day old bread

2 Tbsp butter
about 1⅓ cups cornstarch

2 eggs

1 tsp salt
Instructions:

Cook the potatoes in their skins the day before or early in the day. Cool slightly and peel. Rice the potatoes (or mash if you don't have a ricer). Let them become totally cold, cover, and refrigerate several hours or overnight.
Make croutons by cutting bread into cubes.
Melt the butter in a saucepan over medium heat. Add the bread cubes and fry, stirring frequently, until nicely browned on all sides. Remove from heat and set aside to cool.

Mix into potatoes, 1 cup cornstarch, eggs and salt to make a dough that holds together when formed into dumplings. If the mixture is too moist, add a bit more cornstarch.

Form 12 - 14  dumplings, approximately 2 inches in diameter, adding a few croutons to the middle of each dumpling.

Drop gently into pot of boiling, salted water. Simmer gently, uncovered, about 15 - 20 minutes.

Remove with slotted spoon and serve immediately.


---
These dumplings really taste best when they've got the bread croutons in the middle, so try not to miss that step, even if you're in a hurry.
Potato Dumpling Pointers
To keep the dumplings from sticking to your hands when you are forming them, you can either wet your hands with water, or dust your hands with flour. Either way works. 
Test cook one dumpling to make sure it stays together, before you cook the rest. If it doesn't, you'll need to add a bit extra flour or liquid, depending on how sticky or dry your 'dough' is. 
My Mutti ...
She had another recipe she often used, but I can't find a copy of it anywhere. She called it "Halbseidene Klösse" meaning "half-silk dumplings". I remember her using a mixture of cooked potatoes and raw ones. Not sure if this was her attempt to mimic the Thüringer Klösse and minimize the work.
However, these potato dumplings were the ones she made especially as she was older, because she loved to do as much work ahead as she could. That meant she'd cook extra potatoes the day before so she could quickly mix up the dumplings just before we came to visit. She'd always insist we come for dinner. (How could we refuse?)
---
More Dumplings ...
*  *  *  *  *
Thinking of starting your own Handmade Business?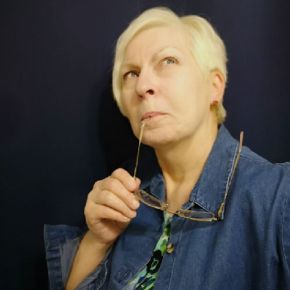 This Oma KNOWS you CAN do it.
How do I know?
Well, if I can do it, anyone can.
I've even figured out how I can help you.
I've teamed up with my own business coach, Renae Christine (yes, do google her!), to bring you this free masterclass. After you watch it, ask me any questions and I'll gladly answer them.
Don't hesitate. I'm not sure how long Renae will keep this free masterclass available.
PS:  Yes, Renae really is as amazing as all the reviews say.
PPS: Yes, the course is for handmade items, but I've used it successfully for my cookbooks. I know others are using her methods for services, direct sales, and even a local ice cream bar & grill that's constantly selling out. You've nothing to lose by taking a look ... and a whole bunch to gain.
*  *  *  *  *
Oma's Cookbooks (downloadable & print)
*  *  *  *  *
Want nutritional information for a recipe?
Copy and paste the ingredient list and the number of servings into Calorie Count. 
It will give you an approximate calculation.

Need help doing conversions
between cups and grams or any such thing?
Use this site to give you all the different conversions for the different types of ingredients. 
---
Pin the following post so you can quickly find your German Potato Dumpling recipe when you're pulling out your stock pot, potato ricer, or potato masher, and the rest of your ingredients...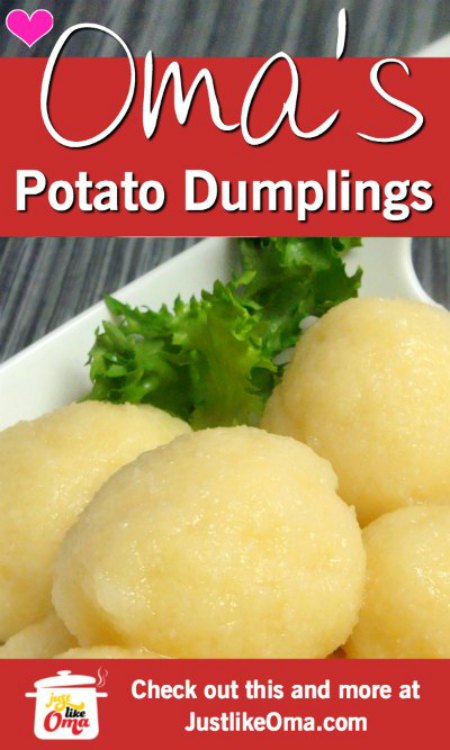 ---
Words to the Wise
"A wise child accepts a parent's discipline, a mocker refuses to listen to correction."
Proverbs 13:1 (NLT)
German Potato Dumplings made Just like Oma


By
Oma Gerhild Fulson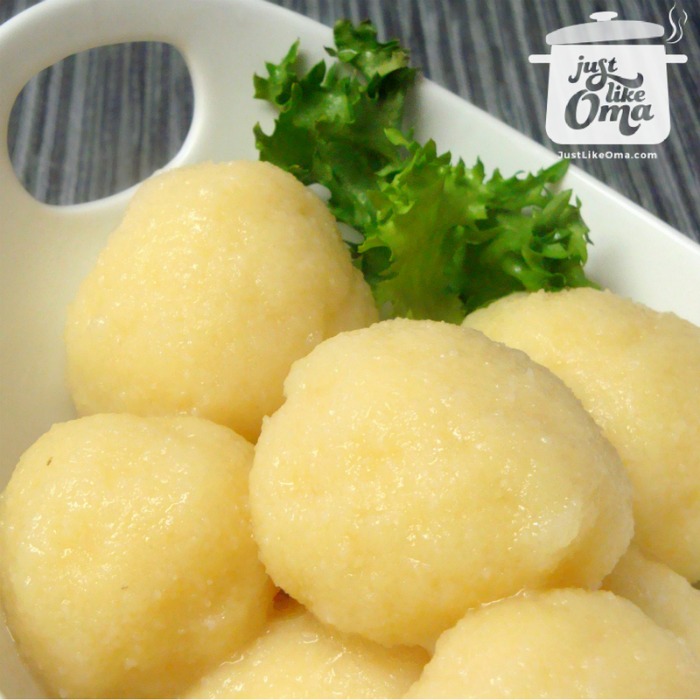 German potato dumplings invoke great memories of my Mutti's Sunday dinners. Using cooked potatoes, she created these scrumptious traditional dumplings!

Ingredients:
potatoes,
bread,
eggs,
For the full recipe, scroll up ...