Beef Flatladen

- 

tastes like Beef Rouladen! ❤️

➤ by Oma Gerhild Fulson

FTC Disclosure: Making a purchase via a link on the page? I may earn a small commission on the transaction - at no added cost to you. Thanks!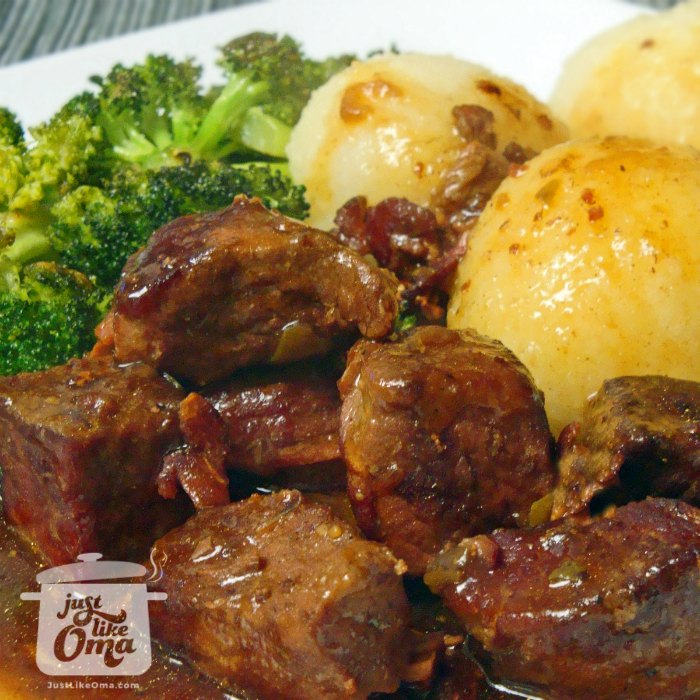 Beef Flatladen, you've never heard of it, right?
Of course not! 
That's my son's name for Beef Rouladen that are flat! (Check the video below!) It tastes just like rouladen without all the work and expense.
Wunderbar! My family loves rouladen, but I didn't like the work nor the expense. Buying top round for weekday dinners and then pounding and rolling, just wasn't in my budget or schedule.

What everyone loved, other than unrolling them when eating, was the flavor of the rouladen meat AND THE GRAVY!
(Take a look at Karen's comments below)*

---
Since rouladen were so expensive (and time-comsuming to make), I created Beef Flatladen!
I vary the type of meat, usually using whatever is on sale. Even pork works! I vary the size of chunks, usually making them about a 2 to 3 inches square and about ¾ inch thick. Leftovers are delicious, so make lots!
Here's how easy it is ...
I use almost any cut of meat. Slow simmering tenderizes the meat, so even a tough cut of meat will do.
Cut the meat into the size needed. 
Brown in small batches in butter. 
Add onion, bacon, dill pickle (our traditional rouladen flavors), seasonings, and water. 
Let the whole thing simmer for about 2 hours.
Easy peasy. Really, that's all for a rouladen-tasting dinner.
Mustard? If you love having mustard in your rouladen recipes, you can always add some (do the same amount as you're used to) here as well. 
Don't like the pickle? Leave it out. Add just the rouladen additions that you would normally use when you make rouladen.
Adjust the recipe for the amount needed - the quantities don't need to be exact! Enjoy the taste of rouladen without all the fuss!

---
Different versions of Rouladen (thought to come from the French) are throughout Europe: Italy has Braciole, Franch has Paupiette, Czech has Španělské ptáčky, Hungary has Szüz tekercsek, and Hungary, as well as Germany, have  Rouladen
Some interesting names are used for this: beef birds, olive birds, steak birds, bacon rolls, stuffed rolls

Rouladen are filled with a variety of ingredients, such as vegetables, cheese, and other meats
Originally, venison and pork were use although now beef (Rindsrouladen) or veal are usually used
*Here's a comment from Karen Scahill-Stiles (from Facebook):
"I want to say THANK YOU for the Beef Flatladen, you have made life so much easier for me. My Oma may not have approved or she would have thought wow, why didn't I think of doing it like that.
My daughter lives three hours away and Rouladen is her favorite. She is preparing to take the Law Bar exam, called me crying from stress and wanted this for dinner she was driving home.
I was like okay, mind you I have a very active five year old so it doesn't allow me a lot of time in the kitchen. I made the Flatladen, and the entire family was thrilled and my mother couldn't believe it and how easy it is to make.
You brought a family favorite that would take forever to cook, a easy recipe that tastes just like Oma's :) "
If you are looking for the traditional rouladen, check out my Rouladen recipe. SO WUNDERBAR!

It's our 'special' dinner, usually together with potato dumplings and red cabbage. Doesn't get more German than that!
But, if you're wanting easy and something more economical, then Flatladen is what you're wanting. 
Oma's Beef Flatladen ❤️
Ingredients:
2 - 3 lb bottom round, chuck, etc. 
6 slices lean bacon

1 onion, cut into chunks

4 garlic dill pickles, sliced

3 tbsp butter
salt, pepper, corn starch
Instructions:
Cut the meat into pieces, about 2 to 3 inches square and about ¾ inch thick. 

Heat 2 tbsp butter in large skillet. Brown meat well on all sides. Do not crowd, but do in several batches. Add extra butter if needed.

Once meat is browned, add bacon and onion and brown briefly. Slowly add some hot water and gently stir to loosen browned bits at bottom of pan.

Return meat to skillet and any meat juices. Add pickle slices and enough water to almost cover meat. Bring to simmer and cover.

Simmer for 1 - 2 hours (depends on how tender the cut of beef is). Remove bacon (it will be soft and unpleasant to eat).

To thicken gravy, combine 2 - 3 tbsp corn starch in a little cold water. Stir into cooking liquid until slightly thickened
Season gravy to taste with salt and freshly ground pepper
Hints:
Fry bacon in butter first, remove, and then brown meat. You can use the crisp bacon to add to mashed potatoes or a salad

The size of your meat pieces can be larger or smaller. I do try to stay at about ¾ - 1 inch thick. 
If you want this to be just meat and gravy, remove cooked meat, strain gravy to remove onions and pickles. Thicken gravy. We like the onion and pickle pieces in our gravy, so I leave them in

Since we love mushrooms, I add quartered mushrooms for last ½ hour of cooking time.

You can turn this into the best beef stew by just adding cut-up potatoes, carrots, and celery to the simmering meat after the first hour. Delicious!

This recipe usually makes lots of delicious gravy. Freeze it for later use or add it to other recipes as needed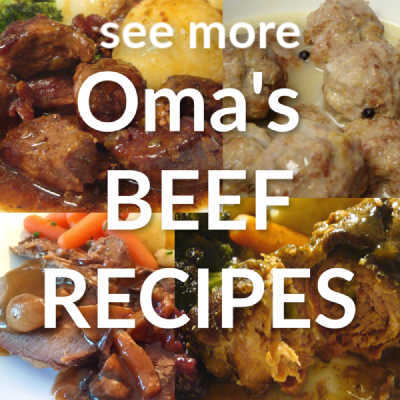 Leave a comment about this recipe or ask a question?
Pop right over to my private Facebook group, the Kaffeeklatschers. You'll find thousands of German foodies, all eager to help and to talk about all things German, especially these yummy foods. 
I pop in all the time as well, to chat and to answer questions. 
Meet with us around Oma's table, pull up a chair, grab a coffee and a piece of Apfelstrudel, and enjoy the visit.
*  *  *  *  *
Thinking of starting your own Handmade Business?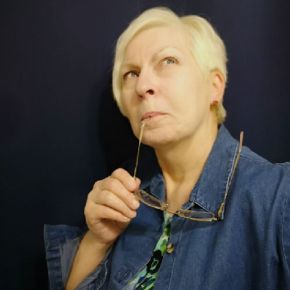 This Oma KNOWS you CAN do it.
How do I know?
Well, if I can do it, anyone can.
I've even figured out how I can help you.
I've teamed up with my own business coach, Renae Christine (yes, do google her!), to bring you this free masterclass. After you watch it, ask me any questions and I'll gladly answer them.
Don't hesitate. I'm not sure how long Renae will keep this free masterclass available.
PS:  Yes, Renae really is as amazing as all the reviews say.
PPS: Yes, the course is for handmade items, but I've used it successfully for my cookbooks. I know others are using her methods for services, direct sales, and even a local ice cream bar & grill that's constantly selling out. You've nothing to lose by taking a look ... and a whole bunch to gain.
*  *  *  *  *
Oma's Cookbooks (downloadable & print)
*  *  *  *  *
Want nutritional information for a recipe?
Copy and paste the ingredient list and the number of servings into Calorie Count. 
It will give you an approximate calculation.

Need help doing conversions
between cups and grams or any such thing?
Use this site to give you all the different conversions for the different types of ingredients. 
---
PIN this ...

---
Try this slow cooker roast beef and you'll be amazed at how much this tastes like rouladen WITHOUT the work.

Learn how to cook pork hocks, anytime you want something traditionally German and wonderfully delicious! A hearty meal for any time of the year!
---
Words to the Wise
"Pride leads to disgrace, but with humility comes wisdom."
Proverbs 11:2 (NLT)
---
Oma's Beef Flatladen❤️


By
Oma Gerhild Fulson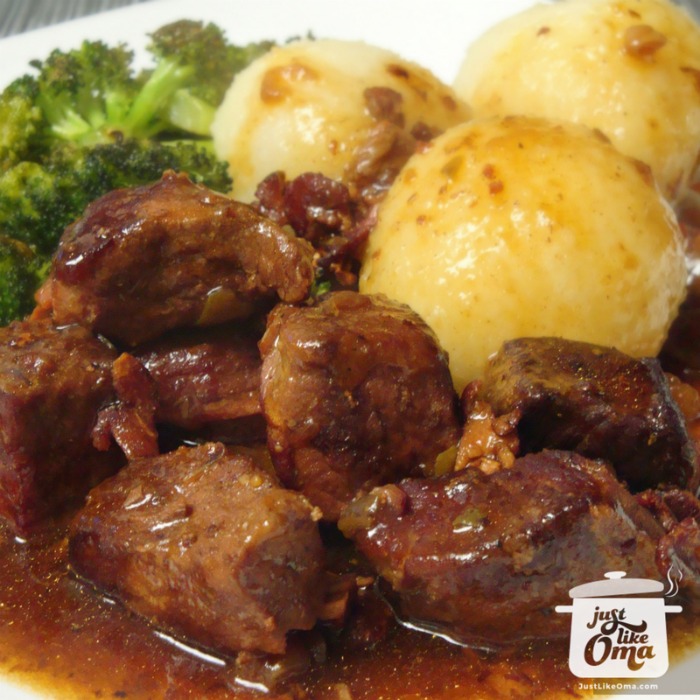 Beef Flatladen, same great taste as Rouladen, just inexpensive, much quicker, and great for everyday meals. Uses almost any cut of meat, from a pot roast to stewing beef ... you choose what's on sale.

Yield:
6 - 8 servings
Total time:
2.5 hours

Ingredients:
cabbage,
2 - 3 lb beef,
6 slices bacon,
1 onion,
4 pickles,
3 tbsp butter,
For the full recipe, scroll up ...