Anna's German Goulash ❤️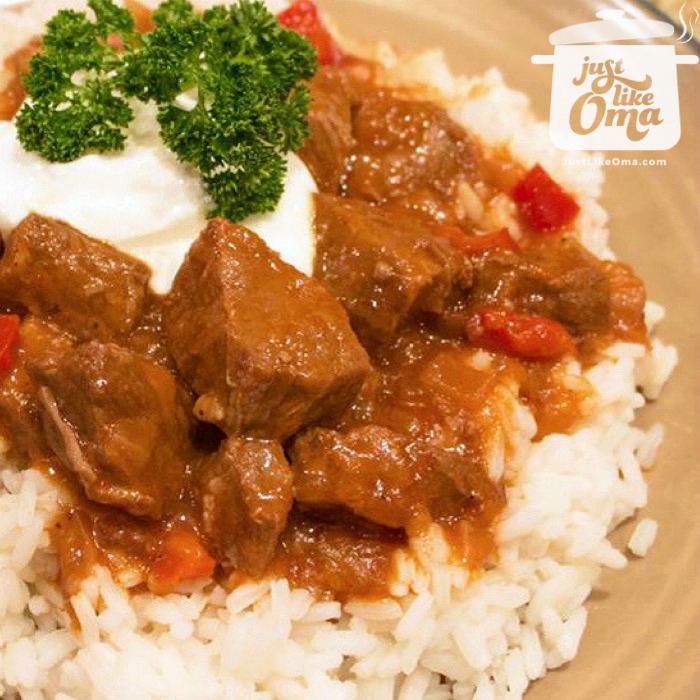 Anna's German goulash is her mother's recipe that she's altered for use in the slow cooker. I LOVE using the slow cooker! And, I just love Anna Hanssen's recipe for it! Thanks so much for sending it in so we can all enjoy it.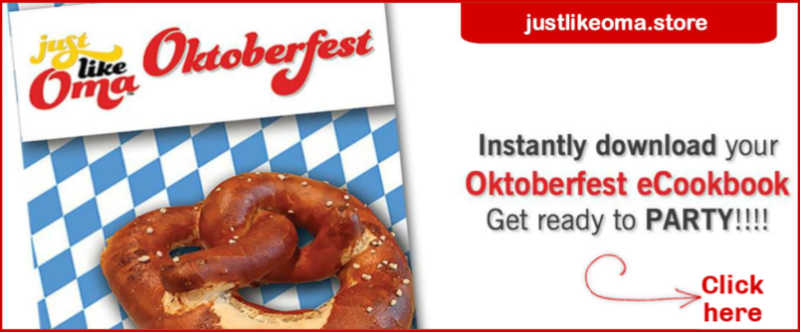 Goulash, aka Gulasch, is such a traditional German food. I'm used to having it over boiled potatoes. To me, they are so perfect for soaking up all that delicious gravy. Anna's photo shows it being served over rice. Lecker!

I love using my new Cuisinart Slow Cooker!    (I gave away my old one!)
With a 24-hour timer and an automatic Keep Warm feature, I LOVE this! Click on the photo for more information!!!!! You'll love using this, just like I do!

Here's Anna ... and her goulash

My friend, Anna, writes, "It is originally my Mama's.
I made some minor changes to it like adding wine and beef stock to give it more flavor. I also had to adjust the fluid amount and cooking time to work with the slow cooker. "
You made the changes marvelously, Anna!
Oma says,
What a wonderful way how to make goulash, Anna.  I, too, love taking old traditional recipes and changing them to be able to use modern conveniences.

If you're looking for a recipe that's made on the stove, check out my own Goulash recipe or try my own Goulash Soup!

Another favorite way to serve this is to ladle it over noodles, especially Spätzle.
One of our readers, Melissa, mentions that she added peeled and chopped pre-cooked carrots and some chopped mushrooms.Those sound like wonderful additions to me.
In fact, I'm sure you can also think of some additional veggies to add. I'm thinking some chopped celery would be nice to add to this goulash. 
---
Anna's Slow Cooker German Goulash ❤️
Ingredients:
2 tbsp oil
2 onions, chopped
2 medium red bell peppers, chopped
4 cloves garlic, minced
3 lb boneless beef chuck, cut into 1-inch cubes
¼ cup all-purpose flour
1 tsp dried marjoram 
1 tsp caraway seeds 
1 tbsp sweet paprika
½ cup white wine
4 tbsp tomato paste
1 cup beef broth
1½ cups water
Salt and pepper 
2 tbsp chopped fresh parsley
Sour cream
Instructions:
In a large skillet, heat oil over medium heat. 
Sauté onions and bell peppers until vegetables are done. Add garlic and cook for 30 seconds. 
Transfer veggies to a 6-quart slow cooker. 
Next, in same pan, brown meat with flour and some salt and pepper.
Add meat to vegetables in slow cooker. Season with marjoram, caraway, and paprika. 
Deglaze pan with wine, scrape up browned bits. Add tomato paste, cook for one minute. Now add beef broth and water; let it simmer for a few minutes. Season sauce with salt and pepper then add to beef mixture in the slow cooker. 
Cover and cook on low for about 8 - 9 hours or on high for about 4 - 5 hours, until beef is tender.  
If sauce is not thick enough after cooking time is up, mix some cornstarch with cold water, add to slow cooker and cook for an additional 30 minutes to thicken the sauce. Stir in parsley. 
Serve over cooked egg noodles, rice, or potatoes garnished with a dollop of sour cream. 
Serves 6.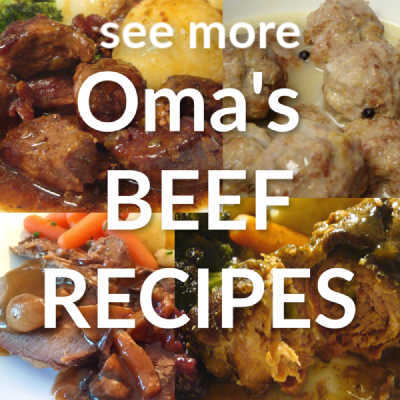 Leave a comment about this recipe or ask a question?
Pop right over to my private Facebook group, the Kaffeeklatschers. You'll find thousands of German foodies, all eager to help and to talk about all things German, especially these yummy foods. 
I pop in all the time as well, to chat and to answer questions. 
Meet with us around Oma's table, pull up a chair, grab a coffee and a piece of Apfelstrudel, and enjoy the visit.
*  *  *  *  *
Want nutritional information for a recipe?
Copy and paste the ingredient list and the number of servings into Calorie Count. 
It will give you an approximate calculation.

Need help doing conversions
between cups and grams or any such thing?
Use this site to give you all the different conversions for the different types of ingredients. 
---
PIN this ... to find Anna's techniques on how she mastered this delicious beef recipe 
---
Schwenkbraten recipe that has been a delish hit an alle familien & freunde... Total Approx. Time: Prep: 15 min. + Marinating 8 hrs min. + Grill: 15 min.

My Oma made this cake every Christmas. She iced it with a white frosting that ran down the sides. She decorated it with little silver balls (candy). It
---
Words to the Wise
"Walk with the wise and become wise; associate with fools and get in trouble."
Proverbs 13:20 (NLT)
---
❤️Anna's German Goulash made Just like Oma


By
Oma Gerhild Fulson
Anna's German goulash is her mother's that she's altered for use in the slow cooker. I LOVE using the slow cooker! Thanks for sharing this with us, Anna!

Ingredients:
beef chunk,
garlic cloves,
bell peppers,
onion,
For the full recipe, scroll up ...