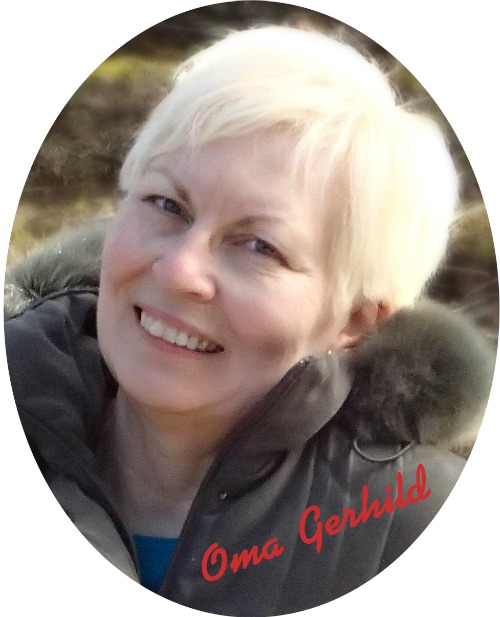 Want to contact me?
FTC Disclosure: Making a purchase via a link on the page? I may earn a small commission on the transaction - at no added cost to you. Thanks!
If you have a question or comment, there are two ways for you to reach me. 
If you're looking for a recipe or have a recipe question, for almost immediate response, join my Kaffeeklatscher Facebook group and ask there. Do include as much info as possible. You'll find over 8,000+ German foodie fans who can help you right away! I pop in several times a day to help you there, too. 

Use the contact form, below, if you'd like to submit a Guest Post, following the guidelines below. If you don't hear from me within 3 days, please resubmit.
Looking forward to hearing from you,
~ Oma Gerhild :)
Having trouble submitting?
You can also email me by replacing the "at" with "@" and the "dot" with "." and removing all the spaces in the following:
oma at justlikeoma dot com
Make sure you don't leave any spaces in that! I'll get back to you as soon as I can.
Guest Blogging/Posting Guidelines
Post must be original and well-written (no duplicate material is allowed)
Topics must relate to this website
Post should be between 400 - 700 words and not self-promotional
Include original photos if possible. Format: .jpg or .png. Size: no larger than 500 px
Maximum of 1 anchor text link to your own blog/website within post
Affiliate links not permitted
Include a brief author bio (approx. 50 words) which may include one to two links to your own blog/website/social media profiles. A 100 x 100 px head shot is optional
Credit all sources
Quick German Recipes reserves the right to edit posts for grammar, clarity, voice, and relevance
Quick German Recipes will contact you if the posting is approved, so you can review the edits. You will be notified before publishing so you can promote accordingly.
If approved, you grant Quick German Recipes to be the sole publisher. You may republish extracts, but the posting should not appear in its entirety elsewhere. You also grant that your posting can be published in Quick German Recipes newsletters/cookbooks. You will always receive full credit as the author.
You may not republish your guest post to your own blog or elsewhere. (Google doesn't allow duplicate content!) You may link to it. You can share it. You can promote it. Just not duplicate it. 
Write creatively, uniquely, and interestingly!
To submit, fill out the form above with your full name and the topic of your posting in the "Your Comment or Questions" section. I will then contact you by email so that you can email me the posting and any photos. 
*  *  *  *  *
Want nutritional information for a recipe?
Copy and paste the ingredient list and the number of servings into Calorie Count. 
It will give you an approximate calculation.

*  *  *  *  *
Need help doing conversions between cups and grams or any such thing?
Use this site to give you all the different conversions for the different types of ingredients. 
*  *  *  *  *
---
---
Words to the Wise:
"A wise person is hungry for knowledge, while the fool feeds on trash."
Proverbs 15:14 (NLT)