Oma's Kaffeeklatsch Newsletter
Join my Kaffeeklatsch ... come for coffee and let's chat about German food and all things German!
Recipe updates, both old and new
Free monthly newsletter with a bit about the different regions of Germany, its places, people, language, recipes and MORE 
Get my downloadable German/English Herbs & Spices Chart FREE today when you sign up.
* Kaffeeklatsch:  /ˈkafeːˌklatsh / (noun) an informal gathering for coffee, cake and chatting
Join NOW. At Just like Oma ~ Kaffeeklatsch, we'll

chat about Germany, its places, people, language, recipes and MORE!
enjoy special recipes, that aren't on the website, but just for you!
receive extra special private eCookbook discounts
As soon as you've joined, I'll send you a confirmation email with your FREE printable Herbs & Spices for the German Kitchen Chart.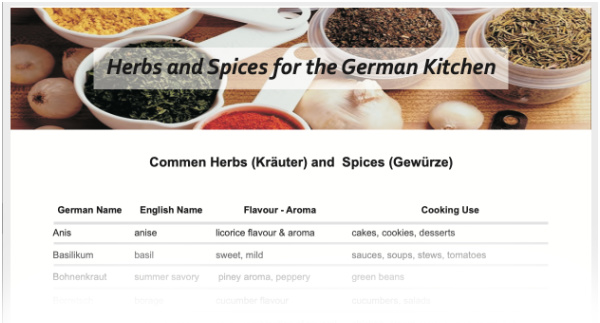 If you don't get the confirmation email, please check your spam folder. If it's not there, please let me know! 

---
Looking forward to meeting with you, seeing your photos, and hearing your stories as we interact on Kaffeeklatsch.

Just like Oma ~ Quick German Recipes is growing with more and more recipes added regularly. Join my Kaffeeklatsch NOW to get my free newsletter, so you don't miss a single one.

Is there something you'd like to see in this Kaffeeklatsch Newsletter, just let me know.
---
Words to the Wise
"The wise are known for their understanding, and pleasant words are persuasive."
Proverbs 16:21 (NLT)