German Recipes ~ Just like Oma Gerhild❤️
German recipes aren't normally put into the category of being quick and easy to make. That, however, is about to change!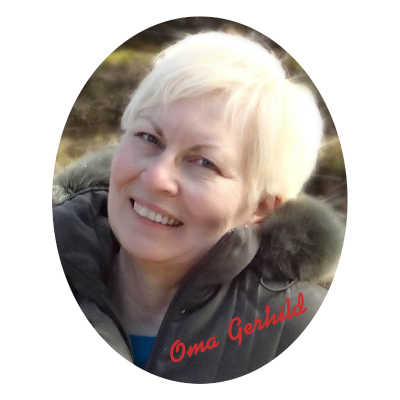 Now you can WOW your family and friends with tantalizing and delicious German food. Food that is both easy AND quick to make AND delicious AND so traditionally German!
That's me, Oma, on the right. And, only you'll know my secrets to preparing these dishes to resemble the old "tried and true" traditional methods with more modern ones.
For example, rouladen are one of the most traditional of all German meat dishes. They are time consuming to make, as well as expensive. I've created an alternative: flatladen. It tastes like just rouladen, as well as having the MOST delicious gravy. Only, it's a lot less work (and cheaper!)
Perhaps you're looking to make a German Black Forest cake? You can choose to make the traditional way made from scratch. But, if you're in a hurry, there's an easy version made from a mix and a can!
---
Here are my two sweet granddaughters, Lydia (on the left) and Alana, showing off their 2019 Christmas presents: aprons and Oma's newest cookbook. These two have been so much fun to cook and bake with ever since they were little. We're looking forward to many more yummy kitchen adventures!
Traditional German food ~ quickly and easily. Ready? Which will you start with? 
Most searched recipes this month:
Go ahead! Get out your pots and pans. Pull out your ingredients. Print off some recipes, and get ready to start cooking and enjoying easy, delicious German foods today!
I've added 100's of my recipes here, and am adding more and more.
Do check out my recipe index or, if you know what you're looking for, type it in the search bar in the top corner of this page. 
"Guten Appetit"
What some Oma's fans are saying ...
These delicious soups are truly made in no time at all, quick, as the title says, with ingredients that you most likely have on hand.
What a relief it is not having to go shop for ingredients you don't know how to pronounce! Included in the book are many ideas of substituting the original ingredients and turning-up the taste a notch or totally changing the taste of the soup.
The directions are easy to follow and easy to understand. You'll have no problem serving these soups to your guests. They are foolproof & yummy delicious!
What I love the most is that you add a little bit of this and a little bit of that. You don't have to be exact at all with measuring the ingredients. And cutting up the vegetables doesn't have to be pretty either. Gerhild makes it so easy! She takes away the fear of messing up or trying something new.
'Quick Fix Soups' is a great addition to my recipe collection, one I don't want to miss. Thank you, Gerhild, for inspiring us all and saving us time in the kitchen!
➤ Heidi Moellgaard
---
I am a new to your site and I wanted to let you know how wonderful it is. Every recipe I have tried is delicious and turns out perfect. I absolutely love it.
My family is from Germany, however I am Canadian born. I never really learned how to make many of our traditional german meals as my mom makes most things with a little of this and a little of that ... your recipes are easy to follow and having the proper ingredients makes it even better. Thank you for this wonderful website!
➤ Susie C. 
---
'Quick Fix Soups' has to be one of the best soup books I have ever seen, the way it is presented, the book cover, colorful and inviting. Your Table of Contents says it all: quick and accessible.
I love the introductory story filled with interesting nostalgia, along with pictures of your granddaughters.
The recipes are presented with step-by-step procedures. 'Oma says' are full of hints, and 'a bit of this and a bit of that' are rewarding suggestions.
What a great idea to have recipe cards, again quick and easily accessible.
Excellent cook book. I can hardly wait to get started cooking soups. We love eating soup. And, what I like about these recipes, is that I don't have to be all day cooking in the kitchen. 
'Quick Fix Soups' is for me!
➤ Melania Orasch
*  *  *  *  *
Want nutritional information for a recipe?
Copy and paste the ingredient list and the number of servings into Calorie Count. 
It will give you an approximate calculation.

*  *  *  *  *
Need help doing conversions between cups and grams or any such thing?
Use this site to give you all the different conversions for the different types of ingredients. 
*  *  *  *  *
---
PIN these ...
The Good News
"For the Kingdom of God is not a matter of what we eat or drink, but of living a life of goodness and peace and joy in the Holy Spirit."
Romans 14:17