Oma's German Sauerkraut Salad ~ Sauerkrautsalat

➤ by Oma Gerhild Fulson
Make this sauerkraut salad as one of many delicious German side dishes. This is great for a buffet, picnic, or an Oktoberfest-style party. It's absolutely as wunderbar! 
And guess what? Even your vegan friends will love you for it! 
Add in some other colorful veggies from your crisper, and it can be a bright addition to your table! Looks so pretty and tastes so good. Making this sauerkaut salad is so easy.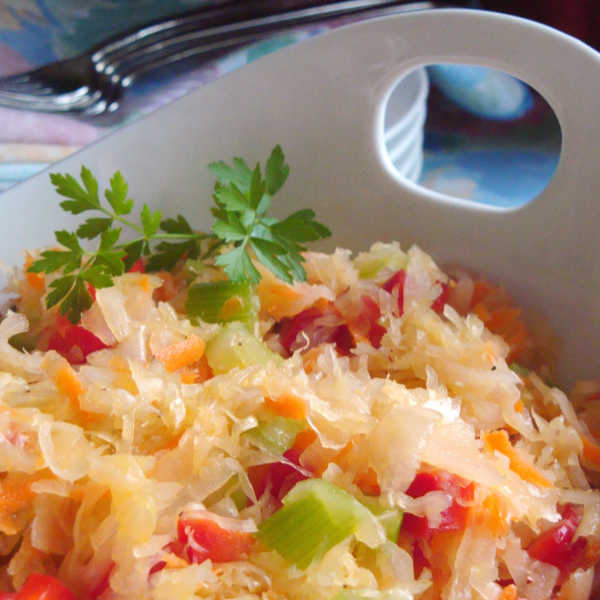 Sauerkraut is considered to be one of those German foods that boosts the immune system. Eaten raw, as in this salad, is a great addition to almost any diet. 

One of the most delicious of German sauerkraut recipes is the above salad. With peppers, celery, carrots, and onions, it's one of my favorites.
Interesting facts about sauerkraut 
Not only enjoyed in Germany, but especially in Poland, the Baltic states, Ukraine, Russia, and Romania
You can buy fermented cabbage leaves (I guess this could be called sauerkraut leaves?) and use them easily make cabbage rolls (hint from my Serbian friend).
You can drink the sauerkraut liquid. In fact, it's considered extremely healthy.
Korean kimchi is similar to the German sauerkraut. Kimchi is less acidic but saltier

Apparently sauerkraut does not originate in Germany, but rather in China about 2,000 years ago
Captain Cook used sauerkraut (25,000 pounds of it) to prevent scurvy among his sailors during long sea voyages.

Since it's fat-free and very low in calories, it's the perfect diet food. And so delicious.
Grab your copy of Oma's favorite salads in her Summer Salads e-Cookbook.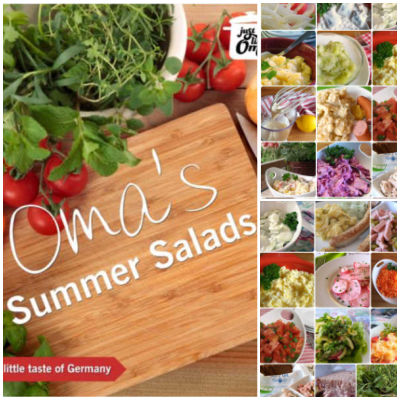 Take a peek at all Oma's eCookbooks. They make sharing your German heritage a delicious adventure!
German salads range from the vinegary ones to the creamy ones. This one is vinegary offset with a touch of sweetness. Traditionally, green peppers are used. Sometimes I use red peppers for that extra touch of color.

As with most salads, quantities are just approximate. Add extra or less of what you like.
Health benefits of sauerkraut
Is sauerkraut good for you? The simple answer? YES!
Basically, it's good for your gut. At least that's what my Mutti told us as she served it, especially when one was constipated. Yummy tasting medicine is what it was!
In all truth though, sauerkraut is fermented cabbage and during the fermentation process, beneficial probiotics are produced. These give sauerkraut most of its health benefits. On top of that, it's a good form of dietary fibre, with vitamins C and K, calcium, potassium and phosphorus.
However, sauerkraut is fairly high in salt, which is part of the fermenting process. So if that's an issue for you, you may just need to consume it in smaller quantities.
Oma's says:
I have to admit that this recipe is one I didn't learn from my Mutti. At home, we only ate sauerkraut that was cooked. And, I really love it that way.
Using it in a salad is new to me. But, it's so good this way. And, I love the fact that it's so healthy when eaten raw. 
Sauerkraut is so full of vitamins and minerals as well as phytochemicals that are formed during the fermentation process. 

This lovely fermented cabbage is also considered on food that helps fight weight gain, so it fits great in a diet regime. 
---
Lydia Remembers ...
I have so many wunderbar memories in the kitchen with my Oma, and have had MANY of her most popular and traditional recipes, like this sauerkraut salad!
Strangely enough, although I come from a German family, I'm not a huge sauerkraut fan. So it can be hard to find recipes that I will enjoy. BUT, when I first had this lovely salad, it changed my perspective a little more which each bite!
I loved the pop of color and bold, refreshing flavors it gave off. It was the perfect pair for my BBQ bratwurst. I strongly suggest this salad to those who are still warming up to sauerkraut, like me. It's not too strong and has a perfect blend of flavors that work together so well. It also brings a comforting summer feeling to your plate!
Learn a little bit about me, Lydia, and my kitchen adventures with Oma!
---
Ready to make this sauerkraut salad?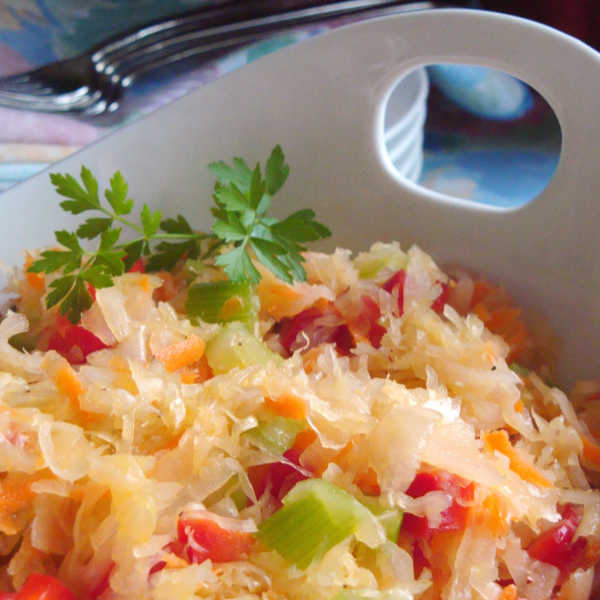 Oma's Sauerkraut Salad
Make this sauerkraut salad, Sauerkrautsalat, as one of many delicious German side dishes. This is great for a buffet, picnic, or an Oktoberfest-style party. 
It's absolutely as wunderbar! And guess what? Even your vegan friends will love you for it!

Prep Time


20 minutes


Standing Time


2 - 3 hours


Total Time

3+ hours

Servings:

Makes 4 - 6 servings
Ingredients:
1 large can (2 - 3 cups) sauerkraut
½ cup granulated sugar
¼ cup olive oil
1 red pepper, diced
1 large carrot, coarsely grated
2 stalks celery, diced
½ onion, diced
salt and freshly ground pepper
Instructions:
Drain sauerkraut in a sieve over a bowl. Measure ½ cup of liquid and reserve.
Put the drained sauerkraut into a large bowl. Mix in sugar.
Let sit about 15 minutes. Add ½ cup reserved sauerkraut liquid and oil. 
Add remaining ingredients.
Season with freshly ground pepper and salt if required.
Let stand in fridge for several hours, if possible, before serving.
Notes/Hints:

As with most salads, quantities are just approximate. Add extra or less of what you like.
If you have more sauerkraut, then turn it into this luscious soup!
*  *  *  *  *

Unless otherwise noted recipe, images and content © Just like Oma | www.quick-german-recipes.com

---
Leave a comment about this recipe or ask a question?

Pop right over to my private Facebook group, the Kaffeeklatschers. You'll find thousands of German foodies, all eager to help and to talk about all things German, especially these yummy foods. 
Meet with us around Oma's table, pull up a chair, grab a coffee and a piece of Apfelstrudel, and enjoy the visit.

Finger-lickin' good oven fried chicken pieces, easy and economical, perfect for family night dinners, for company, and even Oktoberfest! It's Brathendl, Oma-style!

My best pound cake recipe (Sandkuchen) is this one. My Oma made it, my Mutti made it, and now I make it! It's so quick and easy to make and tastes SO good!

Make the BEST Bavarian braised cabbage recipe that's perfect for Oktoberfest or anytime you're wanting a traditional German side dish. It's Weisskraut, just like Oma makes it.
*  *  *  *  *
PIN this ...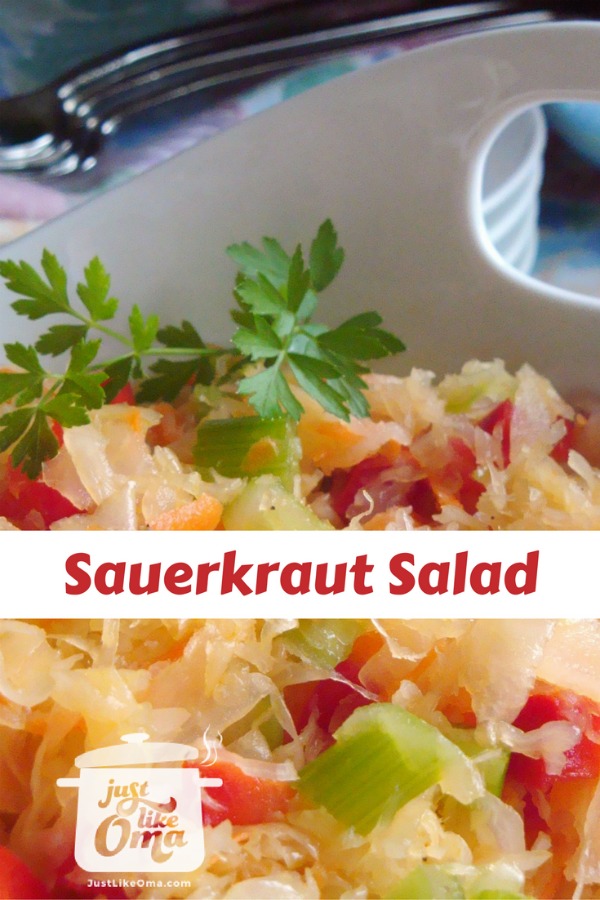 ---
Oma's German Sauerkraut Salad ~ Sauerkrautsalat
By
Oma Gerhild Fulson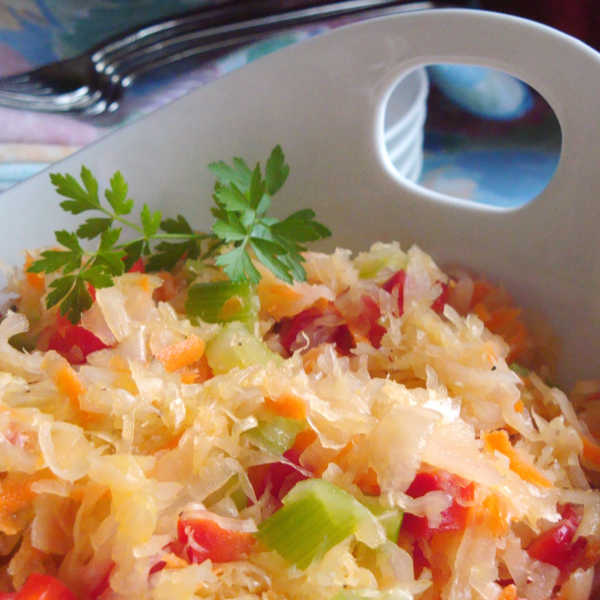 Here's a German sauerkraut salad that is so easy and delicious. It's great for a summer BBQ as well as absolutely delicious with Oktoberfest style pork hocks. Delicious, Healthy. Quick. WUNDERBAR!
Ingredients:
sauerkraut,
sugar,
oil,
red pepper,
carrot,
celery,
onion,
seasonings,
For the full recipe, scroll up ...
Make every day a MUSICAL day!
"Let them praise His name with dancing, making melody to Him with tambourine and lyre!"
Psalm 149:3 (KJV)