Oma's Sauerkraut Salad
➤ by Oma Gerhild Fulson
FTC Disclosure: Making a purchase via a link on the page? I may earn a small commission on the transaction - at no added cost to you. Thanks!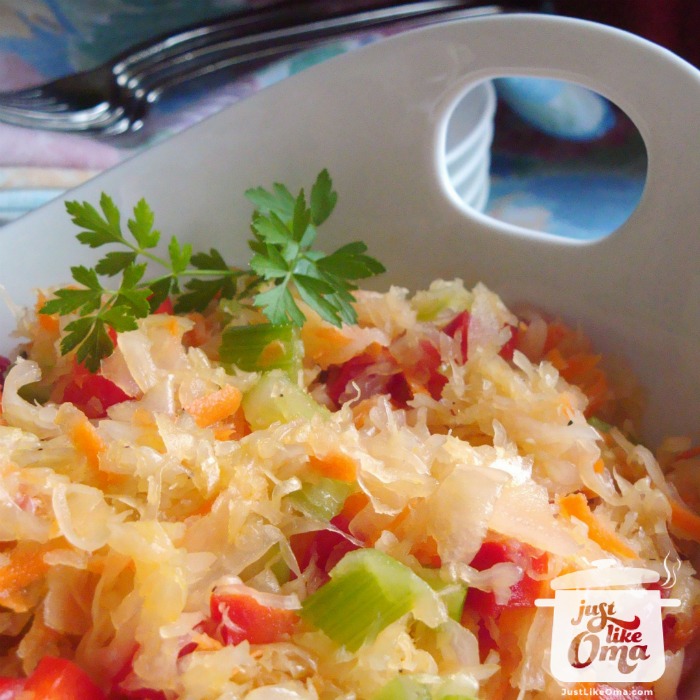 Yum
Make this sauerkraut salad as one of many delicious German side dishes. This is great for a buffet, picnic, or an Oktoberfest-style party. It's absolutely as wunderbar! And guess what? Even your vegan friends will love you for it! 
Sauerkraut is considered to be one of those foods that boosts the immune system. Eaten raw, as in this salad, is a great addition to almost any diet. 

Oma's Sauerkraut Salad
Ingredients:
1 large can (2 - 3 cups) sauerkraut
½ cup granulated sugar
¼ cup olive oil
1 red pepper, diced
1 large carrot, coarsely grated
2 stalks celery, diced
½ onion, diced
salt and freshly ground pepper
Instructions:
Drain sauerkraut in a sieve over a bowl. Measure ½ cup of liquid and reserve.
Put the drained sauerkraut into a large bowl. Mix in sugar.
Let sit about 15 minutes. Add ½ cup reserved sauerkraut liquid and oil. 
Add remaining ingredients.
Season with freshly ground pepper and salt if required.
Let stand in fridge for several hours, if possible, before serving.
Serves 4 - 6

One of the most delicious of German sauerkraut recipes is the above salad. With peppers, celery, carrots, and onions, it's one of my favorites.
German salads range from the vinegary ones to the creamy ones. This one is vinegary offset with a touch of sweetness. Traditionally, green peppers are used. Sometimes I use red peppers for that extra touch of color.

As with most salads, quantities are just approximate. Add extra or less of what you like.
I have to admit that this recipe is one I didn't learn from my Mutti. At home, we only ate sauerkraut that was cooked. And, I really love it that way.
Using it in a salad is new to me. But, it's so good this way. And, I love the fact that it's so healthy when eaten raw. 
Sauerkraut is so full of vitamins and minerals as well as phytochemicals that are formed during the fermentation process. 

This lovely fermented cabbage is also considered on food that helps fight weight gain, so it fits great in a diet regime. 
---
More Salad Recipes
*  *  *  *  *
Want nutritional information for a recipe?
Copy and paste the ingredient list and the number of servings into Calorie Count. 
It will give you an approximate calculation.

*  *  *  *  *
Need help doing conversions between cups and grams or any such thing?
Use this site to give you all the different conversions for the different types of ingredients. 
*  *  *  *  *
---
PIN this ...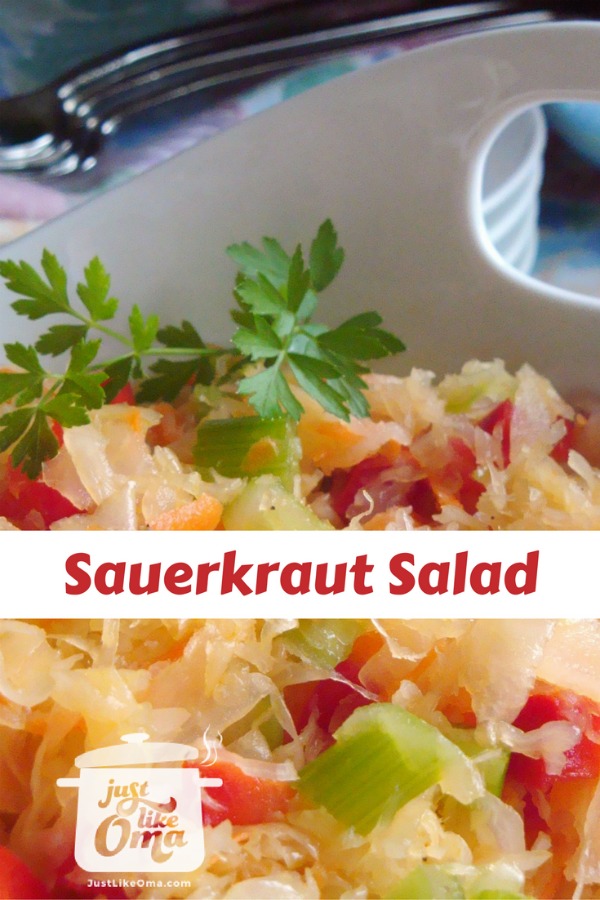 ---
Make every day a MUSICAL day!
"Let them praise His name with dancing, making melody to Him with tambourine and lyre!"
Psalm 149:3 (KJV)