How to Cook Sausage ~ Oma's Grilled Bratwurst
➤ by Oma Gerhild Fulson
This method for how to cook sausage is such an easy way and works for many German sausage recipes. The German word, Bratwurst, literally means 'fry sausage' and is probably one of the easiest ways to make this.
In Germany, there are over 1,500 types of sausages. That's hard to imagine, but it's true! Many sausage stores, aka Wurstladen, sell around 50 varieties each, making Germany the sausage capital of the world.
For the full list of ingredients & detailed instructions, see the recipe card at the end of this post. But before you scroll, there's important & interesting stuff to know right below.
Sausage can be purchased raw, smoked, canned, frozen, or cooked. They can be thin, fat, long, short, and made from any combination of veal, beef, or pork.
Each often has its own way of preparation, but most can be made the way shown here.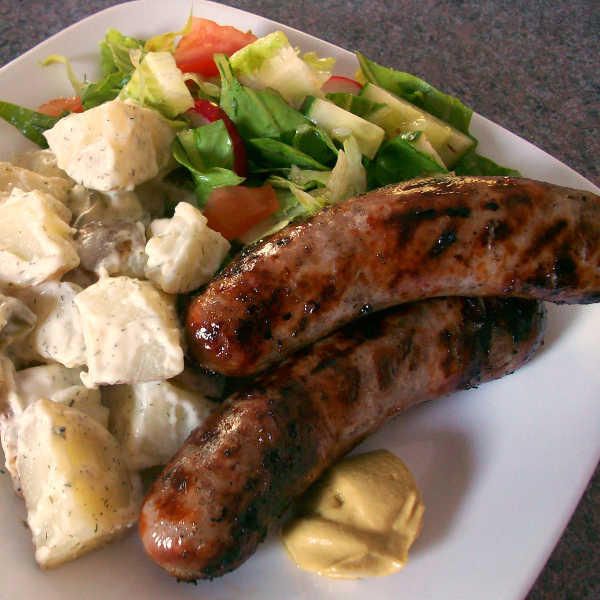 Wurst by any other name ...
The many varieties come with some very interesting names such as "Bierwurst" (beer sausage), "Blutwurst", (blood sausage), "Fleischwurst" (meat sausage), "Blaue Zipfel" (blue tip), "Teewurst" (tea sausage) and "Speckwurst" (bacon sausage).
What is the best way to cook sausage?
This Bratwurst recipe shows how to cook sausage by first gently boiling (to keep the moisture in the sausage!) and then final stage is the grill or fry pan in order to get that crispy brown skin. 
Yes, it may seem strange to first boil these sausages. I mean, most people just throw them onto the grill or into the fry pan. And, that works. BUT, those methods often result with dried out meat.
Simmering the sausages in liquid (and yes, you can use broth, or stock, or beer) preserves more of the moisture and fat within the sausage.
Once they are cooked through, they are quickly browned, either on the grill or the fry pan. 
These are absolutely fantastic when served with potato salad.
There's something absolutely mouth-watering about having a German meat-and-potato dinner. Get Oma's revised collection of her favorites in German Meat Dishes.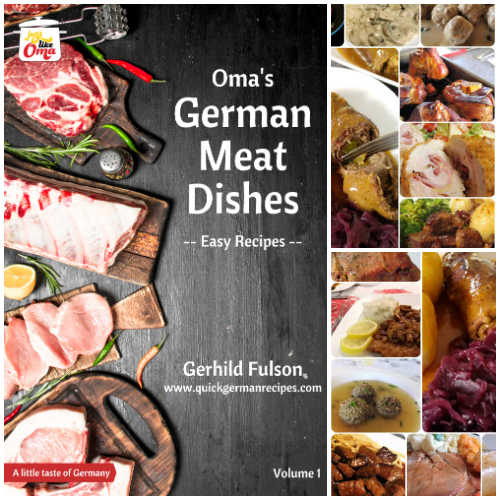 Take a peek at all Oma's eCookbooks. They make sharing your German heritage a delicious adventure!
If you're looking for an easy way to make lots of sausages, you can bake them instead. That way you can make lots at the same time, limited only by the size of your pan/oven.

The History of Bratwurst
When you think of Germany, what is the first thing to pop into your head? For many, it's the sausage of course! 
Bratwurst has been a popular dish in Germany for many generations. You may be wondering why this is...allow me to share some 'sausage knowledge'. 
Many, many years ago, it wasn't always so easy to put dinner on the table for your family, so EVERYTHING was saved. Every scrap of food, every leftover, every veggie, and any meat. During desperate times, nothing could risk being put to waste. 
Any meat scraps that were harvested, received, or found would be gathered up and made into bratwurst sausages! Seeing as they can be made small, a large abundance could be made at a time.
This was the perfect recipe to make to get through the harsh winters and difficult times. Bratwurst quickly became a favorite among many in Germany, not just for the convenience, but the deliciousness too!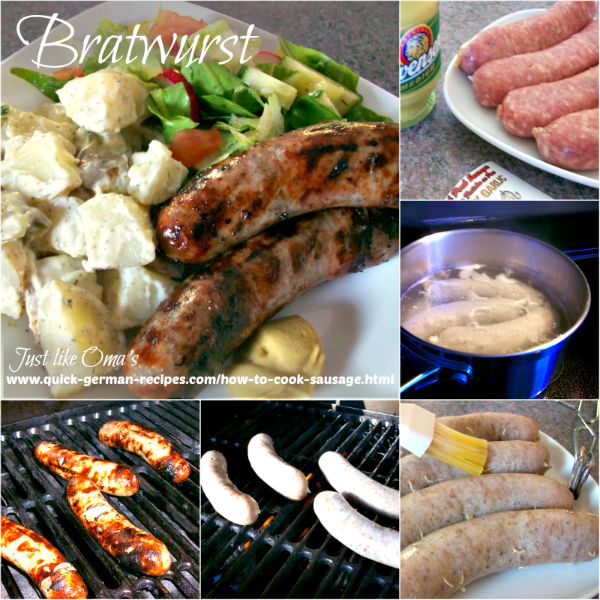 Royal Sausage?
It is also said that bratwurst became the 'royal' dish to be served in Frankfurt at coronations for the Holy Roman Emperors. Everyone would gather together in the main villages and roast locally made pork sausages.
Bratwurst was seen as a luxury during these celebrations because they would use nothing but the best mincemeat available to prepare them.
It's pretty interesting to see how the history of bratwurst has changed over the centuries. At first, it was a way of survival, then used for celebrations, and now it is enjoyed all over the world: in pubs, German restaurants, and sold in stores.
But we will always give the German's credit for creating this lecker sausage, and remember the struggle they went through centuries ago that led them to make it, then share it with us!
Oma says,
In Canada and USA when talking about sausages, it is usually the Bratwurst (actually translates as "fry sausage") that is talked about.

This is a raw sausage and can be gently boiled before frying or grilling.
Ready to cook some sausage?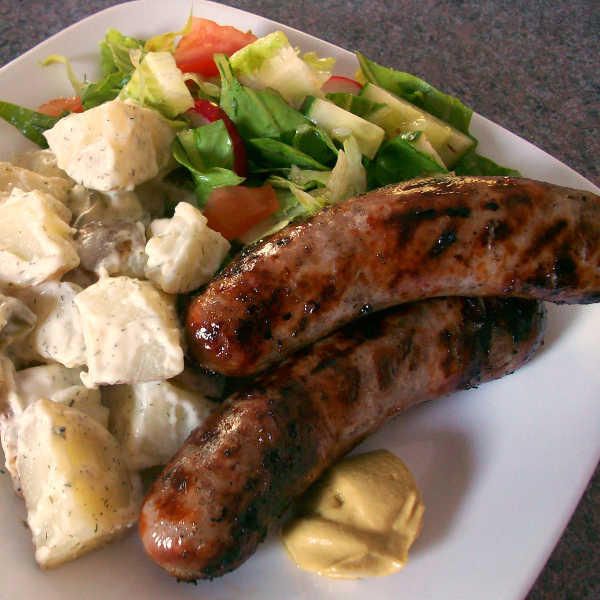 How to Cook Sausage - Oma's Grilled Bratwurst
This method for how to cook sausage is such an easy way and works for many German sausage recipes. However, if you've lots of sausages to make, try this oven method.
The German word, Bratwurst, literally means 'fry sausage' and is probably one of the easiest ways to make this.
Prep Time


5 minutes


Cook Time


20 minutes


Total Time

25 minutes

Servings:

Makes 4 servings
Ingredients:
4 raw bratwurst sausages (about 1 pound)
olive oil
Instructions:
Instructions:

Put sausages into pot of water. Bring to boil.

Simmer very gently for about 10 to 15 minutes.
Drain sausages and brush with oil.
Grill briefly until browned and crispy on the exterior.
Serve with mustard and

buns,

sauerkraut

or

an easy potato salad

.
Notes/Hints:

These sausages can also be finished off on the stove. 
After simmering and draining the sausages, fry them gently in a bit of oil in a medium hot frying pan. Turn frequently until nicely browned on all sides.
If you prefer, you can bake sausages in the oven, especially good when you've got a whole bunch to make.
*  *  *  *  *

Unless otherwise noted recipe, images and content © Just like Oma | www.quick-german-recipes.com

Leave a comment about this recipe or ask a question?

Pop right over to my private Facebook group, the Kaffeeklatschers. You'll find thousands of German foodies, all eager to help and to talk about all things German, especially these yummy foods. 
Meet with us around Oma's table, pull up a chair, grab a coffee and a piece of Apfelstrudel, and enjoy the visit.

Vanillekipferl are melt-in-your-mouth vanilla crescent cookies, similar to shortbread cookies made with ground almonds. Austrian & German traditional Christmas cookies!

Oma's Christmas Stollen is the BEST. Why? Because it's always moist, has a wonderful flavor using Greek yogurt (instead of Quark) and is super quick to make. And it's got Marzipan in it!!!

Oma's Lebkuchen recipe is SO easy. Made in one bowl, baked, decorated, & cut. It's authentic German gingerbread that smells like Christmas. The bars taste wunderBAR!
*  *  *  *  *
PIN to SAVE this recipe to your Pinterest board!
And let's be friends on Pinterest!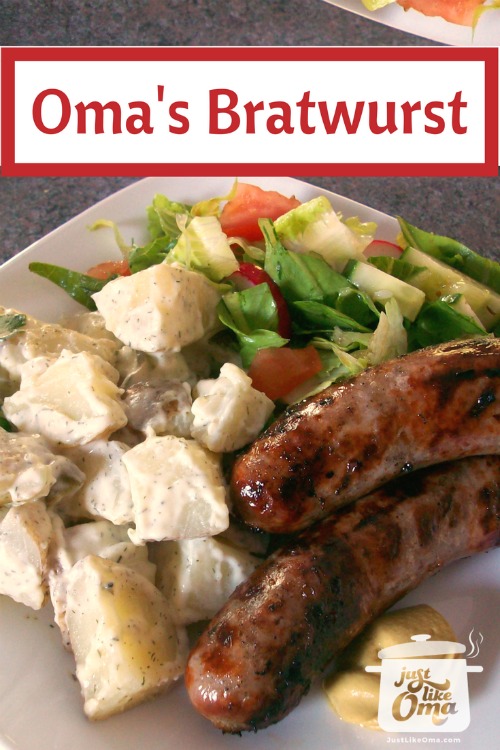 ---
How to Cook Sausage - Oma's Grilled Bratwurst
By
Oma Gerhild Fulson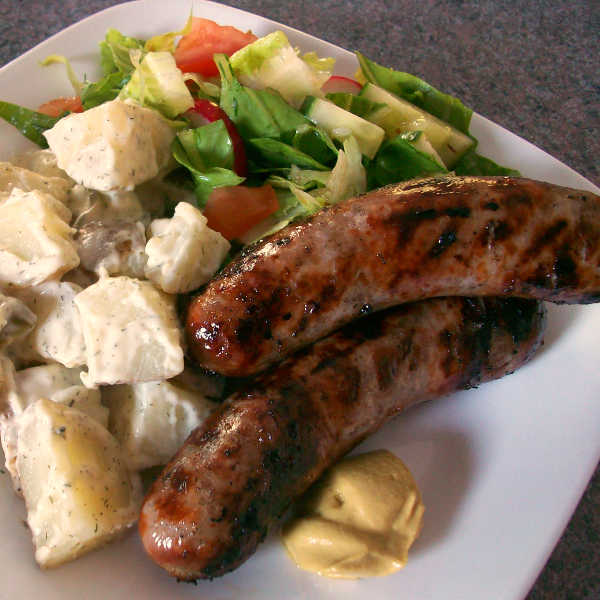 This way for how to cook sausage is such an easy method and works for many German sausage recipes. Quick, and simple!
Ingredients:
sausages,
oil,
For the full recipe, scroll up ...
Words to the Wise
"Fire tests the purity of silver and gold, but the Lord tests the heart."
Proverbs 17:3 (NLT0