How to Cook Sausage: Oma's Secret Method for German Grilled Bratwurst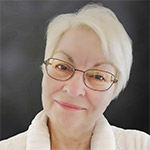 by: Gerhild Fulson  /  Cookbook Author, Blogger, German Oma!

This post may contain affiliate links, which means I'll receive a commission if you purchase through my links, at no extra cost to you. Please read full disclosure for more information.
If you need to know how to cook German sausage, look no further. My secret method is so easy and works for many German sausage recipes.
Bratwurst is one of the most popular German sausages, second only to the Frankfurter Würstchen (aka hot dogs), and is typically made from veal, beef, or pork.
The name Bratwurst is a German word that literally means fry sausage. Frying is probably one of the easiest ways to cook this delicious sausage.
The recipe for the actual sausage varies throughout the different regions of Germany; there are over 40 known Bratwurst varieties.
Bratwurst is often referred to as "brat" or "brats" for short.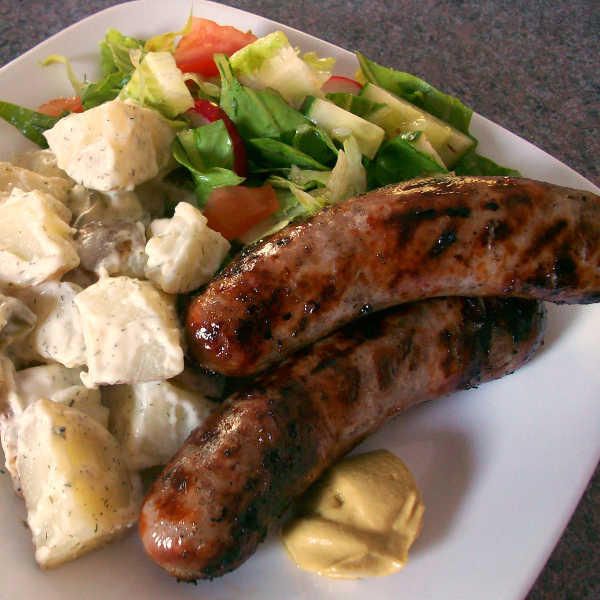 Perfection is a Picnic lunch pairing grilled Bratwurst with German potato salad and a fresh garden salad!
Wurst by any other name ...
In Germany, there are over 1,500 types of sausages. That's hard to imagine, but it's true! Many sausage stores, aka Wurstladen, sell around 50 varieties each, making Germany the world's sausage capital.
The many varieties of sausages come with some very interesting names, such as:
Bierwurst (beer sausage)
Blutwurst (blood sausage)
Fleischwurst (meat sausage)
Blaue Zipfel (blue tip)
Teewurst (tea sausage)
Speckwurst (bacon sausage)
Rote Wurst (red sausage)
Weisswurst (white sausage)
Currywurst (curry sausage)
The currywurst isn't actually a type of sausage but a popular fast food dish in Germany that is made with bratwurst. The bratwurst is first steamed or boiled, and then fried. It is then topped with curry ketchup, a ketchup-based tomato sauce dusted with curry powder. It is often served with fries. German food at its best!
The History of Bratwurst

Bratwurst has been a popular dish in Germany for many generations. You may be wondering why this is. Allow me to share some sausage knowledge.
Many, many years ago, it wasn't always so easy to put dinner on the table for your family, so EVERYTHING was saved. Every scrap of food, every leftover, every veggie, and any kind of meat. During desperate times, nothing could risk being put to waste. 

Any meat scraps that were harvested, received, or found would be gathered up and made into bratwurst sausages! Seeing as they can be made small, a large abundance could be made at a time.

This was a great way to get through the harsh winters and difficult times. Bratwurst quickly became a favorite among many in Germany, not just for the convenience, but the deliciousness too!
There's something absolutely mouth-watering about having a German meat-and-potato dinner. Get Oma's revised collection of her favorites in German Meat Dishes.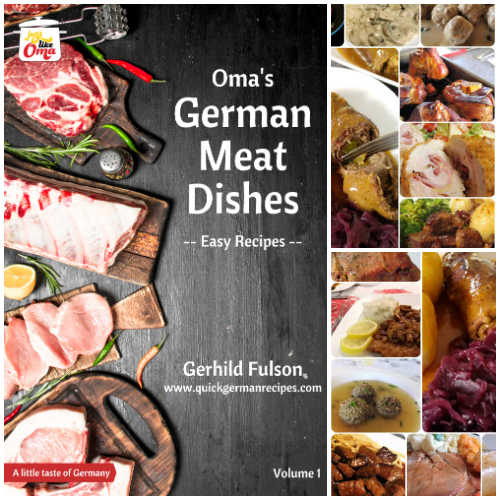 Take a peek at all Oma's eCookbooks. They make sharing your German heritage a delicious adventure!
Royal Sausage?

It is also said that bratwurst became the royal dish to be served in Frankfurt at coronations for the Holy Roman Emperors. Everyone would gather together in the main villages and roast locally made pork sausage.
Bratwurst was seen as a luxury during these celebrations because they would use nothing but the best ground pork available to prepare them.

It's pretty interesting to see how the history of bratwurst has changed over the centuries. At first, it was a way of survival, then used for celebrations, and now it is enjoyed all over the world: in pubs, German restaurants, and sold in stores.

But we will always give the early Germans credit for creating this classic sausage, and remember the struggle they went through centuries ago that led them to make it, and how it was passed down from generation to generation.
How to cook sausage: different cooking methods
There are many different ways to cook sausage. You can cook them:
on the stove
on the grill
in a pressure cooker
in a crock pot
in the deep fryer
If you're looking for an easy way to make lots of sausages, baking is the way to go. That way you can make lots at the same time, limited only by the size of your baking sheet. You can also add sliced onions and/or bell peppers to roast alongside the brats for extra goodness.
BUT, the absolute best method to cook sausage? See right below.
How to cook German sausage for best results
The best way to cook sausage is a two-step process:
Gently simmer the sausages in water for about 10 to 15 minutes.
Brush drained sausages with olive oil and grill until the skin is browned and crispy.
That's it! Yes, it may seem strange to first boil the sausages. I mean, the most common way to cook sausage is to just throw them onto the grill or into the frying pan. And, that certainly works. BUT, those methods can often result in dried-out meat.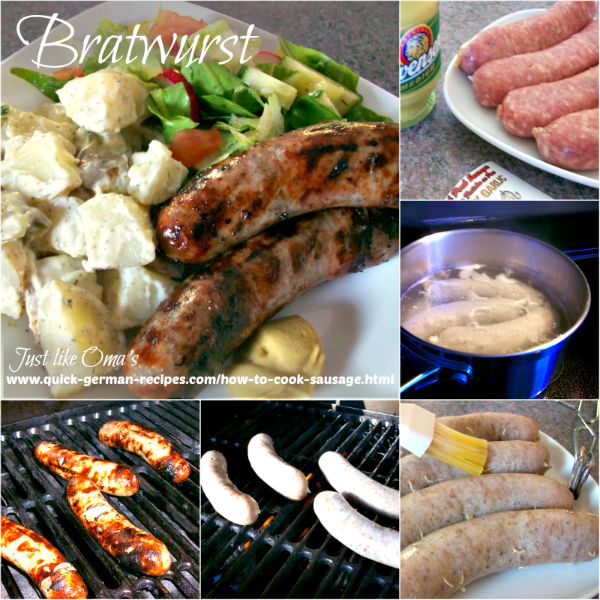 Simmering the sausage in liquid first helps to preserve the moisture and fat within the sausage. Once they are cooked through, they are quickly browned to seal in the moisture. What you end up with is a sausage that is moist and juicy on the inside and crispy on the outside.
Now that's how to cook sausage!
How to serve Bratwurst sausage

These are absolutely fantastic when served with German potato salad, a fresh green salad, and a dollop of your favorite German mustard for dipping. 
Another popular way to serve bratwurst is on hot dog buns or soft rolls topped with a yummy grainy mustard and sauerkraut. Sausage on a bun has a long tradition of being a staple dish at fall festivities such as Oktoberfest.
Here are other yummy ways to serve bratwurst:
Oma says,
When you think of Germany, what is the first thing to pop into your head? For many, it's the sausage of course!
When talking about sausages in Canada and the United States, it is usually the bratwurst that is talked about.
Bratwursts are raw sausages and can be gently boiled before frying or grilling.
They can also be purchased smoked, canned, frozen, or precooked, and can be made from any combination of pork, beef, or veal.
There are many different varieties of bratwurst that come from various regions of Germany, each with their own distinct flavors and seasonings, such as:

Thüringer Rostbratwurst
Nürnberger Rostbratwurst
Fränkische Bratwurst
Würzburger Bratwurst
All are wunderbar!!

For more Bratwurst recipes, check out:

Ready to cook up some delicious German Bratwurst?

Is the recipe below locked? Here's why.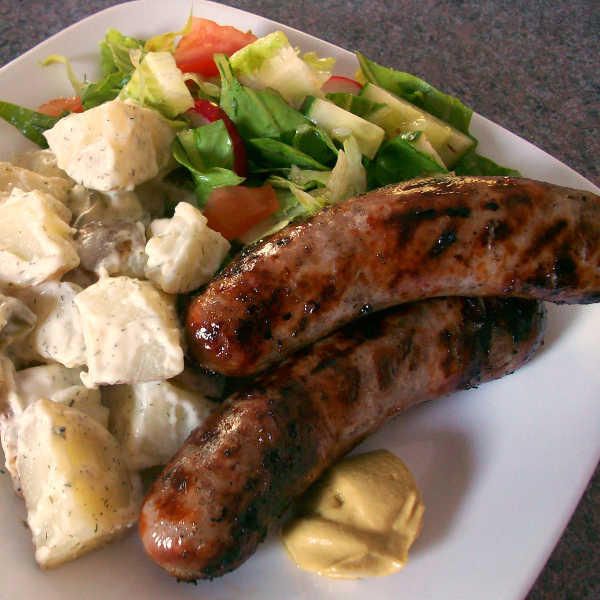 How to Cook Sausage: Oma's Secret Method for German Grilled Bratwurst

If you need to know how to cook sausage, look no further. My easy method for cooking bratwurst produces perfect sausages every time that will have everyone in the whole family wanting seconds.
Prep Time


5 minutes


Cook Time


20 minutes


Total Time

25 minutes

Servings:

Makes 4 servings
Ingredients:
4 raw bratwurst sausages (about 1 pound)
olive oil
Instructions:
Instructions:

Preheat your charcoal or gas grill to medium-high heat.
Place the fresh sausage into a large pot with enough water to cover. Bring to a boil.
Lower to a gentle simmer and let the sausage cook for about 10 to 15 minutes.
Drain sausages and brush them with a little oil.
Clean the hot grill with a grill brush and lightly oil the grate.
Grill the sausage, turning them several times until deliciously browned and crispy on all sides. Cover grill in between turning them. Cooking time will be about 5 to 10 minutes.
Notes/Hints:

These sausages can also be finished off on the stove: after simmering and draining the sausages, fry them gently in a bit of oil in a large skillet over medium heat. Turn frequently until nicely browned on all sides.
Use a meat thermometer to make sure the internal temperature reaches at least 160 degrees Fahrenheit.
For more intense flavor, try simmering the sausages in broth, apple cider, apple juice, or even beer (for yummy beer brats!), but water is best if you prefer the natural flavor of these great sausages to shine through. You can also add some sliced onions to the liquid.
If you want to know how to cook German sausage in the oven, this cooking method is an especially good idea when you've got a whole bunch to cook at once.
*  *  *  *  *

Unless otherwise noted recipe, images and content © Just like Oma | www.quick-german-recipes.com

04.05.2022 revision update
Leave a comment about this recipe or ask a question?

Pop right over to my private Facebook group, the Kaffeeklatschers. You'll find thousands of German foodies, all eager to help and to talk about all things German, especially these yummy foods. 
Meet with us around Oma's table, pull up a chair, grab a coffee and a piece of Apfelstrudel, and enjoy the visit.

Cooking just like Oma, making those German meals, is actually quite easy. Let me, Oma Gerhild, help you with my step-by-step methods to re-create those yummy meals you remember from your Oma.

If you're looking for tasty, traditional, and easy German cake recipes (in English) to try, then you've come to the right place! Check out these lecker treats!

Discover the ultimate German schnitzel recipe with Oma's quick and easy method - perfect for any occasion! Taste the authentic flavors of Germany today.
*  *  *  *  *
PIN to SAVE this recipe to your Pinterest board!
Words to the Wise
"Fire tests the purity of silver and gold, but the Lord tests the heart."
Proverbs 17:3 (NLT0