Oma's Vegetable Frittata Recipe

➤ by Gerhild Fulson
A frittata recipe, some would spell it fritatta recipe, that's this easy just had to find it's way onto my website. With its German twist, this Gemusefrittata is a perfect light supper -- very similar to a quiche.
Don't know the difference between a frittata and a quiche?
They're really very similar. Basically, both are egg dishes.
A quiche is usually made by making a custard out of eggs and cream with other ingredients thrown in. It's then often poured over a crust and baked. Easy quiche recipes usually don't bother with a crust.
A frittata's main ingredient is often eggs, with little cream or milk. It's similar to an omelette and can have cheese, vegetables, meat, potatoes, and even pasta included.
Since it comes from the Italian word "fritto", meaning to fry, this dish is usually first fried in a skillet and then finished off in the oven.
The recipe below is one that I've adapted from the German ARD Buffet TV magazine (July 2012). It's great when you need quick recipes for supper and you have bits of veggies leftovers.
You can always throw in some leftover meat as well. Ham would be delicious, as would any kind of smoked meat.

Ready to make this Frittata?
Oma's Vegetable Frittata Recipe

A frittata recipe that's this easy just had to find it's way onto my website. With its German twist, this Gemusefrittata is a perfect light supper -- very similar to a quiche.

Prep Time


10 minutes


Cook/Bake Time


30 minutes


Total Time

40 minutes

Servings:

Makes 4 - 5 servings
Ingredients:
3 small zucchini, cut into bite-sized chunks
3 small red peppers, cut into bite-sized chunks
1 pound additional veggies (squash, broccoli, leeks, etc.) cut into bite-sized chunks
5 - 6 cooked potatoes, peeled, cubed
salt
4 tablespoons oil
6 large eggs
½ cup cream
salt, pepper (to taste)
3 tablespoons basil, chopped
¼ pound grated German cheese (Emmental, etc.)
Instructions:
Preheat oven to 400°F.
In a large oven-safe pan, fry the zucchini, peppers, potatoes, and "additional" veggies in the oil for about 5 minutes. Season with salt.
Mix together the remaining ingredients and pour over veggies.
Place in oven for about 20 to 25 minutes, until eggs are set.
*  *  *  *  *

Unless otherwise noted recipe, images and content © Just like Oma | www.quick-german-recipes.com

Need that "all's good with the world" feeling? Comfort food will do that. Get your copy of Oma's German favorites in her Comfort Foods e-Cookbook.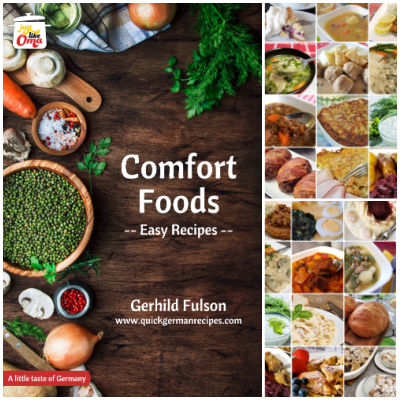 Take a peek at all Oma's eCookbooks. They make sharing your German heritage a delicious adventure!
Leave a comment about this recipe or ask a question?

Pop right over to my private Facebook group, the Kaffeeklatschers. You'll find thousands of German foodies, all eager to help and to talk about all things German, especially these yummy foods. 
Meet with us around Oma's table, pull up a chair, grab a coffee and a piece of Apfelstrudel, and enjoy the visit.

Oma's German schnitzel recipe (Schweineschnitzel) is great if you need something delicious that's quick to make as well. So traditionally German and so WUNDERBAR!

Need ideas for what to serve with burgers? Everyone loves a lecker hamburger done on the summer BBQ. But what to serve alongside? Check out these great options!

Oma's baked pork chops with sauerkraut is an easy German dinner that's quick to make. Adding both browned onion rings and apples are scrumptious additions to this traditional meal.
*  *  *  *  *
Words to the Wise
"Fire tests the purity of silver and gold, but a person is tested by being praised.."
Proverbs 27:21 (NLT)