Mutti's Easy Cabbage Soup Recipe ❤️
➤ by Oma Gerhild Fulson
FTC Disclosure: Making a purchase via a link on the page? I may earn a small commission on the transaction - at no added cost to you. Thanks!
Yum
This German Cabbage Soup recipe is one that my Mutti often made in the winter. Living in northern Canada during my growing up years, this soup was a real tummy-warmer! It was her way, without me realizing it, that my love for German foods was established. I so enjoy any German cabbage recipe, that even now, I'm always trying new ones.
This one is such a quick recipe to make. However, it's one of those recipes that benefits with a long time on the stove, but it's time I can do other things.

---
Germans love their cabbage and are nicknamed, Krauts. However, people from Russia, Belgium, and Netherlands top the list of cabbage consumption
The usual ways cabbage is served is  raw, steamed,  pickled, stewed, roasted, sautéed or braised.
Cabbage provides vitamins A, C, K and B6, folate, potassium, manganese, thiamin, calcium, iron, magnesium and fiber.

Savoy cabbage has a milder taste and can easily be substituted for the green or white cabbages that are used for most German recipes.
Mutti's Easy German Cabbage Soup Recipe ❤️
Ingredients:
2½ lbs potatoes
2 Tbsp oil
1 lb ground beef
3 lb cabbage, shredded or chopped
2 medium onions, diced
salt, pepper, caraway seeds
4 cups broth (or use bouillon cubes)
1 Tbsp vinegar
1 Tbsp Maggi Seasoning Sauce (if available)
Instructions:

If the potatoes are new and the skins thin, don't bother peeling. Cut potatoes into bite-sized chunks.
Heat oil in large soup pot. Add onions and cook until translucent.
Add ground beef. Cook for several more minutes until meat is browned.
Add some water and stir up any browned bits stuck to the bottom of the pot.
Add cabbage and potatoes. Add broth. Add water (or more broth if desired) until about one inch BELOW level of vegetables. If you add water to top of vegetables, you final soup will be more liquid.
Add 2 tsp salt, ¼ tsp pepper, and 2 Tbsp caraway seeds.
Bring to boil, cover, and simmer for about 45 - 90 minutes. Stir several times during this time.
Add vinegar and Maggi to taste
Season with additional salt, pepper, and caraway seeds.
Add more vinegar and Maggi if needed.
Hints
If you like your soup creamier, thicken in any of the following ways: stir in leftover mashed potatoes or stir in instant mashed potato flakes.
Add carrots and/or celery along with the cabbage.
Try my potato and cabbage soup next.

---
Like the soup above? You'll love looking at and making more of Oma's soups. All so quick and easy!
What makes these soups so wunderbar? They bring back such wonderful memories of my Mutti's kitchen. So, of course, I had to write my own soup e-cookbook to share with my grandchildren. I know you'll LOVE it, too! There are 84 full-color pages filled with step-by-step instructions and hints. Take a quick peek ...
Sharing these soup recipes from my Mutti and Oma to my own young grandchildren ... that's such a delicious way to pass on our German heritage :)
Krauts?
We LOVE our cabbage! It's such an economical vegetable that can be used in so many different ways. So many cabbage recipes: cabbage rolls, casseroles, soups, salads, and side dishes.

I guess there's a reason that Germans are sometimes called "Krauts"!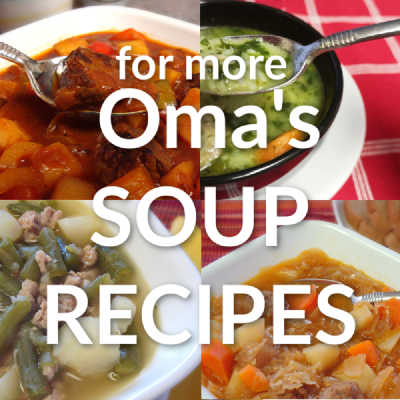 *  *  *  *  *
Thinking of starting your own Handmade Business?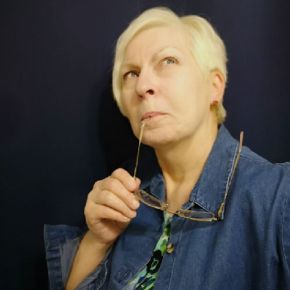 This Oma KNOWS you CAN do it.
How do I know?
Well, if I can do it, anyone can.
I've even figured out how I can help you.
I've teamed up with my own business coach, Renae Christine (yes, do google her!), to bring you this free masterclass. After you watch it, ask me any questions and I'll gladly answer them.
Don't hesitate. I'm not sure how long Renae will keep this free masterclass available.
PS:  Yes, Renae really is as amazing as all the reviews say.
PPS: Yes, the course is for handmade items, but I've used it successfully for my cookbooks. I know others are using her methods for services, direct sales, and even a local ice cream bar & grill that's constantly selling out. You've nothing to lose by taking a look ... and a whole bunch to gain.
*  *  *  *  *
Oma's Cookbooks (downloadable & print)
*  *  *  *  *
Want nutritional information for a recipe?
Copy and paste the ingredient list and the number of servings into Calorie Count. 
It will give you an approximate calculation.

Need help doing conversions
between cups and grams or any such thing?
Use this site to give you all the different conversions for the different types of ingredients. 
---
PIN this...
---
Words to the Wise
"A false witness will not go unpunished, nor will a liar escape."
Proverbs 19,5 (NLT)