Mutti's Easy Cabbage Soup Recipe
➤ by Gerhild Fulson
This German Cabbage Soup recipe is one that my Mutti often made in the winter. Above, I've added carrots to this soup. Adds just a bit of color and extra flavor. In fact, you can add celery as well, if you wish.
Living in northern Canada during my growing up years, this soup was a real tummy-warmer! It was her way, without me realizing it, that my love for German foods was established. 
For the full list of ingredients & detailed instructions, see the recipe card at the end of this post. But before you scroll, there's important & interesting stuff to know right below.
I so enjoy any German cabbage recipe, that even now, I'm always trying new ones.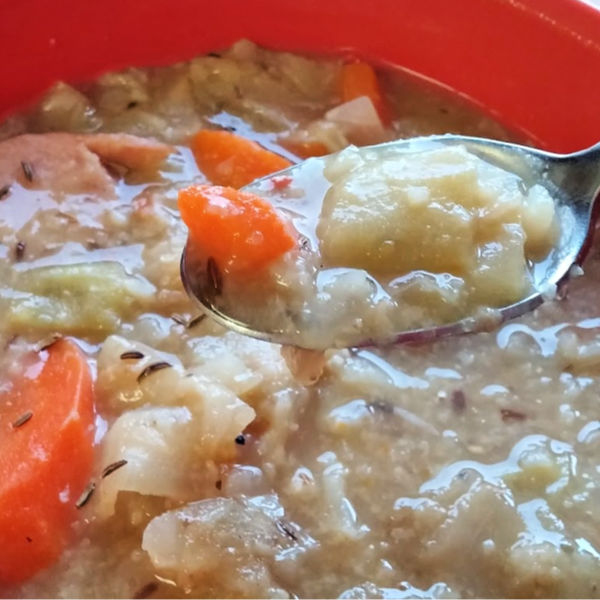 This one is such a quick recipe to make. However, it's one of those recipes that benefits with a long time on the stove, but it's time I can do other things.
---

Germans love their cabbage and are nicknamed, Krauts. However, people from Russia, Belgium, and Netherlands top the list of cabbage consumption
The usual ways cabbage is served is  raw, steamed,  pickled, stewed, roasted, sautéed or braised.
Cabbage provides vitamins A, C, K and B6, folate, potassium, manganese, thiamin, calcium, iron, magnesium and fiber.
Savoy cabbage has a milder taste and can easily be substituted for the green or white cabbages that are used for most German recipes.
---
Grab your copy of Oma's favorite soups collection in Quick Fix German Soups e-Cookbook. You'll LOVE it!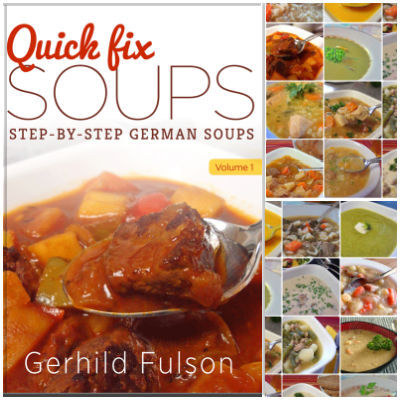 Take a peek at all Oma's eCookbooks. They make sharing your German heritage a delicious adventure!
Krauts?
We LOVE our cabbage! And, above I've made the soup following the recipe exactly. WUNDERBAR!
Cabbage is such an economical vegetable that can be used in so many different ways. So many cabbage recipes: cabbage rolls, casseroles, soups, salads, and side dishes.
I guess there's a reason that Germans are sometimes called "Krauts"!

---
Hummus?
Yep. Hummus. Sylvie, my daughter-in-law, shares that hummus is delicious in this to add extra zing.  Her easy hummus recipe is so quick to make and it's becoming wildly popular in Germany. Try it. I think you'll like it too!
---
Ready to make some Cabbage Soup?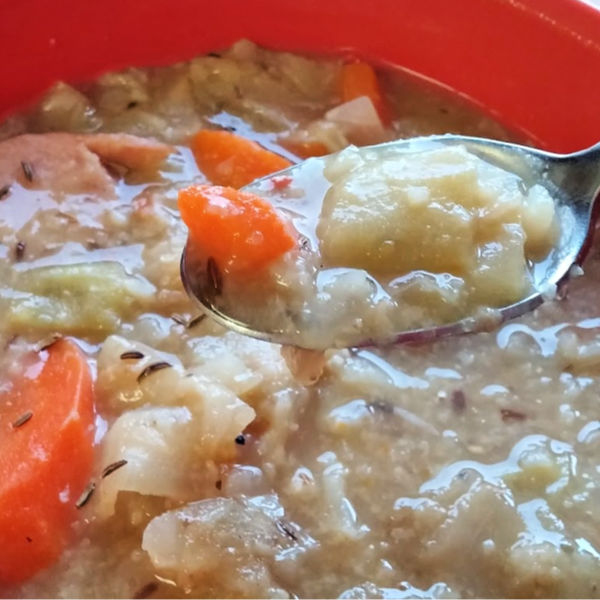 Easy German Cabbage Soup Recipe 

This German Cabbage Soup recipe is one that my Mutti often made in the winter. I love adding carrots and celery to a bit of color and extra flavor.
Living in northern Canada during my growing up years, this soup was a real tummy-warmer! It was her way, without me realizing it, that my love for German foods was established. 
Prep Time


20 minutes


Cook Time


90 minutes


Total Time

110 minutes

Ingredients:
2½ pounds potatoes
2 tablespoons oil
1 pound ground beef
3 pound cabbage, shredded or chopped
2 medium onions, diced
salt, pepper, caraway seeds
4 cups broth (or use bouillon cubes)
1 tablespoon vinegar
1 tablespoon Maggi Seasoning Sauce (if available)
Instructions:
If the potatoes are new and the skins thin, don't bother peeling. Cut potatoes into bite-sized chunks.
Heat oil in large soup pot. Add onions and cook until translucent.
Add ground beef. Cook for several more minutes until meat is browned.
Add some water and stir up any browned bits stuck to the bottom of the pot.
Add cabbage and potatoes. Add broth. Add water (or more broth if desired) until about one inch BELOW level of vegetables. If you add water to top of vegetables, you final soup will be more liquid.
Add 2 teaspoon salt, ¼ teaspoon pepper, and 1 to 2 tablespoon caraway seeds.
Bring to boil, cover, and simmer for about 45 - 90 minutes. Stir several times during this time.
Add vinegar and Maggi to taste
Season with additional salt, pepper, and caraway seeds.
Add more vinegar and Maggi if needed.
Notes/Hints:

If you like your soup creamier, thicken in any of the following ways: stir in leftover mashed potatoes or stir in instant mashed potato flakes.
Add carrots and/or celery along with the cabbage.
Try my potato and cabbage soup next.
*  *  *  *  *

Unless otherwise noted recipe, images and content © Just like Oma | www.quick-german-recipes.com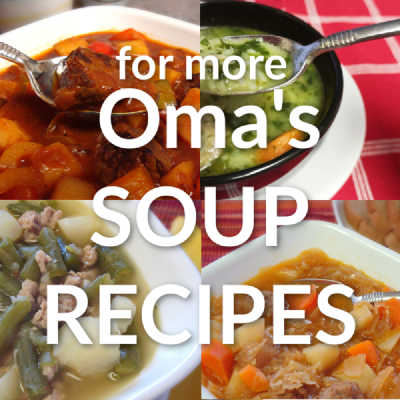 Leave a comment about this recipe or ask a question?

Pop right over to my private Facebook group, the Kaffeeklatschers. You'll find thousands of German foodies, all eager to help and to talk about all things German, especially these yummy foods. 
Meet with us around Oma's table, pull up a chair, grab a coffee and a piece of Apfelstrudel, and enjoy the visit.

Learn how to make German Roasted Pork Hocks (Pork Knuckles) anytime you want something traditionally German and wonderfully delicious! A hearty Oktoberfest meal for any time of the year!

This confetti salad is a great variation of German potato salad that makes a complete lunch dish. This colorful salad is such a wunderbar statement dish that will amaze everybody..with it's taste too!

What is Grow.me and why should you join it? There are several real reasons for using Grow with benefits for you, the reader. And yes, benefits for me too :)
*  *  *  *  *
PIN to SAVE this recipe to your Pinterest board!
And let's be friends on Pinterest!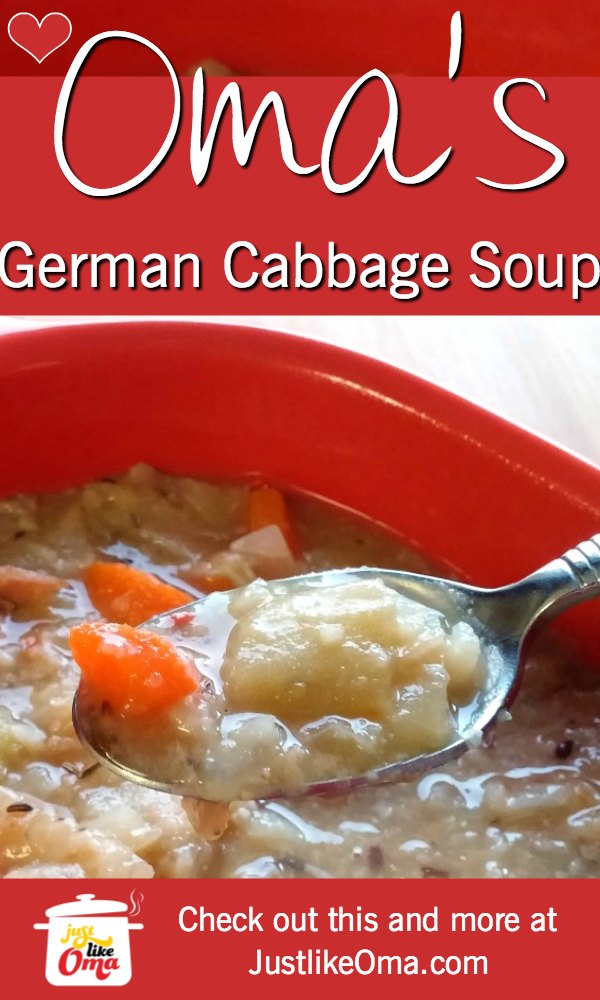 ---
German Cabbage Soup Recipe made Just like Oma


By
Oma Gerhild Fulson
Need a cabbage soup recipe? Try this one and then try the others you'll find here. This traditional German comfort food is so easy to make.

Ingredients:
potatoes,
oil,
ground beef,
cabbage,
onions,
seasonings,
broth,
vinegar,
Maggi,
For the full recipe, scroll up ...
Words to the Wise
"A false witness will not go unpunished, nor will a liar escape."
Proverbs 19,5 (NLT)