Oma's Cabbage Diet Soup❤️

➤ by Oma Gerhild Fulson
FTC Disclosure: Making a purchase via a link on the page? I may earn a small commission on the transaction - at no added cost to you. Thanks!
Looking for a cabbage diet soup that actually tastes great? I've played around with the recipe that's all over the internet for that famous diet cabbage soup, aka military diet, and finally have created this one. It's one that hubby really enjoys. Thankfully, because that way, I don't feel like I've got to cook more than one thing for supper. We can both enjoy this ... and actually have it for several meals in a row. I'm so blessed to have a hubby that LOVES leftovers.

OR, you could always freeze portions for you to use as you work your way through the traditional cabbage soup diet ... only this one has hints of German cooking. One, I think, you'll love as well. I make it in a very large 20-quart stainless steel stockpot (that works great on my new induction stove top).  And, I make the pot full. It's enough to last hubby and me for a week. And when the pot is empty, hubby usually asks for more :) Do check below to see how I incorporate it into the "Cabbage Soup Diet".
---
I have to admit that when I make soups, even following my own recipes, I usually double, triple, or even quadruple the recipe!
Why?
Because we love soups! And, because they're so wunderbar, hubby LOVES leftovers.
So, I need and use a HUGE stock pot for this. It's easily the most used pot in my kitchen.
In fact, with it's high sides, I often use it when I'm browning meat in order to minimize the splattering all over my stove. Multi-purpose. Perfect for me! Just think how many rouladen or cabbage rolls you can braise in here!
---
Oma's Cabbage Diet Soup❤️

Ingredients:
2 tbsp olive oil
1 - 2 large onions, sliced or diced
1 medium head green cabbage, shredded or chopped
4 - 6 carrots, diced

4 - 6 stalks celery, diced
1 green or red pepper, diced
1 tsp oregano
1 tsp basil
1 tsp celery seeds
1 tbsp Vegeta (optional)
salt, pepper to taste
1 - 2 cans diced tomatoes
1 - 2 bags chopped kale
bouillon cube(s) (if desired)
Montreal Steak Spice (optional)
Instructions:
In a large stock pot (mine is 20 quarts) ... or alter amounts to fit the size of your pot ... sauté onions slowly, until transparent and slightly golden. 
Add a cup or two of the shredded or chopped cabbage and continue to sauté for several minutes, stirring frequently. This 'browning' will ensure a wonderful flavor to your soup.
Add carrots, celery, and pepper, and continue to sauté until veggies are slightly tender.
Add the rest of the cabbage, spices, tomatoes (undrained), and add water until most of the veggies are covered. 
Add bouillon cube, if using, and stir. 
Bring to boil. Cover and simmer until cabbage is almost tender. Stir in kale. Let simmer for about 10 minutes until the kale is tender. If needed, add a bit more water.
Taste and season with additional Vegeta, Montreal Steak Spice (if using), salt, and pepper.

---
Like the soup shown here? You'll love looking at and making more of Oma's soups. All so quick and easy!
What makes these soups so wunderbar? They bring back such wonderful memories of my Mutti's kitchen. So, of course, I had to write my own soup e-cookbook to share with my grandchildren. I know you'll LOVE it, too!
There are 84 full-color pages filled with step-by-step instructions and hints. Take a quick peek ...
Sharing these soup recipes from my Mutti and Oma to my own young grandchildren ... that's such a delicious way to pass on our German heritage :)
How I use this cabbage diet soup ...
I've used this as part of the regular fad 7-day Cabbage Soup Diet or Military Diet ... and it works to lose about 10 pounds in about 7 days. Yes, really. And, yes, the weight comes back ... just as the diet says. However, if one needs to quickly lose about 10 pounds and then is careful afterwards, not all the weight will come back.
At least, that's how it worked/works with me. I've done the 7-day in the past, following the actual 7-day plan very strictly. But, this time, ...
I've learned a better way:
I use the cabbage diet soup above as a meal at least once a day. And, sometimes, if I'm in a hurry and the pot is full, I'll actually have it for lunch and supper! Thankfully, hubby loves this, so he joins me. The rest of the day, I'll eat any and all types of fruits and veggies. Usually fresh.
This is ALMOST a raw vegan diet. Yikes! But, and this is a BIG BUT ... I'll indulge in some German cooking ... some Schnitzel, or Sauerbraten ... and even have a piece of Black Forest Torte. BUT, I eat these in moderation and not every day. Hubby often supplements with some good German bread and cheese or meat. Or, I'll cook a traditional German meal that we both enjoy (I call this my cheat meal) ... and I'll make sure there are enough leftovers for him for another day.
Many times, just adding a smoothie will satisfy. I'll eat bananas, potatoes, peas, corn. All the things one's normally told not to eat when one's trying to lose weight. I eat until I'm full. If that means a huge, and I mean huge, salad, then that works. I definitely limit fats, sugars, anything baked and processed foods.
In other words, it's a trial-and-error process to see what works for you. Every body is different. Every body likes different things. (I use a scale to monitor what works and what doesn't. Makes this process easy breezy)
For our sweet tooth, I use my dehydrator to dry apples, pineapples, strawberries, etc. I'll make Nice Cream (Ice Cream out of bananas, frozen cherries, cacao) that tastes just like a decadent chocolate-cherry ice cream and dehydrate any leftover Nice Cream into a fruit rollup that tastes wonderful with a cup of coffee for Kaffeeklatsch for hubby and me. 
Please note that I'm just an Oma, not a nutritionist. The above is just what I've experienced and what has worked for me. Following it is done at your own risk (for losing weight) ... perhaps check with your doctor first.
~ Oma Gerhild :)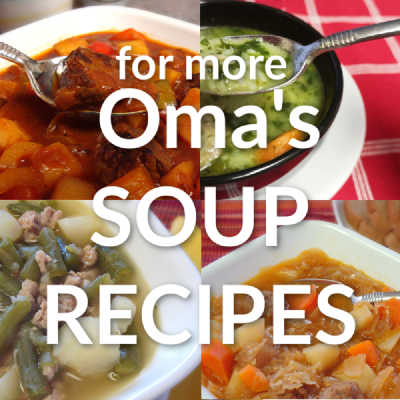 Leave a comment about this recipe or ask a question?
Pop right over to my private Facebook group, the Kaffeeklatschers. You'll find thousands of German foodies, all eager to help and to talk about all things German, especially these yummy foods. 
I pop in all the time as well, to chat and to answer questions. 
Meet with us around Oma's table, pull up a chair, grab a coffee and a piece of Apfelstrudel, and enjoy the visit.
*  *  *  *  *
Thinking of starting your own Handmade Business?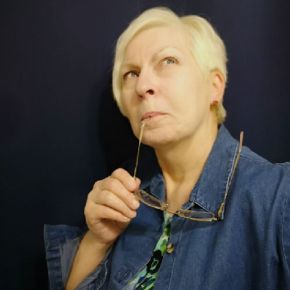 This Oma KNOWS you CAN do it.
How do I know?
Well, if I can do it, anyone can.
I've even figured out how I can help you.
I've teamed up with my own business coach, Renae Christine (yes, do google her!), to bring you this free masterclass. After you watch it, ask me any questions and I'll gladly answer them.
Don't hesitate. I'm not sure how long Renae will keep this free masterclass available.
PS:  Yes, Renae really is as amazing as all the reviews say.
PPS: Yes, the course is for handmade items, but I've used it successfully for my cookbooks. I know others are using her methods for services, direct sales, and even a local ice cream bar & grill that's constantly selling out. You've nothing to lose by taking a look ... and a whole bunch to gain.
*  *  *  *  *
Oma's Cookbooks (downloadable & print)
*  *  *  *  *
Want nutritional information for a recipe?
Copy and paste the ingredient list and the number of servings into Calorie Count. 
It will give you an approximate calculation.

Need help doing conversions
between cups and grams or any such thing?
Use this site to give you all the different conversions for the different types of ingredients. 
---
PIN this ...
---
Try this slow cooker roast beef and you'll be amazed at how much this tastes like rouladen WITHOUT the work.

Learn how to cook pork hocks, anytime you want something traditionally German and wonderfully delicious! A hearty meal for any time of the year!
---
Words to the Wise
"If you search for good, you will find favor; but if you search for evil, it will find you!"
Proverbs 11:27 (NLT)
---
Oma's Cabbage Diet Soup


By
Oma Gerhild Fulson
Looking for a cabbage diet soup that works? Here's the one I'm using that's got a bit of a German twist to it. And, hubby loves it!


Prep Time: 15 minutes

Cook time: 40 minutes

Ingredients:
1 cabbage,
6 carrots,
6 stalks celery,
2 cans tomatoes,
For the full recipe, scroll up ...