Oma's Easy Potato Soup Recipe ❤️
➤ by Oma Gerhild Fulson
FTC Disclosure: Making a purchase via a link on the page? I may earn a small commission on the transaction - at no added cost to you. Thanks!
Need an easy potato soup recipe? Here's my German version of this traditional comfort food. Add some fresh bread and you've a meal that will WOW your family and guests! What's really great is that this soup is so quick to make and you can vary it depending what's in your fridge or freezer.
For the meat, I like to use traditional German wieners. However, kielbasa, ham, or any smoked sausage is delicious.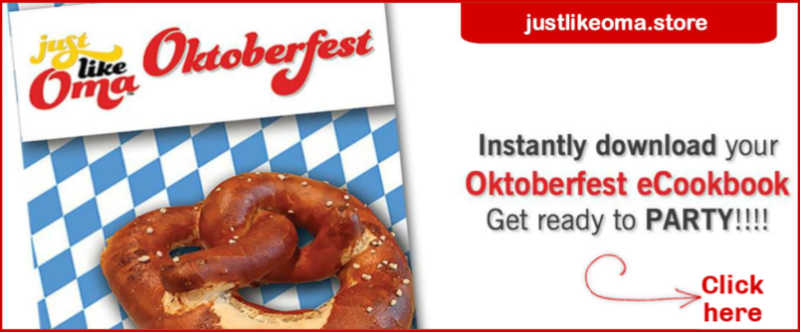 Like the soup shown here? You'll love looking at and making more of Oma's soups. All so quick and easy!
What makes these soups so wunderbar? They bring back such wonderful memories of my Mutti's kitchen. So, of course, I had to write my own soup e-cookbook to share with my grandchildren. I know you'll LOVE it, too!
There are 84 full-color pages filled with step-by-step instructions and hints. Take a quick peek ...
Sharing these soup recipes from my Mutti and Oma to my own young grandchildren ... that's such a delicious way to pass on our German heritage :)
More Potato Soup Tips ...
Poke the sausage several times with a fork to let the flavors out during the cooking. Cut the meat into pieces just before serving the soup.
Can you get double smoked bacon piece with the attached rind? This is the BEST for this easy potato soup recipe! Just throw the piece into the pot, add water, and simmer for about 15 - 20 minutes while you get the rest of the ingredients ready. Then add veggies and cook till tender. Remove bacon piece. Remove the rind and dice the lean meat. Return to the soup. Season and serve.  WUNDERBAR!
I serve this easy German soup as a "chunky soup" just the way my Mutti made it. However, if you wish, you can mash it or cream it. Make it just the way you like!

Oma's tips
Normally, the potatoes were peeled, but now, for extra nutrition, I leave the peels on if they are new potatoes.
Not only is it faster, but healthier as well. If the potatoes are older and have thicker skins, do peel them first. 
That's why I always try to make sure I buy new potatoes. If I only have potatoes that have been stored a while and have thick skins, then I'll peel them, but I'd rather miss this step if I can. Almost anything I can do quicker, I do.
Oma's Easy Potato Soup Recipe ❤️
Ingredients:
3 - 4 slices bacon, diced

1 onion, diced

4 - 8 potatoes, large dice

1 - 2 stalks celery, large dice

2 - 3 carrots, large dice

1 lb meat, (wiener, kielbasa, ham, smoked sausage, etc.)

3 - 4 cups water or broth

salt, pepper, parsley 

Maggi (optional)
Instructions:

In a large pot, saute bacon. Add onion and saute for several minutes, adding a bit of butter or olive oil if necessary. Add potatoes, celery, carrots, and meat. Add sufficient water or broth to cover.

Bring to boil. Cover and simmer for at least 20 minutes or until potatoes are tender, stirring occasionally.

Season to taste with salt, pepper, parsley and Maggi.

Makes 4 - 6 servings.
Hints:
If soup is too thick, add extra water.

Don't have any bacon? Just omit that step and use butter to saute the onions.
Adjust the amount of potatoes as needed.

If you like, add some chopped garlic or garlic powder.

Fried onions make a nice, tasty garnish.

Instead of broth, add some bouillon cubes. Use Vegeta powder to taste, before seasoning with salt.

Use fresh ground pepper if possible. Also, fresh parsley is great.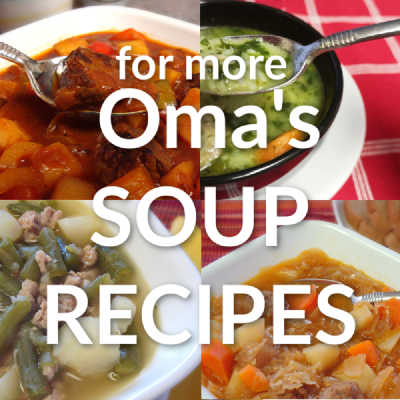 Leave a comment about this recipe or ask a question?
Pop right over to my private Facebook group, the Kaffeeklatschers. You'll find thousands of German foodies, all eager to help and to talk about all things German, especially these yummy foods. 
I pop in all the time as well, to chat and to answer questions. 
Meet with us around Oma's table, pull up a chair, grab a coffee and a piece of Apfelstrudel, and enjoy the visit.
*  *  *  *  *
Want nutritional information for a recipe?
Copy and paste the ingredient list and the number of servings into Calorie Count. 
It will give you an approximate calculation.

Need help doing conversions
between cups and grams or any such thing?
Use this site to give you all the different conversions for the different types of ingredients. 
---
PIN this ...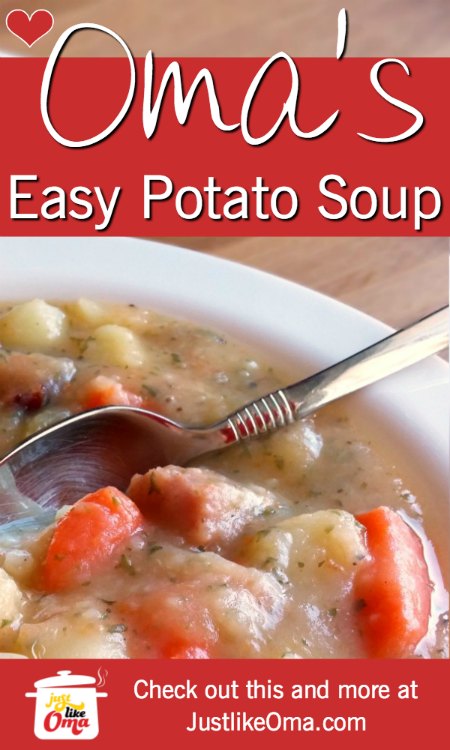 ---
Schwenkbraten recipe that has been a delish hit an alle familien & freunde... Total Approx. Time: Prep: 15 min. + Marinating 8 hrs min. + Grill: 15 min.

My Oma made this cake every Christmas. She iced it with a white frosting that ran down the sides. She decorated it with little silver balls (candy). It
---
Words to the Wise
"Though good advice lies deep within the heart, a person with understanding will draw it out.
 Proverbs 20:5 (NLT)