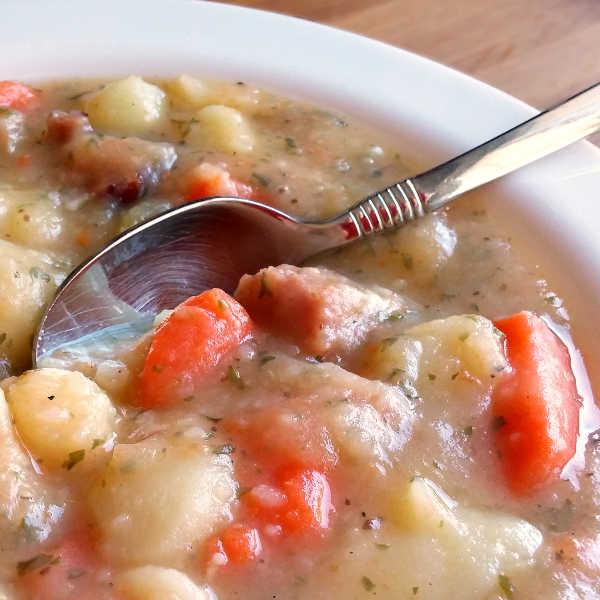 Oma's Easy Potato Soup Recipe

Need an easy potato soup recipe? Here's my German version of this traditional comfort food, Kartoffelsuppe. Add some fresh bread and you've a meal that will WOW your family and guests!
What's really great is that this soup is so quick to make and you can vary it depending what's in your fridge or freezer.
Prep Time


10 minutes


Cook Time


30 minutes


Total Time

40 minutes

Servings:

Makes 4 - 6 servings
Ingredients:
3 - 4 slices bacon, diced
1 onion, diced
4 - 8 potatoes, large dice
1 - 2 stalks celery, large dice
2 - 3 carrots, large dice
1 pound meat, (wiener, kielbasa, ham, smoked sausage, etc.)
3 - 4 cups water or broth
salt, pepper, parsley 
Maggi (optional)
Instructions:
In a large pot, sauté bacon. Add onion and sauté for several minutes, adding a bit of butter or olive oil if necessary. Add potatoes, celery, carrots, and meat. Add sufficient water or broth to cover.
Bring to boil. Cover and simmer for at least 20 minutes or until potatoes are tender, stirring occasionally. 
Season to taste with salt, pepper, parsley and Maggi.
Notes/Hints:

If soup is too thick, add extra water.
Don't have any bacon? Just omit that step and use butter to saute the onions.
Adjust the amount of potatoes as needed. 
If you like, add some chopped garlic or garlic powder. 
Fried onions make a nice, tasty garnish.
Instead of broth, add some bouillon cubes. Use Vegeta powder to taste, before seasoning with salt.
Use fresh ground pepper if possible. Also, fresh parsley is great.
*  *  *  *  *

Unless otherwise noted recipe, images and content © Just like Oma | www.quick-german-recipes.com