Rose's Hot German Potato Salad ❤️

➤ by Oma Gerhild Fulson
FTC Disclosure: As an Amazon Associate I earn from qualifying purchases.
This hot German potato salad is among the easy German recipes sent in by one of our readers, Roswitha (Rose) Seemann.  Her family comes from the southern part of Germany, near the French/Swiss border, and that's reflected in this recipe. In Southern Germany, the hot potato salad recipes abound.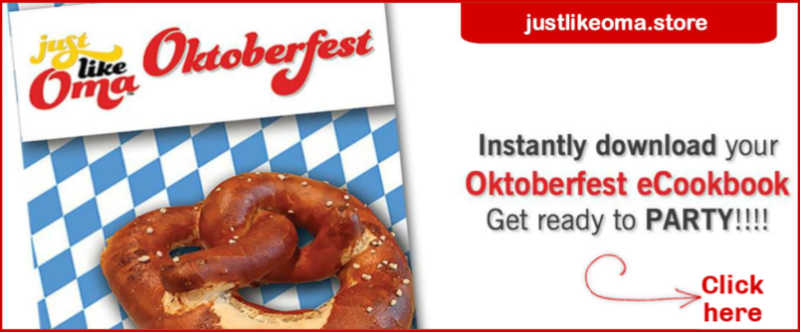 Usually made with a vinegar, broth, and a bacon base, they contrast to the salads made in the northern Germany. There, the potato salads are usually made with a creamy dressing and served cold. It's these northern German salads that I'm more familiar with. 

I was most surprised to learn that the vinegary ones were German as well! I love to add celery seeds to Roswitha's salad. Not because it needs anything extra, but I like that it gives "a bit of a herbal bite" to it.
Remember, make the recipe, especially any salad recipe, your own. Add what you think will work. If you like something, it will probably be fantastic in this. I can see radish slices, chopped parsley, even chopped pickles added to this hot potato salad.
Roswitha's Tips ...
Roswitha shared that her potato salad is something a lot of German people like. The original recipe called for 1 cup plus 2 tbsp of vinegar. She cut it down to ⅔ cup because she found it too strong. But those who like the strong vinegar taste can add more.
---
Rose's Hot German Potato Salad ❤️

Ingredients:
6 medium potatoes
12 slices bacon
3 medium onions, (about 1½ cups, chopped)
⅔ cup plus 2 tbsp cider vinegar
1½ tbsp brown sugar
1½ tsp salt
¼ tsp pepper
¼ tsp celery seeds (optional)
Instructions:
Wash and cut into halves the potatoes.
Cook for about 20 minutes or until potatoes are tender. Drain liquid from potatoes and dry by shaking pot over low heat. Peel and cut into ¼ inch slices.
Meanwhile, dice and pan-broil bacon, reserving the bacon drippings.
Put 6 tbsp of the bacon drippings in a large saucepan. Add onions and cook until they are transparent, stirring occasionally.
Stir in cider vinegar, brown sugar, salt, pepper, and the celery seeds (if using).
Heat mixture to boiling over low heat. Add diced cooked bacon and stir. Pour over the warm potato slices and mix lightly to coat evenly.
Cover and set aside for about 10 - 15 minutes for the potatoes to absorb the vinegar dressing before serving.
Makes a great accompaniment for German sausages or smoked pork chops.

Leave a comment about this recipe or ask a question?
Pop right over to my private Facebook group, the Kaffeeklatschers. You'll find thousands of German foodies, all eager to help and to talk about all things German, especially these yummy foods. 
I pop in all the time as well, to chat and to answer questions. 
Meet with us around Oma's table, pull up a chair, grab a coffee and a piece of Apfelstrudel, and enjoy the visit.
*  *  *  *  *
Want nutritional information for a recipe?
Copy and paste the ingredient list and the number of servings into Calorie Count. 
It will give you an approximate calculation.

Need help doing conversions
between cups and grams or any such thing?
Use this site to give you all the different conversions for the different types of ingredients. 
---
PIN this ... for quick access to the recipe when looking for a potato salad with a little twist from the original
---
Schwenkbraten recipe that has been a delish hit an alle familien & freunde... Total Approx. Time: Prep: 15 min. + Marinating 8 hrs min. + Grill: 15 min.

My Oma made this cake every Christmas. She iced it with a white frosting that ran down the sides. She decorated it with little silver balls (candy). It
---
Words to the Wise
"Work hard and become a leader; be lazy and become a slave."
Proverbs 12:24 (NLT)
---
❤️ Hot German Potato Salad made Just like Oma


By
Oma Gerhild Fulson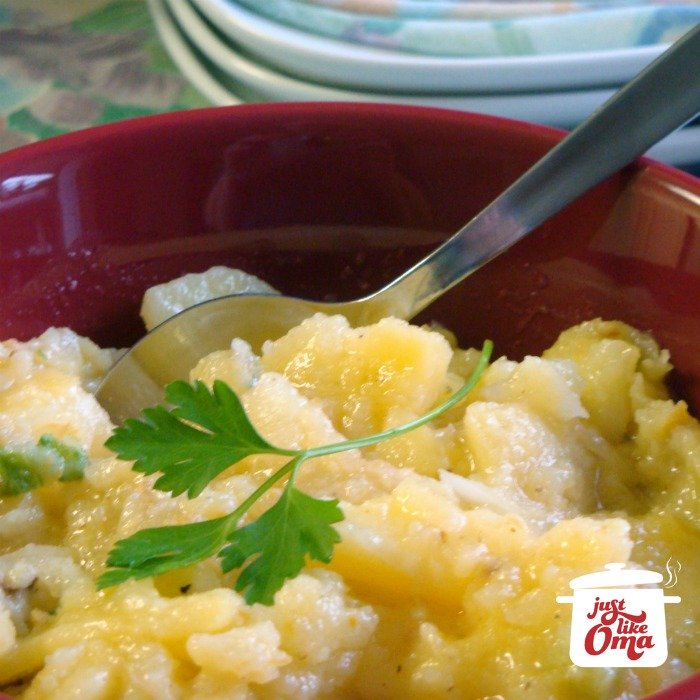 This hot German potato salad is among the many easy German recipes you'll find here. Traditional, yet quick. This bacon/vinegar-based salad is a staple in Southern Germany.

Ingredients:
potatoes,
bacon,
onions,
pepper,
For the full recipe, scroll up ...