Oma's German Cabbage Recipe
➤ by Oma Gerhild Fulson
FTC Disclosure: Making a purchase via a link on the page? I may earn a small commission on the transaction - at no added cost to you. Thanks!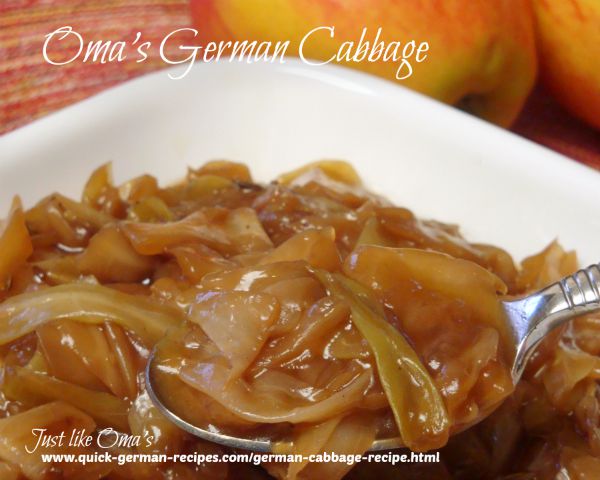 Yum
My German cabbage recipe, aka Weisskohl, is very traditional.  It's actually a boiled cabbage recipe that is delicious when served with homemade German sausage. This recipe works for both green cabbage as well as savoy cabbage. Although the cooking time for the cabbage takes about one hour, the preparation time is fairly quick.
The most flavor comes from the browning of the cabbage. This, along with the browned onion makes the resulting cabbage dish so delicious.
Oma's German Cabbage Recipe
Ingredients:
1 green cabbage, approx. 2 - 3 lbs

2 Tbsp oil

1 Tbsp sugar

1 large onion, chopped

2 cups broth (or water)

salt, pepper

1 tsp caraway seed

2 - 3 Tbsp vinegar (to taste)

Instructions:
Cut cabbage in quarters, remove core, and shred (use knife or mandolin).

Heat oil, add sugar and chopped onion. Brown slightly. Add cabbage and brown slightly.

Add broth and stir. Add about 1/4 tsp pepper and caraway seeds. Stir.

Bring to boil. Lower heat to simmer and cover. Cook about 1 hour, stirring occasionally. If necessary add extra broth so that there is at least 1 inch of liquid in pot.

When cabbage is tender, season with salt and vinegar (extra pepper is desired).

If desired, thicken liquid with 1 Tbsp cornstarch mixed with cold water.

Serve with homemade

German sausage

or

meat loaf

and

boiled potatoes

.

Leftovers are great when they are stirred into some leftover potatoes that have been fried with any bits of leftover meat and gravy. Such a yummy lunch the next day.

Once you've done the chopping and browning, just add the liquid and it simmers away quietly on the stove. Stir occasionally to make sure there's enough liquid to keep it from burning, but that's it. Yummy cabbage!

This is an easy way to learn how to cook cabbage and is one of my favorites to include among my Oktoberfest recipes. It seems just like a comfort food and goes so well for cool autumn days and cold winter nights.
Looking for another great cabbage recipe? Check out my Bavarian Braised Cabbage. It's just a bit sweeter than this one, the way they like it in southern Germany.
---
More German Cabbage Recipes
*  *  *  *  *
Want nutritional information for a recipe?
Copy and paste the ingredient list and the number of servings into Calorie Count. 
It will give you an approximate calculation.

*  *  *  *  *
Need help doing conversions between cups and grams or any such thing?
Use this site to give you all the different conversions for the different types of ingredients. 
*  *  *  *  *
---
---
German Recipes

›
Vegetables
› Green Cabbage
Make every day a day of REJOICING!
"The godly will rejoice in the LORD and find shelter in Him. And those who do what is right will praise Him."
Psalm 64:10 (NLT)