Oma's Cabbage Rolls Recipe ❤️

➤ by Oma Gerhild Fulson
FTC Disclosure: As an Amazon Associate, I earn from qualifying purchases.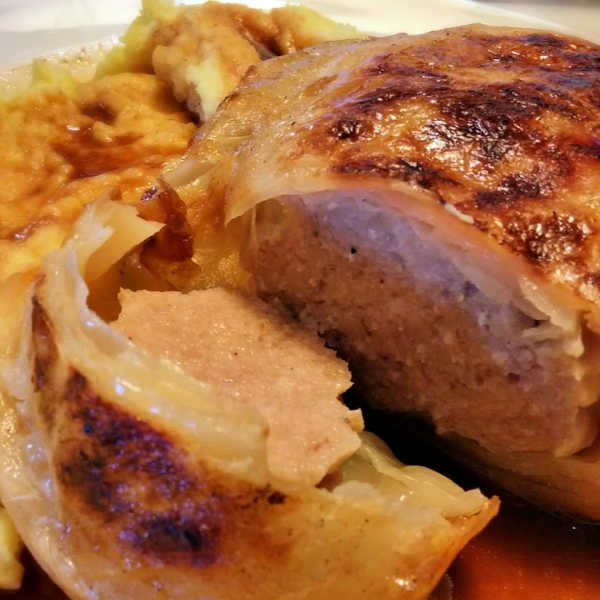 This cabbage rolls recipe is SO German. Stuffed with meat and served with a brown gravy, this really is a family favorite ... a great German food! 
These Kohlrouladen are the ones I grew up with. Meat and just meat fills these. No rice. No tomato sauce to dilute the great meat/cabbage flavours!
Just great cabbage taste with a wonderful gravy!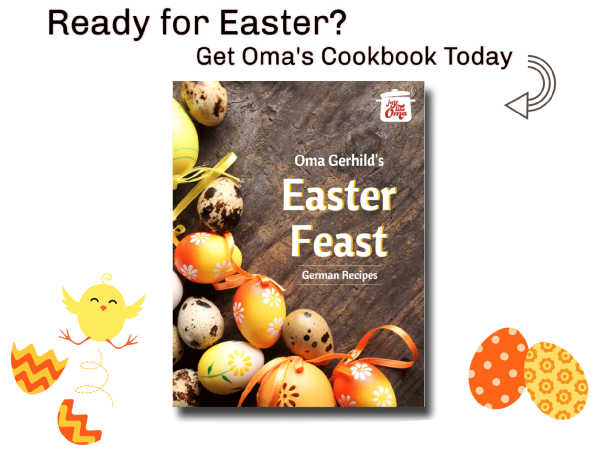 Check below for detailed help and pictures. It'll show how easy it is to make this very traditional German cabbage rolls recipe! There are several ways to separate those leaves from the cabbage.
For me, I just use my big stock pot.
I have to admit that when I make soups, even following my own recipes, I usually double, triple, or even quadruple the recipe!
Why?
Because we love soups! And, because they're so wunderbar, hubby LOVES leftovers.
So, I need and use a HUGE stock pot for this. It's easily the most used pot in my kitchen.
In fact, with it's high sides, I often use it when I'm browning meat in order to minimize the splattering all over my stove. Multi-purpose. Perfect for me! Just think how many rouladen or cabbage rolls you can braise in here!
Oma's Cabbage Rolls Recipe Tips:
The number of cabbage rolls you make will be dependent on the size and shape of the cabbage. I make a large amount of meat mixture so that I'll have enough, just in case I get extra leaves.
Any extra meat is then cooked as hamburgers or meatballs.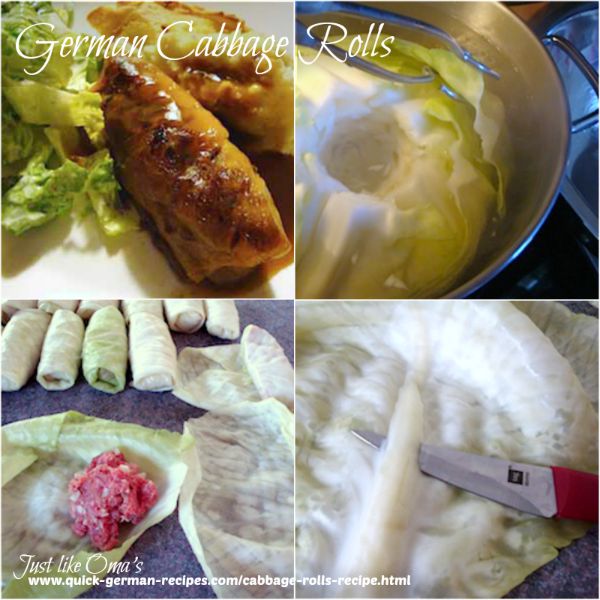 1. How to remove the leaves ...
The only really tricky part in making this cabbage rolls recipe is the process of removing the leaves from the raw cabbage head. 
There is a trick to this.
> Put the cabbage head into a large pot of water and fill with water until the cabbage is submerged. This helps you estimate how much water to use so that the boiling water won't spill over once you add the cabbage.
> Remove cabbage and put water on to boil. 
> Meanwhile carefully cut out the center core of the cabbage so that the leaves will loosen easily once boiled.
> Carefully put the cabbage into the boiling water and let simmer gently for about 10 minutes. 
> You should be able to loosen the leaves, one after the other and remove from the pot.
> Set leaves aside until you have removed as many leaves as you need.

2. Trim the thick cabbage veins ...
> Once the leaves have cooled, turn over so that the thick vein is on top.
> Using a sharp knife, cut the thickened vein away to make the vein and leaf the same thickness.
3. Prepare ground meat filling ...
The filling for this cabbage rolls recipe is the basic meatloaf mixture.
I use half beef and half pork. The pork will help keep the meat filling moist with the long cooking time needed.
> Check the meat filling before using by putting a small amount (about 1 tsp) on a plate in the microwave and cooking about 1 minute until done. 
> Cool and taste and re-season if necessary.
4. Stuff the leaves ...
You really want a very well spiced/seasoned meat filling -- nothing bland fits here! 
> Add about 1 heaping tablespoon of meat filling to the "veined" end. 
> Start rolling up tightly, tucking in the sides and then fasten with a wooden toothpick.
> From here on, follow the recipe for cooking this most traditional, authentic, pure German recipe!
---
My Cabbage Roll Story ...
I had always thought cabbage rolls were a nuisance to make, and even though I loved them, I haven't made them in years.
That is, until I was having company and they wanted to taste real German cabbage rolls.
Never turning down a challenge, I researched recipes and methods, and returned to the one my Mutti used to make. And surprise! It really wasn't that difficult. And best of all, I made lots so there were leftovers for us to enjoy the next day!

---
Oma says, 
I know! I know! The Montreal Steak Spice is NOT German!!!! It's my OWN addition.

To give a bit of a kick to the filling, I season the meat with Montreal Steak Spice -- any similar seasoned salt will do. Or, just omit this!
Oma's Cabbage Rolls Recipe ❤️
Ingredients:
1 medium to large head green cabbage (about 3 lb)
1 lb ground lean beef
1 lb ground pork
2 eggs
1 small onion, finely chopped
½ cup bread crumbs
1 tsp salt
1 tsp Montreal steak spice (optional ... see hints below!)
½ tsp pepper
about 2 tbsp oil and 2 tbsp butter
about 2 cups beef broth
about 1 - 2 tbsp corn starch
Instructions:

Prepare cabbage head by removing the stalk. Cook head in a large pot of boiling, salted water for about 10 minutes until the leaves loosen. Remove leaves. (Use remainder of cabbage for another meal.)
Prepare meat mixture by mixing together the beef, pork, eggs, onion, bread crumbs, salt, steak spice and pepper.
Put about 1 heaping Tbsp meat mixture on end of cabbage leaf. Roll up tightly, tucking in sides. Fasten with a wooden toothpick.
In a large saucepan, over high heat, add oil and butter. In batches, carefully brown cabbage rolls on all sides. When all have been browned, return all cabbage rolls to pan and add beef broth so that the liquid almost covers the rolls.
Simmer gently for about 1 hour.
Carefully remove cabbage rolls unto a platter, removing the toothpicks. Keep rolls warm while you make the gravy.
Mix corn starch with a bit of cold water. Add as much as needed to the liquid in the saucepan until it is the desired consistency. Season with salt and pepper if needed.
Serve cabbage rolls with potatoes (boiled or mashed) and a green salad on the side.
Hints:
I like adding Montreal Steak Spice for just a bit added kick ... a totally non-German addition. 
Use additional seasonings as preferred, such as nutmeg, Maggi, caraway seeds, paprika, thyme ... :)

Want nutritional information? Copy and paste the above ingredient list and the number of servings into Calorie Count for an approximate calculation.
Need help doing conversions between cups and grams, etc.? Use this site to give you all the different conversions for the different types of ingredients. 
Leave a comment about this recipe or ask a question?
Pop right over to my private Facebook group, the Kaffeeklatschers. You'll find thousands of German foodies, all eager to help and to talk about all things German, especially these yummy foods. 
I pop in all the time as well, to chat and to answer questions. 
Meet with us around Oma's table, pull up a chair, grab a coffee and a piece of Apfelstrudel, and enjoy the visit.
*  *  *  *  *
Want nutritional information for a recipe?
Copy and paste the ingredient list and the number of servings into Calorie Count. 
It will give you an approximate calculation.

Need help doing conversions
between cups and grams or any such thing?
Use this site to give you all the different conversions for the different types of ingredients. 
---
PIN the following post to quickly find this cabbage roll recipe while pulling out your stock pot, and preparing your cabbage using Oma's tips in the kitchen
---
Cheese Spätzle is a traditional German noodle dish. A sort of Germanized version of 'Mac & Cheese', only better!

This Butterkuchen, also called Sugar Cake (Zuckerkuchen), a traditional German cake served for afternoon coffee. Loved by all, easy to make, delicious to eat!
---
---
Oma's Cabbage Rolls Recipe made Just like Oma


By
Oma Gerhild Fulson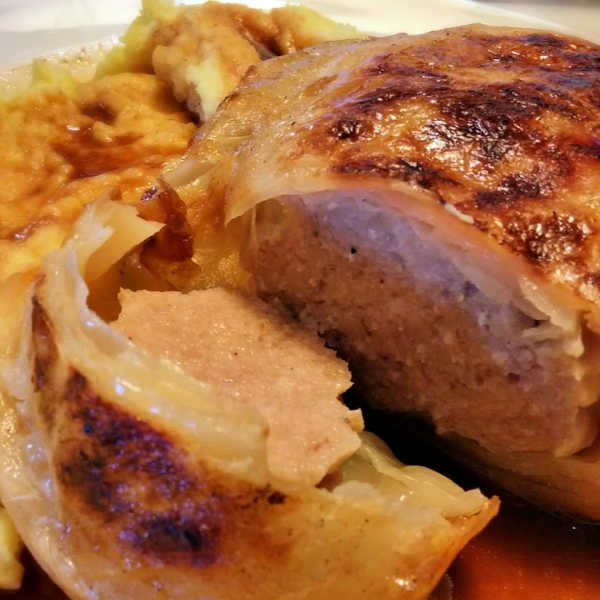 Oma's cabbage rolls recipe is SO traditionally German. Stuffed with meat and served with a brown gravy, this is not just another cabbage roll! This is THE BEST!

Ingredients:
green cabbage,
lean beef,
ground pork,
eggs,
For the full recipe, scroll up ...
Words to the Wise
"Hope deferred makes the heart sick, but a dream fulfilled is a tree of life."
Proverbs 13:12 (NLT)