Best German Braised Cabbage Recipe – Oma's Bavarian Weisskraut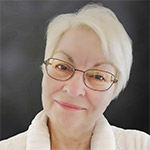 by: Gerhild Fulson  /  Cookbook Author, Blogger, German Oma!
As an Amazon Associate, I earn from qualifying purchases.
Looking for an easy braised cabbage recipe? Bayrisches Weisskraut, aka Bavarian white cabbage, is a great recipe that has simple ingredients.
Although sauerkraut is probably the most common cabbage recipe associated with Germany, this easy braised cabbage side dish is a long time favorite among locals in the southern part of Germany.
Not only is this a super simple recipe, but it's a great way to use a head of cabbage, the main ingredient. Usually made with green variety (though in German, it's called white) it can also be made using savoy cabbage, with the end result being a milder taste.
Either way, it's one of the favorite ways to use the humble cabbage.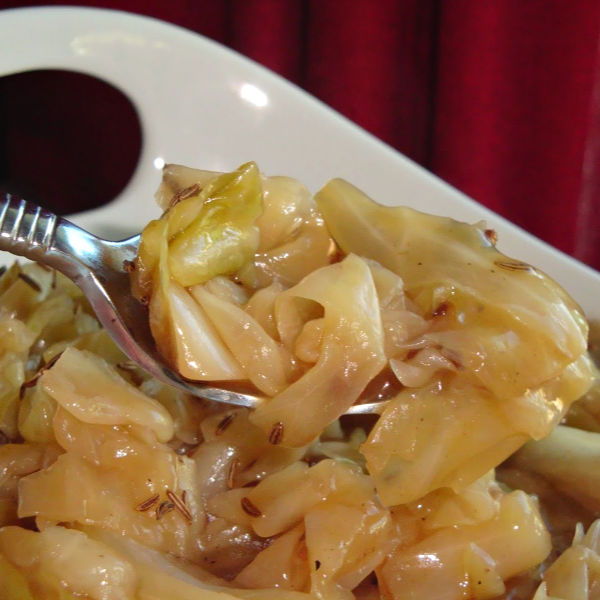 There's a certain sweet/sourness to this braised cabbage dish that's just like eating candy! It really does taste great with almost anything. The seasonings make this dish a traditional German food.
If you like your cabbage a bit tangy, add a touch of vinegar at the end for extra flavor. The resulting sweet-sour taste is one I just love - I remember it so well from my Mutti's kitchen. 
This braised cabbage, stemming from the Bavarian region is one that is also loved during the Oktoberfest celebrations. If you're planning on creating your own Oktoberfest party, then include this cabbage dish as one of your sides.
It's a good thing to make it the day ahead, since it really does taste better the next day.
Are There Benefits To Eating Cabbage?

Cabbage is VERY healthy for you and your body in many ways. While it is low in calories, its nutrient profile speaks for itself! It's exceptionally high in vitamin K, vitamin A and vitamin C. It's high in fibre, folate, magnesium and potassium.
When it is fermented, think sauerkraut, it even has natural probiotics. Of course, fresh cabbage is super healthy, think coleslaw! 
I can't forget to mention the greatest benefit of all...it is oh-so tasty and inexpensive (a large cabbage goes a long way!), besides being good for you! That's what makes cabbage so wunderbar.
Has this veggie earned its spot on your plate yet?
Celebrate Oktoberfest right at home with these German recipes found right here in Oma's Oktoberfest e-Cookbook.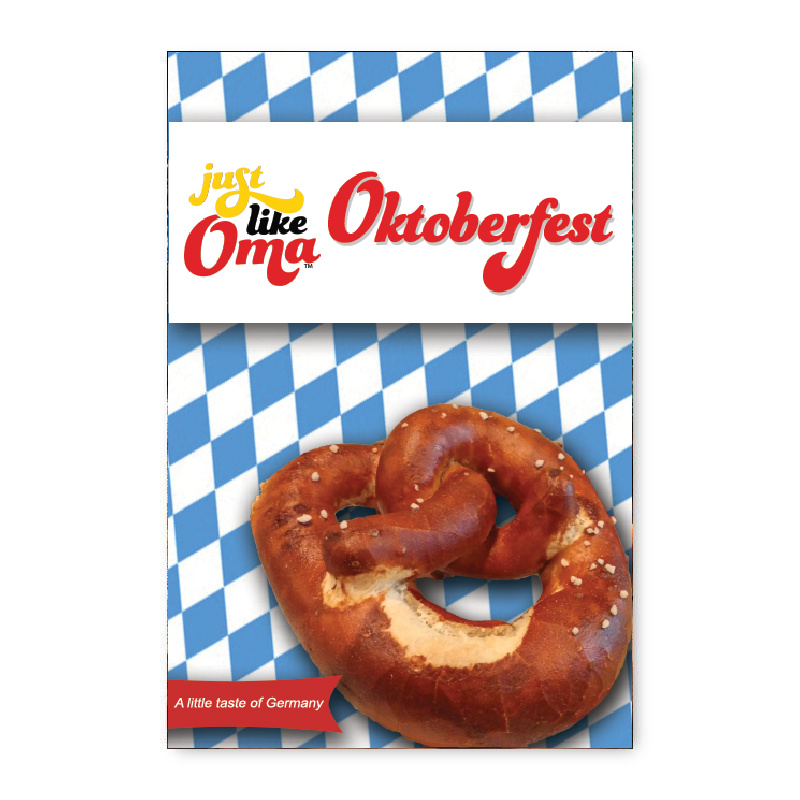 Take a peek at all Oma's eCookbooks. They make sharing your German heritage a delicious adventure!
What is Braising?

Braising, known as schmoren in German, is the method whereby meat or vegetables are first browned over high heat. A small amount of flavorful liquid, such as chicken stock, is added, the pot is covered, and then it's slowly simmered until the meat or vegetables are tender.
In the dish below, browning (or caramelizing) the onions gives such a delicious flavor. Add the cabbage to these browned onions and continue browning the cabbage for a little while. The caramelized cabbage will add such delicious flavors, you'll be absolutely amazed.
How to cut cabbage?

After washing the cabbage, remove any loose outer leaves.
Cut the bottom part of the stem off.
Cut the cabbage in half from top to bottom.
Cut the cabbage pieces into into several wedges, again from top to bottom.
Cut off the stem and the center core from each piece.
Cut the cabbage wedges by placing them cut side down and slicing as thinly or as thickly as desired
For this Weisskraut dish, I don't slice the wedges of cabbage too thinly. We like to have a bit more body to the final dish, as you can see in the photo above.
Lydia Remembers...
I have so many wunderbar memories in the kitchen with my Oma, and have had MANY of her most popular and traditional recipes, like this braised cabbage. 
Though this braised green cabbage side dish is not my favorite things (I absolutely LOVE red cabbage though), I still enjoyed making it with Oma from time to time. This recipe is VERY German and very much loved by the rest of my family.
Cabbage is so versatile. It can be served on it's own, served over bratwurst, and even in a salad! Oh, and don't forget to try Oma's red cabbage. It's my absolute fav!
But first, try Oma's super German braised cabbage recipe below, add your own little flare to it and enjoy!
 Learn a little bit about me, Lydia, and my kitchen adventures with Oma!

What to serve with braised cabbage?

There's very little that doesn't go with braised cabbage, but below are my favorite meats. If you're not wanting meat with this, perhaps making Krautflecken with the cabbage would be an interesting alternative.
Oma's Fun Fact:

The caraway seed isn't just in there for flavor! 
Did you know that adding caraway seed is a very natural way for helping to reduce the 'gas' problem that seems to follow some people when eating cabbage!
Ready to make this braised cabbage?
Is the recipe below locked? Here's why. 
As an Amazon Associate, I earn from qualifying purchases.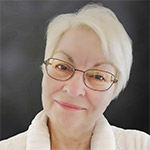 For more German-inspired items that make life easier and yummier, especially in the kitchen and for entertaining, follow my Amazon Storefront.
➙ For groceries,
Try Amazon Fresh
.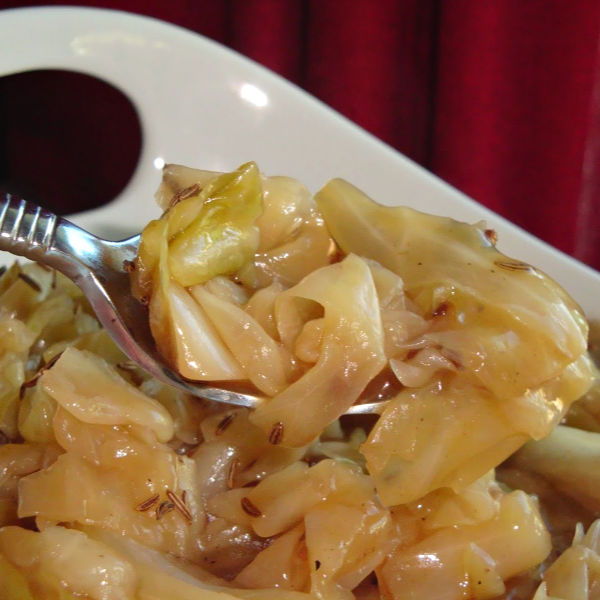 Best German Braised Cabbage Recipe – Oma's Bayrisches Weisskraut 
Looking for an easy braised cabbage recipe? Bayrisches Weisskraut, aka Bavarian white cabbage, stems from Bavaria, the home of Oktoberfest in Munich. Although sauerkraut is probably the most commonly associated with Germany, this easy side dish is a long time favorite recipe with locals in the southern part of Germany,
Usually made with green cabbage (though in German, it's called white) it can also be made using savoy cabbage, with the end result being a milder taste. If you're wanting the northern version, try this braised cabbage. It's the one I grew up with.
Prep Time


15 minutes


Cook Time


45 minutes


Total Time

60 minutes

Servings:

Makes 6 servings
Ingredients:
Ingredients:
2 - 3 tablespoons olive oil or bacon fat
1 onion, sliced
3 tablespoons sugar
1 garlic clove, crushed
½ large green (white) cabbage, coarsely shredded
salt, freshly ground black pepper
1 teaspoon caraway seeds
1 cup chicken broth
1 tablespoon white wine vinegar (to taste, optional)
Instructions:
In large skillet or dutch oven, heat oil over medium-high heat. Add onions and brown slightly.
Stir sugar and some of the shredded cabbage. Continue to saute over medium heat until some of the cabbage is browned as well.
Add garlic, caraway seeds, and broth. Stir to scrape up any browned bits at the bottom of the pan. Season with salt and pepper.
Bring to boil and lower temperature. Cover and simmer on low heat for about ½ hour or until cabbage is tender, stirring occasionally and adding extra broth or water if needed.
Season with salt, pepper, and vinegar.
Notes/Hints:

To thicken sauce, dissolve 1 to 2 tablespoons cornstarch in a bit of cold water. Slowly add just enough to boiling liquid until thickened.
Use vegetable broth if you're making this vegan. Water can also be substituted for this.
You can substitute with apple cider vinegar, if you wish.
You can decrease or increase the cooking time depending on how 'tender' you like the cabbage.
Add a bay leaf, if desired.
For another great side dish that's from northern Germany, braised cabbage recipe.
If you've got a purple cabbage lying around, then here's the absolute best way to make that.
Unless otherwise noted recipe, images and content © Just like Oma | www.quick-german-recipes.com

08.11.2021 revision update
Leave a comment about this recipe or ask a question?

Pop right over to my private Facebook group, the Kaffeeklatschers. You'll find thousands of German foodies, all eager to help and to talk about all things German, especially these yummy foods. 
Meet with us around Oma's table, pull up a chair, grab a coffee and a piece of Apfelstrudel, and enjoy the visit.

This easy German Apple Strudel recipe is one of those German desserts that brings the traditional strudel taste to your table without all the work. Wunderbar!!

Make the perfect German Spaetzle with Oma's easy recipe! This traditional German egg noodle pairs perfectly with caramelized onions for a delicious meal.

Choose from Oma's cookbooks that are immediately downloadable & start cooking easy classic German foods tonight. Or get her newest paperback cookbook. LECKER!
*  *  *  *  *
PIN to SAVE this recipe to your Pinterest board!
And let's be friends on Pinterest!
---
Best German Braised Cabbage Recipe ~ Oma's Bayrisches Weisskraut
By
Oma Gerhild Fulson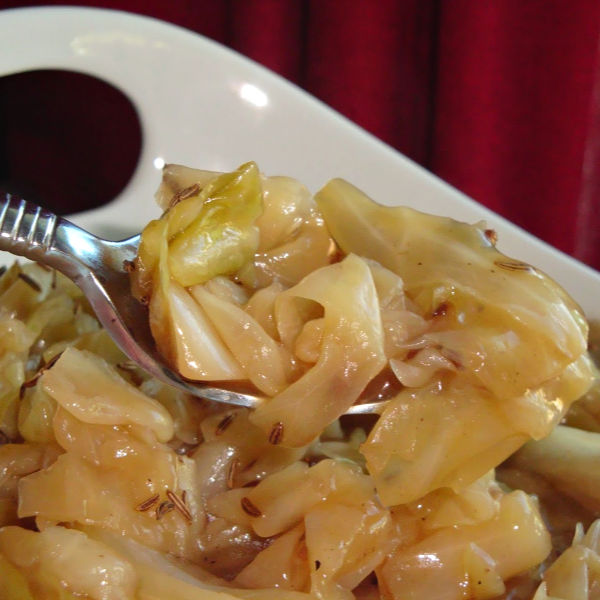 Make the BEST Bavarian braised cabbage recipe just that's perfect for Oktoberfest or anytime you're wanting a traditional German side dish. It's Weisskraut, just like Oma makes it.
Ingredients:
oil,
onion,
garlic,
green cabbage,
seasonings,
broth,
vinegar,
For the full recipe, scroll up ...
Words to the Wise
"People with understanding control their anger; a hot temper shows great foolishness."
Proverbs 14:29 (NLT)