Oma's Bavarian Braised Cabbage Recipe

➤ by Oma Gerhild Fulson
Looking for an easy braised cabbage recipe? Bayrisches Weisskraut, aka Bavarian Cabbage, comes from the Bavarian region of German. (Munich, in Bavaria, is the home of Oktoberfest.) 
Sauerkraut seems to be the most commonly thought of German cabbage recipe.
This, however, is a very easy way how to cook cabbage and is often used as a side dish to accompany many German meals.
For the full list of ingredients & detailed instructions, please see the recipe card at the end of this post. But before you scroll, there's important & interesting stuff to know below.
There's a certain sweet/sourness to this braised cabbage dish that's like eating candy! It really does taste great with almost anything!

How is this different than other braised cabbage recipes? First, browning some of the cabbage enhances the flavor as well as providing some nice color of the dish.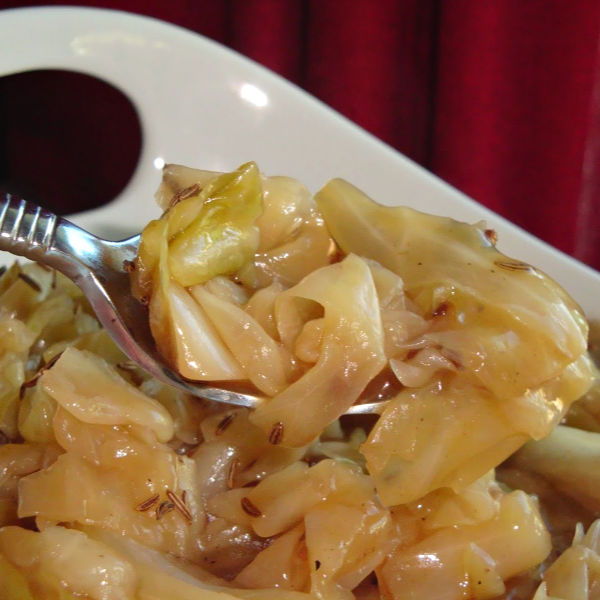 Secondly, the seasonings make this dish a traditional German food. If you like your cabbage a bit tangy, do add a touch of vinegar at the end. The resulting sweet-sour taste is one I just love - I remember it so well from my Mutti's kitchen. 
This braised cabbage, stemming from the Bavarian region is one that is also loved during the Oktoberfest celebrations. So, if you're planning on creating your own Oktoberfest party, then do include this cabbage dish as one of your sides.
Celebrate Oktoberfest right at home with these German recipes found right here in Oma's Oktoberfest e-Cookbook.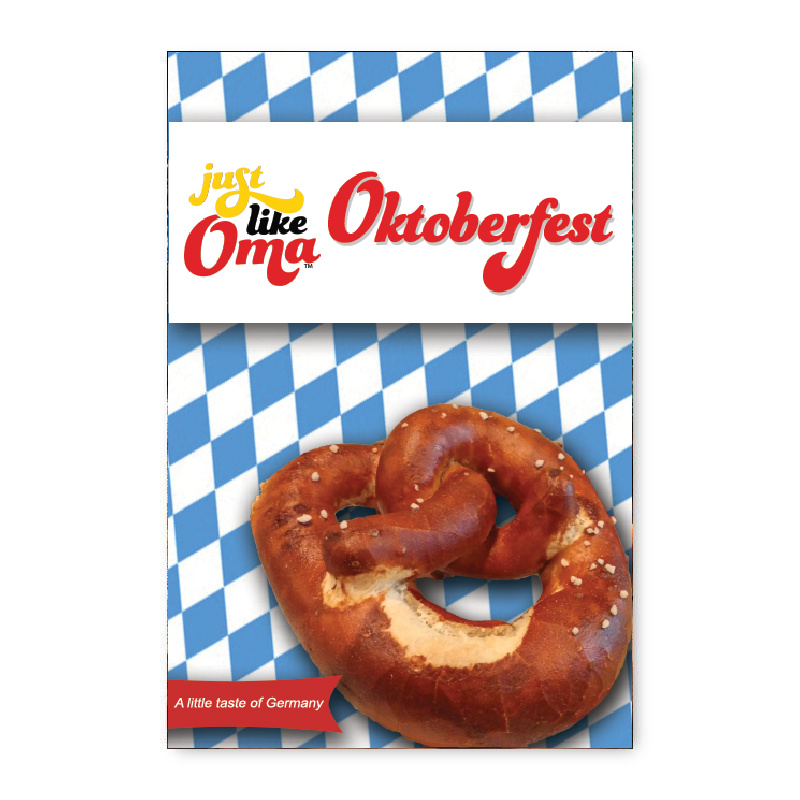 Take a peek at all Oma's eCookbooks. They make sharing your German heritage a delicious adventure!
Are There Benefits To Eating Cabbage?
Cabbage is VERY healthy for you and your body in many ways. While it is low in calories, its nutrient profile speaks for itself! With it being exceptionally high in vitamins C and K, it is also very good for fighting off inflammation. 
Cabbage is high in fibre, which will help improve your digestive system. The large amount of fibre helps create healthy bacteria for your body, WOW! What an amazing creation the human body truly is!

The benefits from vitamin C alone can be remarkable! Did you know that the vitamin C in cabbage can be good for your skin? That's right. This vitamin can help nourish and cleanse the skin while making it appear clean and smooth. 
Vitamin K is also very beneficial to you and cabbage is an excellent source of it! It is important to include this vitamin into your diet to help keep your blood healthy and your bones strong as well. Vitamin K is great for creating healthy bone tissue and keeping your teeth strong.
 I can't forget to mention the greatest benefits of all...it is oh-so tasty, inexpensive, and good for you! That's what makes cabbage so Wunderbar. Has this veggie earned its spot on your plate yet?

Braising is ...
Braising is the method whereby meat or vegetables are first browned, after which a small amount of liquid is added. Then, slowly simmered until the meat or vegetables are tender.
Browning (or caramelizing) the onions gives such a delicious flavor to this dish. If you have time, add the cabbage to these browned onions and continue browning the cabbage for a little while.
Lydia Remembers...
I have so many wunderbar memories in the kitchen with my Oma, and have had MANY of her most popular and traditional recipes, like this braised cabbage. 
Though braised cabbage is not my favorite, I still enjoyed making it with Oma from time to time. This recipe is VERY German and very loved by the rest of my family.
Cabbage is so versatile. It can be served on it's own, served over bratwurst, and even in a salad! Oma's sauerkraut salad is so vibrant, flavorful and traditional. Doesn't get much better than that!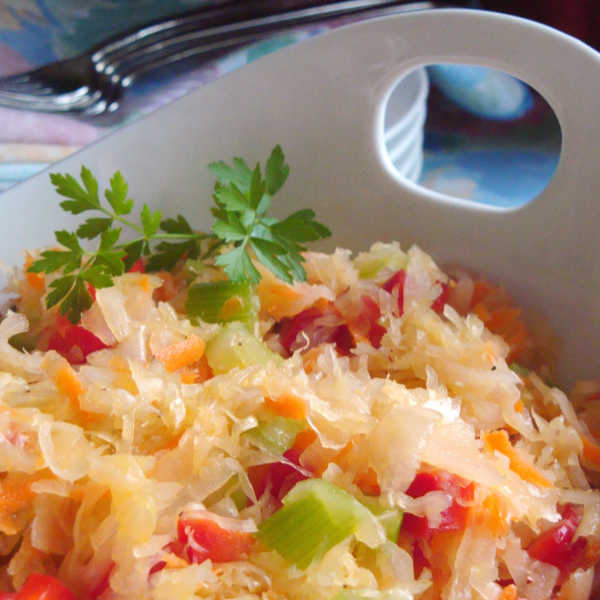 Try this sweet and super German braised cabbage recipe, add your own little flare to it and enjoy!

 Learn a little bit about me, Lydia, and my kitchen adventures with Oma!
Oma's Fun Fact:

The caraway seed isn't just in there for flavor! 
Did you know that adding caraway seed is a very natural way for helping to reduce the 'gas' problem that seems to follow some people when eating cabbage!
They are also packed full of fibre, iron and magnesium, all of which are very important for the body.
Ready to make this braised cabbage?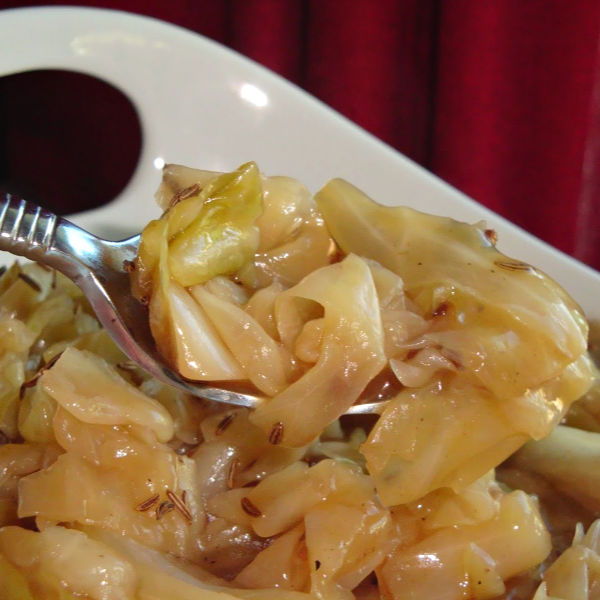 Oma's Bavarian Braised Cabbage Recipe
Looking for an easy braised cabbage recipe?  Bayrisches Weisskraut, aka Bavarian Cabbage, comes from the Bavarian region of German. Sauerkraut seems to be the most commonly thought of German cabbage recipe.
This, however, is a very easy way how to cook cabbage and is often used as a side dish to accompany many German meals. If you're wanting the northern version, try this braised cabbage. It's the one I grew up with.
Prep Time


10 minutes


Cook Time


45 minutes


Total Time

55 minutes

Servings:

Makes 4 servings
Ingredients:
Ingredients:
2 - 3 tbsp olive oil
1 onion, sliced
3 tbsp sugar
1 garlic clove, crushed
½ large white (green) cabbage, coarsely chopped
salt, pepper
1 tsp caraway seeds
1 cup water or broth
1 tbsp vinegar (to taste, optional)
Instructions:
In large pot, heat olive oil. Add onions and brown slightly.
Add sugar and let caramelize.
Add cabbage, garlic, caraway seeds, and water or broth. Season with salt and pepper.
Bring to boil and simmer, covered, about ½ hour or until cabbage is tender, stirring occasionally and adding extra water if needed.
Season with more salt and pepper if necessary and add vinegar if desired.
Notes/Hints:

To thicken sauce, dissolve 1 - 2 tbsp cornstarch in a bit of cold water. Slowly add just enough to boiling liquid until thickened.
Make sure you use vegetable broth if you're making this vegan. If not, either chicken or beef broth works really well.
For a dish that's from northern Germany, try this braised cabbage recipe.
Unless otherwise noted recipe, images and content © Just like Oma | www.quick-german-recipes.com

Leave a comment about this recipe or ask a question?

Pop right over to my private Facebook group, the Kaffeeklatschers. You'll find thousands of German foodies, all eager to help and to talk about all things German, especially these yummy foods. 
Meet with us around Oma's table, pull up a chair, grab a coffee and a piece of Apfelstrudel, and enjoy the visit.

Oma's Cream Roll recipe, Biskuitrolle, is the German version of a Swiss roll or jelly roll. Filled with whipped cream and studded with berries, this is an easy-to-make treat anytime of the year.

Make this pan roasted carrot recipe when you're wanting quick and easy carrots just like this German Oma makes them. Similar to oven roasted, just quicker. YUM!

Cooking green beans, German-style, makes a wonderful side dish for almost any meal. Cooking the grüne Bohnen till just tender with a creamy white sauce is so traditional and so lecker!
*  *  *  *  *
PIN to SAVE this recipe to your Pinterest board!
And let's be friends on Pinterest!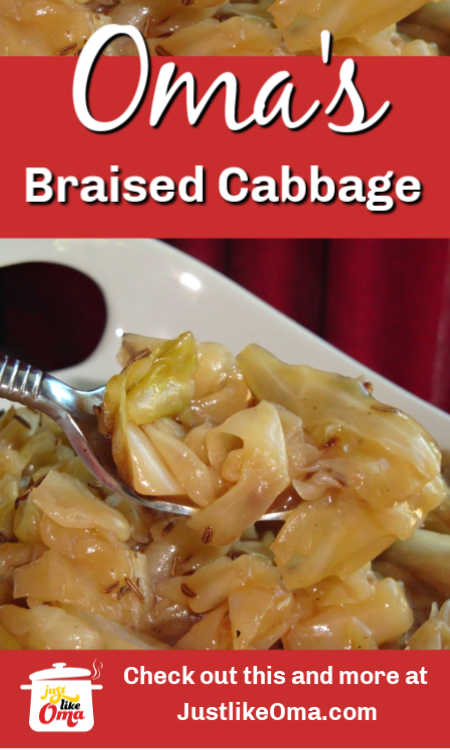 ---
German Sweet Braised Cabbage Recipe made Just like Oma
By
Oma Gerhild Fulson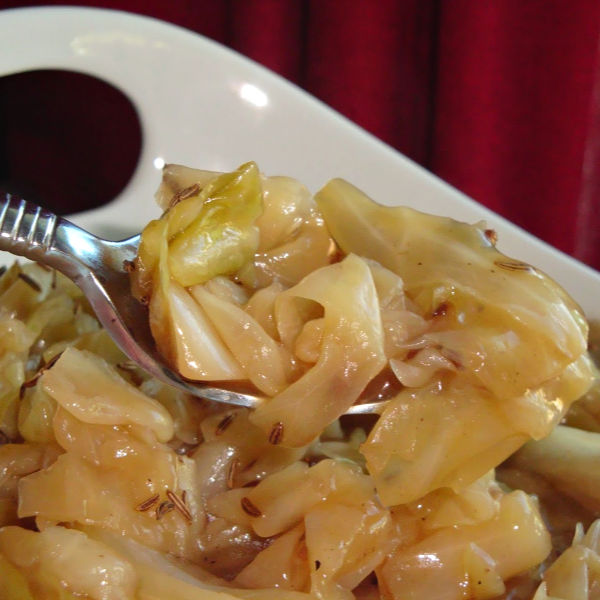 This easy braised cabbage recipe comes from Bavaria and is so delicious. Such an easy recipe to make as a side dish for a traditional German meal.
Ingredients:
oil,
onion,
garlic,
white (green) cabbage,
seasonings,
broth,
vinegar,
For the full recipe, scroll up ...
Words to the Wise
"People with understanding control their anger; a hot temper shows great foolishness."
Proverbs 14:29 (NLT)