Traditional German Meatloaf Recipe – Oma's Falscher Hase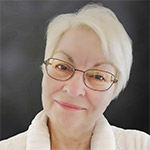 by: Gerhild Fulson  /  Cookbook Author, Blogger, German Oma!

This post may contain affiliate links, which means I'll receive a commission if you purchase through my links, at no extra cost to you. Please read full disclosure for more information.
This is THE best meatloaf recipe. It is so simple, so quick, and so delicious! In German, it is called Falscher Hase meaning false hare. The similarity is in shape, not taste!
The loaf is formed into a slightly elongated, flattened shape to resemble a hare (or rabbit). Just think of it like shaping a loaf of bread.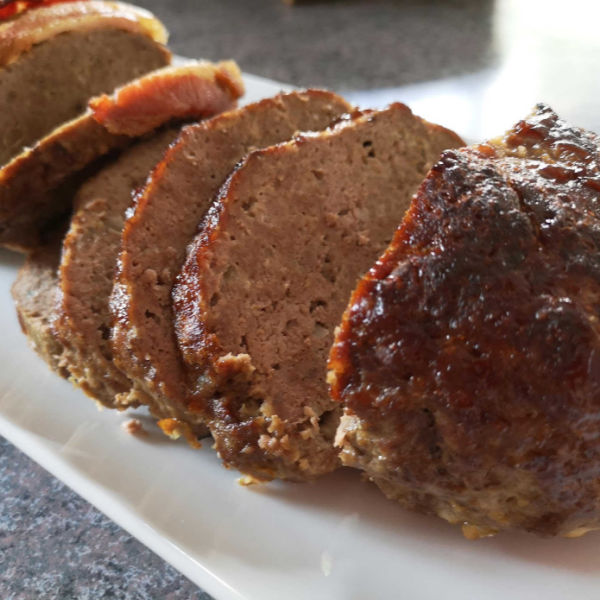 Oma's best German meatloaf is delicious, served either hot or cold. This one's wrapped in bacon, and it really makes the BEST sandwiches. I mean, anything wrapped in bacon is WUNDERBAR!
A traditional German meatloaf recipe is covered with bacon and often has hard-boiled eggs hidden inside.
Especially fun for Easter, it's a surprise to dinner guests when the meatloaf is first sliced open.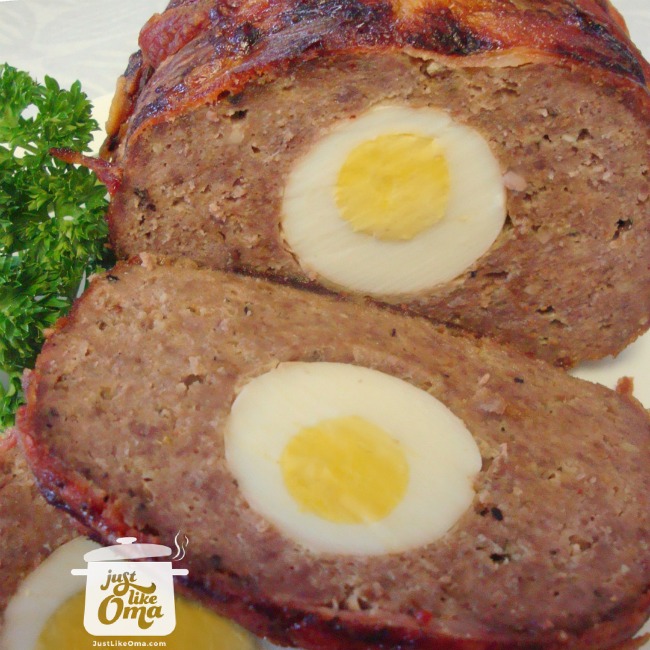 Can you imagine everyone's surprise when you cut this meatloaf into slices? And it tastes so delicious as well!
Since this is such a quick meatloaf recipe to throw together, I usually like to make at least a couple of loaves at once.
One loaf is to eat hot right away, while the other(s) will be stored and reheated for another dinner (slices warmed in the microwave are delicious) or sliced for sandwiches (a real treat!).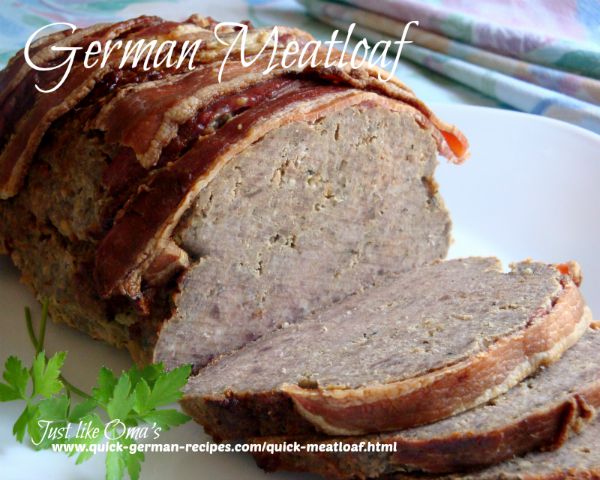 Just meatloaf. No hard-boiled eggs. But it's still covered in bacon. Yep. Bacon adds that outstanding flavor!
Above, I've made it without the hard boiled eggs. Whether you make this German meatloaf recipe with or without the eggs, it makes a great dinner that also provides wonderful leftovers for sandwiches the next day.
How to make meatloaf

You'll see what an easy meatloaf recipe this is to make.
Start by gathering your ingredients for the meat mixture and pre-measure them. For a single loaf, you'll need: 1 lb ground beef, 1 lb ground pork (or just use all beef), 2 large eggs, 1 finely chopped onion, ½ cup bread crumbs, 1½ teaspoons salt, and ½ teaspoon black pepper.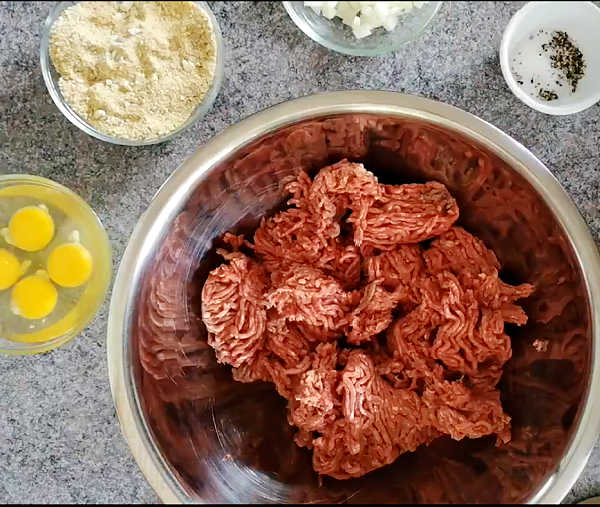 You'll want to have everything ready because you'll be using your hands to mix.
(Ok, you CAN use a wooden spoon if you prefer, but it's just so much more fun squishing everything together with your fingers!)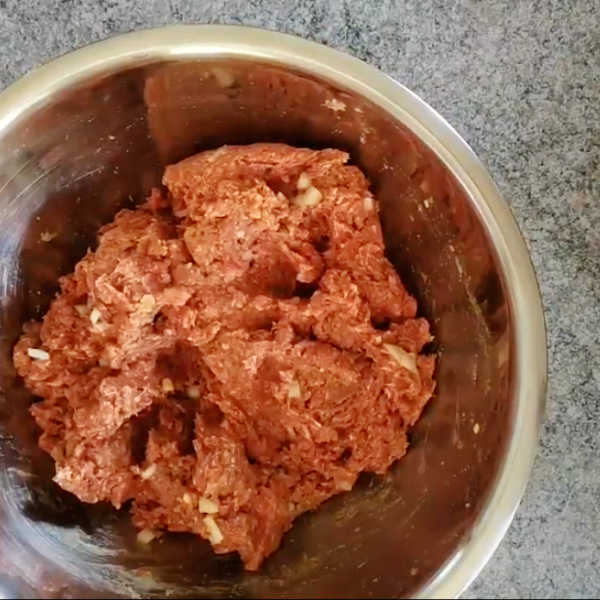 Mix everything together gently. You don't want to over mix or the meatloaf will be tough. Just mix it all together until well combined.
Then it's time to form your meatloaf. You'll see that below I formed the mixture of ground meat into two small loaves. That's because I wanted to make one covered with bacon and the other brushed with BBQ sauce.
After it is shaped like a loaf, it is placed in a 9x13-inch casserole dish. Do not use a loaf pan!
Not only does this ensure that the fat cooks out of the meat, making this a healthy dinner choice, it also produces a wonderful crust that is just so yummy.

Making smaller loaves also means there's more crust to share. The best part of the meatloaves is the amazing crust. YUM!
Then it's off into the oven. Use a meat thermometer to make sure the meatloaf is fully cooked.
Once the meat reaches 165°F it's ready to come out and rest a bit. Then it's ready to cut into thick slices and serve.
You can also let it cool down totally and use it for sandwiches. This is always such a treat.
There's something absolutely mouth-watering about having a German meat-and-potato dinner. Get Oma's revised collection of her favorites in German Meat Dishes.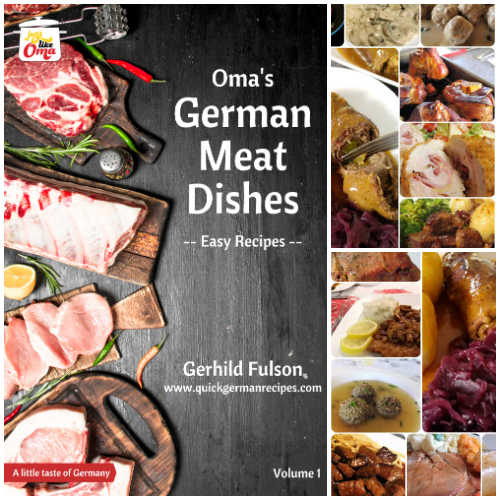 Take a peek at all Oma's eCookbooks. They make sharing your German heritage a delicious adventure!
Meatloaf Variation

This German meatloaf recipe is so versatile. Here I've turned 8 pounds of ground beef (that I got on sale) into: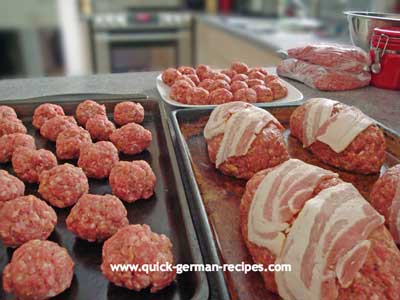 German meatballs that will be oven-browned and then frozen;
4 mini bacon-covered meatloaves to be eaten right away;
meatballs that will be cooked as Königsberger Klopse mit Sosse for the coming week;
and some left ground beef to freeze for some future use.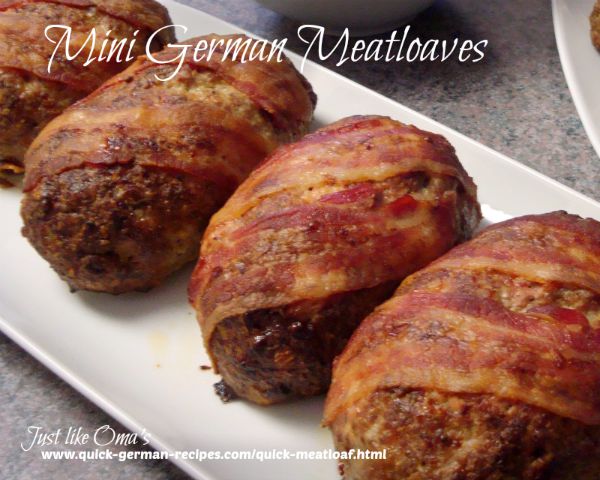 I love making this best meatloaf recipe into mini meatloaves… that way there's lots more crust for everyone!
What to serve with meatloaf
Meatloaf served with red cabbage and mashed potatoes is always such a treat.
It is also delicious served with boiled potatoes and vegetables such as creamed Brussels sprouts, traditional German sauerkraut, or pan-roasted baby carrots.

Another German way of making meatloaf is to pour a cup of hot beef broth over the meatloaf while it is baking. When the meatloaf is done baking, the liquid is thickened with a slurry of corn starch and cold water. Then sour cream is stirred in, along with salt and pepper to taste, for a delicious sauce to serve with the meatloaf.

And, of course, one of the best ways to serve meatloaf is cold in a sandwich. So yummy on rye bread with a little mustard or ketchup!
Oma says,
To check seasonings before baking, I put a small amount, about one teaspoon, of raw meat mixture onto a plate.

I microwave that for about 1 minute, or until it sizzles and is cooked through. Let it cool momentarily and taste.
Add extra salt and/or other seasonings as required :-)
Other delicious German meat recipes
Ready to make the best meatloaf recipe?
Is the recipe below locked? Here's why.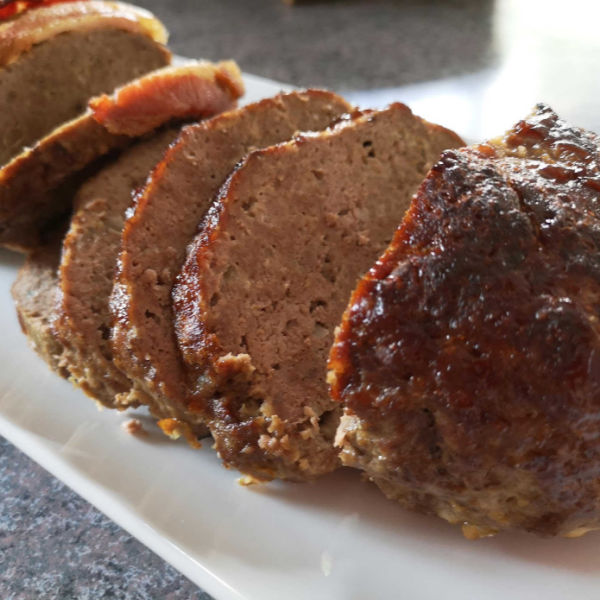 Traditional German Meatloaf Recipe – Oma's Falscher Hase

This is THE best meatloaf recipe. It is so simple, so quick, and so delicious! In German it is called Falscher Hase, meaning false hare. The similarity is in shape, not taste! The meat loaf is formed into a slightly elongated, flattened shape to resemble a hare (or rabbit).
Prep Time


15 minutes


Bake Time


60 minutes


Total Time

75 minutes

Servings:

Makes 4 - 6 servings
Ingredients:
2 pounds lean beef (or half beef and half pork)
2 large eggs
1 onion, finely chopped, (browned in vegetable oil, if desired)
½ cup breadcrumbs or 1 Kaiser roll (see hints below)
1½ teaspoons salt
½ teaspoon black pepper
3 hard-boiled eggs, peeled (optional)
4 strips bacon
Instructions:
Preheat oven to 375°F.
In a large bowl, gently mix ground meat, eggs, onion, bread crumbs, salt, and pepper. 
If you're hiding hard-boiled eggs inside: flatten the meat into the shape of a square, lay the peeled eggs in a straight line in the middle of the meat, and then fold sides over them. Shape meat into a loaf shape.
If you're not hiding hard-boiled eggs inside: mold meat mixture into a loaf shape.
Place meatloaf into a large shallow container - not into a loaf pan! I use a 9x13-inch casserole dish.
Lay bacon slices on top of the meatloaf.
Place dish in preheated oven for 50 - 60 minutes or until done. Use a meat thermometer to ensure the meat loaves are at 165°F.
Let stand 10 minutes before slicing. 
Notes/Hints:

Traditionally, stale buns were used instead of bread crumbs. Easiest is to use a Kaiser roll, and soak it in some warm milk or water for about 10 minutes. Drain it, squeeze out the liquid, and crumble the roll and add to the meat instead of the breadcrumbs.
Shape into 2 smaller loaves, so there's more crust - everyone just loves the crusty ends - they're extra delicious! 
Add any or several of the following: ¼ to ½ cup ketchup, barbecue sauce, mustard, and/or sautéed mushrooms.
Change flavor by adding 1 teaspoon thyme and/or a teaspoon paprika.
Other seasonings to try: caraway seeds, fresh parsley, or dried parsley flakes.
You can omit the bacon strips to wrap the loaves. Instead, brush with barbecue sauce or ketchup before baking.
This tastes so good when it's served with German potato salad.
*  *  *  *  *

Unless otherwise noted recipe, images and content © Just like Oma | www.quick-german-recipes.com

02.24.2022 revision update
Leave a comment about this recipe or ask a question?

Pop right over to my private Facebook group, the Kaffeeklatschers. You'll find thousands of German foodies, all eager to help and to talk about all things German, especially these yummy foods. 
Meet with us around Oma's table, pull up a chair, grab a coffee and a piece of Apfelstrudel, and enjoy the visit.

Cooking just like Oma, making those German meals, is actually quite easy. Let me, Oma Gerhild, help you with my step-by-step methods to re-create those yummy meals you remember from your Oma.

If you're looking for tasty, traditional, and easy German cake recipes (in English) to try, then you've come to the right place! Check out these lecker treats!

Discover the ultimate German schnitzel recipe with Oma's quick and easy method - perfect for any occasion! Taste the authentic flavors of Germany today.
*  *  *  *  *
PIN to SAVE this recipe to your Pinterest board!
And let's be friends on Pinterest!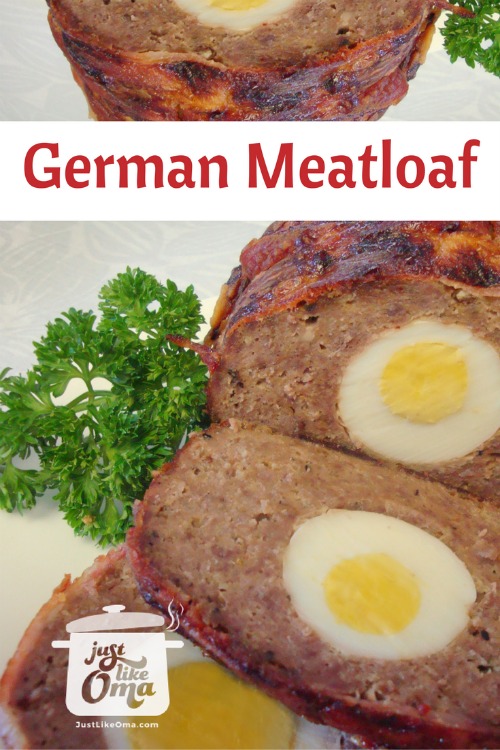 Words to the Wise
"The godly can look forward to a reward, while the wicked can expect only judgment."
Proverbs 11:23 (NLT)