Oma's Best Meatloaf Recipe

➤ by Oma Gerhild Fulson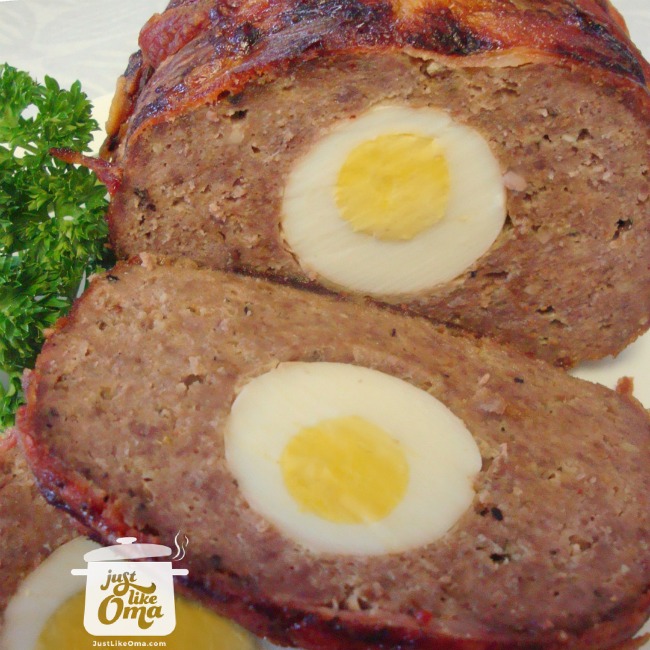 This is my best meatloaf recipe that is so simple, so quick, and so delicious! In German it is called Falscher Hase meaning false rabbit. The similarity is in shape, not taste! The loaf is formed into a slightly elongated, flattened shape to resemble a hare (rabbit). Just think of it like shaping a loaf of bread.
Covered in bacon and, perhaps with a hard boiled egg hidden inside, this makes a great dinner that also provides wonderful leftovers for sandwiches the next day.
I usually make several loaves at once - one to eat hot right away (served with red cabbage and mashed potatoes is a treat!) - the rest is reheated for another dinner (slices warmed in the microwave are delicious) or sliced for sandwiches (a real treat!).
There's something absolutely mouth-watering about having a German meat-and-potato dinner. Get Oma's revised collection of her favorites in German Meat Dishes.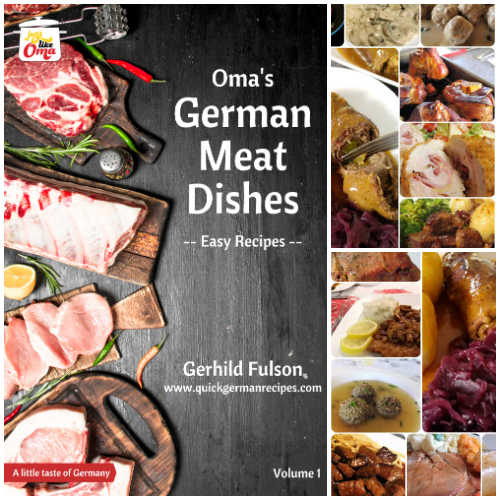 Take a peek at all Oma's eCookbooks. They make sharing your German heritage a delicious adventure!
Check out the hints section under the recipe for ways to make changes to my best meatloaf recipe ... and make it yours! After it is shaped like a loaf, it is placed on a rimmed baking sheet. 
Using this method of how to make a meatloaf, ensures that the fat cooks out of the meat, making this a healthy dinner choice. And, it's great for sandwiches with a bit of ketchup!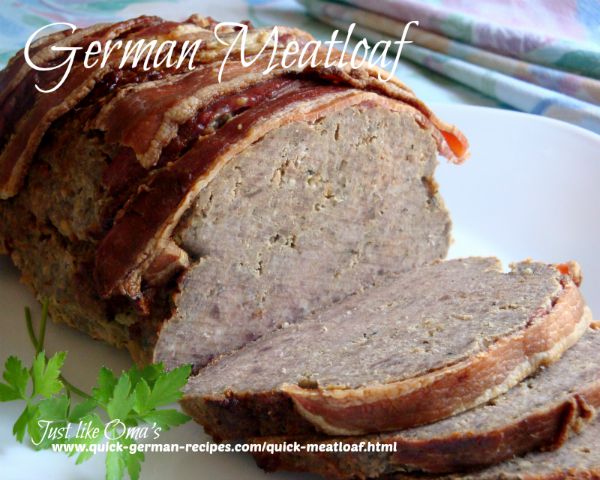 Here I've made it without the hard boiled eggs. Makes the best meatloaf sandwiches. Perhaps some mustard or ketchup added. Yum!

Use same recipe for meatballs, etc. ...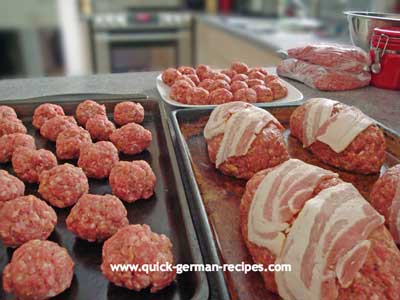 Here I've turned 8 pounds of ground beef (that I got on sale) into:
meatballs that will be oven browned and then frozen
4 mini bacon-wrapped meatloaves to be eaten right away!

meatballs that will be cooked as Königsberger Klopse mit Sosse for the coming week
and some left ground beef to freeze for some future use.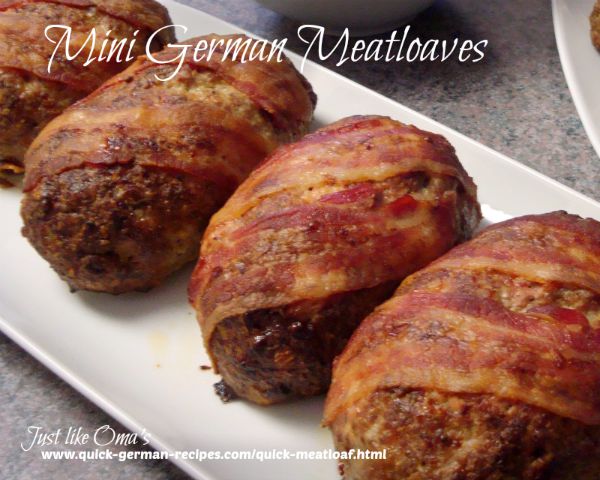 I love making this recipe into mini meatloaves ... that way there's lots more crust for everyone!

Oma says,
To check seasonings before baking, I put a small amount, about one teaspoon, of raw meat mixture onto a plate.

I microwave that for about 1 minute or until it sizzles and is cooked through. Let it cool momentarily and taste.
Add extra salt and/or other seasonings as required :-)
Ready to make this German meatloaf?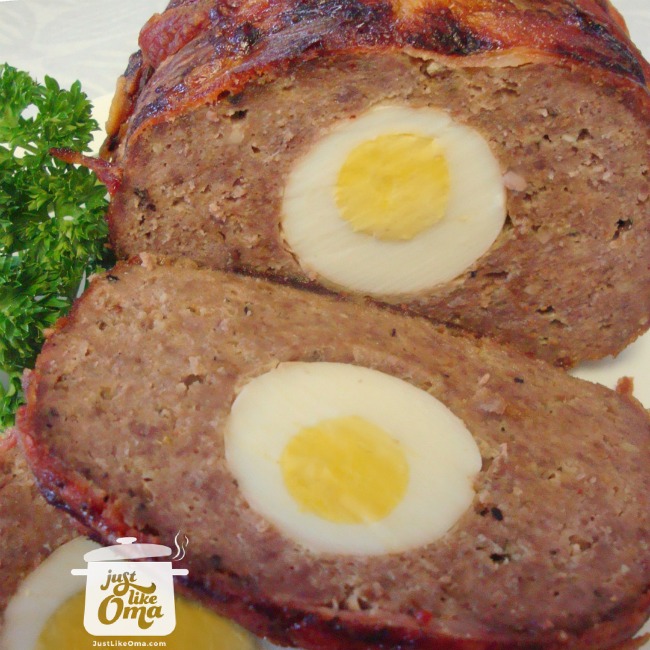 Oma's Best Meatloaf Recipe

This is my best meatloaf recipe that is so simple, so quick, and so delicious! In German it is called Falscher Hase meaning false rabbit. The similarity is in shape, not taste! The loaf is formed into a slightly elongated, flattened shape to resemble a hare (rabbit).

Prep Time


15 minutes


Bake Time


60 minutes


Total Time

75 minutes

Servings:

Makes 4 - 6 servings
Ingredients:
2 lbs lean beef (or mixture beef and pork)
2 eggs 
l onion, finely chopped, (browned in oil, if desired)
½ cup bread crumbs or 1 Kaiser roll (see hints below)
1½ tsp salt
½ tsp pepper
3 hard-boiled eggs, peeled (optional)
4 slices bacon
Instructions:
Preheat oven to 375°F.
In large bowl, gently mix meat, eggs, onion, bread crumbs, salt and pepper. 
If you're hiding hard-boiled eggs inside: flatten the meat into a rectangle, lay the eggs on top, and then fold the meat over them. Form into a loaf shape.
If you're not hiding hard-boiled eggs inside: form the meat into a loaf shape. 
Place the meat loaf on a rimmed baking sheet - not into a loaf pan!
Cover meatloaf with bacon slices.
Bake 50 - 60 minutes or until done. Use a meat thermometer to ensure the meat loaves are at 165°F.
Let stand 10 minutes before slicing. 
Notes/Hints:

Traditionally, stale buns were used instead of bread crumbs. Easiest is to use a Kaiser roll, and soak it in some warm milk or water for about 10 minutes. Drain it, squeeze out the liquid, and crumble the roll and add to the meat instead of the breadcrumbs.
Shape into 2 smaller loaves, so there's more crust - everyone just loves the ends - they're extra delicious! 
Add any or several of the following: ¼ to ½ cup ketchup, barbecue sauce, mustard, and/or sautéed mushrooms.
Change flavor by adding 1 tsp thyme.
You can omit the bacon to wrap the loaves. Instead, brush with barbecue sauce or ketchup before baking.
*  *  *  *  *

Unless otherwise noted recipe, images and content © Just like Oma | www.quick-german-recipes.com

Leave a comment about this recipe or ask a question?

Pop right over to my private Facebook group, the Kaffeeklatschers. You'll find thousands of German foodies, all eager to help and to talk about all things German, especially these yummy foods. 
Meet with us around Oma's table, pull up a chair, grab a coffee and a piece of Apfelstrudel, and enjoy the visit.

Finger-lickin' good oven fried chicken pieces, easy and economical, perfect for family night dinners, for company, and even Oktoberfest! It's Brathendl, Oma-style!

My best pound cake recipe (Sandkuchen) is this one. My Oma made it, my Mutti made it, and now I make it! It's so quick and easy to make and tastes SO good!

Make the BEST Bavarian braised cabbage recipe that's perfect for Oktoberfest or anytime you're wanting a traditional German side dish. It's Weisskraut, just like Oma makes it.
*  *  *  *  *
PIN this ...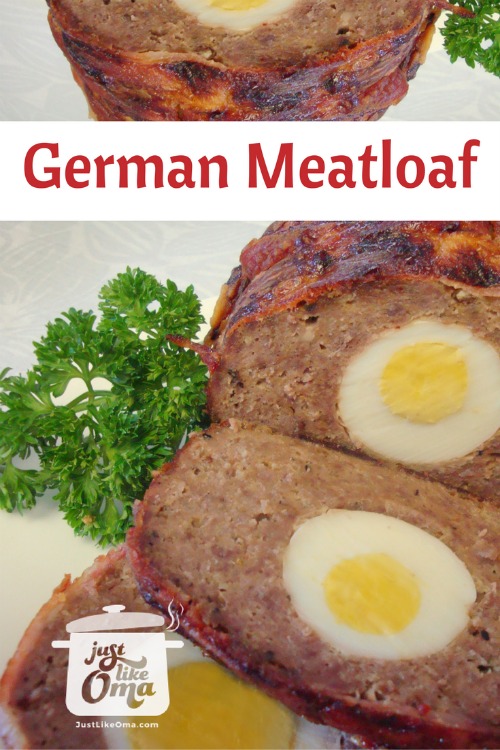 ---
Best Meatloaf Recipe made Just like Oma


By
Oma Gerhild Fulson
Oma's best meatloaf recipe that's delicious served hot or cold. This one's wrapped in bacon. WUNDERBAR with a potato salad. Hide a hard boiled egg in it!

Ingredients:
lean beef,
eggs,
bacon,
onion,
For the full recipe, scroll up ...
Words to the Wise
"The godly can look forward to a reward, while the wicked can expect only judgment."
Proverbs 11:23 (NLT)