Oma's Best Hamburger Recipe ❤️
➤ by Oma Gerhild Fulson
FTC Disclosure: As an Amazon Associate, I earn from qualifying purchases.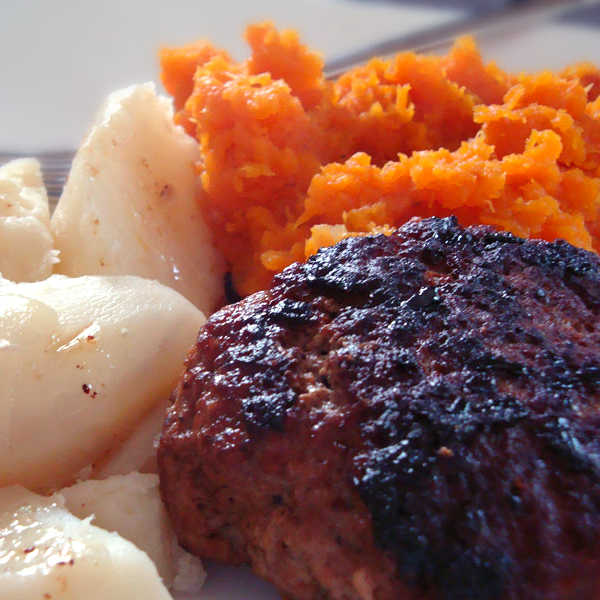 My best hamburger recipe is posted below. So easy to make, I'll show you the basic steps on how to make hamburgers. 
Not only easy, but these taste like real German hamburgers.
Depending on which part of Germany you're from, these are either called Buletten or Frikadellen. Usually, they are fried, however, they can be done on the BBQ, grilled, or broiled.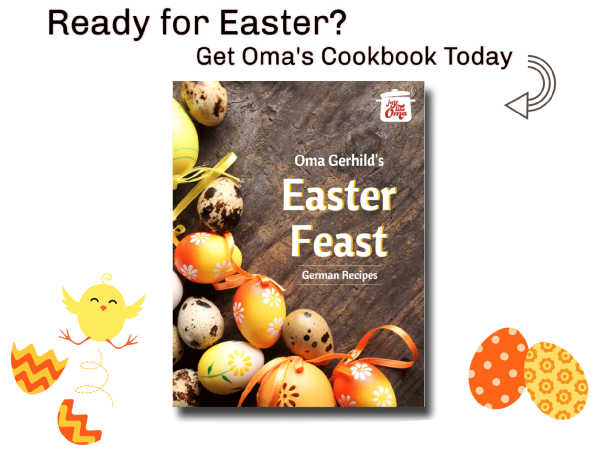 They'll taste a bit different, depending how you cook them, but to start with, they all use the same recipe. 

Try either the traditional German Cold Potato Salad or the extra quick Easy Potato Salad that can be served hot, warm, or cold and is ready within 30 minutes to go along with this quick hamburger recipe.
You'll notice this is very similar to the Quick Meatloaf recipe, and that's because, when you have a great recipe, you try to make the most of it. In fact, I use the same recipe when making meatballs.
This picture shows these hamburgers being served with potato salad using both regular and sweet potatoes. A real treat as well.
Check the hints at the bottom of the recipe for variations on this basic "how to cook hamburger" recipe.
Also check out Rich's techniques for making the best hamburger recipe for his "sweetie."
Oma says,
Don't overcook, or you'll have "Bremsklötze" (brake pads) ... German humor :)
---
Oma's Best Hamburger Recipe ❤️
Ingredients:
1 lb lean ground beef
1 egg
½ small onion, chopped (optional)
¼ cup bread crumbs or 1 Kaiser roll (see hints below)
¾ tsp salt
¼ tsp pepper
Instructions:

Gently mix all ingredients in a large bowl.
Shape into patties (3 or 4 depending on size wanted)
Either BBQ, grill, broil, or use skillet. Use olive oil to grease the skillet or racks first.
Cook according to your preference, at about 6 minutes per side or until done.
For traditional German hamburgers, (actually the BEST way!) brown both sides in a skillet. Cover and continue to simmer for about 15 minutes on medium heat, turning occasionally.
Hints:
Traditionally, stale buns were used instead of bread crumbs. Easiest is to use a Kaiser roll, and soak it in some warm milk or water for about 10 minutes. Drain it, squeeze out the liquid, and crumble the roll and add to the meat instead of the breadcrumbs.
Add ¼ cup ketchup, BBQ sauce, or mustard to meat mixture
Add ½ cup cubed cheese (cheddar) to the meat mixture
Try different seasonings to find your favorite. I like using "Montreal Steak Spice." (I know .... it's not German!)
Personally, I prefer using lean ground beef. If you wish, you can use a regular grind and/or a mixture of beef, pork, or veal.

This quick hamburger recipe uses one pound of ground beef. You can easily double and triple the recipe.

Want nutritional information? Copy and paste the above ingredient list and the number of servings into Calorie Count for an approximate calculation.
Need help doing conversions between cups and grams, etc.? Use this site to give you all the different conversions for the different types of ingredients.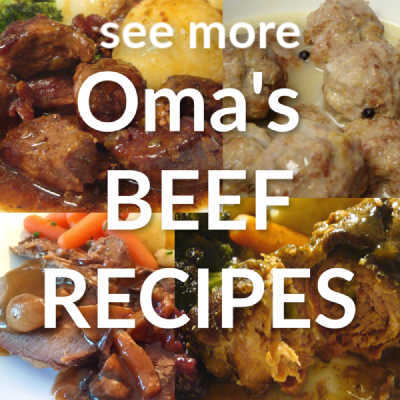 Leave a comment about this recipe or ask a question?
Pop right over to my private Facebook group, the Kaffeeklatschers. You'll find thousands of German foodies, all eager to help and to talk about all things German, especially these yummy foods. 
I pop in all the time as well, to chat and to answer questions. 
Meet with us around Oma's table, pull up a chair, grab a coffee and a piece of Apfelstrudel, and enjoy the visit.
*  *  *  *  *
Want nutritional information for a recipe?
Copy and paste the ingredient list and the number of servings into Calorie Count. 
It will give you an approximate calculation.

Need help doing conversions
between cups and grams or any such thing?
Use this site to give you all the different conversions for the different types of ingredients. 
---
PIN this ...
---
Dyeing Easter eggs naturally using common foods such as coffee, cabbage, onions, and tea will transform the eggs into a rainbow of colors. Either hang or hide them

Cheese Spätzle is a traditional German noodle dish. A sort of Germanized version of 'Mac & Cheese', only better!
---
Words to the Wise
"Work brings profit, but mere talk leads to poverty."
Proverbs 14:23 (NLT)