Sylvie's Sweet Potato Salad Recipe

➤ by Oma Gerhild Fulson
FTC Disclosure: Making a purchase via a link on the page? I may earn a small commission on the transaction - at no added cost to you. Thanks!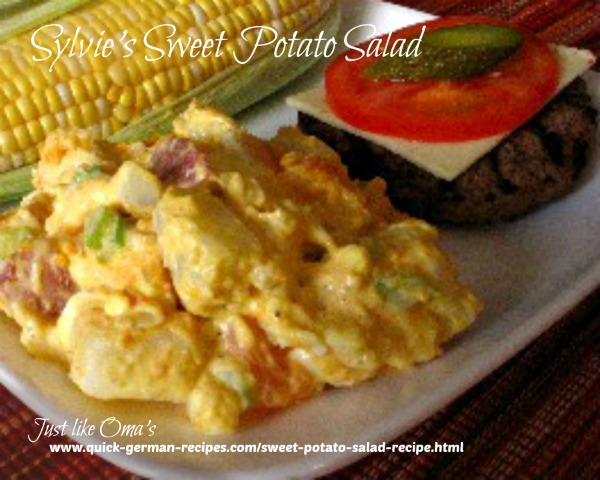 Yum
Sylvie's sweet potato salad recipe, aka Süßkartoffelsalat, is an unusual addition to my German potato salad recipes. Sweet potatoes are not usually thought of as a German vegetable, but they're readily available and used in various ways. This is one of the prettiest and best salad recipes using sweet potatoes I've tried.
Sweet potatoes first found their way to our dinner table and that was, originally, thanks to my daughter-in-love, Sylvie. In her recipe below, the sweet potatoes simply replace part of the regular potatoes.
Sylvie's Sweet Potato Salad Recipe
Ingredients:
3 regular potatoes, cooked, peeled, chopped

1 sweet potato, cooked, peeled, chopped

3 - 4 hard boiled eggs, peeled, chopped

½ red onion, chopped

1 - 2 stalks celery

¾ cup mayonnaise

1 tsp salt

½ tsp pepper, fresh ground

1 Tbsp mustard
Instructions:
Put the chopped potatoes, eggs, onions, and celery into a large bowl.

Mix the mayonnaise, mustard, salt, and pepper together and add to the potato mixture.

Mix together gently. Refrigerate until needed.

Serves 6 - 8

Hints:
Use regular onions if you do not have red ones.

For this salad, both types of potatoes are peeled and then chopped.
Check out how to hard boil eggs if you need help making the eggs.
Cooking Sweet Potatoes ...
Wonder how to cook sweet potatoes?Just cook them like regular potatoes. They will take a bit longer though, about 30 minutes. Cook until just tender.
Including sweet potatoes in this salad add a lot of extra nutrition. They are rich in fiber, Vitamin C and B6, as well as high in carotene. They are a great source of complex carbohydrates as well. AND, they add such pretty color :-)
More Potato Salad Recipes
*  *  *  *  *
Want nutritional information for a recipe?
Copy and paste the ingredient list and the number of servings into Calorie Count. 
It will give you an approximate calculation.

*  *  *  *  *
Need help doing conversions between cups and grams or any such thing?
Use this site to give you all the different conversions for the different types of ingredients. 
*  *  *  *  *
---
---
Words to the Wise
"The wise are mightier than the strong, and those with knowledge grow stronger and stronger."
Proverbs 24: 5 (NLT)