Oma's Sweet Potato Soup Recipe ❤️
➤ by Oma Gerhild Fulson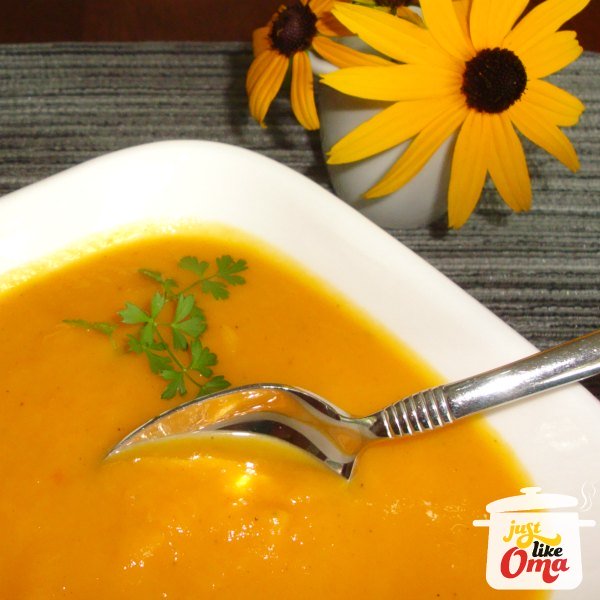 Try this sweet potato soup recipe when you want something deliciously different. Whether you're vegan, vegetarian, or eat just about everything, you'll find this soup is perfect! Yummy! 
Looking so pretty and tasting so delicious, this creamy sweet potato soup is perfect any time. Wunderbar! Yes, wunderbar! No, not German! But, I love it!
Perhaps you are looking for yam soup instead. Make it the same as below. In some parts of America, the words "sweet potato" and "yam" are used interchangeably.
However, in reality, they are two different plants, but the taste is similar. Try this Sweet Potato Soup and let me know what you think!
What makes these soups so wunderbar? They bring back such wonderful memories of my Mutti's kitchen. So, of course, I had to write my own soup e-cookbook to share with my grandchildren. I know you'll LOVE it, too!
There are 84 full-color pages filled with step-by-step instructions and hints. Take a quick peek ...
Sharing these soup recipes from my Mutti and Oma to my own young grandchildren ... that's such a delicious way to pass on our German heritage :)
A bit of this and a bit of that ...
If you don't have vegetable stock, use water and vegetable bouillon cubes using the quantities on the bouillon package to make up 5 cups of stock.
This is also nice using fresh basil. Add about ½ cup before blending.
Not vegetarian or vegan? Use chicken stock for a really rich flavor. 
---
Oma says:
When I told my hubby I was going to be making potato soups, he looked happy.
When I told him it was with sweet potatoes, he looked at me quizzically!
Sweet potatoes were not something either of us grew up with. They really aren't very German!
We were introduced to them through my daughter-in-love, Sylvie, when she brought a potato salad that used both regular and sweet potatoes to a family picnic. It's become one of our favorite veggies! 

---
Vegan soups are something that I'm starting to collect recipes for. Since I'm having more and more company coming over who have changed to this lifestyle, I'm always on the lookout for recipes that suit all. This is one of them!
Oma's Sweet Potato Soup Recipe ❤️
Ingredients:
1 cup diced onions
1 - 2 tbsp olive oil
2½ lb sweet potatoes, peeled and cubed
2 carrots, peeled and chopped
1 large apple, peeled and chopped
5 cups vegetable stock
salt, pepper, nutmeg
Instructions:

Heat the oil in a large saucepan. Add onions. Cook until translucent, but not browned, about 5 minutes.
Add sweet potatoes, carrots, apple, and stock. 
Bring to boil, reduce heat, cover, and simmer for about 25 minutes or until vegetables are tender.
Puree soup either in a blender (Be careful, it's hot!) or use an immersion blender.
Season with salt, pepper, and nutmeg.
Makes 6 servings

Want nutritional information? Copy and paste the above ingredient list and the number of servings into Calorie Count for an approximate calculation.
Need help doing conversions between cups and grams, etc.? Use this site to give you all the different conversions for the different types of ingredients.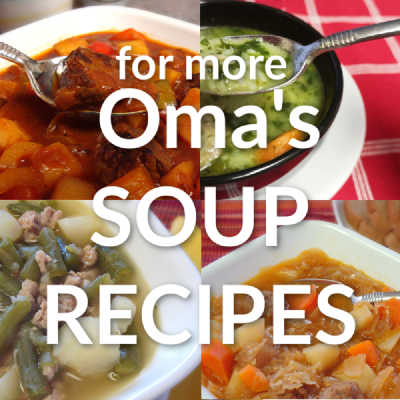 Leave a comment about this recipe or ask a question?
Pop right over to my private Facebook group, the Kaffeeklatschers. You'll find thousands of German foodies, all eager to help and to talk about all things German, especially these yummy foods. 
I pop in all the time as well, to chat and to answer questions. 
Meet with us around Oma's table, pull up a chair, grab a coffee and a piece of Apfelstrudel, and enjoy the visit.
*  *  *  *  *
Want nutritional information for a recipe?
Copy and paste the ingredient list and the number of servings into Calorie Count. 
It will give you an approximate calculation.

Need help doing conversions
between cups and grams or any such thing?
Use this site to give you all the different conversions for the different types of ingredients. 
---
PIN this ...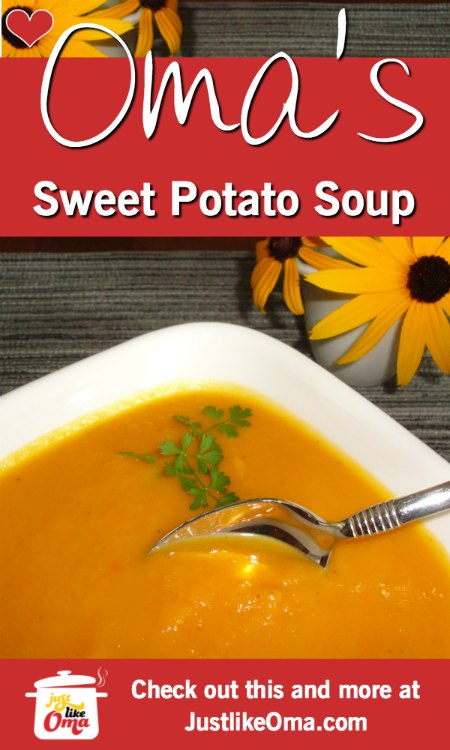 ---
This German sourdough whole grain no knead bread recipe is so delicious and so healthy. Learn this basic method and then alter it to suit your needs. Healthy never tasted this good!

Want a Rhubarb Cake recipe that tastes just like Oma's? Not too sweet, but wunderbar? Try my Rhubarb Streusel Cake that's super quick and easy to make.
---
Words to the Wise
"The Lord is far from the wicked, but he hears the prayers of the righteous."
Proverbs 15:29