Oma's Easy Sweet Potato Recipe ❤️

➤ by Oma Gerhild Fulson
FTC Disclosure: As an Amazon Associate, I earn from qualifying purchases.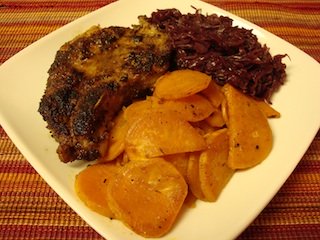 This easy sweet potato recipe, aka Süßkartoffeln, is a great side dish for any meal, German or not. It's just become a favorite recipe of mine - a variation on one I learned from my daughter-in-love, Sylvie. And it fits so well with German breaded pork chops (a type of schnitzel recipe) and German red cabbage.
It's also great with oven-fried chicken, especially since they can be cooked in the oven at the same time. So easy and so quick to make. No, it's not German. That's why it's listed under the Oma's Quickies page.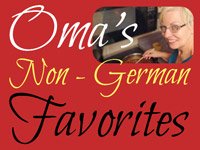 Sweet potatoes are certainly not part of traditional German cooking. However, as the world becomes more and more global and as more and more immigration occurs into Germany, what is now found in Germany is totally different to years ago.  
If you're looking for other sweet potato recipes, be sure to try Sylvie's sweet potato salad. A favourite of ours.
As you try the recipe above, I'm sure you'll come up with your own combinations that will delight your family.
Oma says,
Roasting and the Baggie Trick
If you're into roasting veggies, you'll find that most recipes call for putting a bit of oil in the bottom of the baking dish and then adding the cut up veggies. Drizzle with some more oil. Roast.
Sounds easy enough, doesn't it. How can that be any simpler?
Well, I soon realized that drizzling with oil didn't cover all the veggies unless I really poured lots all over.
Easier? Well, take a largish plastic bag (I use bread bags or milk bags) and put the cut veggies into that. Pour in about ¼ cup olive oil (I always use light). Now, gently mush the bag and all the veggies will get coated in the oil. 
You can also add seasoning to the bag. When all is mixed, spread onto baking sheet. Roast. This uses way less oil and it nicely coats everything.
Try it. You'll like it!
Oma's Easy Sweet Potato Recipe

Ingredients:
2 lbs sweet potatoes, peeled and thinly sliced
¼ cup olive oil
½ - 1 tbsp steak seasoning or seasoning salt
Instructions:
Preheat oven to 400° F.
Into large plastic baggie (large enough to hold sweet potatoes), put olive oil and seasoning. Mix (by squishing bag).
Add sweet potato slices and mix well by squishing bag :-)
Pour potatoes onto large baking sheet and spread out.
Bake about 30 - 40 minutes until tender (will depend on how thickly the potatoes are sliced)
Hints:
Mix potatoes, olive oil, and seasoning in a bowl instead of a bag (not as easy or as much fun!)
Add 8 - 10 garlic cloves with the potatoes in the bag! Yummy!
Add ½ tsp dried rosemary or 1 tsp fresh rosemary
For seasoning, just use salt and pepper

Leave a comment about this recipe or ask a question?
Pop right over to my private Facebook group, the Kaffeeklatschers. You'll find thousands of German foodies, all eager to help and to talk about all things German, especially these yummy foods. 
I pop in all the time as well, to chat and to answer questions. 
Meet with us around Oma's table, pull up a chair, grab a coffee and a piece of Apfelstrudel, and enjoy the visit.
*  *  *  *  *
Want nutritional information for a recipe?
Copy and paste the ingredient list and the number of servings into Calorie Count. 
It will give you an approximate calculation.

Need help doing conversions
between cups and grams or any such thing?
Use this site to give you all the different conversions for the different types of ingredients. 
---
---
These German gingerbread cookies, or Lebkuchen, are such a traditional cookie to have for Christmas. They're very easy to make, there's no reason to buy them.

Oma's German schnitzel recipe (Jägerschnitzel) is great if you need something delicious that's quick to make as well. So traditionally German and so WUNDERBAR!
---
Words to the Wise
"Just as damaging as a madman shooting a deadly weapon  is someone who lies to a friend and then says, "I was only joking."
Proverbs 26:18-19 (NLT)