Air Fryer Sweet Potato Recipe
Air Fryer Sweet Potato Recipe ~ Luftfritteuse Süßkartoffeln
➤ by Lydia Fulson
Lydia's air fryer sweet potato recipe is the perfect side dish for any meat. This is such an easy recipe for new air fryer owners! You'll love these potatoes. They can be roasted dark and crispy or soft and sweet. 
While sweet potatoes are not traditionally German, this healthy and delicious veggie has certainly gained its popularity lately, and for good reason. Talk about delicious!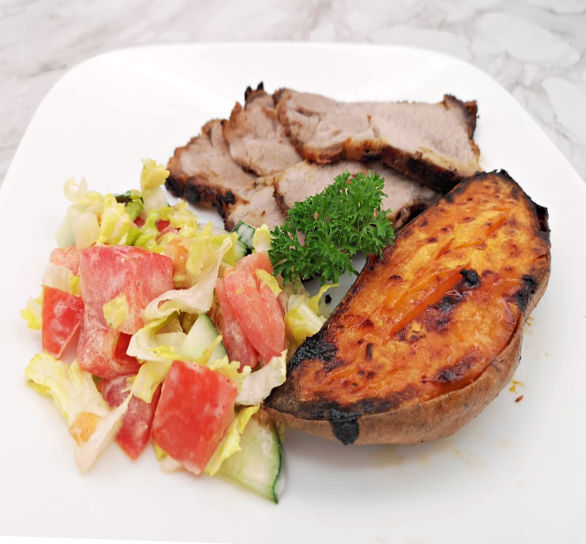 Making these whole sweet potatoes in the air fryer has become my new favorite way of incorporating a healthy side dish to my dinners.
In fact, making any vegetable in the air fryer is a great alternative to using your actual oven. Less mess, less time, healthy, and an overall experience that will keep you wanting to use it again and again!
This recipe was my first vegetable made in the air fryer and the process couldn't have been easier. My family LOVED these tasty sweet potatoes and even requested them again ... they're a hit!
This lecker recipe has become one of my go-to favorite air fryer recipes to make, and you can find more of these quick and easy air fryer recipes simply by clicking that link there :)
Easy Air Fryer Recipes
Sweet potatoes are certainly not part of traditional German cooking. However, as the world becomes more and more global and as more and more immigration occurs into Germany, what is now found in Germany is totally different from years ago.  

If you're looking for other sweet potato recipes, be sure to try my Aunt Sylvie's sweet potato salad!
This air fryer sweet potato recipe really is an easy one. There are no fancy tricks or expensive spices. It can be made with just a couple of staple kitchen ingredients. This easy side dish can go alongside almost anything and will pair perfectly. Be sure to try it with my air fryer rotisserie chicken. What a yummy and healthy combination! 
There are so many options when choosing a meal and so many decisions to be made. This recipe makes meal planning easy. It's oh-so-simple with its convenient on-hand ingredients and tasty outcome that's great if you aren't wanting huge portions.
Want to know which recipes are Oma's favorites? Grab your copy of her very favorite recipes in Favorite German Recipes eCookbook.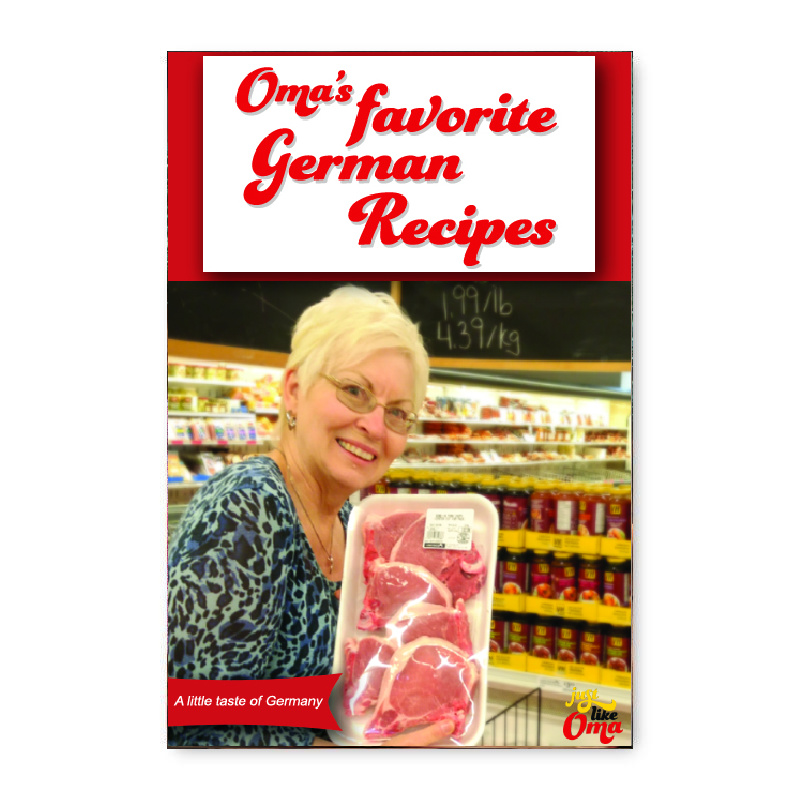 Take a peek at all Oma's eCookbooks. They make sharing your German heritage a delicious adventure!

About the Air Fryer
I made these sweet potatoes and many other yummy treats in the Instant Vortex Plus Air Fryer Oven. 
This fryer has so much potential and is great for beginners, just like me! Not only is it convenient, but it's perfect for making meals for one or two people. Things like this can be hard to find nowadays, seeing as everything comes in bulk!
You'll love just how much cooking time you'll save when making these delicious air fryer baked sweet potatoes. Fryers are so affordable and are a great way to make healthier snack alternatives, seeing as they use a lot less oil than regular deep frying would.
There are lots of different choices when it comes to picking the right air fryer for you. From big to small, to ones with lots of dials and some with a few simple buttons. It's best to do your research and read reviews before buying your first handy new kitchen tool.

How to Shop for & Store Sweet Potatoes
The biggest sign to look for when buying sweet potatoes is to make sure the skin is smooth all the way around. Much like shopping for regular potatoes, you also want to avoid bruising. Your sweet potatoes should also be firm in feel. 

After buying, then comes storing. The mistake of wrongful storage is an easy one to make, so I'm here to help you get the most of your delicious sweet potatoes.

When it comes to storing sweet potatoes, much like regular potatoes, you want to keep them in cool, dry spaces. They thrive in dark places as well, such as a cool garage or cellar.
If you decide to wash them before storage, be sure to dry them off completely beforehand. Any moisture left behind can cause your potatoes to rot quickly. If you wish to store them in a container, don't use one that seals airtight. You need airflow to keep moisture from building and spoiling them, so an airtight container is off the table!
Refrigeration is going to be your LAST option for storage. You can do this, BUT not for long periods of time. Storing them here can cause the center of the potatoes to go hard, making them harder to cook and diminishing the flavor at the same time. Your refrigerator is also full of moisture which, as I mentioned above, will cause spoilage. Did you know that storing your potatoes by other vegetables will cause them to ripen too quickly? So you may want to avoid that one as well. 
The Difference between Yams and Sweet Potatoes
This is a commonly asked question and the answer is simple! :)
The best way to tell them apart from each other is to look at their skins. That's where most of the differences lie. Sweet potatoes are generally browner, while yams will be yellow, pink, even purple. The color of a yam depends on how old it is and how mature it's gotten.
It's easy to see the confusion between the two, as they often get mistaken for each other because depending on how mature the yam is, the colors can be similar at first glance. Their textures are identical but not exactly the same either. Sweet potatoes aren't too rough in feeling, but the texture of yams can be compared to that of tree bark. 

Getting away from appearance now, let's talk about the important part, the taste.
Well, sweet potatoes get their name for a reason. They're sweet! While yams, on the other hand, can be a little lacking on the sweet side. Yams tend to have a starchy, earthy taste, which isn't a bad thing. They are packed full of nutritional value and taste amazing mixed with other veggies too. Actually, both are very healthy to incorporate into your diet for protein, carbs, and lots of vitamins, including vitamin C, vitamin b6, and vitamin A. Even more of a reason to try them in your air fryer!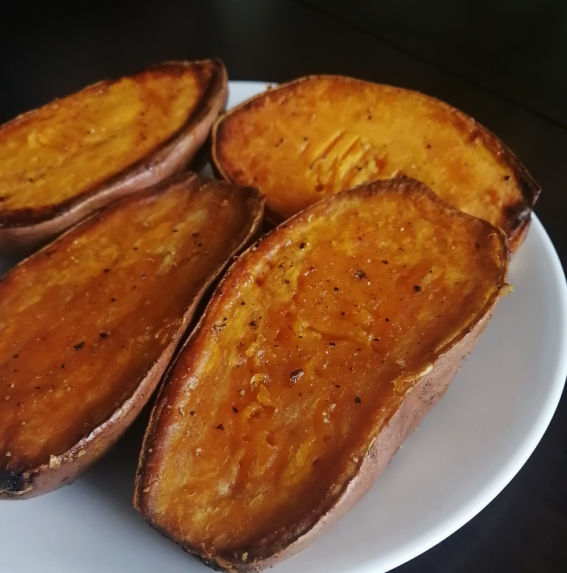 ---
Ready to make these sweet potatoes?
Is the recipe below locked? Here's why. Unlock to see ALL the exclusive recipes on this site. Click here for help.
➤ As an Amazon Associate, I earn from qualifying purchases.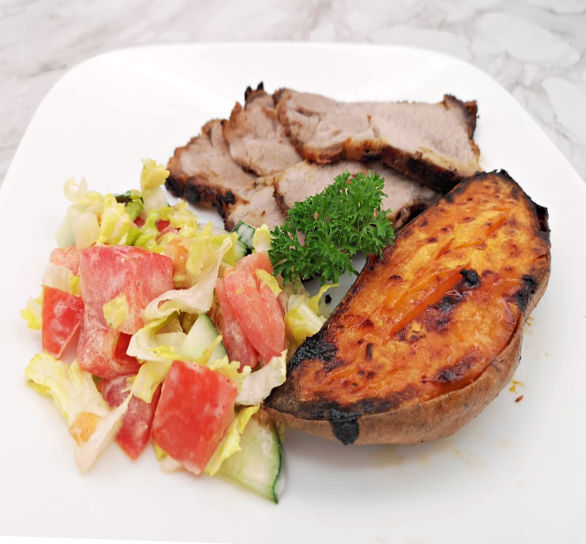 Air Fryer Sweet Potato Recipe ~ Luftfritteuse Süßkartoffeln
Lydia's air fryer sweet potato recipe is a great side dish for any meat. This is such an easy recipe for new air fryer owners! You'll love these potatoes. They can be roasted dark and crispy or, soft and sweet. 
While sweet potatoes are not traditionally German, the healthy and delicious veggie has certainly gained its popularity lately, and for good reason. Talk about delicious! Oh, you really should try my Oma's Sweet Potato Soup!
Prep Time


10 minutes


Bake Time


40 minutes


Total Time

50 minutes

Ingredients:
2 sweet potatoes
¼ cup olive oil
salt and pepper to taste
Instructions:
Preheat air fryer to 400°F on roast.
Slice sweet potatoes into halves.
Brush olive oil over both skin and flesh sides of the halves.
Sprinkle salt and pepper on the flesh side.
Place flesh side down on tray (or 2 trays, depending on the size of your sweet potatoes) and cook for 40 minutes on middle rack of fryer.
Notes/Hints:

Brushing olive oil (or your choice of oil) on the flesh AND skin gives the sweet potato skin a nice crisp finish.
Leave on tray for a few minutes longer to get darker edges. Sometimes the darker, the tastier.
I use the bottom tray (baking tray) for these. I find it makes for easier clean-up. If you use the tray with holes, the oil will make a mess at the bottom of the fryer.
The amount of salt and pepper is up to you. It's all a matter of taste!
On one tray, you can fit 2 large sweet potatoes after they're cut in half. So if you want to make 3 or 4, perhaps buy smaller potatoes or use more than one tray.
I like to sprinkle brown sugar on mine as well for an extra sweet flavor. But you can also use butter, maple syrup, or whichever your favorite toppings may be!
I used the Instant Vortex Plus Air Fryer Oven to make this delicious sweet potato recipe. If you have something different, no problem. Simply adjust settings and cook time accordingly. 
*  *  *  *  *

Unless otherwise noted recipe, images and content © Just like Oma | www.quick-german-recipes.com

Leave a comment about this recipe or ask a question?

Pop right over to my private Facebook group, the Kaffeeklatschers. You'll find thousands of German foodies, all eager to help and to talk about all things German, especially these yummy foods. 
Meet with us around Oma's table, pull up a chair, grab a coffee and a piece of Apfelstrudel, and enjoy the visit.

Discover the history behind the German Apple Pancake recipe, aka Apfelpfannkuchen. Quick, very easy, and wunderbar! Get Oma's delicious recipe here.

I loved to wander thru Trier in the winter evenings when all was quiet. Usually, on Friday nights around Christmas, there would be a small band playing
*  *  *  *  *
PIN to SAVE this recipe to your Pinterest board!
---
Air Fryer Sweet Potato Recipe ~ Lydia's Luftfritteuse Süßkartoffeln


By
Lydia Fulson
Lydia's air fryer sweet potato recipe is a great side dish for any meat. This is such an easy recipe for new air fryer owners! You'll love these potatoes!

Ingredients:
sweet potatoes,
olive oil,
salt & pepper
For the full recipe, scroll up ...
Words to the Wise
"Just as damaging as a madman shooting a deadly weapon  is someone who lies to a friend and then says, "I was only joking."
Proverbs 26:18-19 (NLT)