Air Fryer Cheesecake - Luftfritteuse Frischkäse Kuchen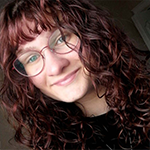 by: Lydia Fulson  /  Writer, Artist, Traveler, Granddaughter & Ever-Learning German Cook

This post may contain affiliate links, which means I'll receive a commission if you purchase through my links, at no extra cost to you. Please read full disclosure for more information.
Use your air fryer to make this German air fryer cheesecake, Luftfritteuse Frischkäse Kuchen, or Philadelphia Käsekuchen, and it will become one of your favorites. Why? Because it's so easy to make and tastes divine! Just like Oma's! 
This cake was the perfect size for my Mom, Dad, and me to enjoy, and it was so quick to put together. I personally love butterscotch chips, so I made this a butterscotch-themed cheesecake. But the Wunderbar thing about cheesecake is, you can add just about anything you want to make it truly YOU.
There really are so many ways to make these wunderbar cakes, but this is one of my favorite ways. I love using my air fryer whenever I can!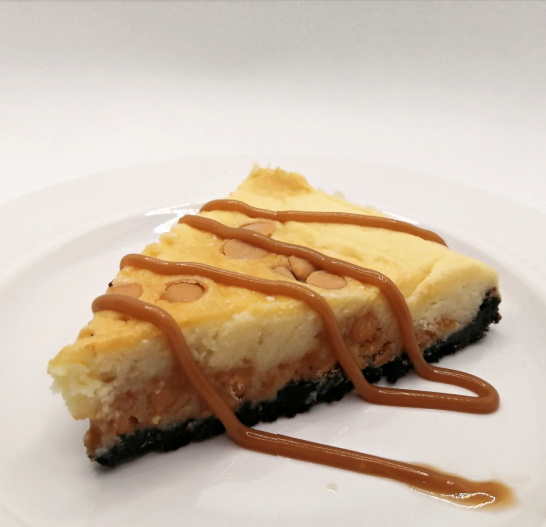 Having such a sweet tooth, cheesecake has always been a favorite of mine. So when I realized I could make it easily in my Instant Pot Vortex Plus Air Fryer Oven, I hopped to it! This air fryer cheesecake recipe is outstanding for dinner parties, and it can be made using simple ingredients that you may already have on hand.
This delicious cheesecake is a great reason to hop on the air fryer bandwagon. It's such an easy recipe and air frying takes so much less time compared to using the regular oven for baking. It's become my go-to! 
For this recipe, I used the same chocolate Oreo crumbs that I use when making Oma's no-bake cheesecake. Seeing as that is one of the cheesecake recipes that I use all the time, and I love the crust so so much. I wanted to incorporate that same flavor into this cake.
Oma's no-bake recipe also includes using lemon juice and lemon zest, which could be used for this air fryer recipe. If you choose to use lemon flavoring instead of butterscotch chips, you can add your lemon ingredients into the cheesecake batter.
If you'd prefer the more traditional graham cracker crust, no worries. Simply crush your graham crackers, mix with melted butter, then press into pan. (small spring form pan, air fryer pan, etc..)
How Do I Prep My Pan?
Oma taught me this neat trick to help prep the cake pan to make it easier for the cake to come out when it's ready.
Now you can use butter and use your fingers to grease your pan. That's how I used to do it. Or, you can use my new favorite method!
Get out your trusty parchment paper and create a sling. You can do this by measuring your  your piece of parchment paper to the exact size of the bottom of the pan, then adding a little more length to go up the two sides as well. This way, when your cake is ready to come out, you can simply grab these two pieces sticking up from the sides and lift your cake out.
If you'd prefer a different way of prepping your pan, you can use cooking spray and spray the entirety of the inside of the pan. As well, you can use a cake pan that has a bottom that you can push up. This is always a handy way of getting your cake to slide up and out, nice and easy. 
Personally, I like the sling method. But I have had times where I cut the parchment paper too soon and forgot to make it long enough for a sling. When this happens, I opt for counting on my pan with the pushable bottom or use a springform pan.
Hopefully, these methods can help you along the way while making this delicious air fryer cheesecake!
Grab your copy of Oma's favorites in her Special Occasion German Cakes & Tortes e-Cookbook.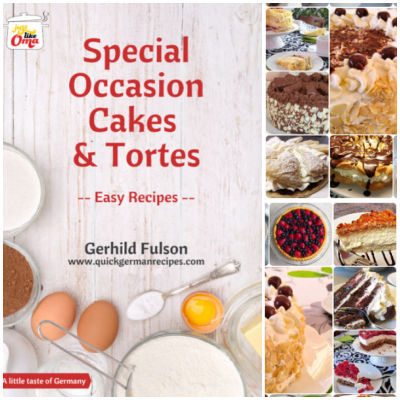 Take a peek at all Oma's eCookbooks. They make sharing your German heritage a delicious adventure!
How Can I Make This More German?
While sweetened condensed milk is not a very common ingredient found in German baking, you could use Gezuckerte Kondensmilch (sugared condensed milk), which would be the one available in German stores.
Condensed milk alone though, is a popular ingredient in German cuisine. In fact, here's some Fulson family history for you!
My Uroma used condensed milk, Libbymilch, all the time in her coffee back in Germany. When she moved to Canada, she used Carnation Evaporated Milk instead, which is really just sweetened condensed milk, but without the sweetener added in. 
My Oma used this evaporated milk in her coffee for years as well. This is because it has a longer shelf life than buying fresh cream in a carton. Nowadays, she enjoys her fresh cream better.
Pretty nifty, huh? 

So, if you're looking to use something different (but not too different) to make this recipe feel like home, you can use condensed milk, then add sugar into your recipe to add sweetness.
But as for the rest of the recipe, cheesecake made with Philadelphia cream cheese (Frischkäse) is very German. These Philadelphia Käsekuchen cheesecakes are a popular dessert in German cuisine.
This German Cheesecake Recipe, made by my lovely Oma uses sour cream. Which has been a popular baking ingredient in European culture for many years. Be sure to check this recipe out for another cheesecake alternative. There really are so many ways to make these wunderbar cakes.
Ready to Air Fry Cheesecake?

Is the recipe below locked? Here's why.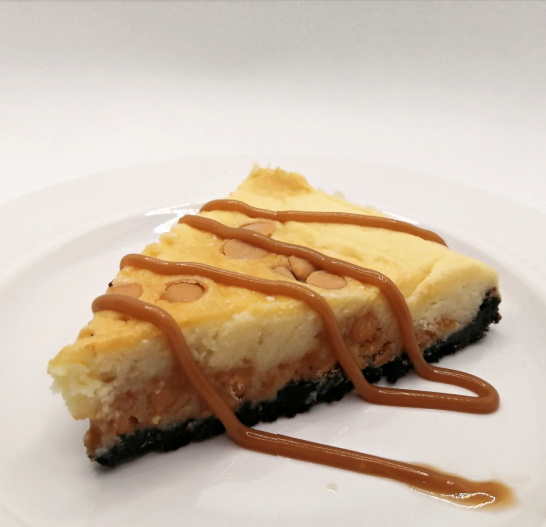 Air Fryer Cheesecake - Luftfritteuse Frischkäse Kuchen

Use your Instant Pot Vortex Air Fryer Oven to make this German air fryer cheesecake, a Philadelphia Käsekuchen, and it will become one of your favorites. Why? Because it's such an easy dessert to make and tastes divine! Just like Oma's!
I used the Instant Vortex Plus Air Fryer Oven to make this delicious cheesecake. If you have something different, no problem. Simply adjust settings and cook time accordingly. 
Prep Time


10 minutes


Cook Time


45 minutes


Total Time

55 minutes

Servings:

Makes 8 servings
Ingredients:
1⅓ cups Oreo crumbs

½ cup melted butter

3 tablespoons flour
14-ounce can sweetened condensed milk
8-ounce block Philadelphia cream cheese
2 large eggs
2 teaspoons vanilla extract 
¾ cup butterscotch chips (or preferred chip)

Instructions:
Preheat air fryer to 300°F on bake and prep 8x8-inch pan by greasing or lining with parchment paper.
Mix Oreo cookie crumbs and melted butter in a small bowl and then press into a prepared pan. 
Set butterscotch chips aside. In a large bowl, beat the rest of the ingredients until smooth using a hand mixer. 
Fold half of your chips into the cheesecake mixture.
Pour mixture into pan over crumb base and sprinkle remaining chips on top.
Set on tray on the middle shelf of your air fryer and bake for 45 minutes or until top is firm. 
Let it cool before moving to the fridge and allow to sit for at least 5 hours. For better results, let it sit overnight in the fridge. 
Drizzle with your favorite sauce or fresh berries. Cut, serve and enjoy!
Notes/Hints:

Use semi-sweet chocolate chips, dark chips, or whatever you'd prefer instead of butterscotch.
Using softened cream cheese can make the mixing easier. Especially if choosing to mix by hand, using a spatula, or mixing spoon.
 I used an 8x8-inch pan to make this cheesecake, but you can adjust the recipe to use whichever fits the size of your air fryer best.
I used an Instant Pot Air Fryer Vortex Plus Oven to make this cake. Placing your pan on a tray instead of setting it on the bottom of the inside of the fryer allows proper heat to get to your cake. Remember that your heat source comes from the top of the fryer. By setting it right on the bottom you won't get an evenly heated cake, which would also increase bake time. The quicker, the better, so don't forget to use a tray! 
If you have a different air fryer oven, follow the manufacturer's recommendations for adjusting temperatures and times.
I like to use my stand mixer for the mixing process, but if you don't have one handy just make do with whichever you have.
*  *  *  *  *

Unless otherwise noted recipe, images and content © Just like Oma | www.quick-german-recipes.com

Leave a comment about this recipe or ask a question?

Pop right over to my private Facebook group, the Kaffeeklatschers. You'll find thousands of German foodies, all eager to help and to talk about all things German, especially these yummy foods. 
Meet with us around Oma's table, pull up a chair, grab a coffee and a piece of Apfelstrudel, and enjoy the visit.

Cooking just like Oma, making those German meals, is actually quite easy. Let me, Oma Gerhild, help you with my step-by-step methods to re-create those yummy meals you remember from your Oma.

If you're looking for tasty, traditional, and easy German cake recipes (in English) to try, then you've come to the right place! Check out these lecker treats!

Discover the ultimate German schnitzel recipe with Oma's quick and easy method - perfect for any occasion! Taste the authentic flavors of Germany today.
*  *  *  *  *
PIN to SAVE this recipe to your Pinterest board!
---
Air Fryer Cheesecake ~ Luftfritteuse Frischkäse Kuchen
By
Lydia Fulson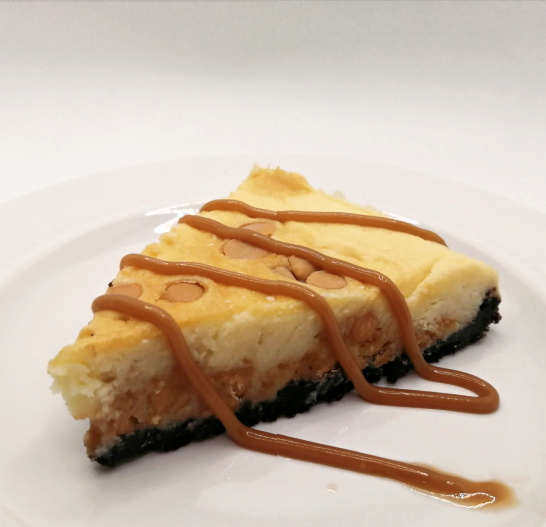 Use your air fryer to make this German air fryer cheesecake and it will become one of your favorites. Why? Because it's so easy to make and tastes divine! Just like Oma's!
Ingredients:
oreo crumbs,
butter,
flour,
cream cheese,
sweetened condensed milk,
eggs,
vanilla,
butterscotch chips,
For the full recipe, scroll up ...
Words to the Wise
"The blessing of the Lord makes a person rich, and he adds no sorrow with it." 
Proverbs 10:22 (NLT)