Oma's No-Bake Lemon Cheesecake Recipe ❤️
➤ by Oma Gerhild Fulson
My lemon cheesecake recipe is one you'll make over and over. WHY? Because it's so good and so easy. German? Not at all.
But, it fits great after a big meal (whether German or not) ... when one wants something sweet, yet light. It's preparation is easy and quick.
No baking required. It does need to stand for a 4 - 5 hours in the fridge before serving.
That's what makes it so fantastic. Make it the day before ... no final rushing around when company's there. A perfect ending to a great meal ... that's why I like it so much.
It's a recipe I like doing with the granddaughters ... have had some great fun times doing so. They choose which flavors of jello to use and which fruits to garnish with. 

I played around with several quick dessert recipes and this luscious lemon cheesecake was the winner. It's really a combination of several recipes ... until it was just what I was looking for. 
Since then, I've used orange jello with orange juice, orange zest, and decorated with mandarin slices. This was a combination created by my granddaughter, Lydia, for one of our summer outdoor family picnics. Wunderbar!
The cake shown below was the crowning touch to a Canadian meal I planned when we had company that came from Germany.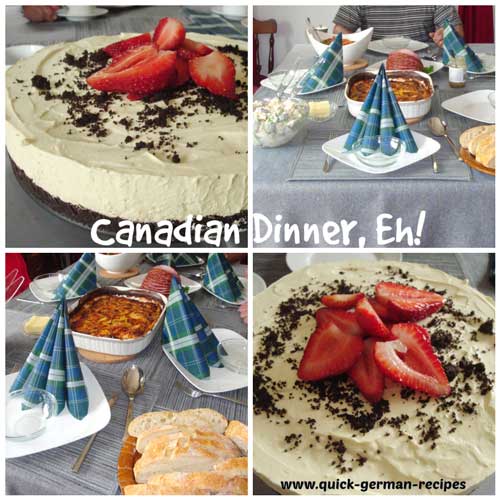 I love no bake dessert recipes! I'm going to be experimenting with more ... especially once the summer heat wave hits. 
Cool Whip versus Whipped Cream
Using freshly whipped cream is always better. However, where I live, whipping cream is quite expensive and I only buy it when necessary.
Cool Whip, on the other hand, is often much cheaper and can be kept in the freezer for those emergencies that pop up. 
I don't often use Cool Whip, but I usually keep a tub in the freezer, just in case. Since we live out in the country, going to town is a day trip. Having items on hand, in the freezer or pantry, is always wise. 
Oma's No-Bake Lemon Cheesecake Recipe
Ingredients:
3 oz package of lemon jello (gelatin)
1 cup boiling water
2 cups graham crumbs or chocolate cookie crumbs
⅓ cup melted butter
8 oz package cream cheese (room temperature)
¼ cup granulated sugar
1 lemon
12 ounce tub Cool Whip (1 liter or 4 cups)
strawberries to garnish
Instructions:
Into a small bowl, mix the jello powder and the boiling water. Stir until jello is dissolved. Set aside to cool.
Mix together the crumbs and the butter. Reserve about ¼ cup and press the remaining mixture into a 10-inch springform* pan.
Using a mixer, whip the cream cheese and the sugar. Zest the lemon and add about 1 Tbsp zest to the cheese mixture. Add about 2 tsp of lemon juice to the mixture as well.
Check that the jello mixture has cooled to about lukewarm. If it is still hot, place the bowl into a cold water bath and stir until the jello has cooled, but NOT set.
Add the cooled jello to the cream cheese. Mix thoroughly. 
Fold in the Cool Whip and gently stir until all is mixed well.
Spoon over the crust and level top. Cover with plastic wrap and place in fridge for several hours. 
Serve, sprinkled with the reserved crumb mixture and garnished with sliced strawberries.
Makes 12 servings.
Hints:

Want to use whipping cream instead of Cool Whip? You'll need to use 2 cups of whipping cream, whip it until it has soft peaks and has doubled in volume. Fold that into the cooled jello instead.

Want nutritional information? Copy and paste the above ingredient list and the number of servings into Calorie Count for an approximate calculation.
Need help doing conversions between cups and grams, etc.? Use this site to give you all the different conversions for the different types of ingredients. 
---
Leave a comment about this recipe or ask a question?
Pop right over to my private Facebook group, the Kaffeeklatschers. You'll find thousands of German foodies, all eager to help and to talk about all things German, especially these yummy foods. 
I pop in all the time as well, to chat and to answer questions. 
Meet with us around Oma's table, pull up a chair, grab a coffee and a piece of Apfelstrudel, and enjoy the visit.
*  *  *  *  *
Want nutritional information for a recipe?
Copy and paste the ingredient list and the number of servings into Calorie Count. 
It will give you an approximate calculation.

Need help doing conversions
between cups and grams or any such thing?
Use this site to give you all the different conversions for the different types of ingredients. 
---
PIN this ...
---
Looking for a German blueberry cake that's so easy to make and so delicious? Look no further. It's here!

This easy recipe for sauerkraut is a staple in our German menu. Delicious with almost anything! This sauerkraut recipe can also be made VEGAN!
---
Words to the Wise
"Short-tempered people do foolish things, and schemers are hated."
Proverbs 14:17 (NLT)