Margaret's Rhubarb Dump Cake❤️

➤ by Oma Gerhild Fulson
FTC Disclosure: Making a purchase via a link on the page? I may earn a small commission on the transaction - at no added cost to you. Thanks!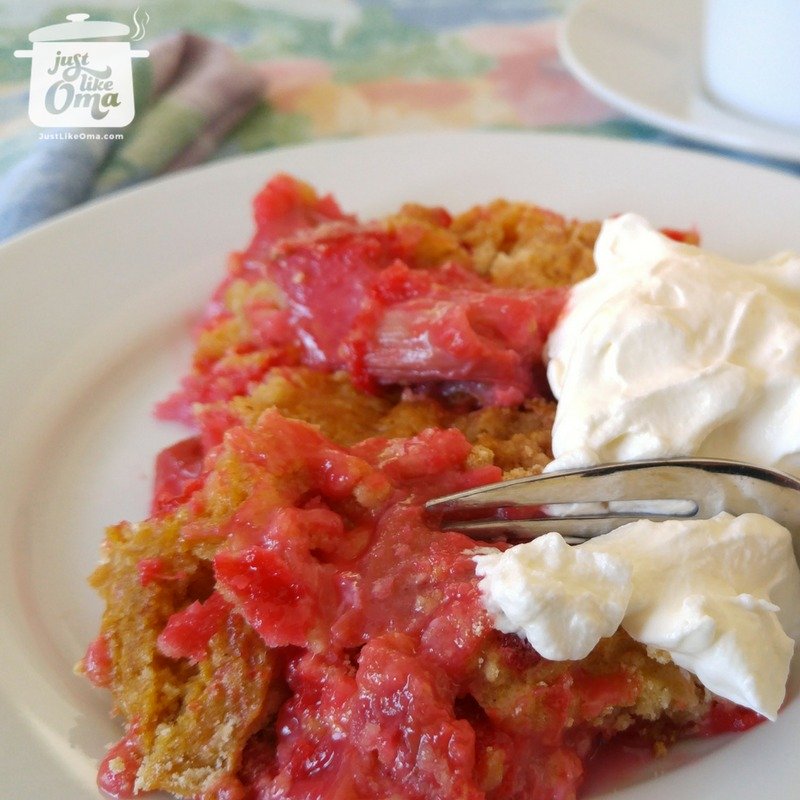 This rhubarb dump cake is a favorite every time spring comes, thanks to my friend, Margaret. At times, our rhubarb patch is almost decimated, with all the picking that goes on. And, this recipe is the culprit! Just like the expression, "Are we there yet?" is so common, "Is it Spring yet?" is the comment at our house as we're waiting for the first rhubarb to come up in the garden.

Is this recipe German? Absolutely not. Is this recipe wunderbar? Absolutely YES! That's why I've included it here. So that I never misplace it. I NEED it every Spring! Take a look below at the TRIFLE I made with this! SOOO GOOD!
Margaret's Rhubarb Dump Cake❤️
Ingredients:
5 cup fresh rhubarb, cut in 1 to 2 inch pieces

¼ cup granulated sugar

1 box (3 oz) strawberry flavored gelatin powder

1 box (18 oz) yellow dry cake mix

¼ cup butter, melted

1 cup water

Instructions:
Preheat oven to 350°F.

Spread chopped rhubarb into ungreased 9 x 13 inch baking dish.

Sprinkle sugar over rhubarb. Sprinkle flavored gelatin powder over.

Sprinkle dry cake mix over all. DO NOT MIX.

Drizzle melted butter over. Gently pour water over all. DO NOT MIX)

Bake for 45 - 60 minutes, until top is nicely browned.

Serve either hot, warm, or cold. Nice with ice cream or whipped cream.

Hints:
Use any red colored gelatin powder. Raspberry is especially nice.

Try a white or lemon cake mix for a different flavor.

If you use frozen rhubarb, reduce the water in half.

Sprinkle with nuts - pecans are nice - before baking.

If you like it a bit sweeter, add extra sugar next time.

Instead of butter, use ¼ cup olive oil.

Replace with gelatin with sugar-free gelatin and use Splenda instead of sugar to make a diet version.

---
We only have a small patch, but we've had it since we moved here 40 years ago. It's still producing lots of stalks ... meaning lots of rhubarb desserts!
There are several variations on this basic recipe in the hints section. This allows you to have many rhubarb desserts - each different - each a real treat! But by far the favorite is this Rhubarb Dump Cake!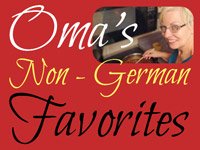 BUT, what is sure is that everyone loves this and they want to include it in their list of rhubarb recipes!
Use the brightly colored stalks of rhubarb and make sure you throw the leaves away which are poisonous.
Not really sure if this qualifies among the German dessert recipes. What I do know is that it superbly tops off a traditional German meal of cold German potato salad and homemade German sausage patties.
A great spring or summer picnic idea, for sure. All my German family and friends love it!
Rhubarb Dump Cake Trifle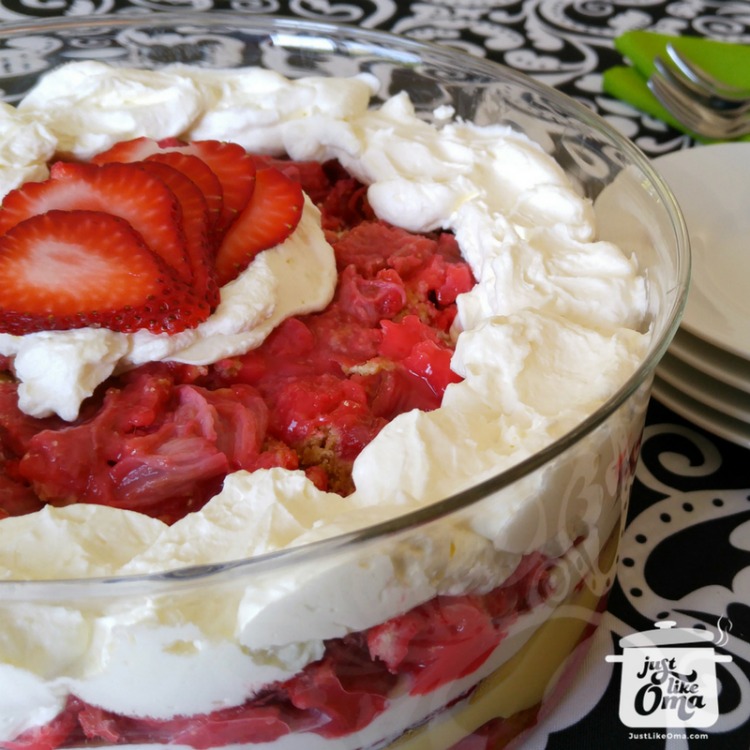 This trifle just happened one day right after I made the Rhubarb Dump Cake. Company was coming and I realized that the cake by itself wouldn't be enough. I had planned to serve it with whipped cream, but then hubby said, "Why not turn it into a trifle?"
Duh!!!!!
Perfect!!!!
I asked him what made him think of that. His answer was, " 'cause I've lived with Oma!"
Here's what I did:
I used 2 cups of milk and Bird's Custard powder to make a quick custard and let it cool.
I whipped 2 cups of whipping cream with 2 packages of Dr. Oetker Whip It. (You could use 2 tbsp powdered sugar instead, but the whipped cream may start to 'weep' after a while)
I put half the Rhubarb Dump Cake in the bottom of my glass serving bowl.
I covered that with the cold custard.
I topped that with a layer of sliced strawberries (just because I had them).
I topped that with half the whipped cream.
I topped that with the rest of the Rhubarb Dump Cake.
I decorated the top with the rest of the whipped cream and a strawberry.
This made enough for 8 - 10 people.
I'll definitely be making this more often. It looked so pretty and it tasted wunderbar.
Oma says,
I kept planning to plant the newer, sweeter varieties of rhubarb once this little patch died.
Never got around to it.
This patch just keeps on producing. Even though it is quite sour to eat fresh, for rhubarb desserts that have sugar, it's no problem.
Leave a comment about this recipe or ask a question?
Pop right over to my private Facebook group, the Kaffeeklatschers. You'll find thousands of German foodies, all eager to help and to talk about all things German, especially these yummy foods. 
I pop in all the time as well, to chat and to answer questions. 
Meet with us around Oma's table, pull up a chair, grab a coffee and a piece of Apfelstrudel, and enjoy the visit.
*  *  *  *  *
Thinking of starting your own Handmade Business?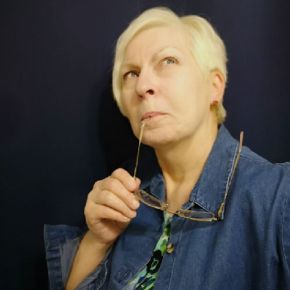 This Oma KNOWS you CAN do it.
How do I know?
Well, if I can do it, anyone can.
I've even figured out how I can help you.
I've teamed up with my own business coach, Renae Christine (yes, do google her!), to bring you this free masterclass. After you watch it, ask me any questions and I'll gladly answer them.
Don't hesitate. I'm not sure how long Renae will keep this free masterclass available.
PS:  Yes, Renae really is as amazing as all the reviews say.
PPS: Yes, the course is for handmade items, but I've used it successfully for my cookbooks. I know others are using her methods for services, direct sales, and even a local ice cream bar & grill that's constantly selling out. You've nothing to lose by taking a look ... and a whole bunch to gain.
*  *  *  *  *
Oma's Cookbooks (downloadable & print)
*  *  *  *  *
Want nutritional information for a recipe?
Copy and paste the ingredient list and the number of servings into Calorie Count. 
It will give you an approximate calculation.

Need help doing conversions
between cups and grams or any such thing?
Use this site to give you all the different conversions for the different types of ingredients. 
---
PIN these ...

---
Try this slow cooker roast beef and you'll be amazed at how much this tastes like rouladen WITHOUT the work.

Learn how to cook pork hocks, anytime you want something traditionally German and wonderfully delicious! A hearty meal for any time of the year!
---
Words to the Wise
"People who wink at wrong cause trouble, but a bold reproof promotes peace."
Proverbs 10:10 (NLT)
---
Margaret's Rhubarb Dump Cake


By
Oma Gerhild Fulson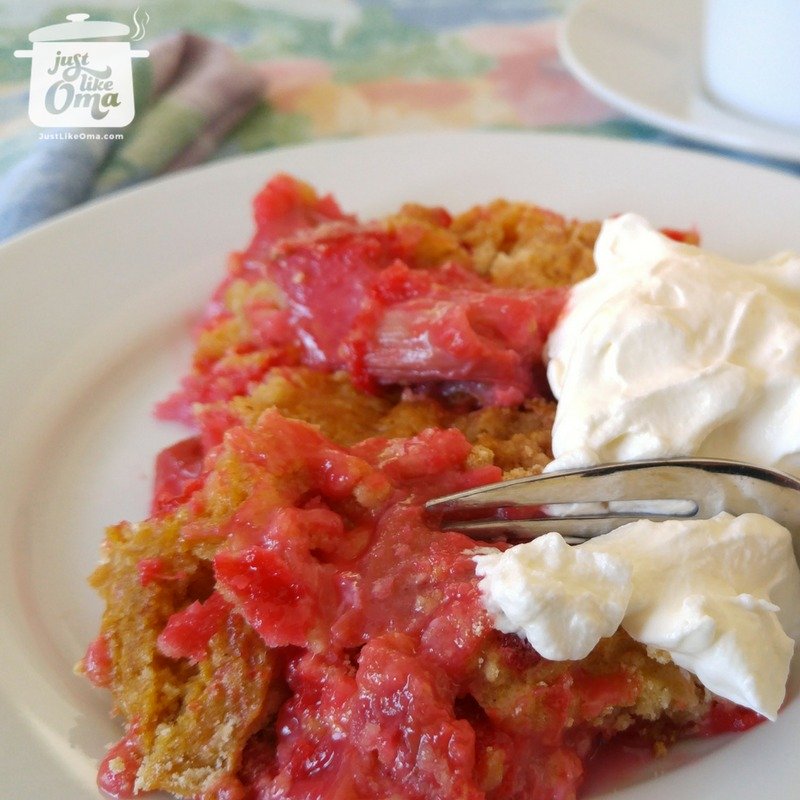 Rhubarb Dump Cake! Sounds absolutely interesting. Tastes absolutely wonderful. Try this with this season's first rhubarb and be surprised how easy it is.

Cook time: 65 minutes total time

Yield:
6 servings

Ingredients:
1 cake mix,
1 pkg Jello,
1/4 cup butter,
5 cups rhubarb,
1/4 cup sugar,
For the full recipe, scroll up ...