Oma's Easy Potato Salad Recipe ❤️

(northern German style) 
➤ by Oma Gerhild Fulson
FTC Disclosure: Making a purchase via a link on the page? I may earn a small commission on the transaction - at no added cost to you. Thanks!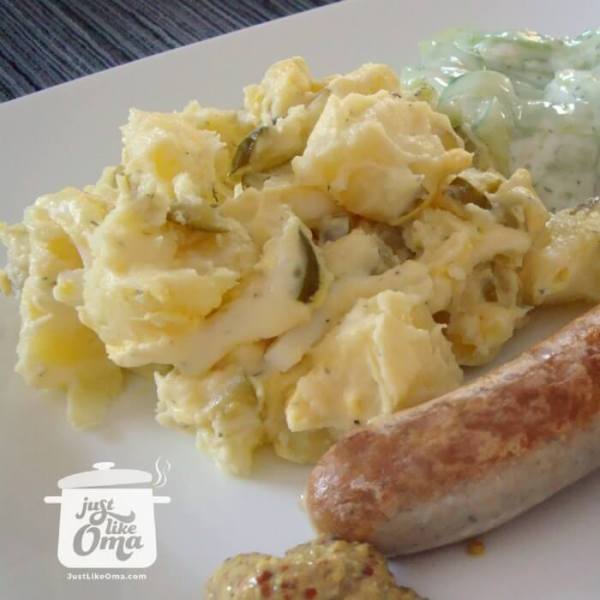 My quick and easy potato salad recipe can be made from scratch within 30 minutes! Best of all, this salad tastes delicious hot, warm, or cold! My whole family loves potato salad (especially me!). I just didn't like the traditional way of making it. It would take "forever". First, boil the potatoes. Cool. Peel. Slice. Prepare and gently mix in dressing.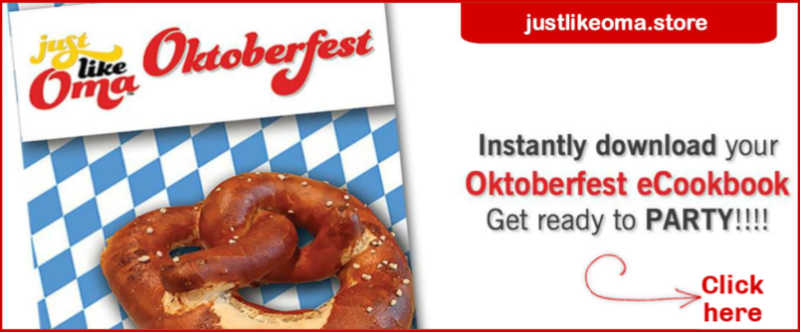 This salad mimics the ones made by my Mutti from the northern part of Germany. That's why there's mayo in this German Potato Salad! What, you say? Mayonnaise? Yes, absolutely. Just the way it's made in many homes in the north. Check my comments below about this.
Mayo in German Potato Salad?
Someone may be thinking, "This isn't German!" ... but it is. It's fashioned after the potato salad my Mutti made, and she's from Berlin.
In northern Germany, many of the potato salads are creamy (mayo-based) and in southern Germany, the salads have a bacon/vinegary/broth based dressing. However, this is not always the case. Some in the south use mayo, and some in the north like the bacon/vinegary ones. 
Two completely different types of dressings. Both totally traditionally German!
Step-by-Step Method shown here ...
You'll love my method shown in the video below. This really quick and easy potato salad recipe has it all. It's tasty; it's quick; it's traditional; and, oh, so German! 
Raw potatoes to finished salad in less than 30 minutes!
The Secret to quick ...
The secret in making this Kartoffelsalat is in cutting the washed, unpeeled, raw "new" potatoes into cubes - the size you want them in the salad.
Boil them until just tender - DO NOT OVERCOOK!
Meanwhile, make dressing and put into serving bowl. Add cooked, drained potato cubes. Stir. Enjoy! 
Oma's Tips:
Be careful when boiling potatoes, because they foam. You are losing some of the nutrients by cooking cut-up potatoes.
That happens anytime you cook cut vegetables. So, don't throw out the cooking water - refrigerate and save for soups.
Potato cooking water is especially good to use as liquid in gravies.
Oma's Easy Potato Salad Recipe ❤️
Ingredients:
approx. 3 lb potatoes, cut up, approx. 8 cups

1 tsp salt

1 cup mayonnaise

½ cup liquid from dill pickles

¼ - 1 small onion, chopped (amount is your preference)

3 - 4 dill pickles, chopped (more or less to taste) 

salt and pepper to season
dill weed to season
Instructions:

Wash and cut up unpeeled potatoes. Put in pot with hot water, 1 tsp salt, and bring to boil. Watch that it doesn't boil over (it foams).

Boil potatoes for about 10 minutes, until just tender. DO NOT OVERCOOK. Meanwhile, in serving bowl, add mayonnaise and pickle juice. Whisk until smooth.

Add chopped onion and dill pickle to dressing.

Drain potatoes when tender. Add to dressing in serving bowl. Mix gently.

Season with extra salt, pepper, and dill weed.

Serve hot, warm, or cold. The longer you let it stand, the more flavor is developed, but it does taste great immediately.

Serves 6 - 8.

Hints:
Add chopped

hard boiled eggs

if you have them.

If you don't have hard boiled eggs ready, you can always add a couple of eggs into the water that's cooking the potatoes. The eggs will be done when the potatoes are done! Rinse them under cold water, peel, chop, and add.
Chopped celery, radishes, and apple (unpeeled) are nice additions to add.

Leave a comment about this recipe or ask a question?
Pop right over to my private Facebook group, the Kaffeeklatschers. You'll find thousands of German foodies, all eager to help and to talk about all things German, especially these yummy foods. 
I pop in all the time as well, to chat and to answer questions. 
Meet with us around Oma's table, pull up a chair, grab a coffee and a piece of Apfelstrudel, and enjoy the visit.
*  *  *  *  *
Want nutritional information for a recipe?
Copy and paste the ingredient list and the number of servings into Calorie Count. 
It will give you an approximate calculation.

Need help doing conversions
between cups and grams or any such thing?
Use this site to give you all the different conversions for the different types of ingredients. 
---
PIN this ...
---
Schwenkbraten recipe that has been a delish hit an alle familien & freunde... Total Approx. Time: Prep: 15 min. + Marinating 8 hrs min. + Grill: 15 min.

My Oma made this cake every Christmas. She iced it with a white frosting that ran down the sides. She decorated it with little silver balls (candy). It
---
Words to the Wise
"So don't bother correcting mockers, they will only hate you. But correct the wise, and they will love you." 
Proverbs 9:8 (NLT)