How to make Mayonnaise, German-style ❤️

➤ by Oma Gerhild Fulson
FTC Disclosure: Making a purchase via a link on the page? I may earn a small commission on the transaction - at no added cost to you. Thanks!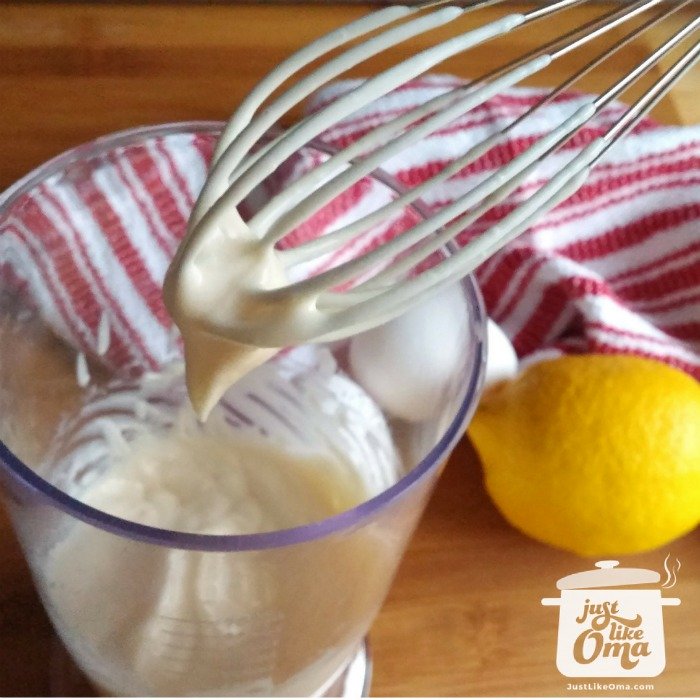 I was just asked how to make mayonnaise, German-style. Well, in reality, there's one basic recipe for mayonnaise, German or not. It's just a mixture (emulsion) of oil, egg yolk, and an acid, such as vinegar or lemon juice. The method's important so that it doesn't separate as you mix it. So here, let me show you how to make this so easily with several different versions, that you can use for your German recipes.

Once you've made your homemade mayonnaise, check out all the places you can use this, in the salads below. 
How to Make Mayonnaise, German-style ❤️
Ingredients:
2 egg yolks
1 tsp german mustard
1 cup sunflower oil
1 - 2 tbsp lemon juice
salt, white pepper, sugar
Instructions:
Whisk together egg yolks and mustard.
Pour ¼ cup of the oil, drop-by-drop into the egg mixture, under constant whisking, until the mixture is a smooth creamy consistency.
Add remaining oil, in a slow, steady stream and continue whisking until a thick, creamy mayonnaise results.
Add 1 tbsp lemon juice, mix, and season with salt, pepper, and a pinch of sugar. Add more lemon juice if needed.
IMPORTANT NOTE:

Make sure all ingredients are at room temperature!
Because this mayonnaise contains raw egg yolk, it should be consumed within 2 days and remain under constant refrigeration.
Variations:
Aioli - Garlic Mayonnaise: 
Add 1 - 2 cloves garlic, crushed, to the finished mayonnaise 
Re-season with salt and white pepper
Yogurt-Mayonnaise:
Add ½ cup Greek yogurt to finished mayonnaise. 
Re-season with salt and freshly ground black pepper

---
... but Germans don't use mayo!!!!!
I hear this all the time, especially from my Facebook fans.
And, I find this really funny since I'm German and I grew up with mayonnaise.
Germans have a love/hate relationship with mayonnaise. Some will say Germans never use it, but others say they always use it! The reason? It all depends where in Germany you live/come from. Generally speaking, if you use mayo, it probably means you come from the northern part of Germany. 
So, you can probably tell where I'm from. The northern part ... well, not really that north, but around the Berlin area.
The most common places I use this mayonnaise is in my potato salads, egg salad, and tuna salad. In fact, it works perfectly any place mayonnaise is requested ... because it's real mayonnaise ... just homemade. In fact, I think you'll like this a lot better than the type you can buy.
And it's perfect, because once you master the method, you'll find it so easy to make whenever you need it. Try it. I think you'll love it.
Leave a comment about this recipe or ask a question?
Pop right over to my private Facebook group, the Kaffeeklatschers. You'll find thousands of German foodies, all eager to help and to talk about all things German, especially these yummy foods. 
I pop in all the time as well, to chat and to answer questions. 
Meet with us around Oma's table, pull up a chair, grab a coffee and a piece of Apfelstrudel, and enjoy the visit.
*  *  *  *  *
Thinking of starting your own Handmade Business?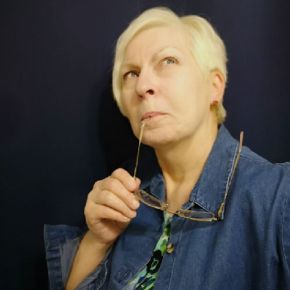 This Oma KNOWS you CAN do it.
How do I know?
Well, if I can do it, anyone can.
I've even figured out how I can help you.
I've teamed up with my own business coach, Renae Christine (yes, do google her!), to bring you this free masterclass. After you watch it, ask me any questions and I'll gladly answer them.
Don't hesitate. I'm not sure how long Renae will keep this free masterclass available.
PS:  Yes, Renae really is as amazing as all the reviews say.
PPS: Yes, the course is for handmade items, but I've used it successfully for my cookbooks. I know others are using her methods for services, direct sales, and even a local ice cream bar & grill that's constantly selling out. You've nothing to lose by taking a look ... and a whole bunch to gain.
*  *  *  *  *
Oma's Cookbooks (downloadable & print)
*  *  *  *  *
Want nutritional information for a recipe?
Copy and paste the ingredient list and the number of servings into Calorie Count. 
It will give you an approximate calculation.

Need help doing conversions
between cups and grams or any such thing?
Use this site to give you all the different conversions for the different types of ingredients. 
---
PIN this ...
---
Try this slow cooker roast beef and you'll be amazed at how much this tastes like rouladen WITHOUT the work.

Learn how to cook pork hocks, anytime you want something traditionally German and wonderfully delicious! A hearty meal for any time of the year!
---
Words to the Wise
"Wise people treasure knowledge, but the babbling of a fool invites disaster."
Proverbs 10:14