Easy Salad Dressing Recipes ❤️

➤ by Oma Gerhild Fulson
FTC Disclosure: Making a purchase via a link on the page? I may earn a small commission on the transaction - at no added cost to you. Thanks!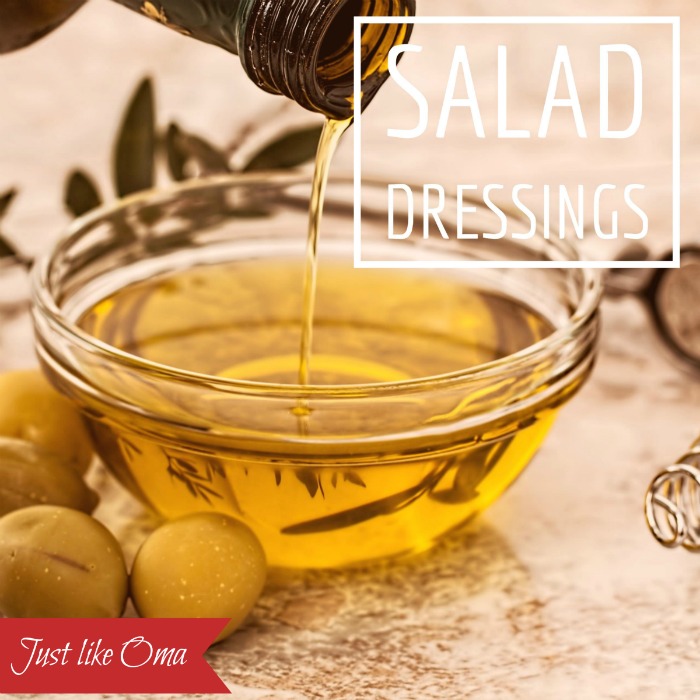 Looking for an easy salad dressing? Just like the one your Oma made? Here are several to choose from as starters and then alter them to make them just the way you love.


I've had so many requests for the type of dressing used in house salads in restaurants throughout Germany. I've researched and also asked our thousands of fans on Facebook for these. Below, are the delicious results.
You'll see many similarities and very little in the way of quantities. Basically, it's a bit of this and a bit of that ... just the way Oma's cook. Take a look at How to Make Salad Dressing for the basics , and then use the Salad Dressing Recipes section to create your own.
---
---
YES! This is the Cucumber Salad Dressing!
This dressing, and variations of it, are traditional for a cucumber salad, but tastes so great on a lettuce salad as well. That was, to me, a "eureka" moment when I tried it for the first time.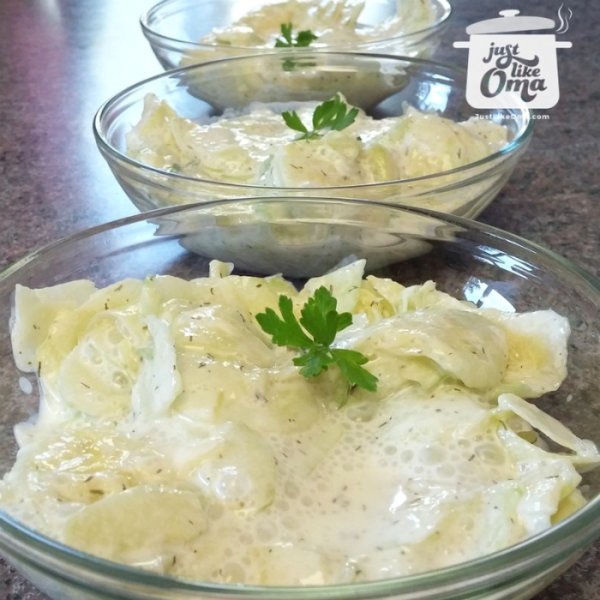 I mean, it was THE dressing that always went on the cucumber salad. In fact, any dressing left over in the bowl after all the cucumbers slices were removed, was quickly scooped up by whoever got there first.
Why I never thought of putting over a lettuce salad really dumbfounds me. But the first time I did, it became a favorite!
How to Make Salad Dressing ❤️
There are two basic types of dressings, the classic vinaigrette type and the creamy type. 
For the classic vinaigrette
Use a ration of about 1 part acid to 3 parts oil
Use a fine sea salt or kosher salt for best flavor
If you add a sweetener such as sugar or honey, you can usually use less oil
For a creamy dressing
Use sour cream, yogurt, heavy cream and just thin with a bit of acid
Some oils to use are olive, grapeseed, nut, and sesame.
Some acids to use are wine vinegars, balsamic vinegar, and lemon juice.
Some creamy additions to use are buttermilk, mustard, sour cream, yogurt, and mayonnaise.
Try these seasonings and additions:
Dill goes well with cucumbers
Parsley goes well with tomatoes
Season with any one or combination of paprika, cumin seed, fennel seed, or coriander seed
grated onions
Tarragon, thyme, mint, basil cilantro, chives
Lemon zest
Easy Salad Dressing Recipes ❤️
Try these combinations or mix & match:
oil, red wine vinegar, sugar, salt, pepper, a dash or two of Maggi
1 part olive oil, 1 part balsamic vinegar, 2 parts white vinegar, 2 parts water, salt, pepper, mustard
olive oil, apple cider vinegar, salt, pepper, a bit of yogurt
oil, white wine vinegar, salt, pepper, dash sugar, a bit of milk or yogurt
oil, vinegar, sugar, salt, pepper, canned milk 
1 part mayonnaise, 1 part yogurt or sour cream, salt, pepper, a bit of lemon juice, a bit of garlic
heavy cream mixed with a bit of vinegar, some mustard, salt, pepper
creme fraiche, apple cider vinegar, sugar, salt, pepper, green onions

olive oil, white wine vinegar, a bit of balsamico, sugar, salt, pepper, lemon juice, mustard
olive oil, white vinegar, salt, pepper, a bit of heavy cream
Leave a comment about this recipe or ask a question?
Pop right over to my private Facebook group, the Kaffeeklatschers. You'll find thousands of German foodies, all eager to help and to talk about all things German, especially these yummy foods. 
I pop in all the time as well, to chat and to answer questions. 
Meet with us around Oma's table, pull up a chair, grab a coffee and a piece of Apfelstrudel, and enjoy the visit.
*  *  *  *  *
Thinking of starting your own Handmade Business?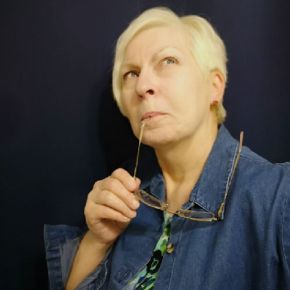 This Oma KNOWS you CAN do it.
How do I know?
Well, if I can do it, anyone can.
I've even figured out how I can help you.
I've teamed up with my own business coach, Renae Christine (yes, do google her!), to bring you this free masterclass. After you watch it, ask me any questions and I'll gladly answer them.
Don't hesitate. I'm not sure how long Renae will keep this free masterclass available.
PS:  Yes, Renae really is as amazing as all the reviews say.
PPS: Yes, the course is for handmade items, but I've used it successfully for my cookbooks. I know others are using her methods for services, direct sales, and even a local ice cream bar & grill that's constantly selling out. You've nothing to lose by taking a look ... and a whole bunch to gain.
*  *  *  *  *
Oma's Cookbooks (downloadable & print)
*  *  *  *  *
Want nutritional information for a recipe?
Copy and paste the ingredient list and the number of servings into Calorie Count. 
It will give you an approximate calculation.

Need help doing conversions
between cups and grams or any such thing?
Use this site to give you all the different conversions for the different types of ingredients. 
---
---
Try this slow cooker roast beef and you'll be amazed at how much this tastes like rouladen WITHOUT the work.

Learn how to cook pork hocks, anytime you want something traditionally German and wonderfully delicious! A hearty meal for any time of the year!
---
Words to the Wise
"Wise people treasure knowledge, but the babbling of a fool invites disaster."
Proverbs 10:14