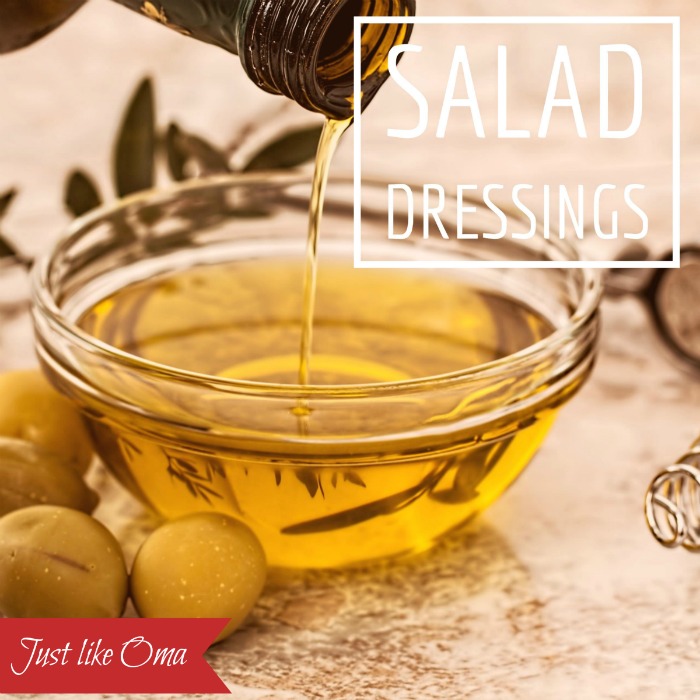 How to Make Salad Dressing

I've had so many requests for the type of dressing used in house salads in restaurants throughout Germany. I've researched and also asked our thousands of fans on Facebook for these. Below, are the delicious results.
You'll see many similarities and very little in the way of quantities. Basically, it's a bit of this and a bit of that ... just the way Oma's cook.
Prep Time


5 minutes


Cook Time


none


Total Time

5 minutes

There are two basic types of dressings, the classic vinaigrette type and the creamy type. 
For the classic vinaigrette
Use a ration of about 1 part acid to 3 parts oil
Use a fine sea salt or kosher salt for best flavor
If you add a sweetener such as sugar or honey, you can usually use less oil
For a creamy dressing
Use sour cream, yogurt, heavy cream and just thin with a bit of acid
Some oils to use are olive, grapeseed, nut, and sesame.
Some acids to use are wine vinegars, balsamic vinegar, and lemon juice.
Some creamy additions to use are buttermilk, mustard, sour cream, yogurt, and mayonnaise.
Try these seasonings and additions:
Dill goes well with cucumbers
Parsley goes well with tomatoes
Season with any one or combination of paprika, cumin seed, fennel seed, or coriander seed
grated onions
Tarragon, thyme, mint, basil cilantro, chives
Lemon zest
Try these combinations or mix & match:
oil, red wine vinegar, sugar, salt, pepper, a dash or two of Maggi

1 part olive oil, 1 part balsamic vinegar, 2 parts white vinegar, 2 parts water, salt, pepper, mustard
olive oil, apple cider vinegar, salt, pepper, a bit of yogurt
oil, white wine vinegar, salt, pepper, dash sugar, a bit of milk or yogurt
oil, vinegar, sugar, salt, pepper, canned milk 
1 part mayonnaise, 1 part yogurt or sour cream, salt, pepper, a bit of lemon juice, a bit of garlic
heavy cream mixed with a bit of vinegar, some mustard, salt, pepper
creme fraiche, apple cider vinegar, sugar, salt, pepper, green onions
olive oil, white wine vinegar, a bit of balsamico, sugar, salt, pepper, lemon juice, mustard
olive oil, white vinegar, salt, pepper, a bit of heavy cream
*  *  *  *  *

Unless otherwise noted recipe, images and content © Just like Oma | www.quick-german-recipes.com