Sour Cream Salad Dressing
German Sour Cream Salad Dressing – Oma's Sauerrahm-Dressing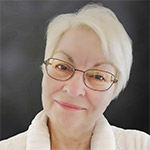 by: Gerhild Fulson  /  Cookbook Author, Blogger, German Oma!
As an Amazon Associate, I earn from qualifying purchases.
Make this sour cream salad dressing, Sauerrahm-Dressing, seasoned with dill or your favorite herbs. Then pour it over lettuce for one of our traditional German spring salad recipes.
I use this for mixed salads, lettuce salads, even cucumber salads. It's really such a quick and easy way to make a salad dressing, there's no need to buy prepared mixes. German food from scratch is always better :)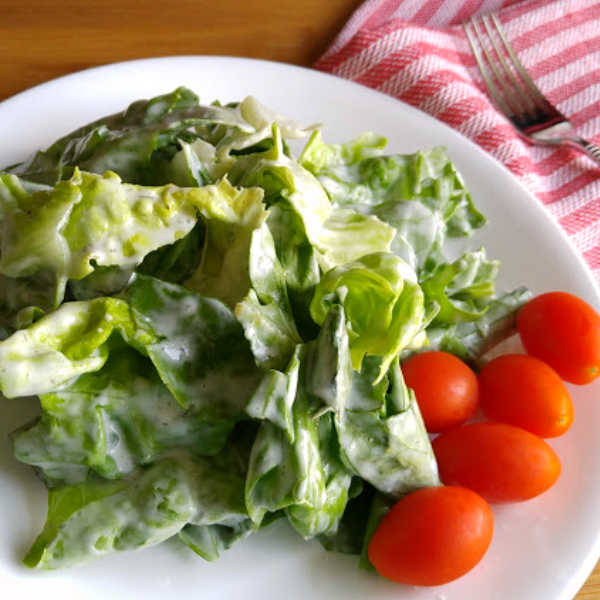 Here, I've added dill and poured it over a Bibb lettuce salad. So good!
My favorite and my family's favorite is a salad dressing that is a bit sweet and sour and flavored with dill, preferably fresh.

Prep your Lettuce properly ...
An important note to remember when making a lettuce salad is to make sure you wash the lettuce carefully.
Then, it needs to be dried.
Use either a salad-spinner or paper towels.
If water remains on the lettuce leaves, it will dilute the cream sauce, and that would be a shame. It's so utterly wunderbar!
Heidi's Hints:
My dear German friend, Heidi, who comes from northern Germany, shared her recipe for this dressing, but she uses heavy cream instead of the sour cream. Mix it up real good with the lemon juice and it will almost 'whip' up a bit. Yummy!
Grab your copy of Oma's favorite salads in her Summer Salads e-Cookbook.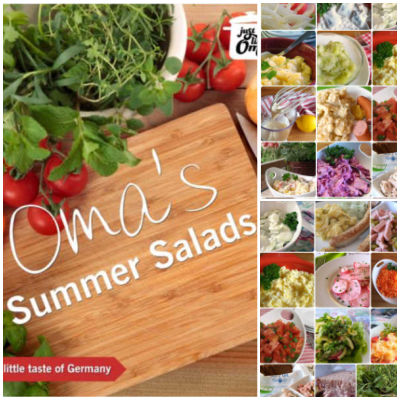 Take a peek at all Oma's eCookbooks. They make sharing your German heritage a delicious adventure!
YES! This is the Cucumber Salad Dressing!
This dressing, and variations of it, are traditional for a cucumber salad, but tastes so great on a lettuce salad as well. That was, to me, a "eureka" moment when I tried it for the first time.
I mean, it was THE dressing that always went on the cucumber salad. In fact, any dressing left over in the bowl after all the cucumbers slices were removed, was quickly scooped up by whoever got there first.
Why I never thought of putting over a lettuce salad really dumbfounds me. But the first time I did, it became a favorite!
Oma says,
This is the Dill-Rahm-Sosse or Sauerrahm-Dressing that's so popular in Germany!
Ready to make this sour cream dressing?
Is the recipe below locked? Here's why. 
As an Amazon Associate, I earn from qualifying purchases.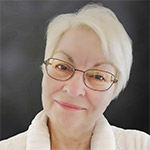 For more German-inspired items that make life easier and yummier, especially in the kitchen and for entertaining, follow my Amazon Storefront.
➙ For groceries,
Try Amazon Fresh
.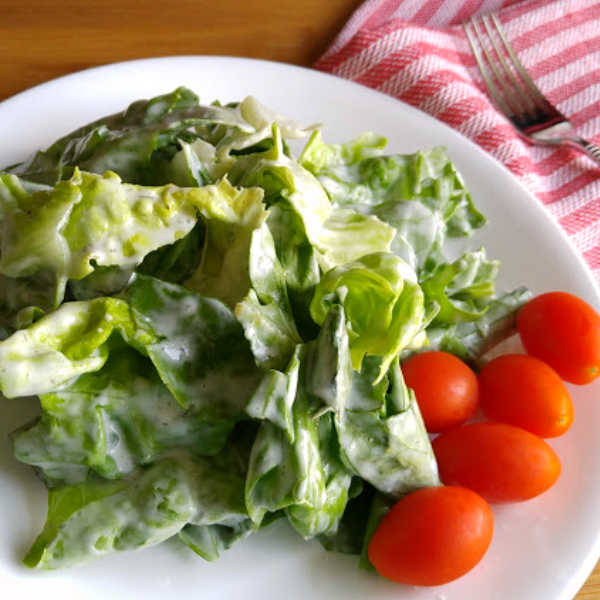 German Sour Cream Salad Dressing – Oma's Sauerrahm-Dressing 
Make this sour cream salad dressing flavored with dill or your favorite herb. Then pour it over lettuce for one of our traditional German spring salad recipes.
I use this for mixed salads, lettuce salads, even cucumber salads.

Prep Time


5 minutes


Cook Time


none

Total Time

5 minutes

Servings:

Makes 4 servings
Ingredients:
1 head lettuce, washed
1 lemon
1½ cups sour cream
sugar, salt, pepper
1 bunch of dill, chopped finely
Instructions:
Tear lettuce into bite-sized pieces.
Grate lemon before juicing it.
In a small bowl, mix the grated lemon peel, about 4 tablespoons lemon juice, sour cream, dill, and about 2 to 3 tablespoons sugar. Season with salt and pepper.
Pour dressing over salad, toss, and serve immediately.
Notes/Hints:

Don't have a whole lemon? Use about 4 tablespoons lemon juice instead and omit the grated peel.
Instead of sour cream, use plain or Greek yogurt.
The above recipe is a variation of my north German cucumber salad dressing.
*  *  *  *  *

Unless otherwise noted recipe, images and content © Just like Oma | www.quick-german-recipes.com

Leave a comment about this recipe or ask a question?

Pop right over to my private Facebook group, the Kaffeeklatschers. You'll find thousands of German foodies, all eager to help and to talk about all things German, especially these yummy foods. 
Meet with us around Oma's table, pull up a chair, grab a coffee and a piece of Apfelstrudel, and enjoy the visit.

Make the perfect German Spaetzle with Oma's easy recipe! This traditional German egg noodle pairs perfectly with caramelized onions for a delicious meal.

Discover the ultimate German schnitzel recipe with Oma's quick, easy, and delicious pork version - perfect for any occasion! Taste the authentic flavors of Germany today.

This easy German Apple Strudel recipe is one of those German desserts that brings the traditional strudel taste to your table without all the work. Wunderbar!!
*  *  *  *  *
PIN to SAVE this recipe to your Pinterest board!
And let's be friends on Pinterest!

---
Oma's Sour Cream Salad Dressing ~ Sauerrahm-Dressing
By
Oma Gerhild Fulson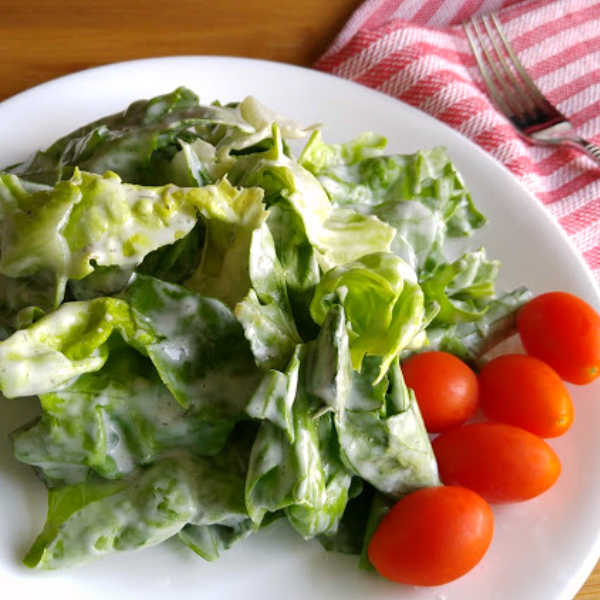 German sour cream salad dressing, seasoned with dill and poured over lettuce, makes a traditional German spring salad. Use Sauerrahm-Dressing cucumber salad and more. So lecker!
Ingredients:
sour cream,
lemon,
dill,
lettuce,
seasonings,
For the full recipe, scroll up ...
Words to the Wise
"Wise people treasure knowledge, but the babbling of a fool invites disaster."
Proverbs 10:14