Roswitha's Blue Cheese Dip ❤️
➤ by Oma Gerhild Fulson
FTC Disclosure: As an Amazon Associate, I earn from qualifying purchases.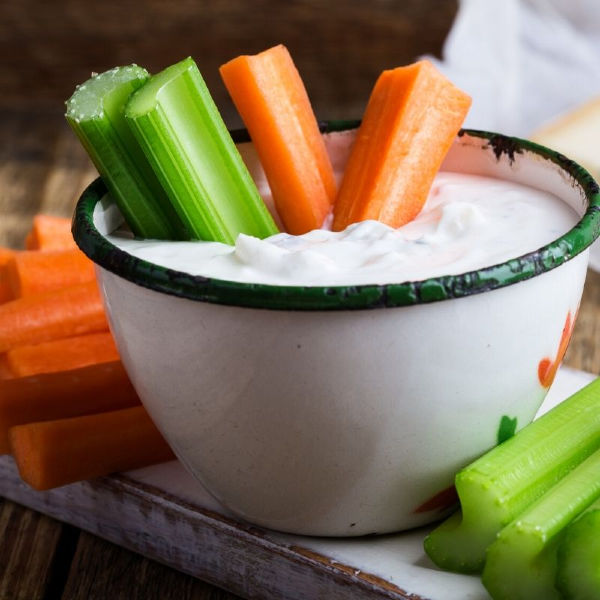 Want a blue cheese dip that's an tried and true favorite for those chicken wings and veggies? Here's one that's quick and easy to make.
This recipe was sent in by one of our readers, Roswitha Seeman. She used to work at the Alpine Restaurant in St. Catharines, Ontario, Canada. This recipe for blue cheese dressing / dip was a favorite of the Alpine's customers when they ordered chicken wings and veggies after a game of baseball or soccer.
She says they always ran out and couldn't make it fast enough. 
That must mean it was goooooood and that's why it's among our quick dip recipes! 
At first when I thought about blue cheese dip for chicken wings, I wondered, "Is this German?" 
Wow, I was surprised when I did some research. There's a blue cheese called Cambozola that's very, very German. It's often called blue brie. It's a bit milder than the regular blue cheeses one can buy, but it's fully German. 
Actually, it's made of cow's milk with Italian Gorgonzola and a French triple cream cheese. It's patented and produced by the German Champignon company since the 1970's. 
Oma says,
The German Cambozola is a very mild type of blue cheese with a smooth, creamy, and rich texture. You can eat the rind which is almost like the rind on a Camembert cheese.
Roswitha's Chicken Wing Dip
Ingredients:
3 cloves garlic, minced
1 cup mayonnaise
½ cup sour cream
½ cup cream cheese
2 tbsp grated parmesan cheese
4 ounces (¾ cup) blue cheese, broken into 1-inch cubes
salt and pepper to taste
Instructions:
Mince garlic in food processor

Add remaining ingredients except blue cheese and blend well.

Add the blue cheese chunks and mix until dressing shows small lumps of blue cheese.

Pour into a container and seal. Place in fridge to chill until serving.

Makes about 3 cups

Leave a comment about this recipe or ask a question?
Pop right over to my private Facebook group, the Kaffeeklatschers. You'll find thousands of German foodies, all eager to help and to talk about all things German, especially these yummy foods. 
I pop in all the time as well, to chat and to answer questions. 
Meet with us around Oma's table, pull up a chair, grab a coffee and a piece of Apfelstrudel, and enjoy the visit.
*  *  *  *  *
Want nutritional information for a recipe?
Copy and paste the ingredient list and the number of servings into Calorie Count. 
It will give you an approximate calculation.

Need help doing conversions
between cups and grams or any such thing?
Use this site to give you all the different conversions for the different types of ingredients. 
---
---
Jagerschnitzel: Rich creamy bacon & mushroom gravy over crispy breaded pork schnitzel (cutlets). HEAVENLY! A traditional German meal that's PERFECT anytime.

My Bienenstich recipe is a quick version of the traditional "German Bee Sting Cake". Sweet, chewy, nutty top with a creamy filling. Yummy!
---
Words to the Wise
"To reject the law is to praise the wicked; to obey the law is to fight them."
Proverbs 28:4 (NLT)