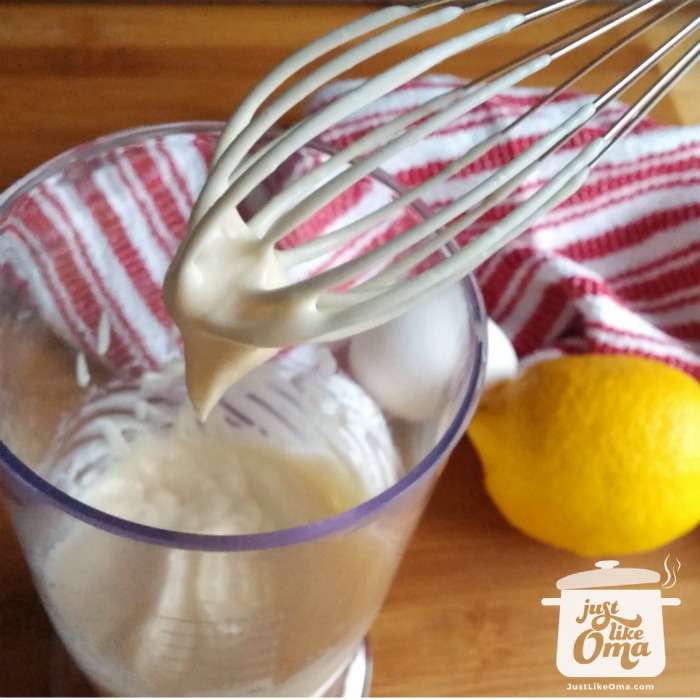 How to Make Mayonnaise, German-style

How to make mayonnaise, German-style? Well, in reality, there's one basic recipe for mayonnaise, German or not.
It's just a mixture (emulsion) of oil, egg yolk, and an acid, such as vinegar or lemon juice. The method is important so that it doesn't separate as you mix it. 
Prep Time


10 minutes


Cook Time


none


Total Time

10 minutes

Servings:

Makes 1 cup
Ingredients:
2 egg yolks
1 teaspoon german mustard
1 cup sunflower oil (or your favorite oil)
1 - 2 tablespoons lemon juice
salt, white pepper, sugar
Instructions:
Whisk together egg yolks and mustard.
Pour ¼ cup of the oil, drop-by-drop into the egg mixture, under constant whisking, until the mixture is a smooth creamy consistency.
Add remaining oil, in a slow, steady stream and continue whisking until a thick, creamy mayonnaise results.
Add 1 tablespoon lemon juice, mix, and season with salt, pepper, and a pinch of sugar. Add more lemon juice if needed.
Notes/Hints:

IMPORTANT NOTE:
Make sure all ingredients are at room temperature!
Because this mayonnaise contains raw egg yolk, it should be consumed within 2 days and remain under constant refrigeration.
VARIATIONS:
Aioli - Garlic Mayonnaise: 
Add 1 - 2 cloves garlic, crushed, to the finished mayonnaise 
Re-season with salt and white pepper
Yogurt-Mayonnaise:
Add ½ cup Greek yogurt to finished mayonnaise. 
Re-season with salt and freshly ground black pepper
*  *  *  *  *

Unless otherwise noted recipe, images and content © Just like Oma | www.quick-german-recipes.com