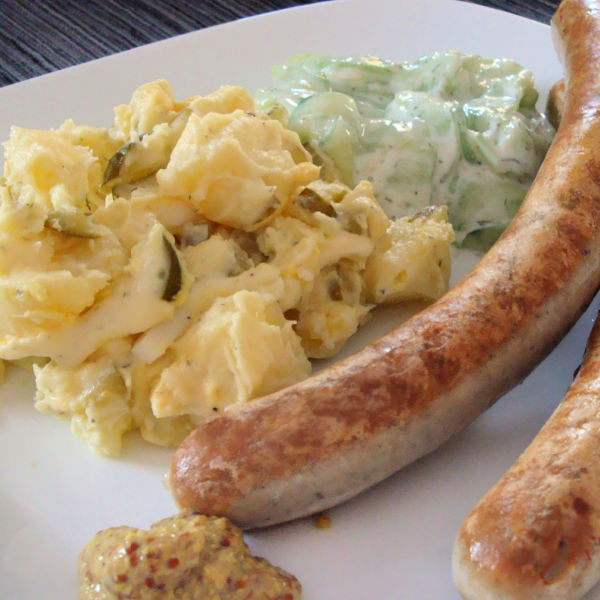 Oma's Easy Potato Salad Recipe
(northern German style) 

My quick and easy potato salad recipe, aka Kartoffelsalat, can be made from scratch within 30 minutes! Best of all, this salad tastes delicious hot, warm, or cold! My whole family loves potato salad (especially me!).
It's a northern German variation, because it uses mayonnaise. My fav!
Prep Time


15 minutes


Cook Time


10 minutes


Total Time

25 minutes

Servings:

Makes 6 - 8 servings
Ingredients:
approx. 3 pounds potatoes, cut up, approx. 8 cups (see notes below)
1 teaspoon salt
1 cup mayonnaise
½ cup liquid from dill pickles
¼ - 1 small onion, chopped (amount is your preference)
3 - 4 dill pickles, chopped (more or less to taste) 
salt and pepper to season
dill weed to season
Instructions:
Wash and cut up unpeeled potatoes (see notes below). Put in pot with hot water, 1 tsp salt, and bring to boil. Watch that it doesn't boil over (it foams). 
Boil potatoes for about 10 minutes, until just tender. DO NOT OVERCOOK. Meanwhile, in serving bowl, add mayonnaise and pickle juice. Whisk until smooth.
Add chopped onion and dill pickle to dressing. 
Drain potatoes when tender. Return them in the pot to the heat momentarily to steam the potatoes dry, shaking the pot occasionally so they don't burn. Then add them to dressing in serving bowl. Mix gently.
Season with extra salt, pepper, and dill weed. 
Serve hot, warm, or cold. The longer you let it stand, the more flavor is developed, but it does taste great immediately.
Notes/Hints:

The secret in making this Kartoffelsalat is in cutting the washed, unpeeled, raw "new" potatoes into cubes - the size you want them in the salad.
If you don't like to eat the peel, then peel the potatoes ... and if the potatoes aren't "new" potatoes, you will need to peel.
Add chopped hard boiled eggs if you have them.
If you don't have hard boiled eggs ready, you can always add a couple of eggs into the water that's cooking the potatoes. The eggs will be done when the potatoes are done! Rinse them under cold water, peel, chop, and add.
Chopped celery, radishes, and apple (unpeeled) are nice additions to add.
Make sure you use an actual mayonnaise, not a salad dressing.
*  *  *  *  *

Unless otherwise noted recipe, images and content © Just like Oma | www.quick-german-recipes.com