Oma's German Potato Salad Recipes ❤️

➤ by Oma Gerhild Fulson
German potato salad recipes, aka Kartoffelsalat, have so many variations, there's a perfect one just for your picnic, lunch, supper, or party. Hot, warm, cold, creamy or not – you choose your favorite. 
Or, perhaps you'll end up with several favorites, like me. And yes, the one shown above has mayo, because it comes from northern Germany. If you want ones without mayo like the ones in southern Germany, you'll find those here as well.
Sometimes I take my time to make a real traditional German potato salad, and other times I'll make my own easy speedy version ... the Easy Potato Salad.

Grab your copy of my own German Summer Salads e-Cookbook in English. I know you'll LOVE it, too! 
Sharing these salad recipes from my Mutti and Oma to my own young grandchildren ... that's such a delicious way to pass on our German heritage :)
---
Find out how to make potato salad in any one of the recipes below and then try the different variations - remember to try the hints too. One of these is sure to become your best potato salad recipe ever! (For fun, try the herring one!)
Hot, Quick, Cold, Easy ... Potato Salads ...
Potato salads are great for picnics on hot summer days, but they also become an unexpected treat in the winter too.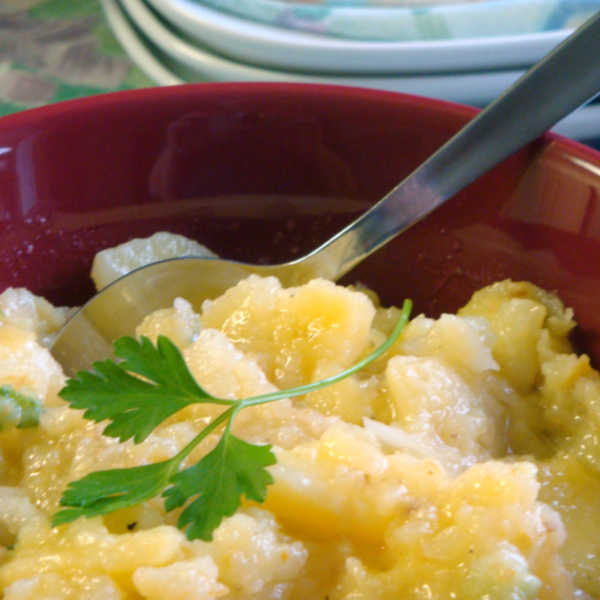 Now, hot potato salad is something my Mom never made. I didn't even realize it was a traditional German dish until I was looking through some cookbooks.
Since one of my favorite foods is potatoes, I thought, "Why not give it a try?" and am I glad I did.
Not only that, but since my regular cold potato salad does take a bit of time to make, I got busy in the kitchen to do some improvising. WOW! What a success. I now have one recipe that can be used hot, warm, or cold! Great for those quick suppers or unexpected company.
There's even one made with sweet potatoes that I got the recipe from my daughter-in-love, Sylvie. It looks so pretty with the bits of orange sweet potatoes peeking through the creamy dressing of this potato salad.

German Potato Salad Recipes ❤️

Leave a comment about this recipe or ask a question?
Pop right over to my private Facebook group, the Kaffeeklatschers. You'll find thousands of German foodies, all eager to help and to talk about all things German, especially these yummy foods. 
I pop in all the time as well, to chat and to answer questions. 
Meet with us around Oma's table, pull up a chair, grab a coffee and a piece of Apfelstrudel, and enjoy the visit.
*  *  *  *  *
---
---
If you love hummus, then you'll love this creamy hummus salad dressing recipe! It's just like the real deal, but in liquid form so you can drizzle it all over your favorite greens ...

This recipe for creamy vegan mushroom soup is inspired in part by Oma's German recipe for cream of mushroom soup. It brings me back to my childhood eating this classic comfort food.
---
Make every day a HOLY day.
"Now may the God of peace make you holy in every way, and may your whole spirit and soul and body be kept blameless until our Lord Jesus Christ comes again."
1 Thessalonians 5:23 (NLT)