How to make Potato Salad just like Oma!
➤ by Oma Gerhild Fulson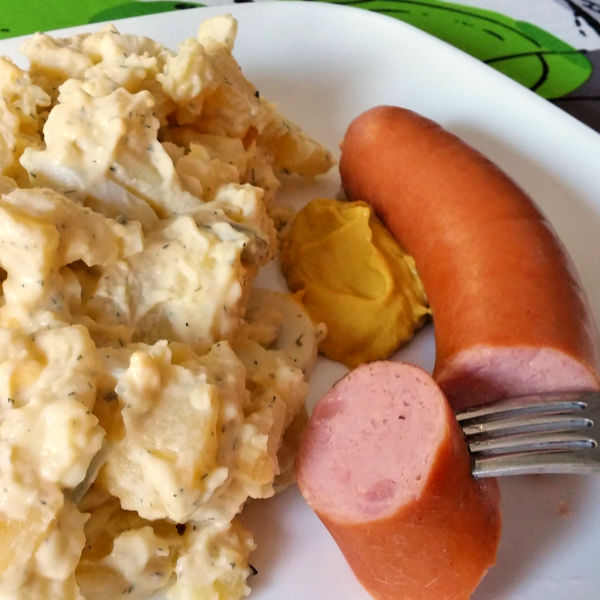 Learn how to make potato salad that tastes just like it does in northern Germany. This cold German potato salad, aka Kartoffelsalat, comes from my Mutti's handwritten cookbook. 
It was always such a treat when she served it for supper.
And yes, this one is German. In fact, the mayonnaise in this, tells me it's from the northern part of Germany. Southern Germany's salads rarely have mayo. Looking for a non-mayo one? Check the ones listed below.
It seems like there are as many traditional recipes for German potato salad as there are German Omas (grandmothers).
Each has just a slight difference, meaning, there's no ONE way of making it.

Grab your copy of Oma's favorite salads in her Summer Salads e-Cookbook.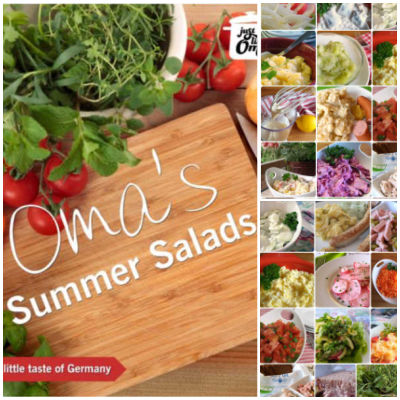 Take a peek at all Oma's eCookbooks. They make sharing your German heritage a delicious adventure!
More Potato Salad Tips ...
Use new potatoes or regular ones. Scrub them and cook unpeeled in water to cover until tender (gently pierce with a knife to check). Depending on their size, this can take from 15 - 30 minutes. Do not overcook or they may fall apart.
To make peeling easier, gently dump the hot potatoes in colander or sink; briefly pour cold water over them. Let cool before peeling. You can cook them the day before, but I find peeling them while they are still warm is easier.
This is a traditional recipe done in a traditional way, but when I follow an "assembly line" method, it goes fairly quickly. Having everything chopped and ready to go helps make the preparation of this traditional potato salad go fairly quickly.
---
Oma says,
When questioned about the authenticity of its German origins, I did some research. Each family, it seems, has their own way of how to make potato salad. And each is delicious. 
In northern Germany, most potato salads are cream based, such as this one below. My Mutti, coming from Berlin, made it this way. 
In southern Germany, most potato salads are made with a vinegar, bacon, and broth base.
Check out this one sent in by one of our readers. Take a look at all my potato salads here.
---
Lydia Remembers...
I have so many wunderbar memories in the kitchen with my Oma, and have had MANY of her most popular and traditional recipes, like this German potato salad! 
I love Oma's German potato salad! I ALWAYS request this one. Especially during summertime, it's the perfect accompaniment to a fresh bratwurst off of the BBQ. 
Want to make sausage just like that beautifully cooked one below to pair with your potato salad? Here's the recipe for Oma's bratwurst sausage!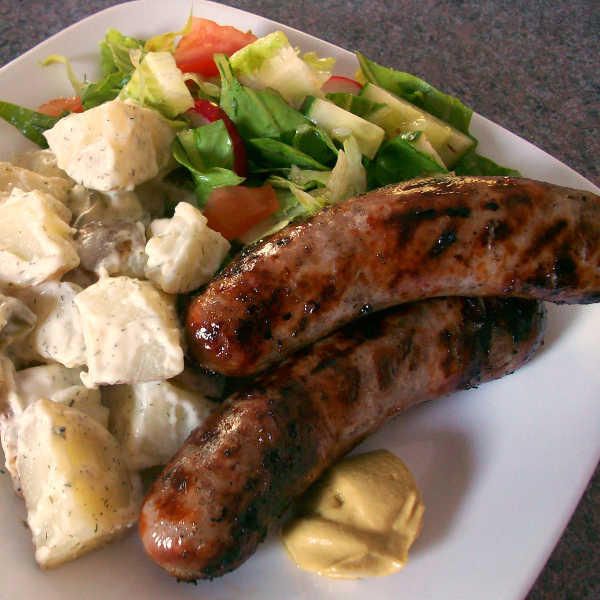 I remember making this salad recipe with Oma many times! It is such a hit amongst our family and is an absolute staple during our summer get-togethers. I know what you're thinking, "But Lydia, I can just go to the store and buy one already made." Well, why would you buy it when you can make it just like Oma! 

There are so many great reasons to make your own potato salad. Not only can you make a bigger portion, but you can add a little bit of this and a little bit of that to spruce it up and really make it your own! Play around with some seasoning, or you can add more potatoes and pickles if you wish. 
That's the best part of making your own! You can alter it to be truly yours!
My favorite part of Oma's potato salad is the pickles. They give it a nice extra crunch and punch of flavor! Pickles are also my favorite food...so it really is a treat for me. When I make this potato salad at home, I always add quite a few pickles in there, just because. :) 
Learn a little bit about me, Lydia, and my kitchen adventures with Oma!
---
This potato salad is also what I'm usually asked to bring to parties. It always brings rave reviews and I've learned to have the recipe ready to give out. 

If you want a still easier and quicker recipe, try the adaptation of this, my Easy Potato Salad.
But first, here's the salad just like my Mutti used to make ...
Ready to make this German Potato Salad?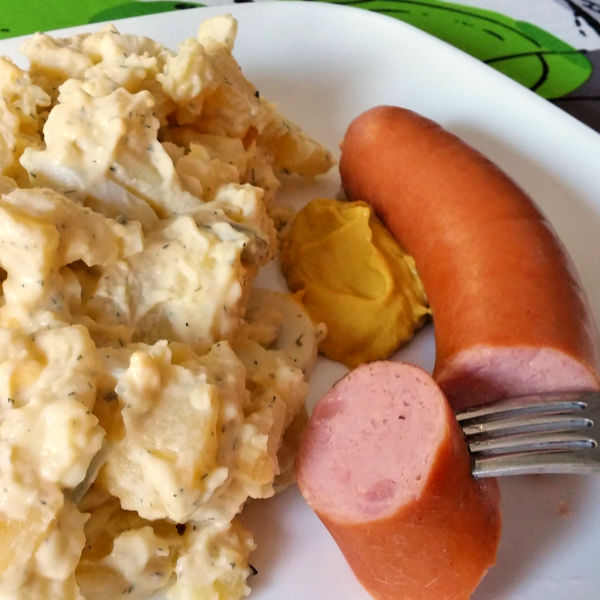 How to make Potato Salad ~ northern German style
Learn how to make potato salad that tastes just like it does in northern Germany. This cold German potato salad, aka Kartoffelsalat, comes from my Mutti's handwritten cookbook. I've also simplified it in this easy version.
And yes, this one is German. In fact, the mayonnaise in this, tells me it's from the northern part of Germany. Southern Germany's salads rarely have mayo.
Prep Time


20 minutes


Cook Time


none


Total Time

20 minutes

Servings:

Makes 6 - 8 servings
Ingredients:
3 - 4 lb potatoes, cooked and peeled

1 cup mayonnaise

½ cup juice from dill pickles

1 small onion, chopped

2 - 3 dill pickles, chopped 
3 - 4 eggs, hard boiled and slice
salt and pepper
Instructions:
Mix mayonnaise and enough pickle juice to get a nice creamy dressing.

Pour a little dressing in bottom of large bowl.

Either slice or cube a layer of potatoes on top of dressing.

Sprinkle with a little salt and pepper, sprinkle some chopped dill pickles, chopped onions, and some egg slices on top. Pour some dressing over all.

Repeat with more potatoes, salt, pepper, pickles, onions, egg and dressing until all potatoes have been used.

Gently toss all together.

Season with salt and pepper if needed.
Either serve immediately or let stand to improve flavor. Keep refrigerated to store.
Notes/Hints:

Depending on the 'dryness' of the potatoes, you may need more dressing. Just mix extra as you need it

Adding extra fresh or dried dill makes this salad even tastier. You can add this to the dressing or sprinkle on each layer

Once you know about how much salt and pepper you like, add them to the dressing first, instead of sprinkling on each layer

Add more or less eggs, or omit altogether

Adding green onion or using red onion looks extra special

Adding some chopped apple (leaving skin on for color), adds flavor and texture

My sister always adds pineapple chunks to her salad - Yummy!
If you're wanting a quicker and easier version of this, check out my easy German potato salad. 
*  *  *  *  *

Unless otherwise noted recipe, images and content © Just like Oma | www.quick-german-recipes.com

Want Nutritional Information?

Copy and paste the above ingredient list and the number of servings into Calorie Count for an approximate calculation.
Need Help Doing Conversions?

Make it easier to convert between cups and grams, etc. Use this site to give you all the different conversions for the different types of ingredients. 
Leave a comment about this recipe or ask a question?
Pop right over to my private Facebook group, the Kaffeeklatschers. You'll find thousands of German foodies, all eager to help and to talk about all things German, especially these yummy foods. 
I pop in all the time as well, to chat and to answer questions. 
Meet with us around Oma's table, pull up a chair, grab a coffee and a piece of Apfelstrudel, and enjoy the visit.
These roasted Brussels spouts with balsamic vinegar and maple syrup are so quick and easy to prepare, yet so delicious! This may just be your new favorite go-to recipe for roasted FROZEN Brussels spro…

Love German cabbage rolls? You'll absolutely love Oma's unstuffed cabbage roll casserole. Same great taste, but a LOT less work. No rice or tomatoes here. Just real German goodness.

THE German Krapfen or jelly donut recipe you'll need if you plan to make Berliner Pfannkuchen ~ that traditional treat for New Year's and throughout the year!
*  *  *  *  *
PIN this ...

---
How to Make Potato Salad made Just like Oma
By
Oma Gerhild Fulson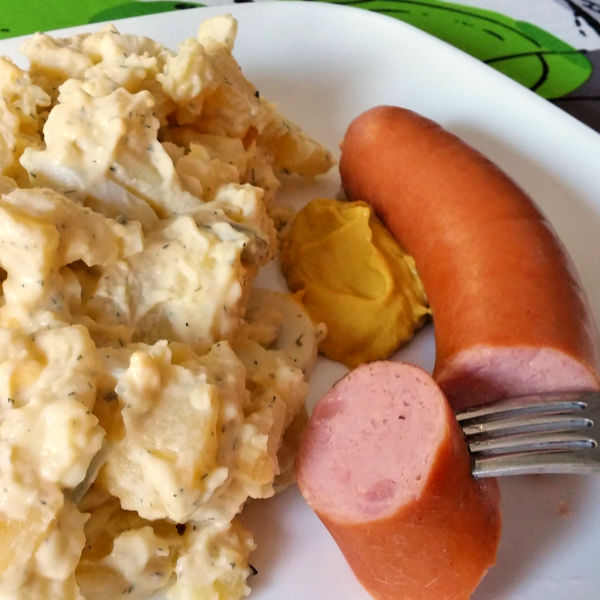 Learn how to make potato salad that tastes so much like that German potato salad made my your Oma. It's great for picnics, suppers, and potlucks too. Wunderbar!
Ingredients:
potatoes,
dill pickle juice,
mayonnaise,
onion,
dill pickles,
eggs,
spices,
For the full recipe, scroll up ...
Words to the Wise
"Worry weights a person down; an encouraging word cheers a person up."
Proverbs 12:25 (NLT)