Best Creamy German Potato Salad Recipe with Dill: Oma's Kartoffelsalat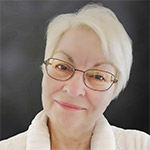 by: Gerhild Fulson  /  Cookbook Author, Blogger, German Oma!
As an Amazon Associate, I earn from qualifying purchases.
Oma's best German potato salad recipe with dill is traditional in northern Germany. Yes, this Kartoffelsalat is made with mayonnaise. In the south, it's often made without mayo and the link for that one is down below. Both are authentic and wunderbar!
This creamy dill potato salad recipe comes from my Mutti's handwritten cookbook. She usually kept this classic potato salad as a perfect side dish when company came. Now we have it for a summer cookout, family reunions, or just because! It's always a treat.
Mutti's signature presentation for this creamy potato salad included crumbling cooked egg yolks over the top with finely chopped cooked egg whites as an outer ring. A sprig of parsley finished it off.
People hesitated to dig in to the serving bowl because it always looked so pretty. They didn't hesitate long though! After all, this is German food at its best!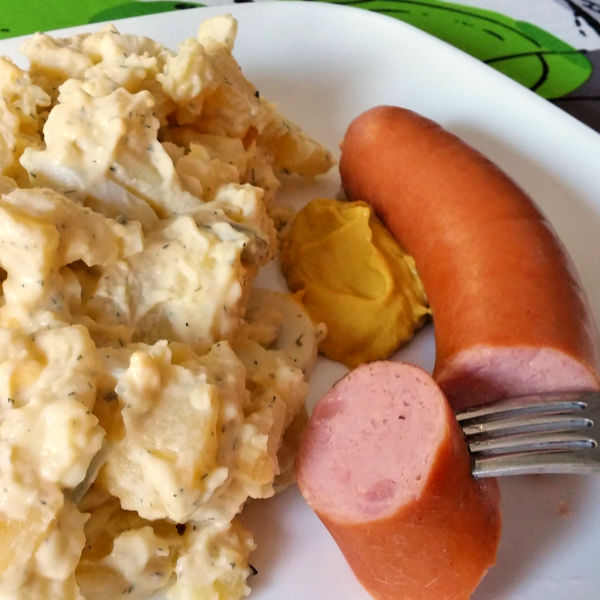 And yes, this one is German. In fact, the mayonnaise in this tells me it's from the northern part of Germany. Southern Germany's salads rarely have mayo. Looking for the best potato salad without mayonnaise? Take a look at this non-mayo bacon and vinegar potato salad.
It seems like there are as many traditional recipes for German potato salad as there are German Omas (grandmothers). Each has just a slight difference, meaning, there's no ONE way of making this very traditional German food.
Above, I've served this flavorful potato salad with a very German Knackwurst, aka Knockwurst, which comes from the northern part of Germany. A perfect pairing.
Add some German or dijon mustard and this is real German food! You can even make your own homemade mayonnaise for this with lemon juice and olive oil. Easy breezy!
---
Oma says,
When questioned about the authenticity of its German origins, I did some research. Each family, it seems, has their own way of how to make potato salad. And each is delicious. 
In northern Germany, most potato salads are cream based, such as this one below, my personal preference. My Mutti, coming from Berlin, made it this way. It's the only way I ever had it until I took my first trip back to Germany as an adult.
In southern Germany, most potato salads are made with a vinegar, bacon, and broth base. Take a look at this one sent in by one of our readers and more of my potato salads here.
---
Grab your copy of Oma's favorite salads in her Summer Salads e-Cookbook.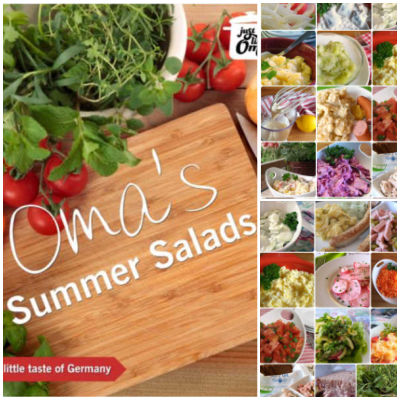 Take a peek at all Oma's eCookbooks. They make sharing your German heritage a delicious adventure!
6 Tips for Potato Salad Recipes ...

Use new potatoes or regular ones. Scrub them and cook unpeeled in a large pot with enough water to cover until tender on medium-high heat (gently pierce with a knife to check). Depending on their size, this can take from 15 - 30 minutes. Do not overcook or they may fall apart.
To make peeling the hot potatoes easier, drain potatoes in colander or sink; briefly pour cold water over them. Let cool slightly before peeling. You can cook them the day before, but I find peeling slightly cooled potatoes a bit easier.
Mutti always sliced her potatoes. Sometimes I'll cube potatoes instead, not big chunks though.
I often double this recipe because it is a crowd pleaser and it's great for a large group gathering.
Although Mutti usually used mayonnaise for this salad, there are times she substituted with Greek yogurt or sour cream.
This is a traditional recipe done in a traditional way, but when I follow an "assembly line" method, it goes fairly quickly. Having everything chopped, checking off the ingredient checklist and ready to go helps make the preparation of this traditional potato salad go fairly quickly.
---
Lydia Remembers...
I have so many wunderbar memories in the kitchen with my Oma, and have had MANY of her most popular and traditional recipes, like this German potato salad! 
I love Oma's German potato salad! I ALWAYS request this one. Especially during summertime, it's the perfect accompaniment to a fresh bratwurst from the BBQ. 
Want to make sausage just like that beautifully cooked one below to pair with your potato salad? Here's the recipe for Oma's bratwurst sausage!
I remember making this salad recipe with Oma many times! It is such a hit amongst our family and is an absolute staple during our summer get-togethers.
I know what you're thinking, "But Lydia, I can just go to the store and buy one already made." Well, why would you buy it when you can make it just like Oma! 
There are so many great reasons to make your own potato salad. Not only can you make a bigger portion, but you can add a little bit of this and a little bit of that to spruce it up and really make it your own! Play around with some seasoning, or you can add more potatoes and pickles if you wish. 

That's the best part of making your own! You can alter it to be truly yours!
My favorite part of Oma's potato salad is the pickles. They give it a nice extra crunch and punch of flavor! Pickles are also my favorite food ... so it really is a treat for me. When I make this potato salad at home, I always add quite a few pickles in there, just because. :) 
Learn a little bit about me, Lydia, and my kitchen adventures with Oma!
---
---
Hummus?
Yep. Hummus. Sylvie, my daughter-in-law, shares that hummus is delicious with this quintessential German dish. Her easy hummus recipe is so quick to make and it's becoming wildly popular in Germany. Try it. I think you'll like it too!
---
Mutti's traditional potato salad is also what I'm usually asked to bring to parties, especially when it's a summer event. It always brings rave reviews and I've learned to have the recipe ready to give out. 
If you want a still easier and quicker recipe, try the adaptation of this, my easy potato salad recipe. It's an easy recipe for a really, really good potato salad.
But first, here's the salad just like my Mutti used to make ...
Ready to make this Best German Potato Salad?
Is the recipe below locked? Here's why. 
As an Amazon Associate, I earn from qualifying purchases.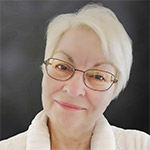 For more German-inspired items that make life easier and yummier, especially in the kitchen and for entertaining, follow my Amazon Storefront.
➙ For groceries,
Try Amazon Fresh
.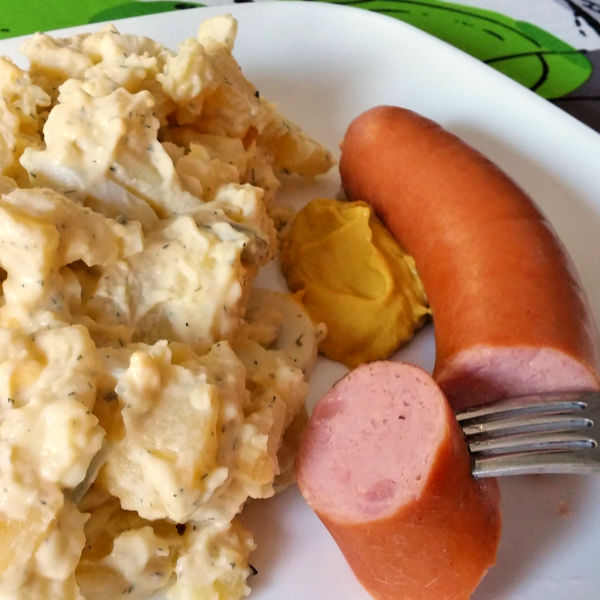 Best Creamy German Potato Salad Recipe with Dill – Kartoffelsalat
Learn how to make potato salad that tastes just like it does in northern Germany. This cold German potato salad, aka Kartoffelsalat, comes from my Mutti's handwritten cookbook. I've also simplified it in this easy version.
And yes, this one is German. In fact, the mayonnaise in this, tells me it's from the northern part of Germany. Southern Germany's salads rarely have mayo.
Prep Time


20 minutes


Cook Time


none


Total Time

20 minutes

Servings:

Makes 6 - 8 servings
Ingredients:
3 - 4 pounds Yukon gold potatoes, cooked and peeled

1 cup mayonnaise

½ cup dill pickle juice

1 small onion, chopped

2 - 3 dill pickles, chopped 
3 - 4 large eggs, hard-boiled and sliced
salt and freshly ground black pepper
Instructions:
Mix mayonnaise and enough pickle juice to get a nice creamy potato salad dressing.
Pour a little dressing in bottom of large bowl.
Either slice or cube a layer of potatoes on top of dressing.
Sprinkle with a little salt and pepper, sprinkle some chopped dill pickles, chopped onions, and some egg slices on top. Pour some dressing over all.
Repeat with more potatoes, salt, pepper, pickles, onions, egg and dressing until all potatoes have been used.
Gently toss all together.
Season with salt and pepper if needed.
Either serve immediately or keep in fridge till needed.
Notes/Hints:

Depending on the 'dryness' of the potatoes, you may need more dressing. Just mix extra as you need it.
Make your own homemade mayonnaise for extra flavor.
Adding extra fresh dill weed or dried dill adds extra flavor. (The flavor of fresh dill can't be beat. In fact, fresh herbs are always best.) You can add this to the dressing or sprinkle on each layer.
Once you know about how much salt and pepper you like, add them to the dressing ingredients at first, instead of sprinkling on each layer. In fact, adding all the ingredients to a mason jar and shaking to mix is easy.
Add more or less eggs, according to your own taste.
For the type of potato you can substitute with red potatoes or other waxy potatoes. Fingerling potatoes would be interesting.
Adding celery seed or celery salt to the creamy dressing is yummy.
Adding green onions or using red onion looks extra special.
Adding some chopped apple (leaving skin on for color), adds flavor and a nice crunch.
.This should be stored in an airtight container in the fridge. However, do serve this at room temperature.
If you're wanting a quicker and easier version of this, check out my easy German potato salad. 
*  *  *  *  *

Unless otherwise noted recipe, images and content © Just like Oma | www.quick-german-recipes.com

Leave a comment about this recipe or ask a question?

Pop right over to my private Facebook group, the Kaffeeklatschers. You'll find thousands of German foodies, all eager to help and to talk about all things German, especially these yummy foods. 
Meet with us around Oma's table, pull up a chair, grab a coffee and a piece of Apfelstrudel, and enjoy the visit.

Choose from Oma's cookbooks that are immediately downloadable & start cooking easy classic German foods tonight. Or get her newest paperback cookbook. LECKER!

Kaiserschmarrn are among those homemade pancake recipes that will remind you of Oma's kitchen. A traditional Austrian & German light and fluffy shredded pancake.

Discover the ultimate German schnitzel recipe with Oma's quick, easy, and delicious pork version - perfect for any occasion! Taste the authentic flavors of Germany today.
*  *  *  *  *
PIN to SAVE this recipe to your Pinterest board!
And let's be friends on Pinterest!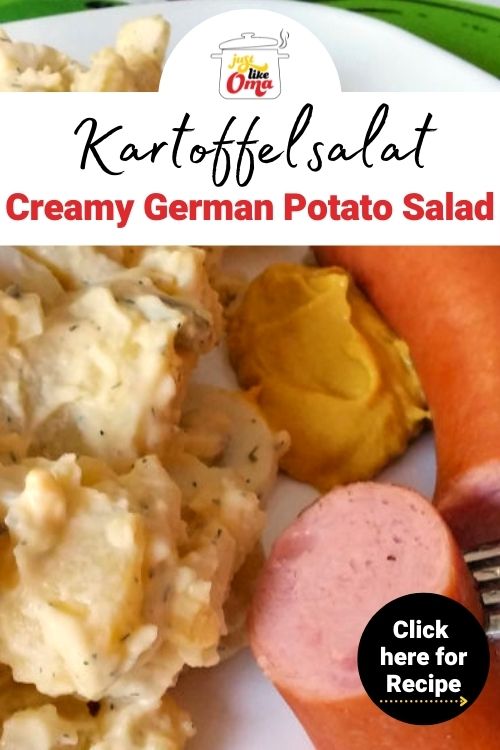 ---
Best Creamy German Potato Salad Recipe with Dill ~ Kartoffelsalat
By
Oma Gerhild Fulson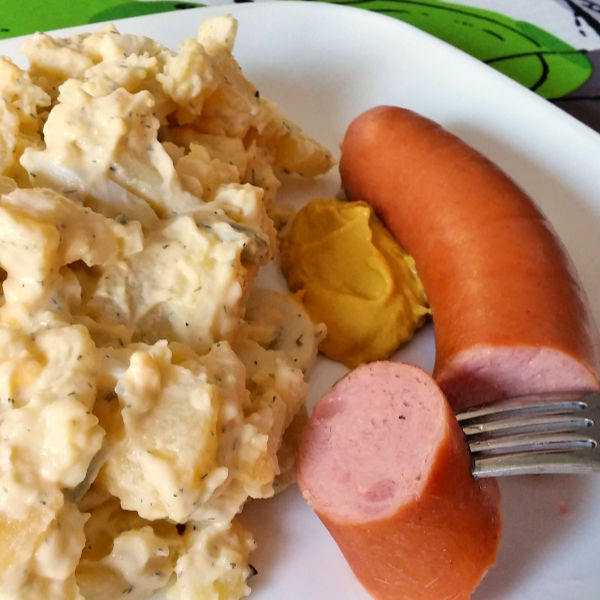 Oma's best German potato salad recipe with dill is traditional in northern Germany. Yes, it's with mayonnaise. In the South, it's without mayo. Both authentic and wunderbar!
Ingredients:
Yukon gold potatoes,
dill pickle juice,
mayonnaise,
onion,
dill pickles,
eggs,
seasonings,
For the full recipe, scroll up ...
Words to the Wise
"Worry weights a person down; an encouraging word cheers a person up."
Proverbs 12:25 (NLT)