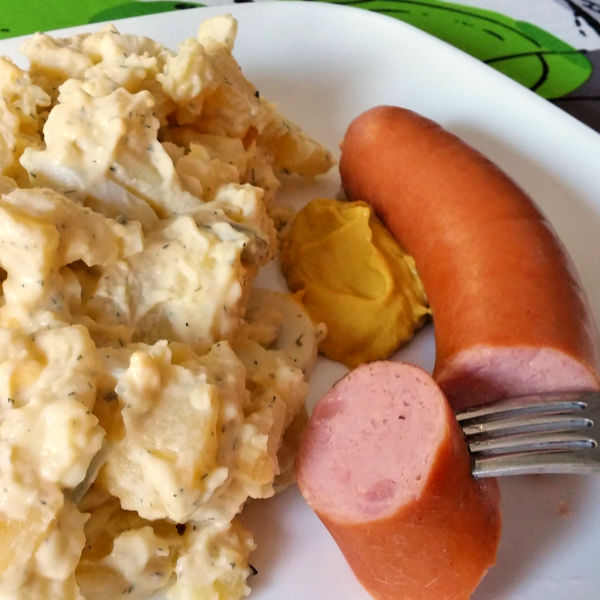 Best Creamy German Potato Salad Recipe with Dill – Kartoffelsalat
Learn how to make potato salad that tastes just like it does in northern Germany. This cold German potato salad, aka Kartoffelsalat, comes from my Mutti's handwritten cookbook. I've also simplified it in this easy version.
And yes, this one is German. In fact, the mayonnaise in this, tells me it's from the northern part of Germany. Southern Germany's salads rarely have mayo.
Prep Time


20 minutes


Cook Time


none


Total Time

20 minutes

Servings:

Makes 6 - 8 servings
Ingredients:
3 - 4 pounds Yukon gold potatoes, cooked and peeled

1 cup mayonnaise

½ cup dill pickle juice

1 small onion, chopped

2 - 3 dill pickles, chopped 
3 - 4 large eggs, hard-boiled and sliced
salt and freshly ground black pepper
Instructions:
Mix mayonnaise and enough pickle juice to get a nice creamy potato salad dressing.
Pour a little dressing in bottom of large bowl.
Either slice or cube a layer of potatoes on top of dressing.
Sprinkle with a little salt and pepper, sprinkle some chopped dill pickles, chopped onions, and some egg slices on top. Pour some dressing over all.
Repeat with more potatoes, salt, pepper, pickles, onions, egg and dressing until all potatoes have been used.
Gently toss all together.
Season with salt and pepper if needed.
Either serve immediately or keep in fridge till needed.
Notes/Hints:

Depending on the 'dryness' of the potatoes, you may need more dressing. Just mix extra as you need it.
Make your own homemade mayonnaise for extra flavor.
Adding extra fresh dill weed or dried dill adds extra flavor. (The flavor of fresh dill can't be beat. In fact, fresh herbs are always best.) You can add this to the dressing or sprinkle on each layer.
Once you know about how much salt and pepper you like, add them to the dressing ingredients at first, instead of sprinkling on each layer. In fact, adding all the ingredients to a mason jar and shaking to mix is easy.
Add more or less eggs, according to your own taste.
For the type of potato you can substitute with red potatoes or other waxy potatoes. Fingerling potatoes would be interesting.
Adding celery seed or celery salt to the creamy dressing is yummy.
Adding green onions or using red onion looks extra special.
Adding some chopped apple (leaving skin on for color), adds flavor and a nice crunch.
.This should be stored in an airtight container in the fridge. However, do serve this at room temperature.
If you're wanting a quicker and easier version of this, check out my easy German potato salad. 
*  *  *  *  *

Unless otherwise noted recipe, images and content © Just like Oma | www.quick-german-recipes.com