How to Boil Potatoes ~ Salzkartoffeln ❤️
➤ by Oma Gerhild Fulson
FTC Disclosure: Making a purchase via a link on the page? I may earn a small commission on the transaction - at no added cost to you. Thanks!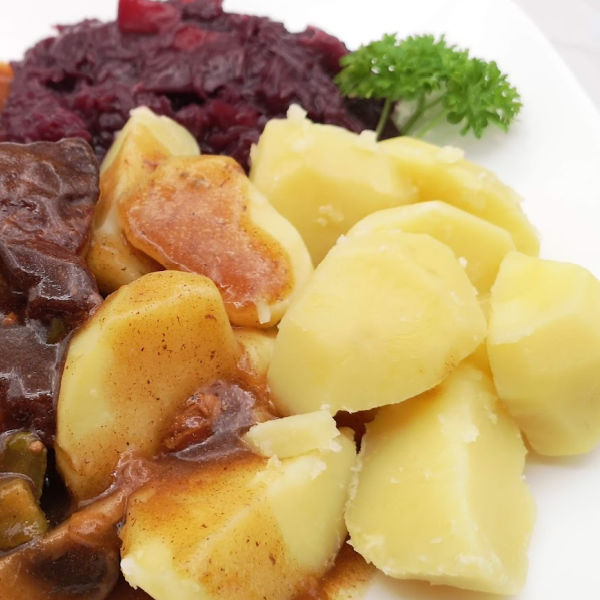 Here's how to boil potatoes, one of the most traditional of all German side dishes known as Salzkartoffeln which translates as "salt potato." Peeled and quartered, potatoes are cooked in salted water. Boiled potatoes are star accompaniments to all kinds of meats and fish. Here they are shown along side pork hocks and sauerkraut salad. YUM!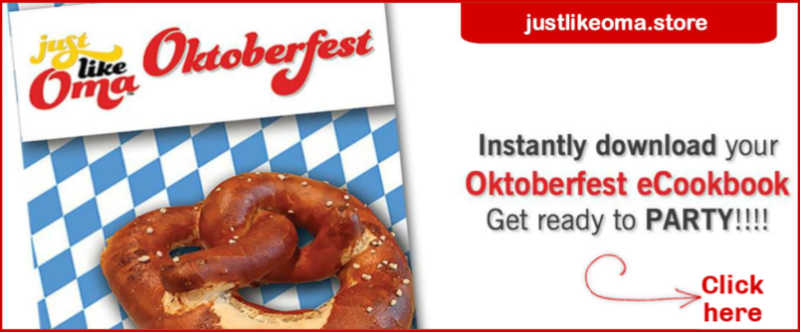 If you need to keep the drained potatoes warm, cover pot with towel and then lid. Potatoes will stay warm without going soggy for about 15 - 20 minutes.

New potatoes are great for cooking in their jackets (peels) and are called "Pellkartoffeln", but once the potatoes are a bit older and the skins thicker, peeling is necessary. That's what's used for these "Salzkartoffeln."
Another delicious way to use any leftover boiled potatoes is Hoppel Poppel, a recipe from Berlin. With added eggs and bacon, it's a great lunch or light supper.
"How long to boil potatoes?" is a common question. Medium-sized potatoes that have been quartered will take about 20 minutes. Use a knife to check if they are ready. If the knife goes in easily, they're done. Overcooking will make them too soft and mushy and they may fall apart.
Oma says,
Among the many recipes using potatoes in German cookbooks, this is among the easiest. Leftovers can be used for Bratkartoffel, another traditional German side dish.

This is actually one of my very favourite treats. I usually boil extra potatoes just to have leftovers for this on the following day.
Salzkartoffeln ~ How to Boil Potatoes ❤️
Ingredients:
Use one medium potato per person.
1 tsp salt (optional)
Instructions:
Use one medium potato per person.
Wash well, remove sprouts and blemishes, and then peel. Use potato peeler or small paring knife.
Immediately put peeled potatoes into bowl of water to prevent discoloring.
When ready to cook, cut into quarters and place into pot. Cover with water.
Add salt. (optional)
Bring to boil. Reduce heat, cover, and continue boiling gently until tender, approx. 20 minutes.
Drain by holding lid on pot with potholders and lifting lid a bit from the edge. You can also gently pour into large colander to drain water.
Serve immediately.
Hints:
Save cooking water to use in soups or gravies. You can also add it when baking bread.
To make drained potatoes 'mealy', put folded towel over pot (remove cover first) for 5 minutes. Shake pot gently. Remove towel which will have absorbed excess steam.

Leave a comment about this recipe or ask a question?
Pop right over to my private Facebook group, the Kaffeeklatschers. You'll find thousands of German foodies, all eager to help and to talk about all things German, especially these yummy foods. 
I pop in all the time as well, to chat and to answer questions. 
Meet with us around Oma's table, pull up a chair, grab a coffee and a piece of Apfelstrudel, and enjoy the visit.
*  *  *  *  *
Want nutritional information for a recipe?
Copy and paste the ingredient list and the number of servings into Calorie Count. 
It will give you an approximate calculation.

Need help doing conversions
between cups and grams or any such thing?
Use this site to give you all the different conversions for the different types of ingredients. 
---
PIN this ...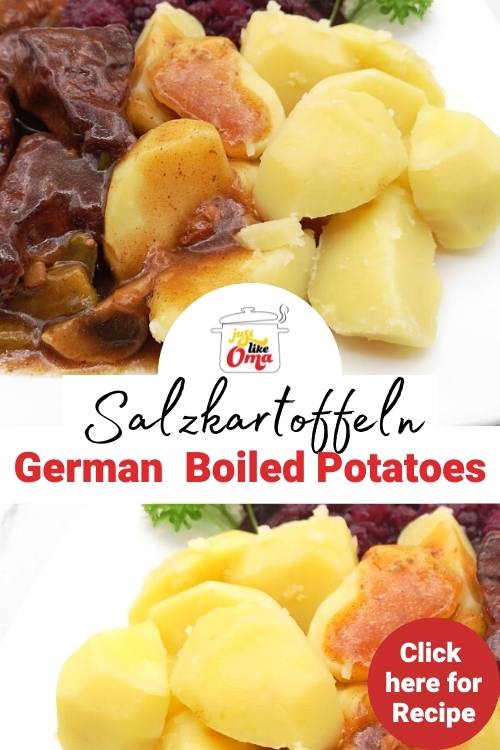 ---
Schwenkbraten recipe that has been a delish hit an alle familien & freunde... Total Approx. Time: Prep: 15 min. + Marinating 8 hrs min. + Grill: 15 min.

My Oma made this cake every Christmas. She iced it with a white frosting that ran down the sides. She decorated it with little silver balls (candy). It
---
Words to the Wise
"Get the truth and never sell it; also get wisdom, discipline, and good judgment."
Proverbs 23:23 (NLT)