German Fried Potatoes Recipe – Oma's Bratkartoffeln Rezept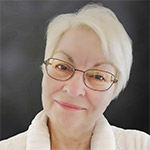 by: Gerhild Fulson  /  Cookbook Author, Blogger, German Oma!

This post may contain affiliate links, which means I'll receive a commission if you purchase through my links, at no extra cost to you. Please read full disclosure for more information.
Mutti had several German pan-fried potato recipes, aka Bratkartoffeln, that she used to make. They were all variations on the one listed below. Each slightly different. All delicious!
The aroma in the house was mouth-watering whenever she made these. For her, this was a quick and easy lunch. For me? I just plain loved pan fried potatoes! It's German food I LOVE!
There are so many German recipes using potatoes, but this one for Bratkartoffeln, also known as German fries or German home fries, is truly among the most popular.
Perhaps it's because this easy pan-fried potatoes recipe makes for a wonderful main course, as well as a delicious side dish!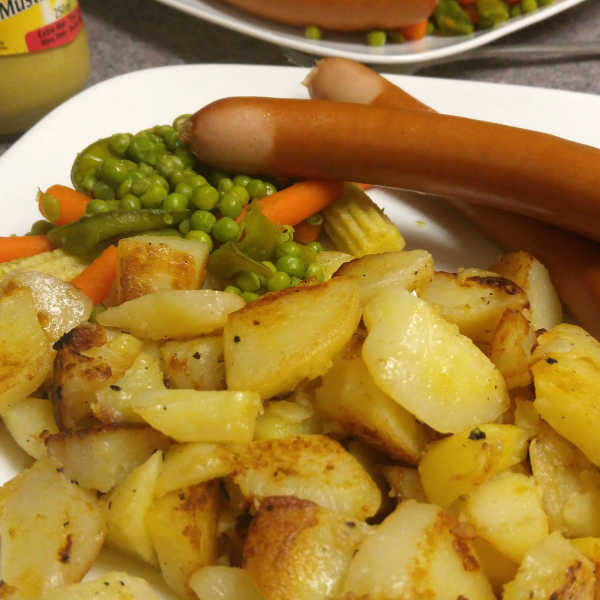 How to make this German fried potatoes recipe

I'm going to show you three different ways to prepare the potatoes, before frying. The first method makes the BEST Bratkartoffeln, but the other two are mighty delicious as well. :)
3 ways to prepare your potatoes depending on how much time you have

1. Start the day before for the best Bratkartoffeln

For the absolutely BEST Bratkartoffeln, the type you'll get in the best German restaurants, start your potatoes the day before. Boiled potatoes need to chill in the fridge overnight because cold potatoes make the best fried potatoes. 
Select potatoes of the same size. Scrub. Put whole potatoes into a large pot and cover with water. Add 1 teaspoon salt. 
Cook until tender (check with a knife inserted into the potato ... it should slide in easily). Depending on the size of your potatoes, this may take 20 to 30 minutes.
Drain and let cool or run under cold water. 
Once cool enough to handle, peel. Cover and put into fridge until the next day. (Or put them in the freezer for 35 to 40 minutes if you don't want to wait till the next day.)
When ready to make Bratkartoffeln, cut potatoes into thick slices. Continue with the recipe below.
2. Great way to use leftover potatoes
If you have leftover boiled potatoes, this recipe is a perfect way to use them up. Or, perhaps, if you are planning to make boiled potatoes for dinner, make extra to have leftovers in order to make this German fried potatoes recipe later on in the week. In fact, this is the way my Mutti always made them, and the way I usually make them as well.
Slice leftover cooked potatoes and continue with the recipe below.
3. Start with raw potatoes
What do you do when you've got a Bratkartoffeln craving and no pre-cooked potatoes, and you don't have a whole lot of time? Just use raw ones!
Peel and slice raw potatoes.
Proceed as above. You'll just need to let them cook a bit longer (I cover the pan to help speed things up, removing the lid just before they are done so that they crisp up a bit.)
Once your potatoes are ready, it's time to get cooking
In a large pan, heat some butter or saute thin slices of bacon until nice and crispy. Using a slotted spoon move bacon pieces to a paper towel-lined plate.
Add potatoes to the bacon grease and fry over medium-high heat for about 5 minutes to brown potato slices. Turn, adding sliced onions and continuing to gently turn as needed. Add more butter, if needed. (If using raw potatoes, cover slightly during cooking.)
After potatoes are browned (and tender if using raw potatoes), add reserved bacon and season with salt and black pepper.
Serve immediately and enjoy
Below, hubby made these from raw potatoes using the BBQ side burner. Paired with grilled hamburgers and homemade ketchup, a delicious dinner!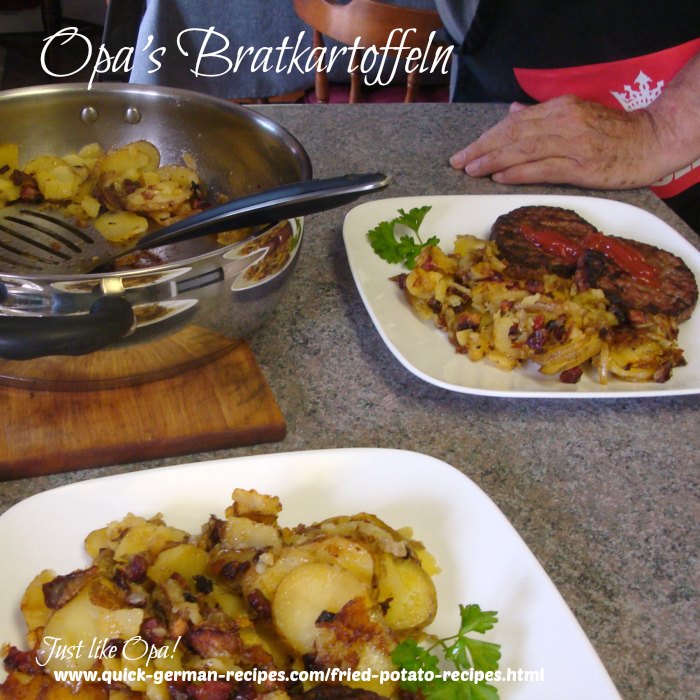 Best potatoes to use for Bratkartoffeln

There are 3 types of potatoes:
waxy potatoes: These are low in starch and high in moisture, and hold their shape after cooking. New white or red potatoes are examples of low-starch potatoes.
starchy potatoes: These are high in starch and low in moisture and tend to fall apart when boiled. Russet and Idaho potatoes are good examples.
all-purpose potatoes: These are your middle-of-the-road potatoes that have about the same amount of starch and moisture and can be used in any recipe that calls for waxy or starchy potatoes. Yukon Gold potatoes are a classic example.
You'll need potatoes that retain their shape after boiling and pan-frying, therefore waxy potatoes are best, as well as all-purpose varieties.
Are potatoes really German?

Oh, yes! Potatoes have been a staple in German cuisine for centuries. Did you know that the average German will eat roughly 130 to 140 pounds of potatoes a year? We sure do love our potatoes!
From fried to mashed, baked, or boiled, you will see all of these and more as you venture through Germany. Potatoes have been a part of German heritage since the mid-17th century when they were introduced to the country. When you take a stroll through the markets of the more southern regions like Bavaria, you'll find loads of different varieties of potatoes as well.
Sometimes in Canada, it can be hard to find potatoes reminiscent of what we had in Germany, simply because they offer more variety there. But there's always an alternative that's close enough and just as yummy.
It's no wonder they became so popular so quickly. You can do a lot with potatoes and make a variety of dishes, like this lecker Bratkartoffeln recipe!
How to store your potatoes

Don't forget that the bag of fresh, plump, delicious potatoes you just bought were once grown underground. They love being kept in cool, dark spaces. Perhaps a cool garage shelf if you have access to your own or a lower cupboard that doesn't get much bright natural light. 
Potatoes thrive underground, but, when picked, they need to avoid moisture, or they will spoil quickly. That's why it is important for them to be in a dry, dark space and in a loose bag as well. 
Do try not to make a habit of bringing your potatoes home and putting them in a sealed container or storage bin. You want your potatoes to have breathing room. The airflow will prevent moisture from getting into your potatoes, which, as mentioned above, can lead to spoiling!
You certainly wouldn't want the potatoes to spoil too quickly. This fried potato recipe is delicious, but even it can't make spoiled potatoes good again. ;) So, let's take care of our hard-working farmers' potatoes and store them in a cool, dry, and dark area so they can thrive well for your fried potato dish!

Need that "all's good with the world" feeling? Comfort food will do that. Get your copy of Oma's German favorites in her Comfort Foods e-Cookbook.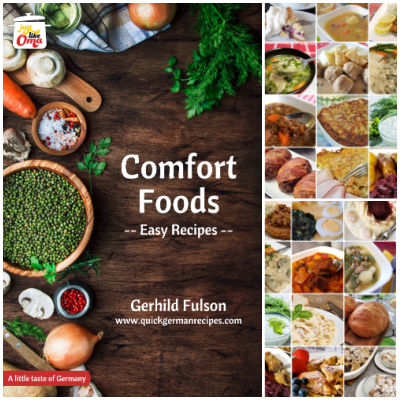 Take a peek at all Oma's eCookbooks. They make sharing your German heritage a delicious adventure!
Oma says,
If you're a camper, you can make this German fried potatoes recipe using raw potatoes, over a campfire. We always did when we were camping.
Just be ready to feed the rest of the campers in the campground as they come by, because they'll be enticed by the wonderful aroma of fried onions and potatoes wafting through the air! 
What to serve with German fried potatoes

This easy recipe makes a great side dish to most German meat dishes. Here are some of my favorites to get you started:
Or consider serving this traditional German side dish at your next Oktoberfest celebration along with German sausages, pork hocks, or Schnitzel.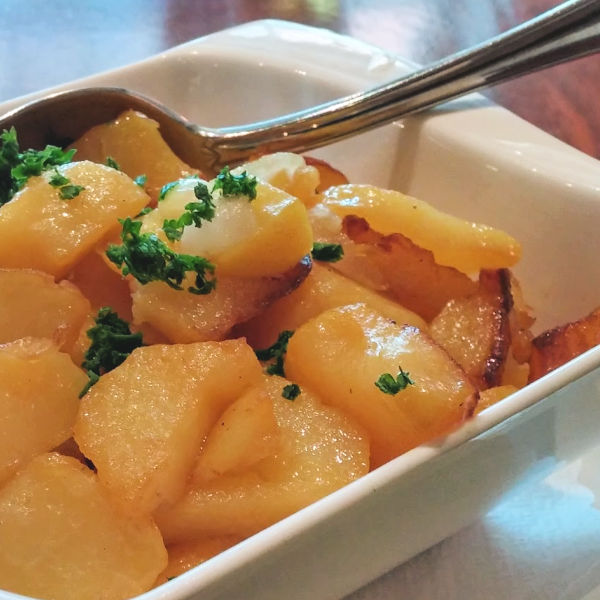 More German potato recipes

---
Ready to make this Bratkartoffeln recipe?

Is the recipe below locked? Here's why.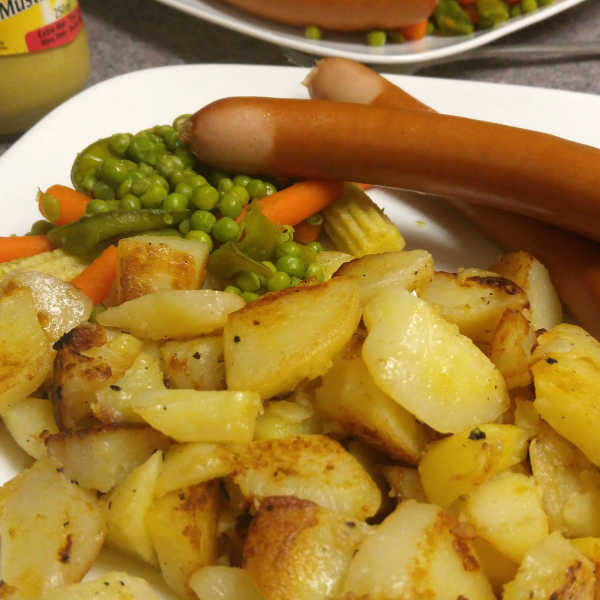 German Fried Potatoes Recipe – Oma's Bratkartoffeln

Mutti had several fried potato recipes that I grew up on. The wonderful aroma of fried onions and crispy potatoes wafting through the air when she made these was so mouth-watering. I hope you'll love these German-style pan-fried potatoes just as much as I do! 
Prep Time


10 minutes


Cook Time


15 minutes


Total Time

25 minutes

Servings:

Makes 2 - 3 servings
Ingredients:
1 pound potatoes (either precooked, leftover, or raw potatoes.)
2 tablespoons butter OR 8 slices bacon, diced
½ onion, diced
salt, pepper
Instructions:
In a large skillet, heat butter or oil, or saute bacon until golden brown. Remove crispy bacon pieces with a slotted spoon and set aside. Add potatoes. 
Fry over medium-high heat for about 5 minutes before turning to allow potato slices to brown. Turn, adding onions and continuing to gently turn as needed. Add more butter, if needed. (If using raw potatoes, cover slightly during cooking.)
After potatoes are browned (and tender if using raw potatoes), add reserved bacon (if using), season with a little salt and freshly ground black pepper.
Serve immediately.
Notes/Hints:

Just before serving, pour 4 slightly beaten raw eggs over potatoes, gently toss and allow to cook a few minutes until eggs are set. This is similar to Hoppel Poppel.
Add fresh parsley, chives, and/or other fresh herbs. 
Add more or less onions, as desired. Chopped green onions - tops and bottoms - would be great.
Add some leftover meat pieces to the potatoes while they are cooking.
For vegan Bratkartofflen, omit bacon and use oil or vegan butter for frying.
*  *  *  *  *

Unless otherwise noted recipe, images and content © Just like Oma | www.quick-german-recipes.com

05.07.2023 revision update
---
Leave a comment about this recipe or ask a question?

Pop right over to my private Facebook group, the Kaffeeklatschers. You'll find thousands of German foodies, all eager to help and to talk about all things German, especially these yummy foods. 
Meet with us around Oma's table, pull up a chair, grab a coffee and a piece of Apfelstrudel, and enjoy the visit.

Cooking just like Oma, making those German meals, is actually quite easy. Let me, Oma Gerhild, help you with my step-by-step methods to re-create those yummy meals you remember from your Oma.

If you're looking for tasty, traditional, and easy German cake recipes (in English) to try, then you've come to the right place! Check out these lecker treats!

Discover the ultimate German schnitzel recipe with Oma's quick and easy method - perfect for any occasion! Taste the authentic flavors of Germany today.
*  *  *  *  *
PIN to SAVE this recipe to your Pinterest board!
And let's be friends on Pinterest!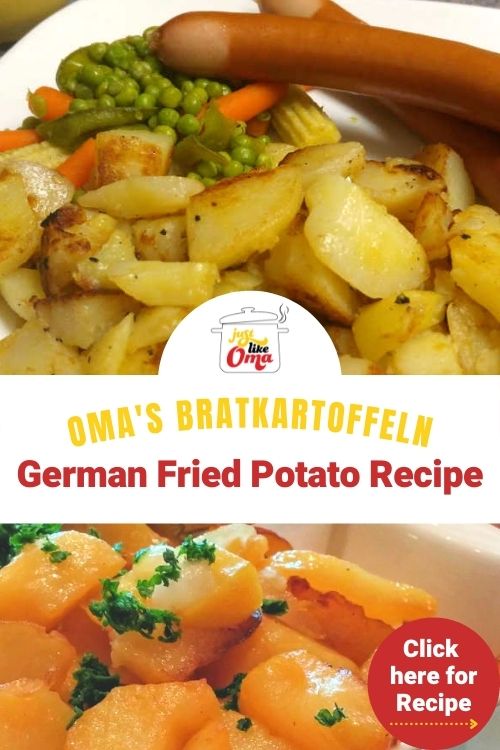 ---
German Fried Potato Recipe ~ Oma's Bratkartoffeln
By
Oma Gerhild Fulson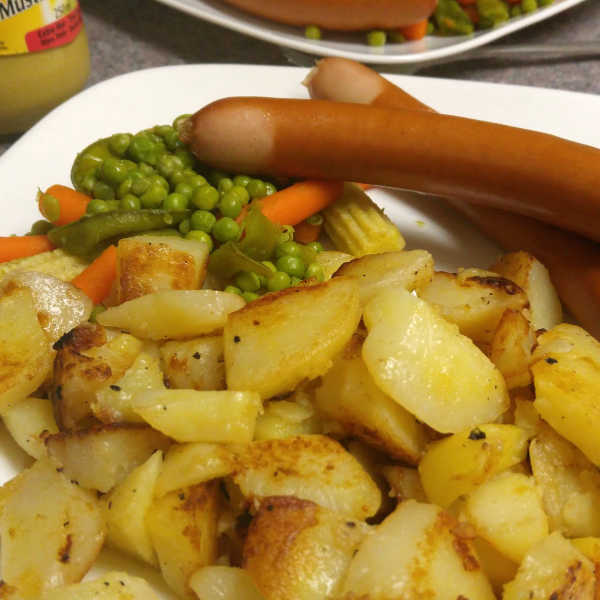 Fried potato recipes are among my favorites. Using raw or cooked potatoes, these Bratkartoffeln add some bacon, some onion, and various other ingredients and taste just like Oma's.
Ingredients:
potatoes,
butter or bacon,
onion,
seasonings,
For the full recipe, scroll up ...
Words to the Wise
"Better a dry crust eaten in peace than a house filled with feasting -- and conflict."
Proverbs 17:1 (NLT)