Slow Cooker Roast Beef 
(tastes like Rouladen!)❤️
➤ by Oma Gerhild Fulson
FTC Disclosure: Making a purchase via a link on the page? I may earn a small commission on the transaction - at no added cost to you. Thanks!
Yum
I created this slow cooker roast beef one day when I knew I was going to be too busy to make a special dinner for company. I wanted special. I wanted that wonderful taste of rouladen with its amazing gravy. But, I was going to be gone all day. Dare I take my expensive bottom round roast and pop it into the slow cooker without browning? 
I did and included the traditional rouladen ingredients. The result? It had all the  flavor of the rouladen meat AND THE GRAVY and was so easy to put together in the morning.

I love using my new Cuisinart Slow Cooker!    (I gave away my old one!)
Not only is it a slow cooker, but it's a Multicooker!
That means it can be used to quickly brown or sauté the meat  (up to 400 °F) before setting it to slow cook (at various temps) ...
and there's a 'steam' option as well!
With a 24-hour timer and an automatic Keep Warm feature, I LOVE this! Click on the photo for more information!!!!! You'll love using this, just like I do!

Oma's Slow Cooker Roast Beef ❤️
Ingredients:
1 Tbsp cornstarch
1 onion, cut into chunks

4 garlic dill pickles, cut into chunks

3 - 4 lb bottom round beef roast, trimmed of excess fat
1 tsp salt
½ tsp pepper
 4 - 6 slices lean bacon

1 - 2 Tbsp cornstarch to thicken gravy
salt and pepper
Instructions:
Mix together 1 Tbsp cornstarch with 2 Tbsp water and pour into slow cooker.
Add onion, dill pickles, and 2 slices of bacon to slow cooker and put roast on top with fat side down.
Sprinkle with salt and pepper. Cover roast with remaining bacon slices.
Cover slow cooker and cook roast for 6 hours on high or 10 hours on low (may vary depending on your cooker)
Remove meat and tent with foil to rest while you make the gravy.
Strain cooking liquid through sieve into a saucepan and bring to simmer.
To thicken gravy, combine 2 - 3 Tbsp cornstarch in a little cold water. Stir into cooking liquid until slightly thickened.
Season gravy to taste with salt and freshly ground pepper.
Hints:
Add whatever ingredients you normally use in your rouladen. If you don't like pickles, omit them. If you normally add carrots, etc., add them. If you normally use mustard, add a bit to taste. I love adding mushrooms to the gravy. Yum!

---
YES, of course, you can brown the meat before putting it into the cooker. This will add a nicer 'look' to the finished roast and will increase the flavor. However, if you're in a real hurry in the morning and really don't have the time to brown the meat, just go ahead. The flavor will still be fantastic. This is my NEW  go-to recipe when I need something easy and special.

Another Rouladen Alternative ...
Since rouladen were so expensive (and consuming to make), I created also created Beef Flatladen! Vary the type of meat. (Even pork works!) Vary the size of chunks (usually about a 2 - 3 inch square and about ¾ inch thick). Leftovers are delicious, so make lots!
This recipe takes a bit more time, but, my - my ... is this delicious!
Extra tips ...
Use almost any cut of meat. Slow simmering tenderizes the meat. Cut meat into size needed. Brown in small batches in butter. Add onion, bacon, dill pickle (the traditional rouladen flavors), seasonings, and water. Let the whole thing simmer for about 2 hours.
Check out my video ...
If you are looking for the traditional rouladen, check out my Rouladen recipe. SO WUNDERBAR!

It's our 'special' dinner, usually together with potato dumplings and red cabbage. Doesn't get more German than that!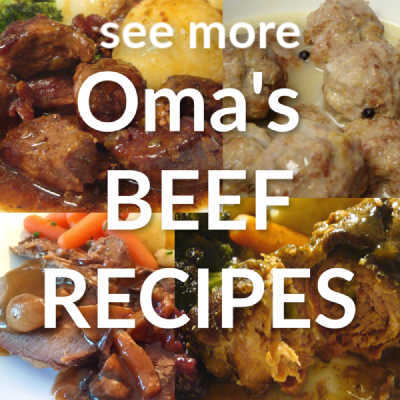 *  *  *  *  *
Thinking of starting your own Handmade Business?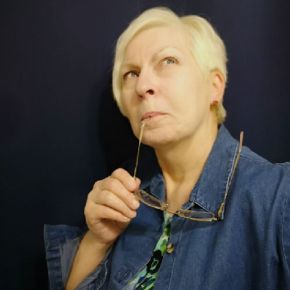 This Oma KNOWS you CAN do it.
How do I know?
Well, if I can do it, anyone can.
I've even figured out how I can help you.
I've teamed up with my own business coach, Renae Christine (yes, do google her!), to bring you this free masterclass. After you watch it, ask me any questions and I'll gladly answer them.
Don't hesitate. I'm not sure how long Renae will keep this free masterclass available.
PS:  Yes, Renae really is as amazing as all the reviews say.
PPS: Yes, the course is for handmade items, but I've used it successfully for my cookbooks. I know others are using her methods for services, direct sales, and even a local ice cream bar & grill that's constantly selling out. You've nothing to lose by taking a look ... and a whole bunch to gain.
*  *  *  *  *
Oma's Cookbooks (downloadable & print)
*  *  *  *  *
Want nutritional information for a recipe?
Copy and paste the ingredient list and the number of servings into Calorie Count. 
It will give you an approximate calculation.

Need help doing conversions
between cups and grams or any such thing?
Use this site to give you all the different conversions for the different types of ingredients. 
---
PIN this ...

---
Words to the Wise
"Pride leads to disgrace, but with humility comes wisdom."
Proverbs 11:2 (NLT)