Authentic German Beef Rouladen Recipe Just like Oma's ❤️ 
➤ by Oma Gerhild Fulson
FTC Disclosure: As an Amazon Associate, I earn from qualifying purchases.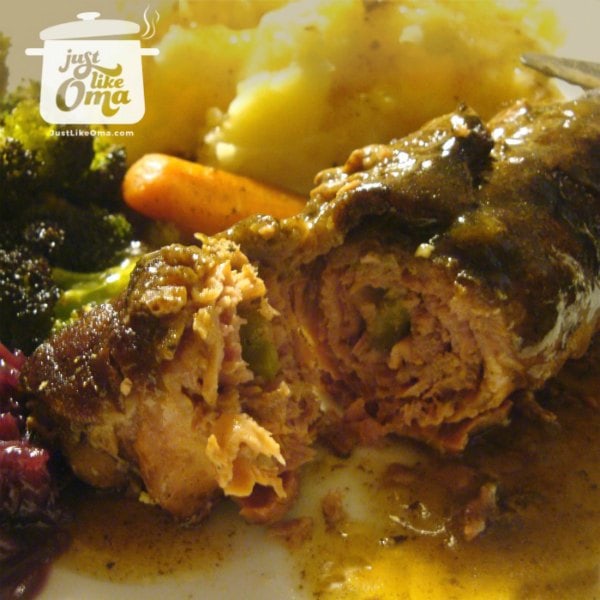 This German beef Rouladen recipe, along with potato dumplings and red cabbage, is among our most cherished authentic German food recipes. 
What could be better than to serve this as your traditional German Christmas food or other holidays or birthdays ... or anytime you have something special to celebrate?
What's better than to have a special feast meal that is actually quite easy to make? On top of that, there are so many versions of this braised beef Rouladen recipe, that it is easy to find one that matches your tastes and favorite method.
One major difference is in the ingredients that the Rouladen are filled with. The differences stem from the different regions of Germany.
This actually makes it possible to have many traditional recipes for Rouladen that are so different from each other, meaning you can find one with a stuffing that matches your tastebuds.
Then, there are four different methods for making these stuffed beef rolls. I grew up with my Mutti making them on the stove top. As years went by and Mutti got her first slow cooker, that became her favorite way of making them.
In Germany, the most popular ways became using a pressure cooker or the oven. Each method has its following. I vary between all four of them, depending on the situation and how much time I have.
My favorite? I think it would be pressure cooker if I'm making just a few ('cause they are so tender and moist) and the stove top for the rest.
---

>  Different versions of Rouladen (thought to come from the French) are throughout Europe: Italy has Braciole, Franch has Paupiette, Czech has Španělské ptáčky, Hungary has Szüz tekercsek, and Hungary, as well as Germany, have Rouladen.
>  Some of the interesting names are beef birds, olive birds, steak birds, bacon rolls, and stuffed rolls. These are filled with a variety of ingredients, such as vegetables, cheese, and other meats.
>  Originally, venison and pork were use although now beef (Rindsrouladen) or veal are usually used. However, I've also enjoyed using thinly sliced chicken breast for these. 

---
Oma's Best Beef Rouladen Recipe Tips:
>  I usually make two rouladen for each person, but this really depends on the size of the top round slices I get from the butcher. Sometimes they are quite large and one roulade is all that's needed for one serving.
>  I find that even though one SHOULD be enough per person, because they are so good, most people like to take a second one. Or, often times they will share a second one with someone else.

>  Because of this, I usually make as many as my budget allows, hoping for leftovers, because these taste so great the next day, heated gently in their gravy.
>  If these beef rolls need to be gluten free, make sure your cornstarch doesn't have any flour in it. 

Set up an assembly line to make the preparing of this beef Rouladen recipe easier and quicker:

Alana making her rouladen: 

Instead of using bacon strips, she put a slice of Black Forest ham down the length of the rouladen. A delicious variation on the traditional recipe, one I'll be doing often.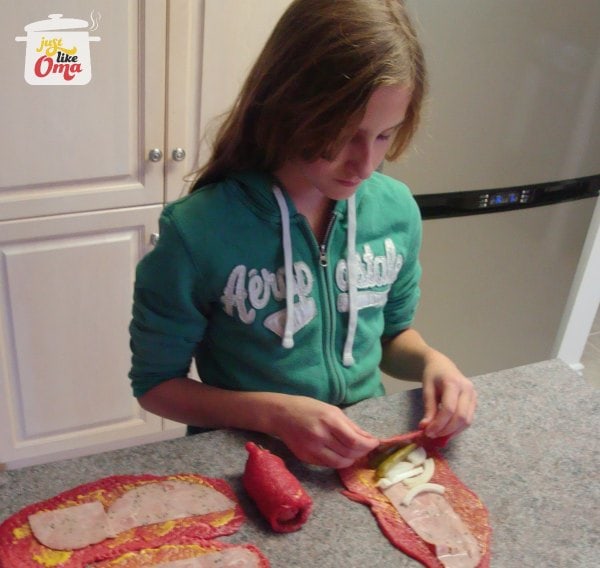 Wunderbar! Here, granddaughter Alana, made these for her 13th birthday dinner party: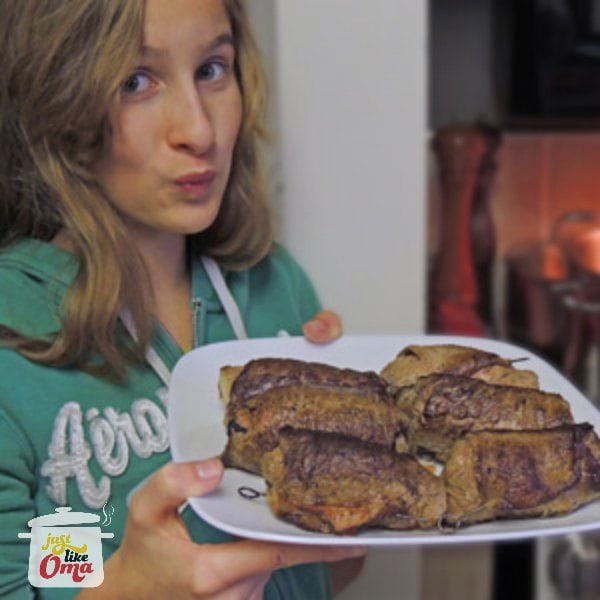 Two years later, Alana made these for her 15th birthday dinner party. She does love her rouladen!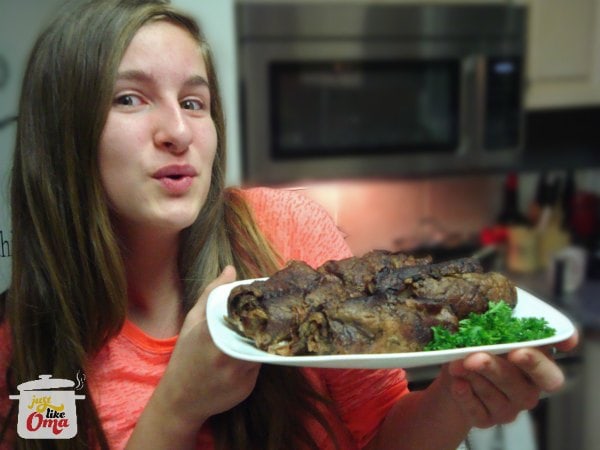 Wanting to use your pressure cooker instead?
Yes, it's easy to make Rouladen with  your pressure cooker. The result is a quicker meal, and it's fork-tender always. I use my Instant Pot pressure cooker, but any will do.
Check out the recipe right here.
---
Oma says,
I find it just as easy to make twice as many of these beef rolls as I need.  The extras freeze well, as long as they are covered in their gravy.

Thaw them in the fridge and then reheat. Now that's quick German food!
BUT ...
Does your budget say "too expensive" to make these German rouladen often? Want something a bit easier for everyday?
Try my own flatladen recipe. Created by me for my boys. We ALL love it! Same great rouladen and gravy taste without all the work or expense.
---
Ready to make Rouladen? Here you go ...
Oma's Beef Rouladen Recipe❤️
Ingredients:
6 slices top round (see hints below)

3 slices lean bacon

1 onion, sliced

3 garlic dill pickles, sliced

2 tbsp butter

mustard, salt, pepper, corn starch

1 - 2 cups water
Instructions:
Season beef slices with salt and freshly ground pepper. Thinly spread mustard on top of each slice.

Divide bacon, pickle, and onion slices on one end of each slice.

Roll up slices, tucking the ends in and securing with skewers, wooden cocktail picks, or thread.

Heat butter in skillet. Brown rouladen well on all sides. Do not crowd rouladen in skillet, or they will not brown nicely. Do in small batches if necessary. Add extra butter if needed.

Once all rouladen are well browned, add 1 - 2 cups of hot water, gently stirring up browned bits. Return all rouladen and any accumulated juices to skillet, bring to simmer and cover.

Simmer for about 1½ hours.

Remove rouladen. To thicken gravy, combine about 1 - 2 tbsp corn starch in a little cold water and stir gently into cooking liquid until slightly thickened.

Season gravy to taste with salt and freshly ground pepper. If you wish, add sour cream to the gravy.

Remove skewers, picks, or thread to serve rouladen with their gravy.

Hints:
Have the butcher cut beef top round into thin slices, about ⅜ inch thick. Each roulade should measure at least 6 inches by 4 inches. Gently pound meat until it is about ⅛ to ¼ inch thick. Be careful not to put holes in the meat. The larger the roulade, the easier it is to roll up. 
Some add pickles, others don't. Some add other vegetables, others minimize the fillings. Use Black Forest ham instead of bacon. 


Want nutritional information? Copy and paste the above ingredient list and the number of servings into Calorie Count for an approximate calculation.
Need help doing conversions between cups and grams, etc.? Use this site to give you all the different conversions for the different types of ingredients. 
* * * * * 
Wanting to know about different cuts of beef? Check out this post.
* * * * *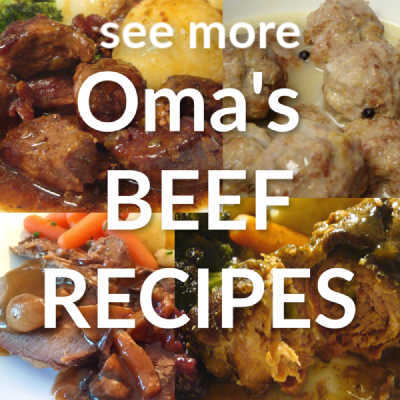 Leave a comment about this recipe or ask a question?
Pop right over to my private Facebook group, the Kaffeeklatschers. You'll find thousands of German foodies, all eager to help and to talk about all things German, especially these yummy foods. 
I pop in all the time as well, to chat and to answer questions. 
Meet with us around Oma's table, pull up a chair, grab a coffee and a piece of Apfelstrudel, and enjoy the visit.
*  *  *  *  *
Want nutritional information for a recipe?
Copy and paste the ingredient list and the number of servings into Calorie Count. 
It will give you an approximate calculation.

Need help doing conversions
between cups and grams or any such thing?
Use this site to give you all the different conversions for the different types of ingredients. 
---
PIN this post so you can quickly find your Beef Rouladen recipe when you're getting out your nice big skillet or dutch oven and rouladen clips (if you have them) ... and then share this with others ...
---
This goulash soup is one of my most traditional German soups. It's one I often make when I have company coming over and need something easy to prepare ahead.

This Rouladen recipe is what I make when I'm in a hurry by using my pressure cooker (Instant Pot). The meat is so tender!!!
---
---
Oma's Beef Rouladen Recipe❤️


By
Oma Gerhild Fulson
This beef rouladen recipe, along with potato dumplings and red cabbage, are among our most cherished authentic German food recipes. Easy? Yes, even my granddaughter makes them!
Tags: gluten free

Yield:
4 - 6 servings

Ingredients:
6 slices top round beef,
3 slices bacon,
1 onion,
3 pickles,
2 tbsp butter,
For the full recipe, scroll up ...
Make every day a WORD-filled day!
"May the words of my mouth and the meditation of my heart be pleasing to you, O LORD, my Rock and my Redeemer."
Psalm 19:14 (NLT)