Oma's Authentic German Beef Rouladen Recipe
➤ by Oma Gerhild Fulson
This traditional German beef Rouladen recipe, aka beef rolls, steak rolls or beef birds, served with potato dumplings and red cabbage is my most cherished German food from my childhood and still our very favorite.
What could be better than to serve this as your traditional German Christmas food or other holidays or birthdays ... or anytime you have something special to celebrate?
For the full list of ingredients & detailed instructions, see the recipe card at the end of this post. But before you scroll, there's important & interesting stuff to know right below.
What's better than to have a special feast meal that is actually quite easy to make? On top of that, there are so many versions of this braised beef Rouladen recipe, that it is easy to find one that matches your tastes and favorite method.

One major difference is in the ingredients that the Rouladen are filled with. The differences stem from the different regions of Germany.
This actually makes it possible to have many traditional recipes for Rouladen that are so different from each other, meaning you can find one with a stuffing that matches your German food tastebuds.
Then, there are four different methods for making these stuffed beef rolls. I grew up with my Mutti making them on the stove top. As years went by and Mutti got her first slow cooker, that became her favorite way of making them. She would cook them on low for 6-8 hours. Always so tender.
In Germany, the most popular ways are using a pressure cooker or the oven. Each method has its following. I vary between all four of them, depending on the situation and how much time I have.
My favorite? I think it would be pressure cooker if I'm making just a few ('cause they are so tender and moist) and the stove top for making enough for the whole family.
Interesting Rouladen Facts
Different versions of Rouladen (thought to come from the French) are throughout Europe: Italy has Braciole, Franch has Paupiette, Czech has Španělské ptáčky, Hungary has Szüz tekercsek, and Hungary, as well as Germany, have Rouladen.
Some of the interesting names are beef birds, olive birds, steak birds, bacon rolls and stuffed rolls. These are filled with a variety of ingredients, such as vegetables, cheese, and other meats.
Originally, venison and pork were use although now beef (Rindsrouladen) or veal are usually used. However, I've also enjoyed using thinly sliced chicken breast for these. 
How many Rouladen do I need to make?
I usually make two rouladen for each person, but this really depends on the size of the top round slices I get from the butcher. Sometimes they are quite large and one roulade is all that's needed for one serving.
I find that even though one SHOULD be enough per person, because they are so good, most people like to take a second one. Or, oftentimes they will share a second one with someone else.
Because of this, I usually make as many as my budget allows, hoping for leftovers, because these taste so great the next day, heated gently in their gravy.
There's something absolutely mouth-watering about having a German meat-and-potato dinner. Get Oma's revised collection of her favorites in German Meat Dishes.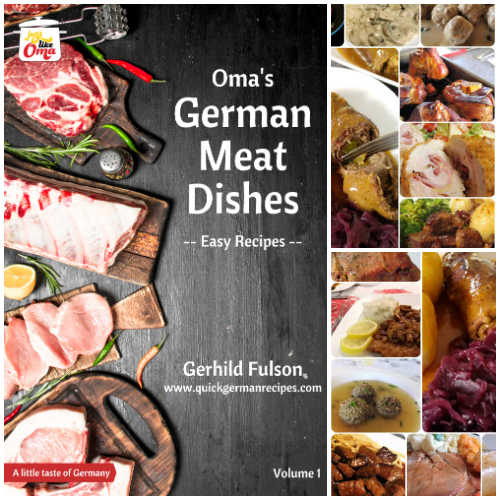 Take a peek at all Oma's eCookbooks. They make sharing your German heritage a delicious adventure!
How to make Beef Rouladen, easily ...
Set up an assembly line ...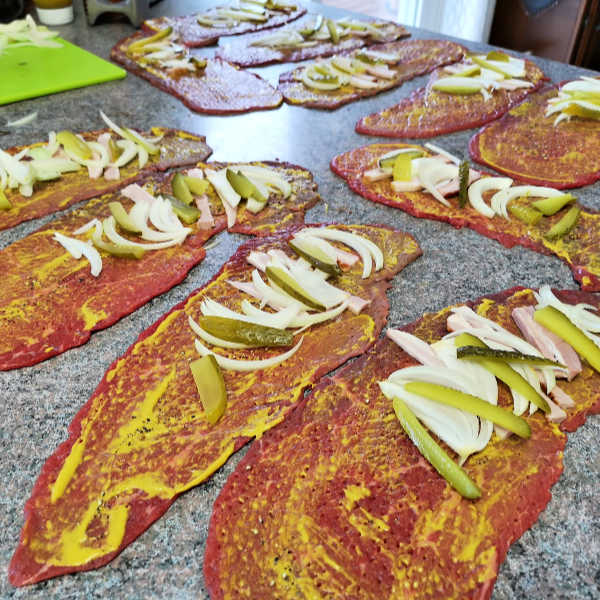 Prep all your ingredients, pound your beef, season it and spread mustard on it (if using). 
Then distribute the fillings over the top.
How to tie your Rouladen ...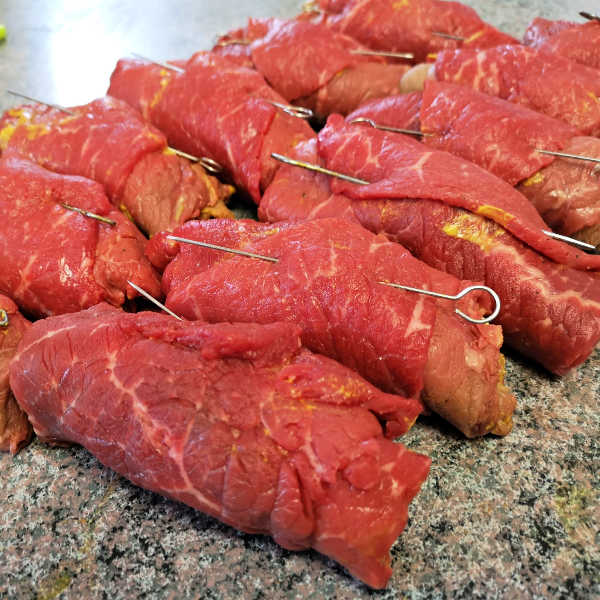 Above, I've used metal skewers (the kind sold to truss poultry) to fasten my rouladen, a bit of a fiddly job.  You can also use wooden picks, kitchen twine, and, of course, the popular rouladen clamps. 
Brown your Rouladen ...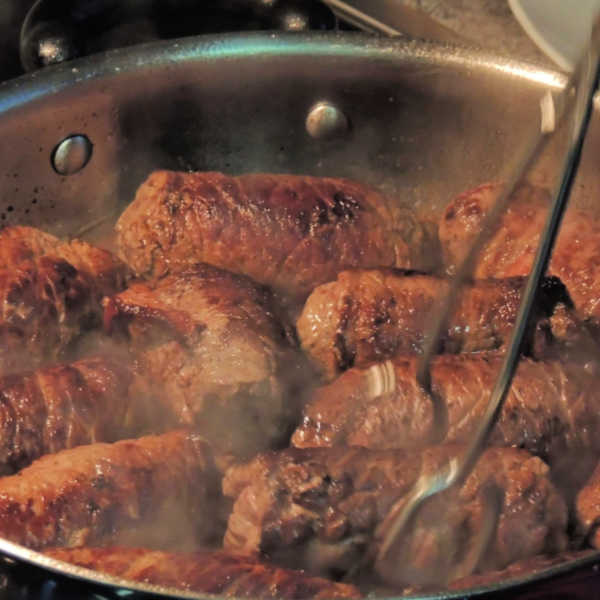 Always brown your meat in small batches. For the large lot I was making in these photos, I did this in three batches.
When all are nicely browned, add a bit of water to scrape up the browned bits at the bottom of the saucepan and then return all the rouladen to the saucepan.
Add the liquid, bring to a simmer, cover and simmer till tender.
When tender, make that heavenly Gravy!
These rouladen are done. Tender and almost ready to serve. Remove to a warm plate and carefully remove the skewers, or whatever you used to hold them together. Cover and keep warm.
Then, make that gravy. (If these beef rolls need to be gluten free, make sure your cornstarch doesn't have any flour in it.)
The gravy is really the best part of this dish ... well, along with the meat. Once done, you're ready to serve.   
Can you freeze leftover Rouladen?
Absolutely! In fact, I usually make extra Rouladen, just to have leftovers. Just make sure your meat rolls are covered in gravy in the container.
To reheat Rouladen, you can place them in 350-degree oven, covered, until hot, about 30 minutes. You can also microwave them or just put them, thawed, into a saucepan and gently bring to a simmer. Simmer until heated through.
Alana making her rouladen: 

Instead of using bacon strips, she put a slice of Black Forest ham down the length of the rouladen. A delicious variation on the traditional recipe, one I'll be doing often.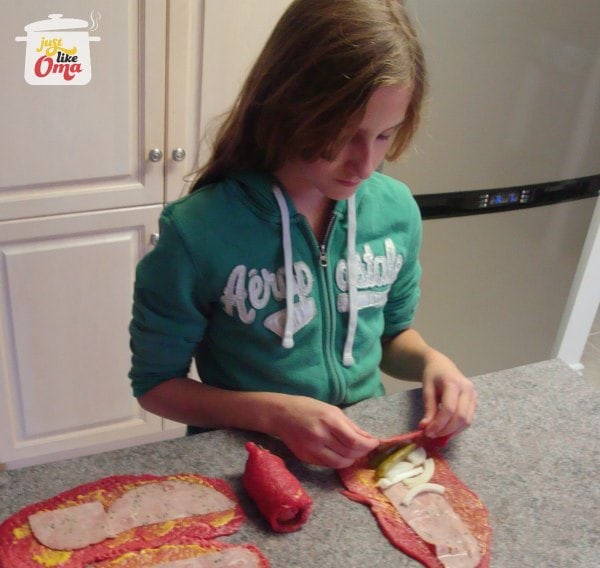 Wunderbar! Here, granddaughter Alana, made these for her 13th birthday dinner party: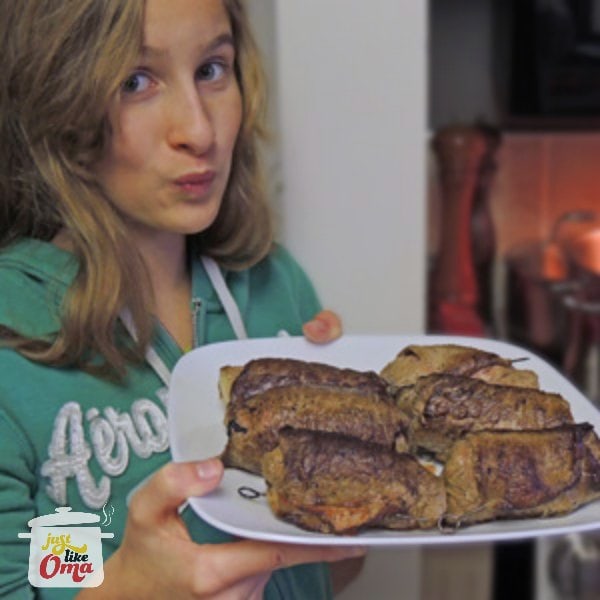 Two years later, Alana made these for her 15th birthday dinner party. She does love her rouladen!

Wanting to use your pressure cooker instead?
Yes, it's easy to make Rouladen with  your pressure cooker. The result is a quicker meal and it's fork-tender always. I use my Instant Pot pressure cooker, but any will do.
Check out the recipe right here.
---
Oma says,
Does your budget say "too expensive" to make these German rouladen often? Want something a bit easier for everyday?

Try my own flatladen recipe. Created by me for my boys. We ALL love it! Same great rouladen and gravy taste without all the work or expense.
---
What to Serve with Rouladen?
If you're wanting a traditional German rouladen dinner, there are several side dishes that are a MUST! Of course, there are other ones that also pair perfectly with rouladen and its fabulous gravy.
The Top 10 Side Dishes to serve with Rouladen are:
Click to see the rest of the Top 10 Side Dishes to serve with Rouladen.
---
Ready to make Rouladen?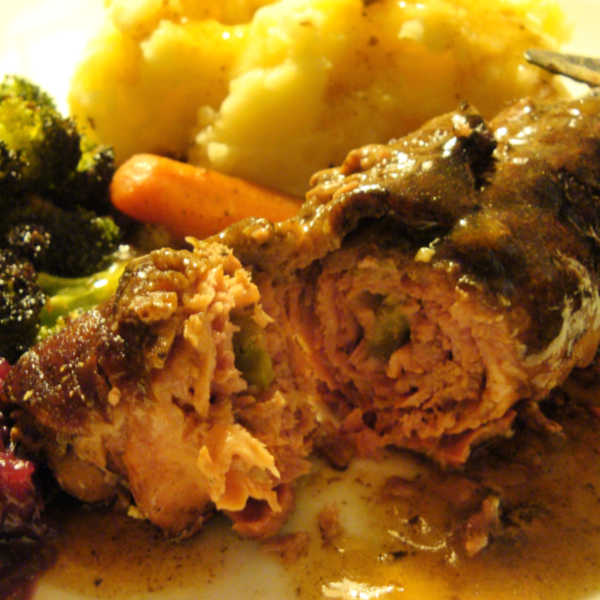 Oma's Beef Rouladen Recipe

This German beef Rouladen recipe, served with potato dumplings and red cabbage, is my most cherished German food from my childhood and still our very favorite.
What could be better than to serve this as your traditional German Christmas food or other holidays or birthdays ... or anytime you have something special to celebrate? What's better than to have a special feast meal that is actually quite easy to make?

Prep Time


30 minutes


Cook Time


2 hours


Total Time

2.5 hours

Servings:

Makes 6 servings

Ingredients:
6 slices top round (see hints below)
3 slices lean bacon
1 onion, sliced
3 garlic dill pickles, sliced
2 tablespoons butter
mustard, salt, pepper, cornstarch
1 - 2 cups water
Instructions:
Season beef slices with salt and freshly ground pepper. Thinly spread mustard on top of each slice.
Divide bacon, pickle, and onion slices on one end of each slice.
Roll up slices, tucking the ends in and securing with skewers, wooden cocktail picks, or thread.
Heat butter in skillet. Brown rouladen well on all sides. Do not crowd rouladen in skillet, or they will not brown nicely. Do in small batches if necessary. Add extra butter if needed.
Once all rouladen are well browned, add 1 to 2 cups of hot water, gently stirring up browned bits. Return all rouladen and any accumulated juices to skillet, bring to simmer and cover.
Simmer for about 1½ hours.
Remove rouladen. To thicken gravy, combine about 1 to 2 tablespoons cornstarch in a little cold water and stir gently into cooking liquid until slightly thickened.
Season gravy to taste with salt and freshly ground pepper. If you wish, add sour cream to the gravy.
Remove skewers, picks, or thread to serve rouladen with their gravy.
Notes/Hints:

Have the butcher cut beef top round into thin slices, about ⅜ inch thick. Each roulade should measure at least 6 inches by 4 inches. Gently pound meat until it is about ⅛ to ¼ inch thick. Be careful not to put holes in the meat. The larger the roulade, the easier it is to roll up. 
Some add pickles, others don't. Some add other vegetables, others minimize the fillings. Use Black Forest ham instead of bacon. 
If you're wanting to use your slow cooker, in step 5 put everything into the slow cooker and cook on high 3-4 hours or low 6-8 hours.
You can also make rouladen in your pressure cooker.
Take a look at What to Serve with Rouladen.
*  *  *  *  *

Unless otherwise noted recipe, images and content © Just like Oma | www.quick-german-recipes.com

03.11.2021 revision update
* * * * * 
Wanting to know about different cuts of beef? Check out this post.
* * * * *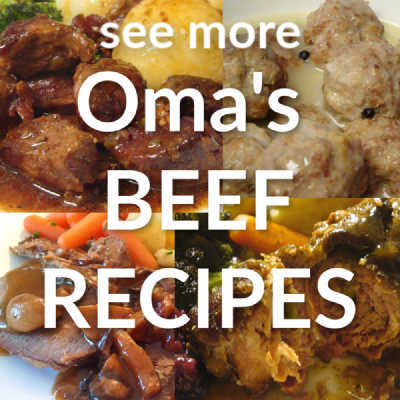 Leave a comment about this recipe or ask a question?

Pop right over to my private Facebook group, the Kaffeeklatschers. You'll find thousands of German foodies, all eager to help and to talk about all things German, especially these yummy foods. 
Meet with us around Oma's table, pull up a chair, grab a coffee and a piece of Apfelstrudel, and enjoy the visit.

Vanillekipferl are melt-in-your-mouth vanilla crescent cookies, similar to shortbread cookies made with ground almonds. Austrian & German traditional Christmas cookies!

Oma's Christmas Stollen is the BEST. Why? Because it's always moist, has a wonderful flavor using Greek yogurt (instead of Quark) and is super quick to make. And it's got Marzipan in it!!!

Oma's Lebkuchen recipe is SO easy. Made in one bowl, baked, decorated, & cut. It's authentic German gingerbread that smells like Christmas. The bars taste wunderBAR!
*  *  *  *  *
PIN to SAVE this recipe to your Pinterest board!
And let's be friends on Pinterest!
---
Oma's Beef Rouladen Recipe


By
Oma Gerhild Fulson
This German beef Rouladen recipe, served with potato dumplings and red cabbage, is my most cherished German food from my childhood and still our very favorite. Easy? Yes, even my granddaughter makes them!
Tags: gluten free

Yield:
4 - 6 servings

Ingredients:
top round beef,
bacon,
onion,
pickles,
butter,
mustard,
cornstarch,
seasonings,
For the full recipe, scroll up ...
Make every day a WORD-filled day!
"May the words of my mouth and the meditation of my heart be pleasing to you, O LORD, my Rock and my Redeemer."
Psalm 19:14 (NLT)
Looking for Bible Studies focused on women? Check out Positively Driven Christian!