Oma's Gulasch ~ How to Make Goulash
➤ by Oma Gerhild Fulson
Learn how to make goulash, aka Gulasch, the way Oma (that's me) makes it! It's one of my best beef recipes and it's similar to a Hungarian goulash recipe.
The main difference is that the Hungarian ones usually have potatoes added and the German ones don't. But, now-a-days, even that difference doesn't always exist. :) yet some argue about this!!!
For the full list of ingredients & detailed instructions, see the recipe card at the end of this post. But before you scroll, there's important & interesting stuff to know right below.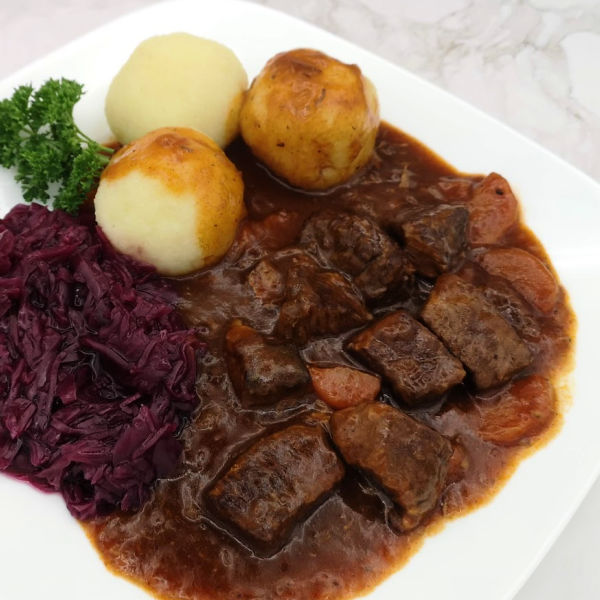 Instead of arguing over where goulash comes from, let's just enjoy it! And, it's so easy to make! REALLY!
Easy, because it's actually quite quick to put together. Once that's done, it's just a matter of waiting for it to cook to delicious tenderness, with the flavors amplified because of the browning process. This is German food at its best.
Where did goulash originate?
The name goulash originally comes from the Hungarian word "Gulyas" - meaning cowboy or herdsmen. Now, you may be wondering what this has to do with goulash, well here it will make sense.
While on cattle drives, the herdsmen would pick out the weaker cattle in the bunch and butcher them for stew. A stew similar to our German Gulasch!
This goulash is a fun recipe to make and because it's so easy, it's the perfect recipe to make with the grandkids. It can be very versatile as well. You can alter the spices to whichever you prefer, or add more veggies. Perhaps celery, or potatoes. 
This recipe is so comforting and heartwarming. Just imagine cozying up on the couch on a cold winters night with a hot bowl of goulash. Why keep imagining, go make Oma's goulash recipe now!
What to serve with your goulash:
A northern German tradition is to serve the goulash over boiled potatoes. In southern German, it's often served with Spätzle, a homemade noodle. Below, I've served it with creamed Brussels Sprouts, though many love this served over hot mashed potatoes as well.
This German cold weather favorite is perfect here in Canada during the cool autumn and freezing cold winters. At the top of the page, I've served it with potato dumplings and red cabbage. An absolute favorite at our house!

You'll see a difference between the two photos. The top one is more reddish, because I used more paprika and red wine. The one that isn't so red only has a bit of paprika, no red wine, and I didn't have tomato paste, so I made it without.
In fact, I didn't have carrots in it either. However, both tasted amazing. Just a bit different from each other, but amazing.
Use the method of how to make goulash I show you below and then you alter it according to your likes. You can add whatever your family loves ... veggies, peppers, extra spice.
Will this be traditional goulash? Nope. But, it will become a traditional dish for your family, one that they love.

There's something absolutely mouth-watering about having a German meat-and-potato dinner. Get Oma's revised collection of her favorites in German Meat Dishes.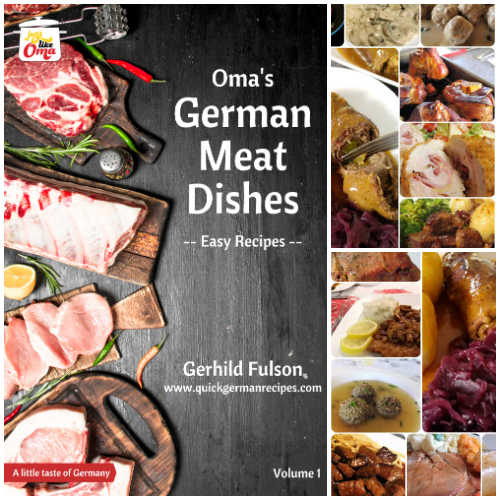 Take a peek at all Oma's eCookbooks. They make sharing your German heritage a delicious adventure!
Curious about the History of Goulash?
Hungarian or German? What's the connection between the two?
---
Lydia Remembers...
I have so many wunderbar memories in the kitchen with my Oma, and have had MANY of her most popular and traditional recipes, like this goulash. 
I remember Oma making it for my sister and me once during a sleepover weekend. We loved our sleepovers at Oma and Opa's growing up! It meant staying up late, outside adventures, and of course, lots of Oma's yummy snacks and dishes! 
We enjoyed our goulash served over mashed potatoes (my sister's favorite) as we all watched movies together. I recall making this recipe with Oma again when I was older, most likely for a family get-together. 
Everyone LOVES this goulash. With its tender buttery beef and bold flavors, how could you not love that! Let's not forget that it's super simple and made German...the best way! 
Learn a little bit about me, Lydia, and my kitchen adventures with Oma!
Oma's Secret to making amazing Goulash
Here's my secret to a delicious goulash:

It's really that simple. That's where the flavor starts. And then the onions, too. The darker, without getting black, the more flavor there is.
Make sure you stir up those browned bits at the bottom of the pan when you add the liquid. That's what will make that fabulous gravy taste so good. Wunderbar! Lecker!
Let's talk about leftovers!
Even though this recipe is oh-so delicious, it's hard to believe there could be any leftovers! But let's say you've made a huge pot of goulash for a family get together, and just don't know what to do with all your leftovers. No problem! Like most soups and stews, goulash will save just fine in the freezer.
Send your dinner guests home with a little doggie bag and let them know they can save their leftovers by freezing them. After all, some things really DO taste better the next day!
Ready to make Oma's Goulash?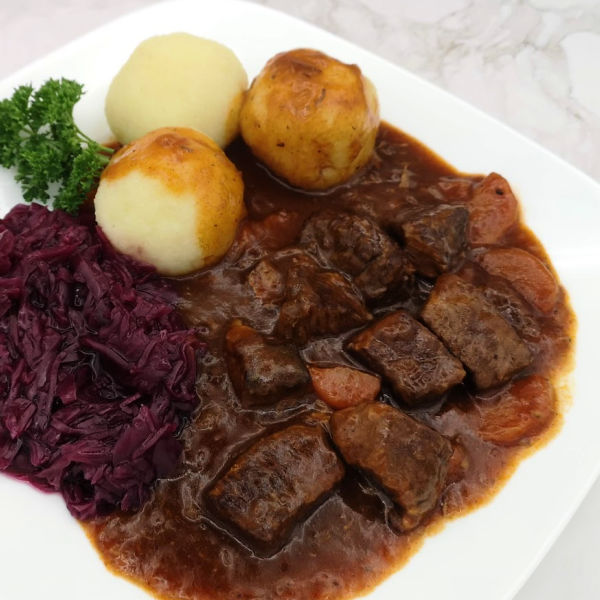 How to make Goulash - Oma's way!

Learn how to make goulash, aka Gulasch, the way Oma makes it. Similar to Hungarian goulash, the main difference being that the Hungarian usually has potatoes added and the German doesn't.
Now-a-days, even that difference doesn't always exist. :) yet some argue about this!!! Instead of arguing over where goulash comes from, let's just enjoy it! Oh, and do try my goulash soup as well!
Prep Time


10 minutes


Cook Time


105 minutes


Total Time

115 minutes

Servings:

This will make 4 - 6 servings.

Ingredients:
3 tablespoons butter or oil, more if needed
2 pounds boneless beef chuck or round steak, cut into approx ¾-inch cubes
3 - 4 onions, coarsely chopped

1 clove garlic, minced (optional)
1 tablespoon tomato paste
2 carrots, sliced
1 - 2 tablespoons sweet Hungarian paprika
1 cup red wine (or water)
2 cups beef broth (or bouillon cubes & water)
1 bay leaf
½ teaspoon each salt and pepper
3 tablespoons cornstarch
Instructions:
In a large pan, brown the beef in two batches in the butter or oil over high heat, removing browned meat to a bowl.
Add onions and garlic (if using) and fry until translucent, about 5 minutes. Add extra butter/oil if needed. Stir in tomato paste and fry for about 1 minute.
Add remaining ingredients, stirring up the browned bits at the bottom of the pan, and add the browned beef.
Bring to boil. Reduce heat to simmer and cover.
Simmer for about 1½ hours or until meat is tender.
Mix cornstarch with a bit of cold water and stir in just as much as is needed to thicken to your liking.
Check seasoning and adjust as needed. Remove the bay leaf and serve.
Notes/Hints:

Add 1 pound green beans.
You can add the carrots after the goulash has simmered 45 minutes if you like it to have a bit more "texture".
1 tsp thyme is a nice addition.
You can add about 4 potatoes, cut into ½-inch cubes if you wish to make this more of a stew. Add it when you add the carrots.
Adding cayenne pepper gives a bit of spice. Or, try adding Montreal Steak Spice (totally non-German, but Opa and I like the 'kick' it gives!)
You can also use a slow cooker to make goulash. 
*  *  *  *  *

Unless otherwise noted recipe, images and content © Just like Oma | www.quick-german-recipes.com

06.27.2021 revision update
How to make Goulash in a Slow Cooker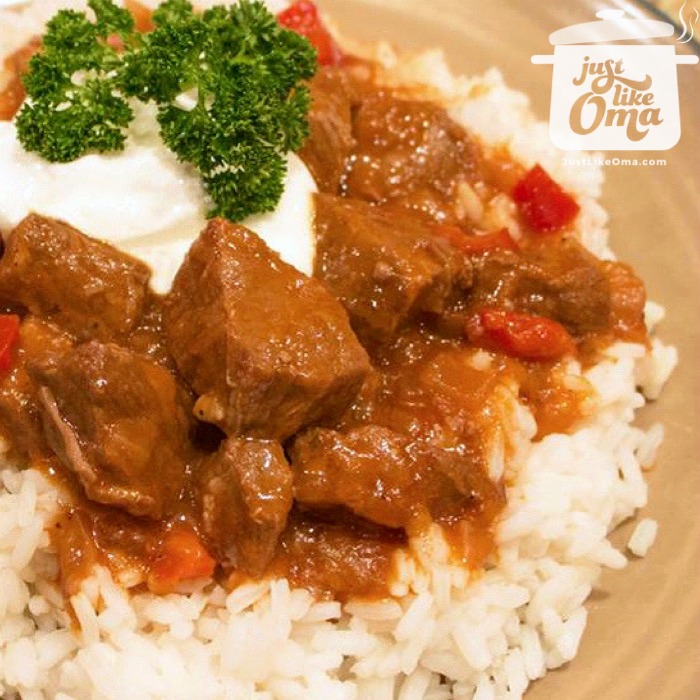 Here's a German goulash sent in by one of our readers, Anna Hanssen.
She uses a slow cooker to make this and it's also become a favorite on this site. 
Doesn't it look wunderbar!?!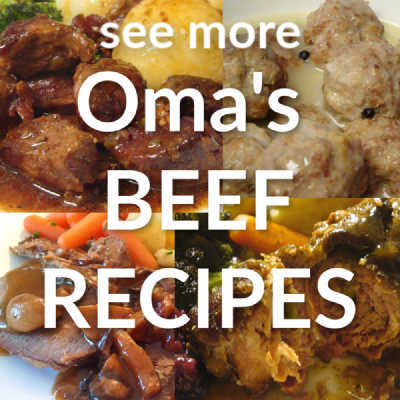 Leave a comment about this recipe or ask a question?

Pop right over to my private Facebook group, the Kaffeeklatschers. You'll find thousands of German foodies, all eager to help and to talk about all things German, especially these yummy foods. 
Meet with us around Oma's table, pull up a chair, grab a coffee and a piece of Apfelstrudel, and enjoy the visit.

Make this slow cooker roast beef and be amazed how much this tastes like rouladen WITHOUT the work. Same wonderful gravy, tender meat, and perfect for family and guests.

This German streusel fruit tart, Obstkuchen mit Streusel, uses either fresh or canned fruit, such as apricots, peaches, cherries. A delicious treat, just like Oma bakes.

German sauerkraut salad is so easy, delicious, and goes with almost anything. It's super healthy when made with your homemade sauerkraut that's so easy to make, as well.
*  *  *  *  *
PIN to SAVE this recipe to your Pinterest board!
And let's be friends on Pinterest!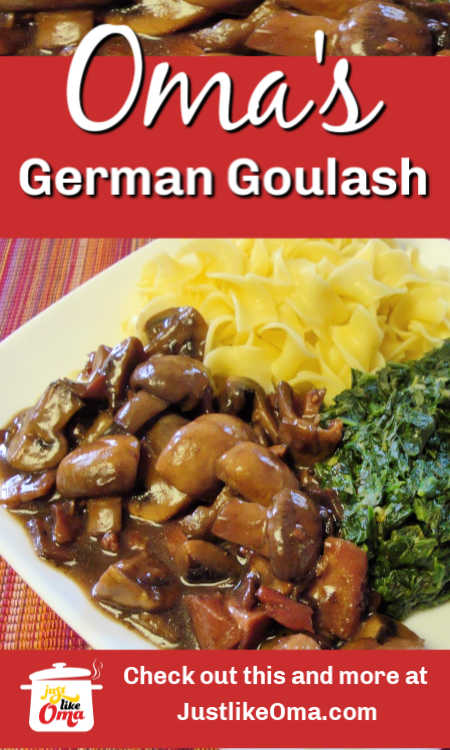 ---
Oma's Gulasch ~ How to Make Goulash


By
Oma Gerhild Fulson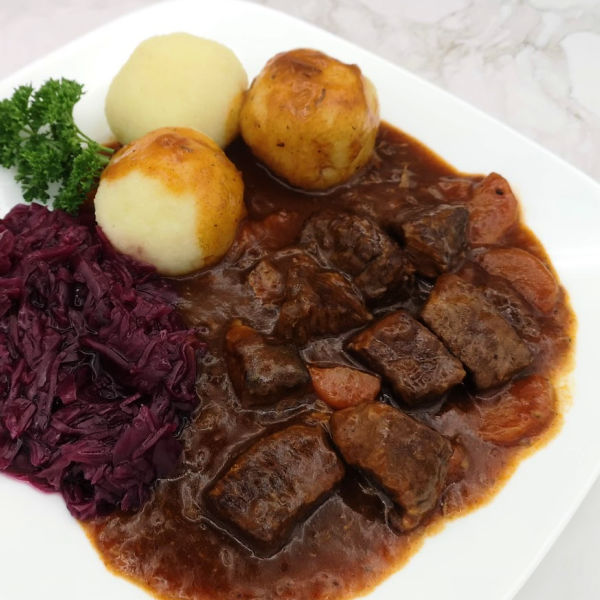 Wondering how to make goulash that tastes traditionally German? Here's my easy way to make this favorite. I'm sure it'll become yours as well. So LECKER!

Ingredients:
boneless beef chunk,
oil,
tomato paste,
onions,
garlic,
carrots,
wine,
broth,
cornstarch,
seasonings,
For the full recipe, scroll up ...
Words to the Wise
"Instruct the wise, and they will be even wiser. Teach the righteous, and they will learn even more."
Proverbs 9:9 (NLT)