Oma's Traditional Brötchen – German Bread Rolls Recipe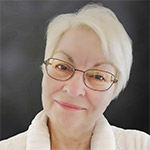 by: Gerhild Fulson  /  Cookbook Author, Blogger, German Oma!

This post may contain affiliate links, which means I'll receive a commission if you purchase through my links, at no extra cost to you. Please read full disclosure for more information.
Looking for a German bread rolls recipe that's reminiscent of the Brötchen you had in Germany?
Take a look at these tasty German bread rolls. They are so similar to Oma's!
Depending which part of Germany you are from, these are known by various names... Brötchen (a diminutive of Brot meaning bread), Semmel, Schrippe, Rundstück, or Weck, Weckle, Weckli, or Wecken.
However, they are all known for being WUNDERBAR! 
If there's one German food that's missed by almost everyone who has been in Germany and the one recipe that's always requested, it's this Brotchen recipe.
And, I've made it really easy by using my bread maker. Just 15 minutes prep time and ready in 3 hours. WUNDERBAR! Do check the IMPORTANT notices below before you start the recipe!!!
(Don't have a bread machine? Don't despair. You can use your electric mixer instead. Check out the recipe card below … I'll let you know what to do.)

IMPORTANT Bread Roll tip #1

:

Check the consistency of the dough after the first few minutes after the bread machine has mixed everything together and has started kneading it.

Depending on the consistency, one may need to add more flour, a tablespoon at a time, until the dough no longer sticks to the sides. 

The amount of flour depends on things like the brand, humidity, altitude, etc. Whenever I use the bread machine for any baking or dough-making, I always check every time. Sometimes extra is needed. Other times not.

When it's time for dinner, get traditional with Oma's favorite combinations. Get her collection in Oma's German Dinners, which include salads, soups, entrees, and desserts!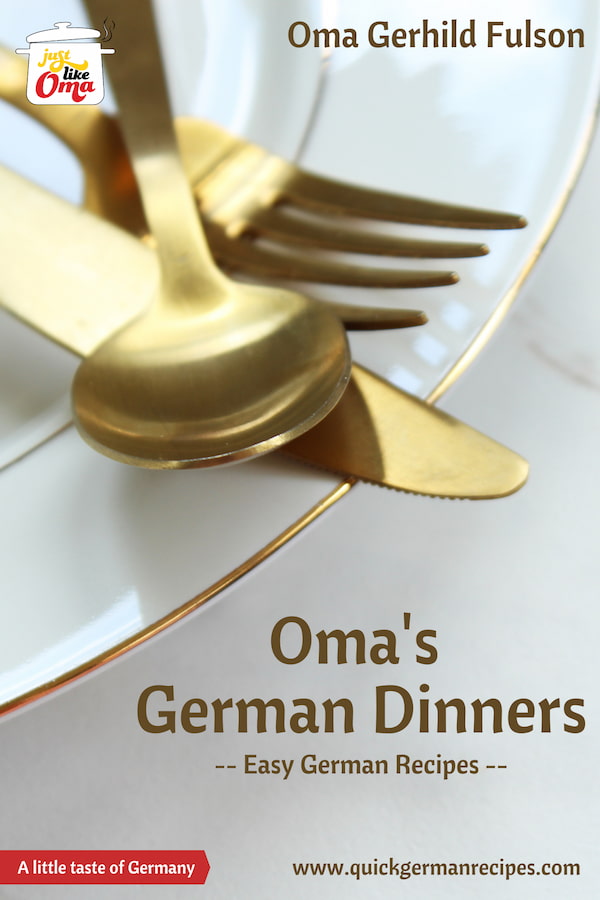 Take a peek at all Oma's eCookbooks. They make sharing your German heritage a delicious adventure!

IMPORTANT Bread Roll tip #2

:

Once the dough has risen, make sure your work surface is floured. If you've made artisan bread, you'll almost recognize the consistency of this rolls dough is similar. It's a very, very soft dough... it almost flows!

In order to make it into rolls, you'll need to keep extra flour handy. You do want to be gentle with the dough. Fold it over gently several times. Gently pull it into a long roll and divide dough into 12 equal pieces.

Now, on a floured counter, gently form each section into a ball - the typical bread roll shape. You'll need to keep your hands floured. Only add as little flour as you can to keep the ball from sticking.

To get a smooth dough, place a ball of dough into one hand. With the other, pull the outside edge and pinch into the middle. It's also possible to do it directly on the counter.

This takes a bit of practice, but, my, my. It is worth it!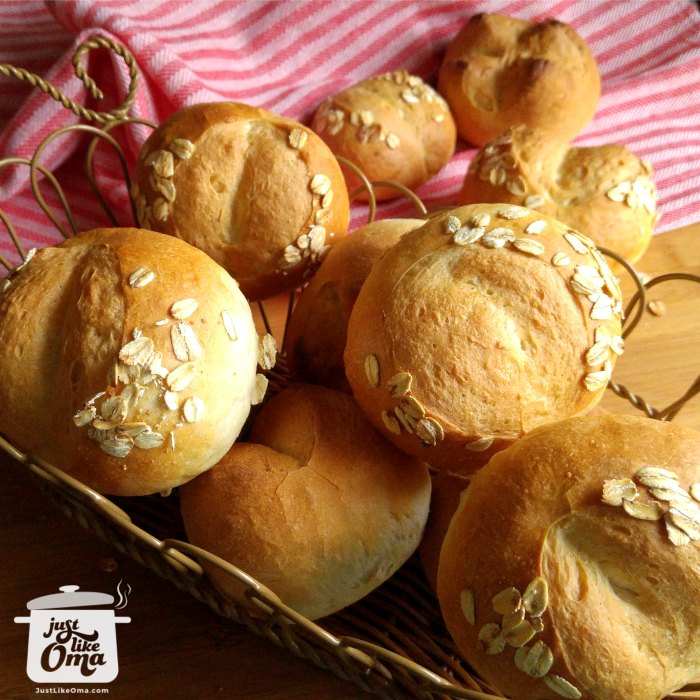 Are these German rolls identical to the ones you can get in Germany?

No, they are not identical. But they are great alternatives that taste so similar to us that we're happy.
Why are they different?

Part of the problem is that it is difficult to get the same kind of flour as is available in Germany. Then, in Germany, they often use fresh yeast. Something that is almost impossible to find elsewhere.

The other part of the problem is that making real German Brötchen is very time consuming. 
So, is it possible to make real Brötchen outside of Germany? Yes, with the right ingredients and time. However, for me, I wanted something that is so similar to what we had in Germany that is also practical to make at home. And quick. And wunderbar. And, this recipe is it. 
Really! That's why this deliciously simple bread rolls recipe is part of my quick and easy German recipes.
They really are that good! REALLY!
These have become hubby's favorite small crusty roll. He especially loves them with butter and jam for dessert!
If we're wanting a bit more 'crunch,' I make my Artisan Bread, that's so yummy too! And, actually, making that loaf of bread is even easier to make than this bread rolls recipe.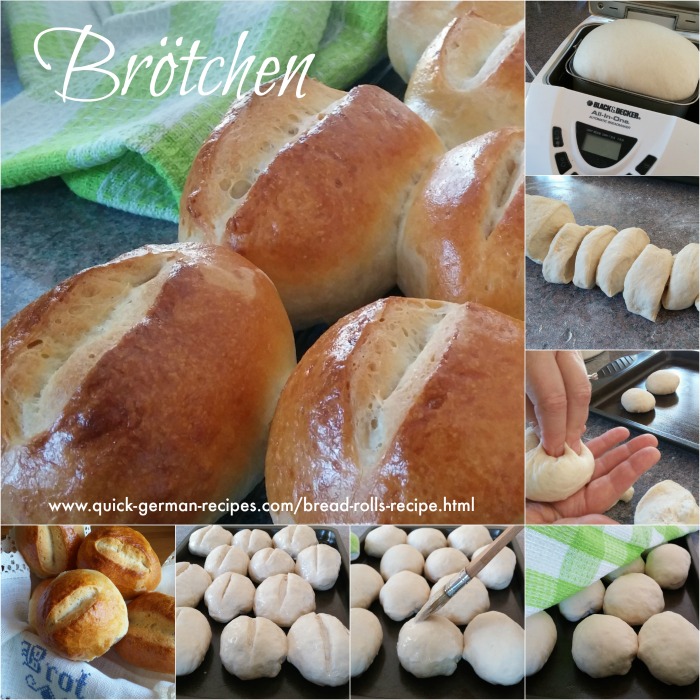 What to do with leftover Brotchen?
These German buns taste best fresh the same day they are made.
If you recall the ones you had in Germany, they didn't keep well till the next day. In fact later the same day, they no longer had that nice crisp crust. That's why fresh Brötchen were always bought every morning for breakfast!

However, if you have leftovers, you can spray them lightly with water and place in a 425°F oven for a few minutes and the crust will be crispy again.

Or, you can freeze them and then, once thawed, spray lightly with water and place in a 425°F oven for a few minutes as well.
That way, you can enjoy these even if they were not baked the same day. :)
Or, you can always make Bread Dumplings!
Ready to make these German Brotchen?
Is the recipe below locked? Here's why. 

Oma's Traditional Brötchen – German Bread Rolls Recipe
This simple Brötchen recipe (Brötchen is the German word for little bread) is very reminiscent of the German bread rolls from Germany. It's claimed that there are over a thousand different varieties of these little German breads throughout the different regions of Germany. They are all known for being WUNDERBAR!
The one I'm featuring here has an incredible crust, yet is moist and chewy inside. Since I like easy, I use my bread maker to make quick work of preparing the dough, but you can also prepare the dough using the spiral dough hooks of your electric mixer (See NOTES/HINTS below). The secret for the crispy crust? Egg whites and ice cubes!
Prep Time


3 hours


Bake Time


20 minutes


Total Time

3 hr 20 min

Servings:

Makes 12

Ingredients:
For the dough:
1¼ cups (300 milliliters) lukewarm water
2 egg whites
1 teaspoon (6 grams) salt
1½ teaspoon (6 grams) sugar
1 tablespoon (14 grams) soft butter (room temperature)
3½ cups (455 grams) all-purpose flour, plus extra if needed
1 tablespoon (10 grams) instant yeast

For the egg wash:
1 egg white 
2 tablespoons (30 milliliters) milk
For baking:
1 cup (about 150 grams) ice cubes
Instructions:
Prepare a cookie sheet by lining it with parchment paper.
Put all bread dough ingredients, starting with 3½ cups of the flour, into the bread machine pan. (Follow manufacturer's recommended order.)
Set the bread machine to the DOUGH setting. This will take about 1½ hours.
NOTE: After the first few minutes, check that the dough isn't sticking to the sides and has formed a ball. If the dough is sticking, add a tablespoon of flour and let it knead; gradually add more if needed. The dough will be tacky, but should come together without sticking to the pan. See the IMPORTANT note above the recipe.
When dough is ready, remove it from the bread machine.
Place dough on a lightly floured surface and gently fold it several times. The dough will be very soft. If it's too sticky, dust with a little more flour.
Form into a roll, about 12 to 16 inches long, and then cut into 12 equal parts.
Form each piece into a smooth ball by placing it into one hand. With the other fingers, pull up the outside edges and pinch into the middle several times, dusting fingers with flour if needed.
Place each of the small balls, seam side down, on the prepared baking sheet. Cover with a kitchen towel and let rise until doubled, about 45 minutes.
Fifteen minutes before baking, set oven temperature to 425 degrees F (218 degrees C). Place an empty baking tray on the bottom rack.
When oven is hot, gently brush rolls with egg wash (mix 1 egg white with 2 tablespoons milk). Cut a fairly deep slash in top of each roll with very sharp knife or lame blade.
Place rolls on the middle rack of the preheated oven and immediately place 1 cup of ice cubes on the hot baking sheet on the bottom rack of the oven.
Bake for 15 minutes, then carefully open oven door slightly to let any steam escape. Close the door and continue baking for another 3 to 5 minutes or until tops are golden brown.
Remove to a wire rack and let cool for about ½ hour before serving.
Notes/Hints for Making Without Bread Machine:

If you don't have a bread machine, you can make this bread rolls recipe with your mixer instead. When making yeast doughs, ingredients are usually added in a certain order. Since ingredients are added all at once to a bread machine, I mimic what the machine does and do the following:
Using my mixer with a dough hook, I put all the ingredients into the large mixing bowl, starting with the 3½ cups flour. Turn it on low for 2 minutes and then onto medium speed to knead for another 5 to 10 minutes until it no longer sticks to the side of the bowl and forms a ball.
Make sure the dough isn't too sticky. If it is, add one tablespoon of flour at a time. The dough should be a bit tacky. Cover with a kitchen towel and let it rise about 1 hour or until it has about doubled in size.
Continue with the above recipe from where the dough is removed from the bread machine.
More Notes/Hints :

The amount of flour depends on things like the brand, humidity, altitude, etc. Whenever I use the bread machine for any baking or dough-making, I always check the dough after the first few minutes of kneading to see if extra flour is needed. Sometimes it's needed, but other times not.
If desired, sprinkle the rolls with oats or seeds (such as poppy seeds, sesame seeds, or sunflower seeds) right after you brush them with the egg wash.
If you're adventuresome, you can add a bit of diastatic malt powder. Don't add more than 1 teaspoon though. This powder is considered the secret ingredient to promote a strong rise, great texture, and a lovely brown crust. However, if you add too much, things can get very sticky very quickly.
Another bread maker recipe? Try this rye bread recipe!
Unless otherwise noted recipe, images and content © Just like Oma | www.quick-german-recipes.com

* 03.14.2022 revision update
Leave a comment about this recipe or ask a question?

Pop right over to my private Facebook group, the Kaffeeklatschers. You'll find thousands of German foodies, all eager to help and to talk about all things German, especially these yummy foods. 
Meet with us around Oma's table, pull up a chair, grab a coffee and a piece of Apfelstrudel, and enjoy the visit.

Cooking just like Oma, making those German meals, is actually quite easy. Let me, Oma Gerhild, help you with my step-by-step methods to re-create those yummy meals you remember from your Oma.

If you're looking for tasty, traditional, and easy German cake recipes (in English) to try, then you've come to the right place! Check out these lecker treats!

Discover the ultimate German schnitzel recipe with Oma's quick and easy method - perfect for any occasion! Taste the authentic flavors of Germany today.
*  *  *  *  *
PIN to SAVE this recipe to your Pinterest board!
And let's be friends on Pinterest!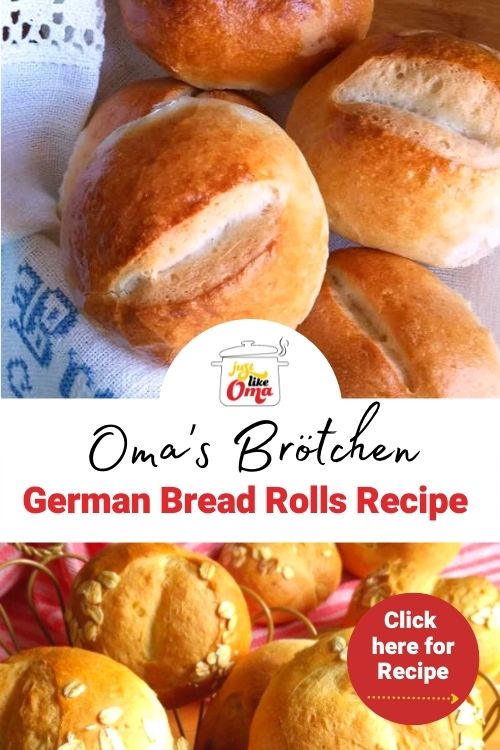 Words to the Wise
"The wise don't make a show of their knowledge, but fools broadcast their foolishness."
Proverbs 12:23 (NLT)