Oma's Grilled Grapefruit

➤ by Oma Gerhild Fulson
FTC Disclosure: Making a purchase via a link on the page? I may earn a small commission on the transaction - at no added cost to you. Thanks!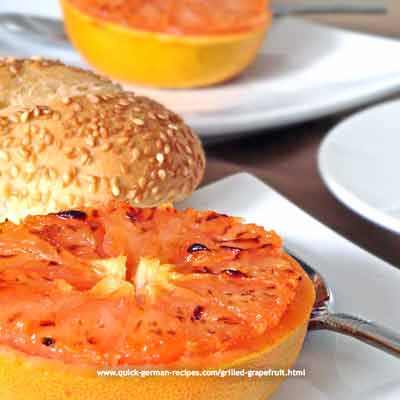 Yum
This easy grilled grapefruit, aka Gegrillte Grapefruit, is one of the quick breakfast recipes that's great for company. It also works as an appetizer for a brunch buffet. How German is this? Not really sure, but there are many variations of this in most of my German cookbooks. Why? Because it's so easy and delicious.
Need a garnish? Add a maraschino cherry on top! Although commonly called grapefruit in German, this delicious fruit is also known as Pampelmuse.

Oma's Grilled Grapefruit

Ingredients:
2 grapefruits
about 2 Tbsp butter
about 2 Tbsp granulated sugar (preferably coarse)
Instructions:
Preheat grill or broiler
Cut grapefruits in half. Using a grapefruit knife, release the fruit from the rind as much as possible without breaking through the rind.
Put pieces of butter on top of each half and sprinkle with sugar.
Grill or broil until sugar is melted and top is nicely browned, about 10 minutes. 
Serve immediately.
Serves 4.

Not only easy and delicious, but also nutritious! Full of vitamins and minerals and fiber, this is a great way to start the day or for an extra boost of energy any time. BUT, there is a caution! Make sure you loosed the fruit from the rind BEFORE you grill. Use a special grapefruit knife for this. It's very hard to do this once the grapefruit is grilled and hot.

If served as appetizers, use small grapefruits. One serving is half a grapefruit. If served for breakfast, make some scrambled eggs with bacon to go along side.
Oma says,
This appears to have been a 'fad' recipe from years ago. I must admit that I've not seen this on restaurant menus for years or shown online ... perhaps it's time to bring it back!
---
Oma's German Breakfast Recipes ❤️
*  *  *  *  *
Want nutritional information for a recipe?
Copy and paste the ingredient list and the number of servings into Calorie Count. 
It will give you an approximate calculation.

*  *  *  *  *
Need help doing conversions between cups and grams or any such thing?
Use this site to give you all the different conversions for the different types of ingredients. 
*  *  *  *  *
---
---
Words to the Wise
"Fire goes out without wood, and quarrels disappear when gossip stops."
Proverbs 26:20 (NLT)