Oma's Artisan Bread Recipe ~ Bauernbrot ❤️
➤ by Oma Gerhild Fulson
FTC Disclosure: As an Amazon Associate, I earn from qualifying purchases.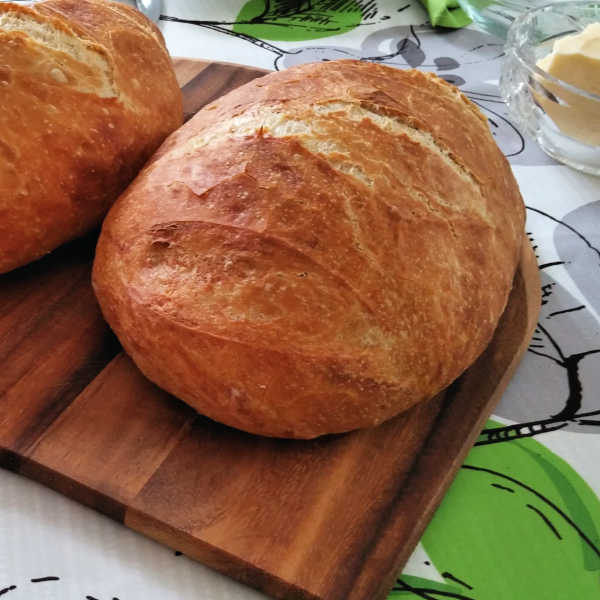 Unbelievable artisan bread recipe that's so simple that ANYONE can make it! What's really amazing is how this tastes like the fresh Brötchen we'd get at the bakery in Germany.
Wonderful crispy, thick crust. A real Bauernbrot! Chewy crumb that's so perfect for butter and jam. Wunderbar!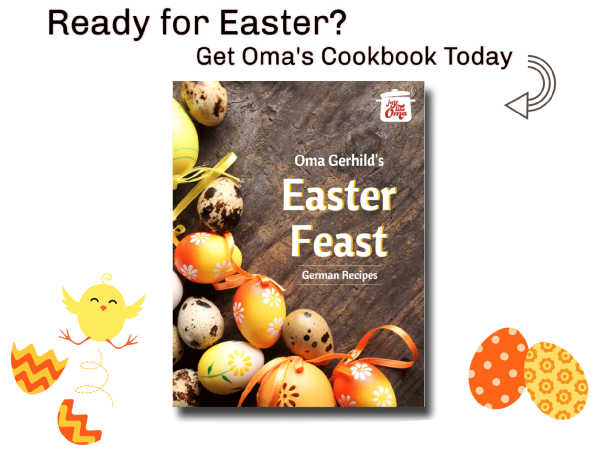 You'll enjoy your "German" bread! It's a hearty, rustic loaf that's so easy to make and to alter to your own tastes. 

Really! It's that simple. That's why it's part of these German recipes. It's that good! REALLY! It's also the no knead bread that is all the rage over the internet. 
You'll see this everywhere ... but mine's just a bit different and easier. 
Need a dutch oven? Check these out ...
> As an Amazon Associate, I earn from qualifying purchases.

A bit of this and a bit of that ...
This is a very easy bread to play around with. Try half whole wheat flour. Sprinkle with sesame seeds just before baking. Add some grated cheese. Add some herbs. Sprinkle with cornmeal.
Using all-purpose white flour will give a slightly more chewy crust and sour-dough flavor than using white bread flour. 
Oma's Tip to make this easier ...
The original recipe calls for letting the dough rise on flour-sprinkled counter, covered with plastic wrap or kitchen towel.
Then, to transfer it to the dutch oven, one needed to remove the plastic wrap or towel (which often stuck to it) and then gently lift the dough and drop it into the dutch oven.
Often, it would stick to the fingers or roll off awkwardly.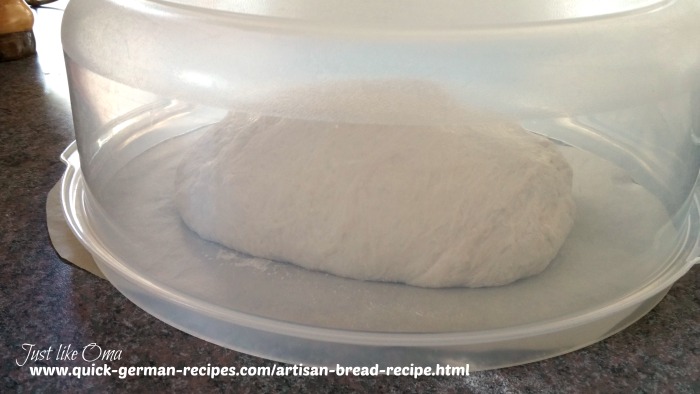 Now, I just put the dough onto the parchment paper first and let it rise covered with a large plastic bowl.
Then, using an oven mitt in one hand to lift it, and I place it into the dutch oven, the whole thing becomes so much easier and safer.

Note: Don't have a large plastic bowl? Then use loosely placed plastic wrap over the dough.
Making Greek yogurt and have some whey?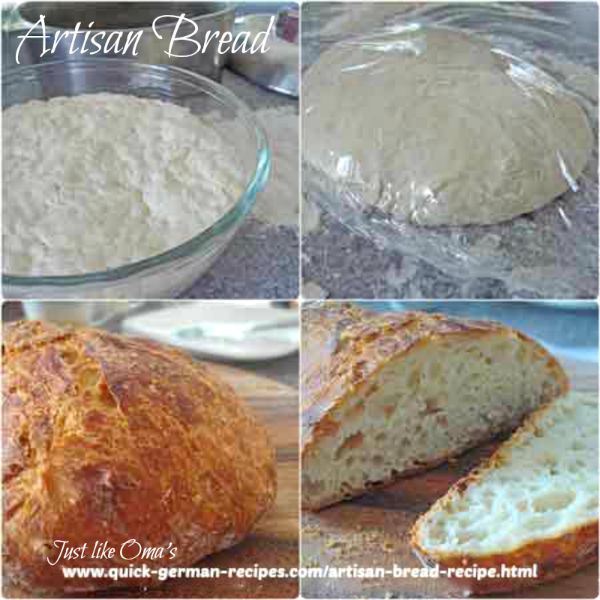 You see, I started to make Greek yogurt (and you can turn it into QUARK) and was throwing away the whey that was a by-product.
That is, until I came across this dutch oven bread, the artisan bread recipe, that's so popular. Yes, you can make this with water as normal.
But if you're like me, and have some leftover whey and my vegan friends aren't coming, the bread will be absolutely, unbelievably wonderful.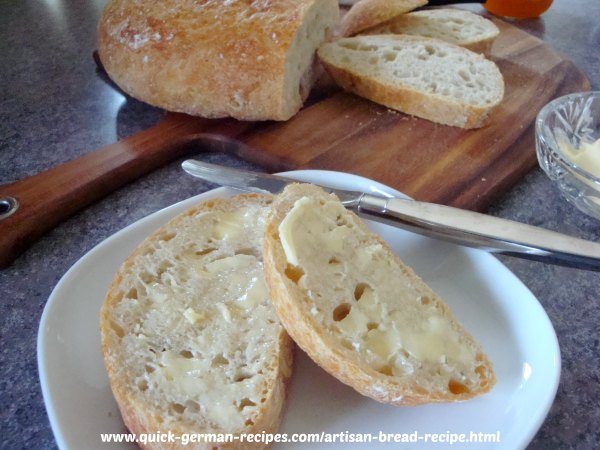 It really tastes like a sourdough-type of bread! Wunderbar!

The original recipe for this no knead artisan bread seems to come from Jim Lahey from Sullivan Street Bakery and was printed in the NY Times in 2006. Since then, this is pinned all over ... with slight variations.
Do give this a try. You won't be disappointed.
Don't have a Dutch oven?
The best choice for baking this is a Dutch oven because it's heavy and holds the heat better. However, if you don't have one yet, then don't despair. You can still make this by using a 6- to 8-quart heavy covered pot (cast iron, enamel, Pyrex or ceramic).
Just make sure your pot can withstand the 450° F heat.
Once you make your bread and realize how easy and delicious it is, you'll definitely be wanting to get that Dutch oven, to make it even better!
---
Oma says,
By the Way: The photo with the two loaves ... showing the all-purpose flour on the left and the bread flour on the right ... my favorite is the all-purpose flour one ... just a bit more chewy and sour-doughy. 
I love serving this along side a bowl of goulash soup.
Mind you, it would be great as a side to any bowl of soup. The crispy, thick crust and moist, chewy crumb are perfect for slathering with butter or dunking into the soup.
The first time I made this bread, my hubby's first words on tasting it were, "throw away the cookies, I'll have this instead!"
---
Another No Knead Bread?
Looking for a really healthy, really really healthy bread? Here's one I created many, many years ago. It has all the goodness you can incorporate. All the seeds and grains you like.
It's a sour-dough recipe ... and does take a bit of time ... but this is also so worth it. 
Oma's Artisan Bread Recipe
Ingredients:
3 cups all-purpose flour or bread flour
1½  tsp active dry yeast 
1½ cups warm water
1 tsp salt
extra flour for dusting
Instructions:

Mix the first four ingredients together in a large bowl with a wooden spoon or use your hands. The dough will be sticky and look a mess!
Cover the bowl tightly with plastic wrap. Let the bowl sit on the counter (at room temperature) for at least 12 hours and up to 18 hours. The dough will rise and the top will be bubbly and sticky.
Cut a piece of parchment paper to fit inside of dutch oven. Place paper on counter and sprinkle lightly with flour.
Lightly sprinkle flour on counter. Gently put the dough on it. Sprinkle a bit of flour on top and fold the dough over on itself twice, shaping it into an elongated ball.
Gently place onto parchment paper. Cover with a large bowl that doesn't touch the dough (see photo below).
Preheat the oven to 450°F and put your Dutch oven (see above) into the oven to heat for about 30 minutes.
Remove preheated dutch oven and, using oven mitts (see note above), gently lift parchment paper with dough  into it and cover with lid. Be careful ... use oven mitts! Return to oven.
Bake at 450° F for 30 minutes. Remove lid and continue baking for another 15 minutes or until bread is golden brown.
Remove to a rack and let cool for about 1 hour before slicing.

Want nutritional information? Copy and paste the above ingredient list and the number of servings into Calorie Count for an approximate calculation.
Need help doing conversions between cups and grams, etc.? Use this site to give you all the different conversions for the different types of ingredients. 
Leave a comment about this recipe or ask a question?
Pop right over to my private Facebook group, the Kaffeeklatschers. You'll find thousands of German foodies, all eager to help and to talk about all things German, especially these yummy foods. 
I pop in all the time as well, to chat and to answer questions. 
Meet with us around Oma's table, pull up a chair, grab a coffee and a piece of Apfelstrudel, and enjoy the visit.
*  *  *  *  *
Want nutritional information for a recipe?
Copy and paste the ingredient list and the number of servings into Calorie Count. 
It will give you an approximate calculation.

Need help doing conversions
between cups and grams or any such thing?
Use this site to give you all the different conversions for the different types of ingredients. 
---
PIN this ...
---
German Crumb Cake recipes (Streuselkuchen) are easy, delicious, quick, very traditional, and great for family and friends. Use any variety of fruit. I love using apples, & top with whipped cream!

Here's an easy Cherry Tart recipe with peaches that is covered in delicious butter streusel - a traditional German cake that's so easy to make.
---
Words to the Wise
"The wise don't make a show of their knowledge, but fools broadcast their foolishness."
Proverbs 12:23 (NLT)
---