Oma's Easy No-Knead Artisan Bread Recipe – German Krustenbrot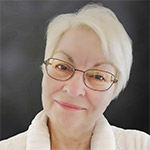 by: Gerhild Fulson  /  Cookbook Author, Blogger, German Oma!

This post may contain affiliate links, which means I'll receive a commission if you purchase through my links, at no extra cost to you. Please read full disclosure for more information.
This unbelievably easy no knead artisan bread recipe is so simple that ANYONE can make it! What's really amazing is how it tastes like the fresh Brötchen we'd get at the bakery in Germany.
It has a deliciously thick and crispy crust. A real Bauernbrot! Or depending on where in Germany you are, you might call this a Krustenbrot.
And, let's not forget the chewy crumb with large holes that's so perfect for butter and jam. Wunderbar!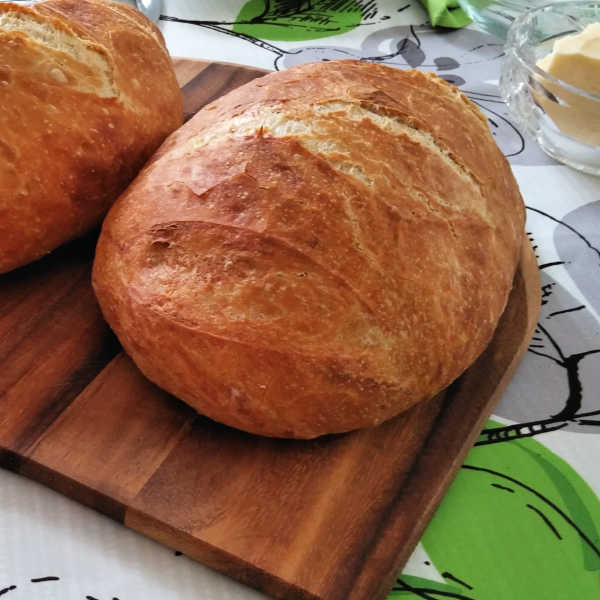 Getting ready to slice into this warm-from-the-oven loaf of homemade artisan bread.
The first time I made this bread, my hubby's first words on tasting it were, "throw away the cookies, I'll have this instead!" That's why this no-knead artisanal Krustenbrot is part of my quick and easy German recipes. It's that good! REALLY!
What is artisan bread?
Artisan bread is a homemade crusty bread with a rustic appearance (meaning it is not shaped by a loaf pan) and is made with 4 simple ingredients: flour, water, yeast, and salt.
It is a little strange that such a simple recipe that requires very little effort would be called artisan bread since the definition of an artisan is a skilled worker.
Perhaps it's because it looks and tastes as though it was made by a master baker!
Speaking of which, the original recipe for no-knead artisan bread seems to come from bread baker Jim Lahey from Sullivan Street Bakery which was published in the New York Times in 2006.
It's been a huge hit ever since; you'll see recipes for this everywhere… but mine's just a bit different and easier.
Do give this a try. You won't be disappointed.
How to make my no-knead artisan bread recipe

Start by mixing 3 cups of flour, 1½ tsp active dry yeast, 1½ cups warm water, and 1 tsp salt together in a large mixing bowl. You will end up with a shaggy dough - it will be sticky and look a mess!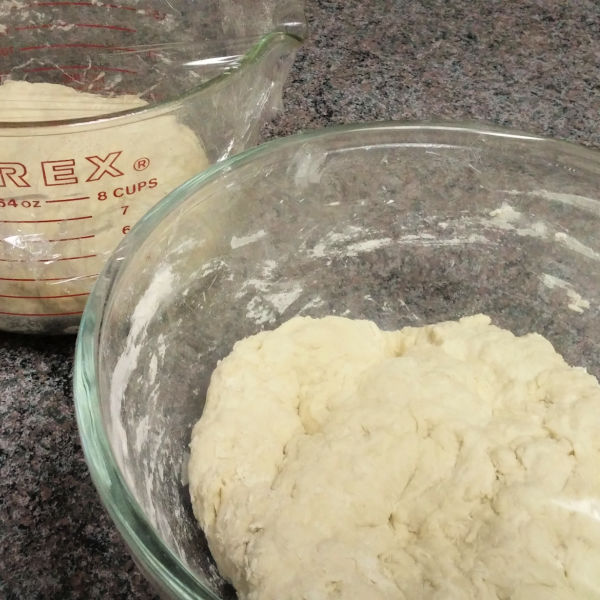 Here, I'm making one batch with all-purpose flour and the other with bread flour to check out the differences in the finished loaf.
(BTW, the final result was that both were yummy, but we preferred the all-purpose flour. The texture is just a bit more chewy, and I find it tastes more like sourdough.)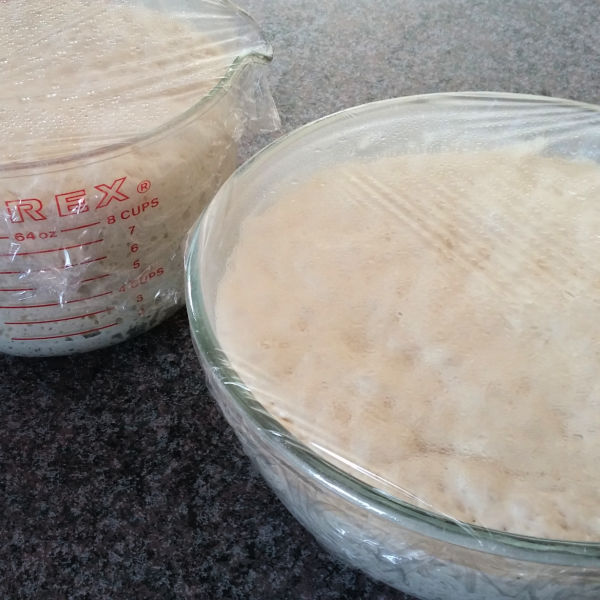 Then cover the bowl tightly with a piece of plastic wrap and let the bowl sit out on the kitchen counter for 12 to 18 hours for the bread dough to rise. The top of the dough will be bubbly and sticky.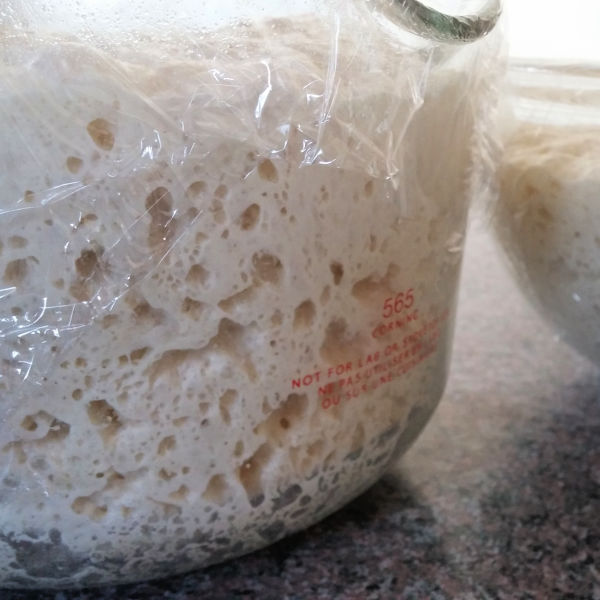 Just look at all the air bubbles in the dough!
Once the dough is ready, cut a piece of parchment paper to line the inside of a Dutch oven (or 6- to 8-quart heavy covered pot). Place the parchment paper on the counter and dust lightly with flour.
Sprinkle additional flour over your work surface and gently place the sticky dough on it. Sprinkle a little bit of flour on top of the dough and fold it over on itself twice, shaping it into a round ball that is slightly elongated.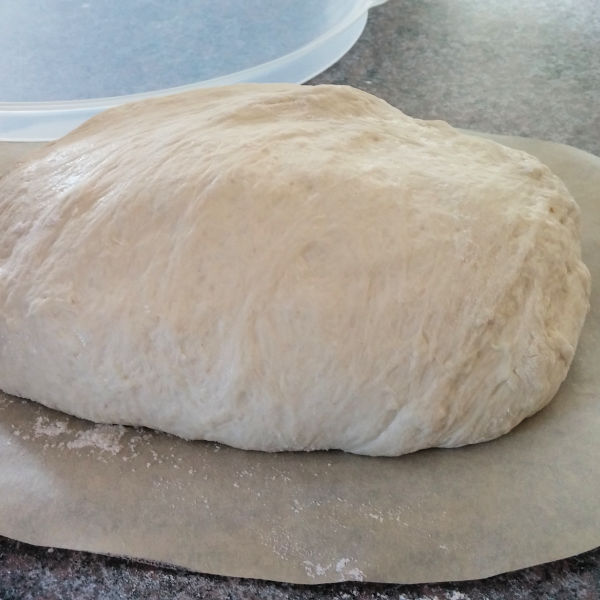 Gently place dough ball onto floured parchment paper. Cover with a large bowl that doesn't touch the dough (see Oma's Tip below) and let the dough rest while your oven preheats.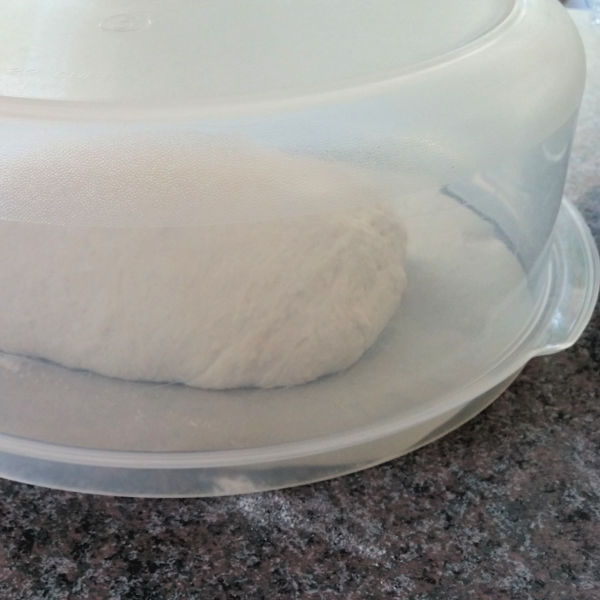 Preheat your oven to 450 degrees F and put your Dutch oven with the lid into it to heat for 30 minutes.
Then slash the top of the bread dough with a sharp knife.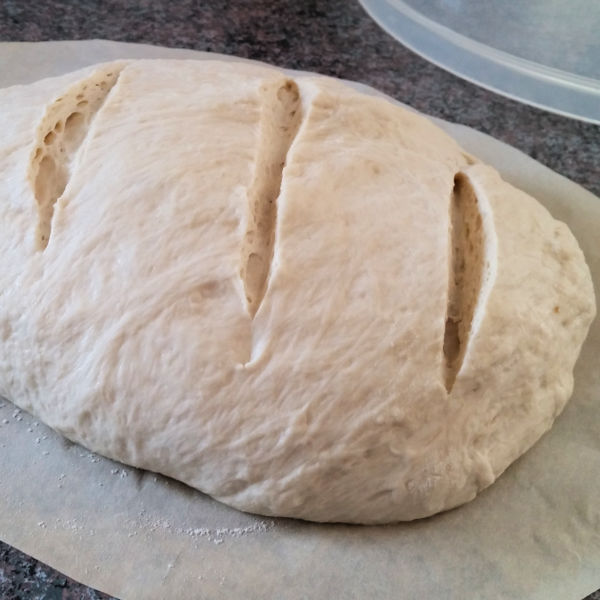 Now remove the preheated Dutch oven from the oven, and, very carefully, gently lift the parchment paper with the dough on it into the hot pot and cover it with the lid. Be sure to use oven mitts for this – you do not want to burn your hands!
Return immediately to the oven and bake for 30 minutes. Remove the lid and bake for another 15 minutes until the nice crisp crust is a lovely golden brown.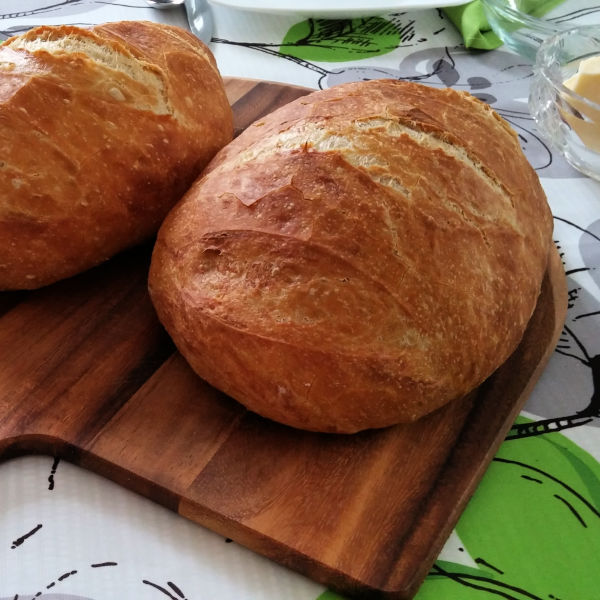 Remove the Dutch oven to a wire rack to cool and wait about one hour before slicing.
Enjoy!
Oma's Tip
The original recipe calls for letting the dough rise on a flour-sprinkled counter, covered with plastic wrap or kitchen towel.
Then, to transfer it to the Dutch oven, one needed to remove the plastic wrap or towel (which often stuck to it) and then gently lift the dough and drop it into the Dutch oven.
Often, it would stick to the fingers or roll off awkwardly.
Now I just put the dough onto the parchment paper first and let it rise covered with a large plastic bowl.
Then, using an oven mitt in one hand to lift it, I place it into the hot Dutch oven. The whole thing becomes so much easier and safer.
Note: Don't have a large plastic bowl? Then use loosely placed plastic wrap over the dough.
Below, I cut a BBQ grill mat to the size of my Dutch oven and covered it with my glass cake dome (just because it was handy).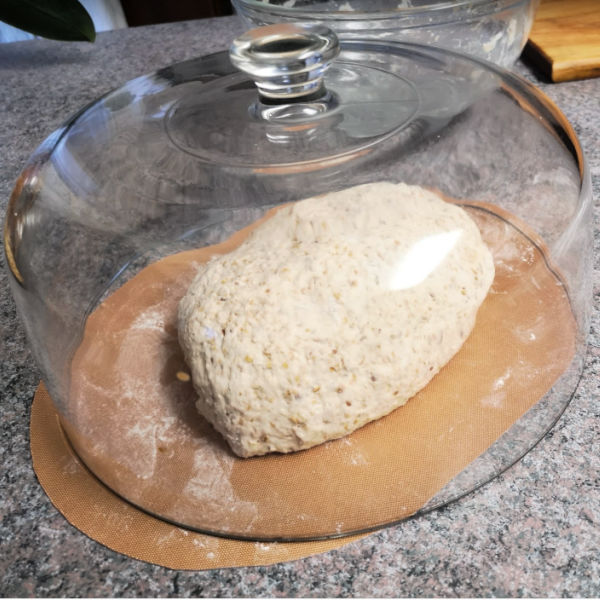 Don't have a Dutch oven?

The best choice for baking this artisan bread recipe is a Dutch oven because it's heavy and holds the heat better. However, if you don't have one yet, then don't despair. You can still make this by using a 6- to 8-quart heavy covered pot (enamel, Pyrex, ceramic, or cast iron pot).
Just make sure your pot can withstand the 450°F heat.
Once you make your bread and realize how easy and delicious it is, you'll definitely be wanting to get that Dutch oven to make it even better!
A bit of this and a bit of that...

There are many ways to enjoy this delicious German-tasting bread! This is a very easy bread recipe to play around with. Try adding a little bit of this or a little bit of that to alter the recipe to your own tastes. German food at its best!
Replace half of the flour with whole wheat flour.
Sprinkle the top of the dough with sesame seeds just before baking.
Mix in some grated cheese, a little bit of minced garlic, and/or some chopped fresh herbs.
Sprinkle with cornmeal.
Oma says:

Instead of water, you can use whey that's leftover from making Greek yogurt.
You see, I used my Greek yogurt maker to make my own homemade Quark and was throwing away the whey that was a by-product.
That is, until I came across this artisan bread recipe that's so popular and decided to try adding the whey instead of water. The bread turned out absolutely, unbelievably wonderful.
So now if I have some leftover whey and my vegan friends aren't coming over, I prefer using the whey.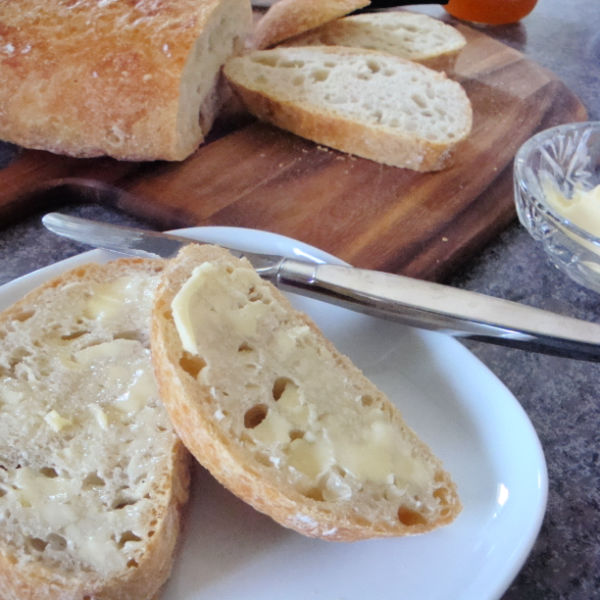 Sliced and buttered!
It really tastes like a sourdough-type of bread! Wunderbar!
Need that "all's good with the world" feeling? Comfort food will do that. Get your copy of Oma's German favorites in her Comfort Foods e-Cookbook.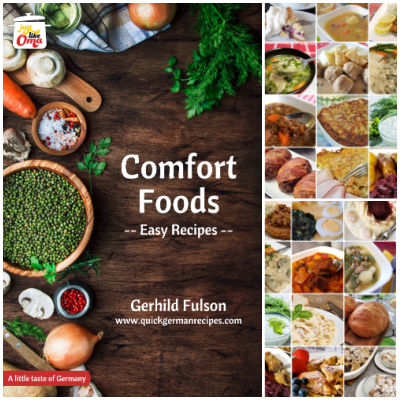 Take a peek at all Oma's eCookbooks. They make sharing your German heritage a delicious adventure!
What to eat with artisan bread
I love serving this hearty bread alongside a bowl of goulash soup. Mind you, it would be great as a side to any bowl of homemade German soup. The crispy, thick crust and moist, chewy crumb are perfect for slathering with butter and dunking into soup.
It is fantastic as a sandwich bread. Try it with your favorite sandwich fillings or try it with my delicious egg salad or tuna salad. It also makes a wonderful grilled cheese sandwich.
Use it to make garlic bread and serve with your favorite pasta or other dish. 
It's so good dunked into a creamy dip, like Roswitha's super quick and delicious blue cheese dip or my super yummy spinach dip.

According to my daughter-in-law, Sylvie, this artisan bread is delicious slathered with hummus. Her easy hummus recipe is so quick to make, and it's becoming wildly popular in Germany. Try it. I think you'll like it too!

Want another delicious no knead bread recipe?
Are you looking for a really really healthy bread recipe? Well, look no further! Here's one I created many, many years ago.
It has all the goodness you can incorporate. All the seeds and grains you like. Just take a look at this delicious goodness!
It's a sourdough recipe, and while it is an easy recipe, it does take a bit of time, but it is also so worth it.
It is incredibly hearty, perfect slathered with butter (or any of your favorite bread toppings) or used as sandwich bread.
So, give it a try after you try my artisan bread recipe. I think you'll find it so easy that it will became a staple in your house as well.
More German bread recipes

If you love homemade bread, here's a list of other great recipes to try. As usual, they are easy to make and delicious!
Ready to make Oma's artisan bread?
Is the recipe below locked? Here's why.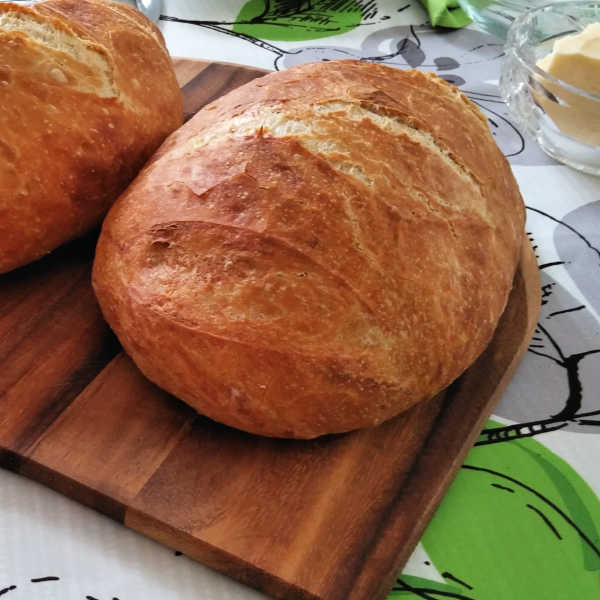 Oma's Easy No-Knead Artisan Bread Recipe – German Krustenbrot
This unbelievable artisan bread recipe (a real Bauernbrot or Krustenbrot!) is so simple that ANYONE can make it! What's really amazing is how this tastes like the fresh Brötchen we'd get at the bakery in Germany. It's a krustenbrot that fits perfectly for Kaffeeklatsch (coffee time) with butter and jam or cheese. It's also right at home beside a bowl of soup or with cold cuts.
With its wonderful crispy, thick crust (after all, krustenbrot translates as crust bread) and a chewy crumb, you'll be proud to say, "I made it all by myself!"
Prep Time


10 minutes


Bake Time


45 minutes


Total Time

55 minutes + 18 hours rise time

Servings:

Makes 1 loaf

Ingredients:
3 cups (390 grams) all-purpose flour or bread flour
1½ teaspoons (5 grams) active dry yeast 
1½ cups (360 milliliters) warm water
1 teaspoon (6 grams) salt
extra flour for dusting
Instructions:
Mix the first four ingredients together in a large bowl with a wooden spoon or use your hands. The dough will be sticky and look a mess!
Cover bowl tightly with plastic wrap. Let the bowl sit on the counter (at room temperature) for at least 12 hours and up to 18 hours. The dough will rise and the top will be bubbly and sticky.
Cut a piece of parchment paper to fit inside of Dutch oven. Place paper on counter and sprinkle lightly with flour.
Lightly sprinkle flour on counter. Gently put the dough on it. Sprinkle a bit of flour on top and fold the dough over on itself twice, shaping it into an elongated ball.
Gently place onto parchment paper. Cover with a large bowl that doesn't touch the dough.
Preheat the oven to 450°F (230°C) and put your Dutch oven into the oven to heat for about 30 minutes.
Slash the top of the dough with a sharp knife or lame blade.
Remove preheated Dutch oven and, using oven mitts, gently lift parchment paper with dough into it and cover with lid. Be careful ... use oven mitts! Return to oven.
Bake at 450°F for 30 minutes. Remove lid and continue baking for another 15 minutes or until bread is golden brown.
Remove to a cooling rack and let cool for about 1 hour before slicing.
Notes/Hints:

Try half whole wheat flour. Sprinkle with sesame seeds just before baking. Add some grated cheese. Add some herbs. Sprinkle with cornmeal.
Using all-purpose white flour will give a slightly more chewy crust and sourdough flavor than using white bread flour.
Looking for another easy bread recipe? no-knead sourdough bread!
*  *  *  *  *

Unless otherwise noted recipe, images and content © Just like Oma | www.quick-german-recipes.com

07.14.2022 revision update
Leave a comment about this recipe or ask a question?

Pop right over to my private Facebook group, the Kaffeeklatschers. You'll find thousands of German foodies, all eager to help and to talk about all things German, especially these yummy foods. 
Meet with us around Oma's table, pull up a chair, grab a coffee and a piece of Apfelstrudel, and enjoy the visit.

Cooking just like Oma, making those German meals, is actually quite easy. Let me, Oma Gerhild, help you with my step-by-step methods to re-create those yummy meals you remember from your Oma.

If you're looking for tasty, traditional, and easy German cake recipes (in English) to try, then you've come to the right place! Check out these lecker treats!

Discover the ultimate German schnitzel recipe with Oma's quick and easy method - perfect for any occasion! Taste the authentic flavors of Germany today.
*  *  *  *  *
PIN to SAVE this recipe to your Pinterest board!
And let's be friends on Pinterest!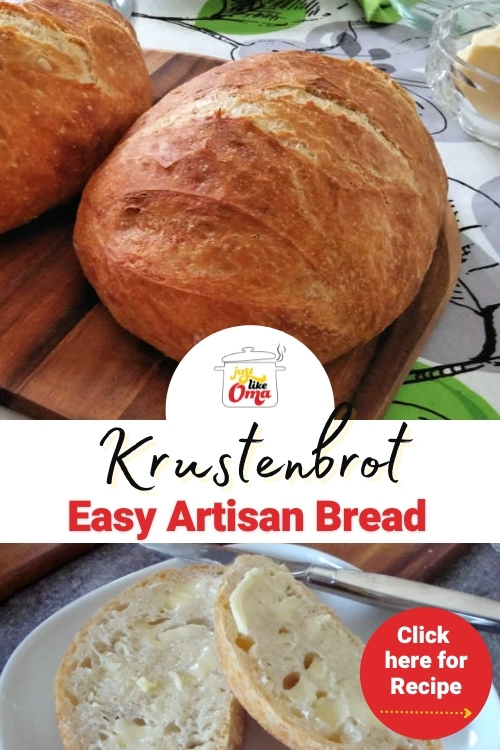 ---
Oma's Easy Artisan Bread Recipe ~ Krustenbrot
By
Oma Gerhild Fulson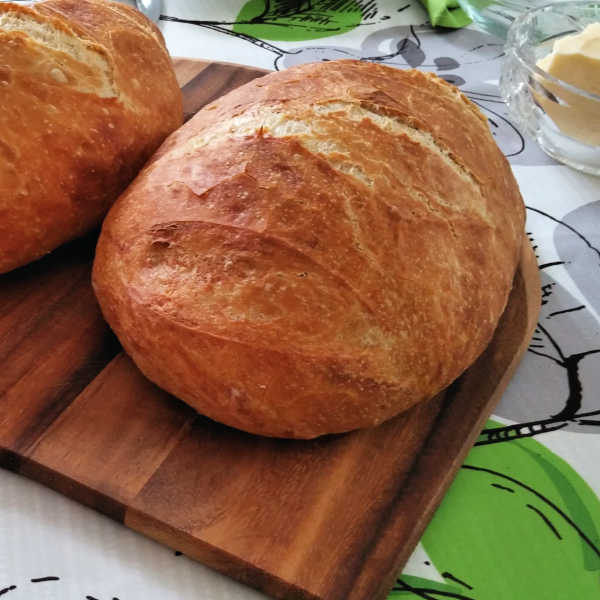 Unbelievable artisan bread recipe that's so simple that ANYONE can make it! Really! It's that simple. It's what I make when I get a craving for Brötchen!
Ingredients:
flour,
yeast,
water,
salt,
For the full recipe, scroll up ...
Words to the Wise
"The wise don't make a show of their knowledge, but fools broadcast their foolishness."
Proverbs 12:23 (NLT)
---