Oma's Homemade Quark Cheese❤️
➤ by Oma Gerhild Fulson
FTC Disclosure: As an Amazon Associate I earn from qualifying purchases.
Making homemade quark is about the only way you can enjoy German treat in many parts of the world. Why? Because, quark is often not available to buy outside of Germany. But, you'll find it so easy to make. In fact, I'll show you two methods to make it. Both ways are inexpensive as well :)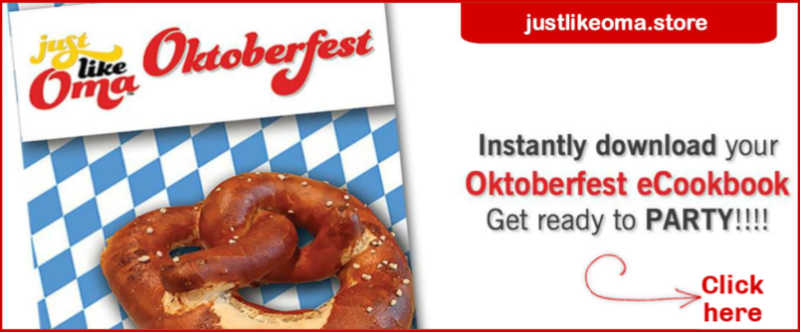 Quark is usually a fermented milk product, classified as a fresh cheese, similar to sour cream and yogurt, yet different! Delicious and required in so many German recipes.
Here's what I use to make Quark Cheese ... a Greek Yogurt Maker. 
Not only will this make wonderful creamy Greek yogurt, but when you use buttermilk, you end up with ...
wonderful QUARK!
Really. It's that easy. 
Quark that you can use to make German cheesecake or layer in a bowl with honey and fruit for dessert.
Then there's Quarkkuchen ... so click on the photo to take a peek. 

My favorite way of making Quark
I like using my Dash Greek Yogurt Maker. It's such an easy way to make, not only Greek yogurt, but also Quark ... and definitely worth the cost of buying!
Buttermilk costs less than $2.50 per quart here and makes about 1¾ - 2 cups quark.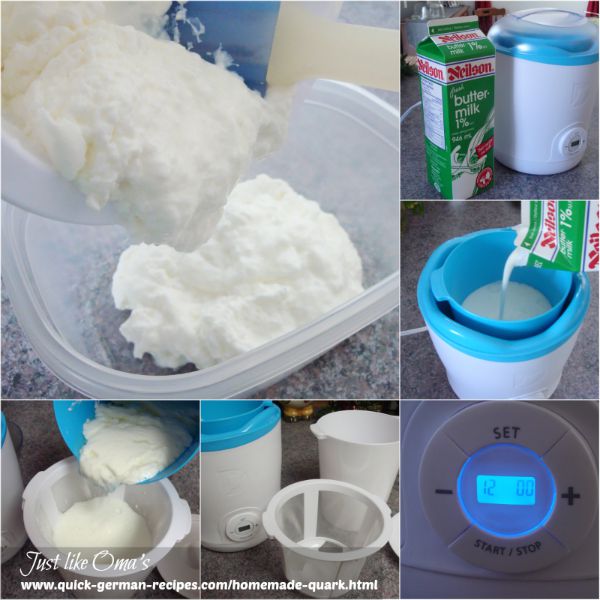 Or, you can use your oven ...

One of our readers and Facebook fans, Carmen McDermott, passed on these important tips regarding making your own quark using the oven method:
Always ensure your buttermilk has active culture.
Preheat your oven at its absolute lowest setting, turn on oven light and then let cool slightly. (At my oven's lowest setting of 150°F, that means about 20 minutes).
Wrap your lidded casserole dish in a thick bath towel and keep in oven for 6-8 hours, with only the oven light on (and the oven turned off!)
Strain quark through cheesecloth to desired consistency.
Carmen says that she's used this method at least a dozen times and it has never failed her.
Using Your Homemade Quark Cheese
Mix a bit of honey into it and serve it with your muesli or cereal
Top a baked potato with it, sprinkle chives over and a bit of flax oil
Use it instead of yogurt or sour cream in your salads, such as cucumber salad
Mix together with honey and berries for dessert
Use in baking that traditional German cheesecake!

Oma says,
Oftentimes, for recipes on this website that normally use quark, I've substituted other variations. Sometimes it's a mix of ricotta and sour cream. Other times, it's using drained Greek yogurt. But, using the real-deal, the real Quark, is the best!
Ready to make some Quark?

1.  Quark using a Greek Yogurt Maker ...❤️
Ingredients:
1 quart buttermilk (4 cups)
Instructions:
Pour buttermilk into Greek Yogurt Maker container. Cover and set for 12 hour incubation.
Pour into sieve set into other container to drain in fridge for about 6 hours (catching whey to use for artisan bread!).
Store the quark in a covered container in the fridge.

2.  Quark using the oven ... if the temp will go low enough!
Ingredients:
1 quart buttermilk (4 cups)
Instructions:
Pour buttermilk into a large casserole. Cover with lid.
Put covered casserole into oven and turn on to no more than 150°F. Leave it there at least 8 hours or overnight.
Line a large sieve with a clean cloth. Pour the 'cultured' buttermilk into it. Let it sit to drain in the fridge for about 6 hours. Use the whey to make artisan bread!
Store the quark in a covered container in the fridge.
NOTE: do not attempt to do this unless you KNOW your oven will stay at less than 150°F. If it gets too warm, the culture will die ... and no quark!

If you've been making quark in a different way, do let me know. I know there are ways of making this with rennet and whole milk, but I have yet to find someone who actually has made it this way.
I only like to promote recipes that I know have been used successfully. So, if you have one, do let me know! I'd love to share it here with others as well. 
Leave a comment about this recipe or ask a question?
Pop right over to my private Facebook group, the Kaffeeklatschers. You'll find thousands of German foodies, all eager to help and to talk about all things German, especially these yummy foods. 
I pop in all the time as well, to chat and to answer questions. 
Meet with us around Oma's table, pull up a chair, grab a coffee and a piece of Apfelstrudel, and enjoy the visit.
*  *  *  *  *
Want nutritional information for a recipe?
Copy and paste the ingredient list and the number of servings into Calorie Count. 
It will give you an approximate calculation.

Need help doing conversions
between cups and grams or any such thing?
Use this site to give you all the different conversions for the different types of ingredients. 
---
PIN this ...

---
Schwenkbraten recipe that has been a delish hit an alle familien & freunde... Total Approx. Time: Prep: 15 min. + Marinating 8 hrs min. + Grill: 15 min.

My Oma made this cake every Christmas. She iced it with a white frosting that ran down the sides. She decorated it with little silver balls (candy). It
---
Words to the Wise
"The glory of the young is their strength; the gray hair of experience is the splendor of the old."
Proverbs 20:29 NLT
---
Oma's Homemade Quark Cheese❤️


By
Oma Gerhild Fulson
Your own homemade quark cheese is perfect for many German recipes. Easy to make, inexpensive, and delicious. Perfect for cheesecake! Wunderbar!

Yield:
2 cups

Ingredients:
1 quart buttermilk,
For the full recipe, scroll up ...