Oma's Easy Cheesecake Recipe ❤️

➤ by Oma Gerhild Fulson
FTC Disclosure: Making a purchase via a link on the page? I may earn a small commission on the transaction - at no added cost to you. Thanks!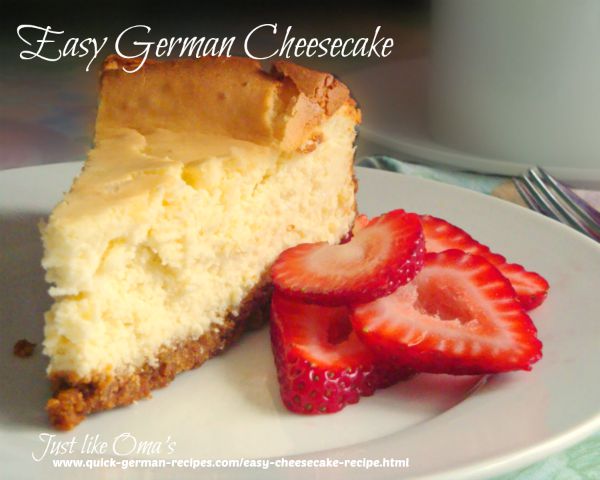 This easy cheesecake recipe, aka einfacher Käsekuchen, will certainly WOW your family! They'll love the moist and delicious flavor of this German cheesecake. Most recipes for cheesecakes in a German cookbook use QUARK as the main ingredient. This, unfortunately, is often not available outside of Germany. It's a type of cultured cheese, similar to cottage cheese, but different. (Check below for how to make quark at home.)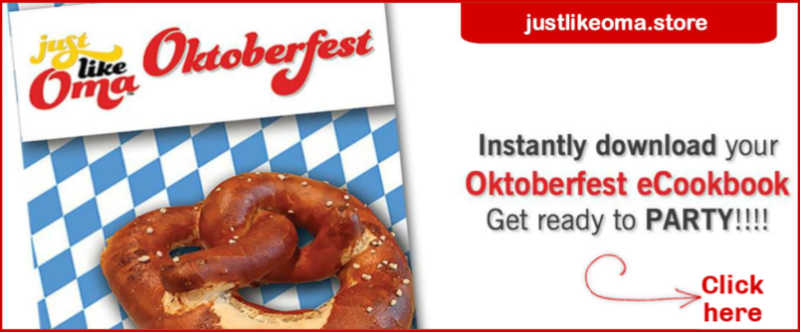 This recipe uses ricotta,  your mixer, and blender and you'll find this a great way how to make a cheesecake ... the easy way!

Easier Bottom Crust?
There are three options for the crust:
Use the recipe below.
Mix together 1¼ cups graham wafer crumbs and ⅛ cup melted butter. Press into bottom and a bit up the sides of the pan.
Crush about 7 oz butter cookies (Mr. Christie's Social Tea Biscuits) and mix in ⅓ cup melted butter.  Press into bottom and a bit up the sides of the pan.
For the photo above, I used the graham wafers. :)
Looking for a traditional German Cheesecake?
Well, the traditional one has quark in it. Outside of Germany it is difficult to buy quark. However, it is easy to make at home. Then, you can make your cheesecake the way you're used to. Click here to learn how to make quark!
As well, making quark is actually quite inexpensive, and it's great to have for so many recipes.
Ready to make this easy cheesecake? You can top it with fresh strawberries or a fruit sauce. It's absolutely wunderbar!
Oma's Easy Cheesecake Recipe ❤️

Ingredients:
PASTRY
2 cups all-purpose flour
½ cup butter
⅓ cup granulated sugar
1 egg
1 tsp vanilla extract
FILLING
2 lb ricotta
¼ cup sour cream
½ cup whipping cream
⅔ cup granulated sugar
zest of 1 lemon
1½ tsp vanilla extract
4 large eggs

Instructions:
PASTRY
Using mixer, beat together all pastry ingredients.
Form dough into a ball and wrap in plastic wrap. Place in fridge to chill.
Preheat oven to 350° F.
Grease 10-inch springform pan.
Roll out chilled dough (on a lightly floured surface) and place in bottom and up sides of pan.
Prick dough in several places with a fork.
FILLING
Place all the filling ingredients in either a blender or food processor (fitted with a metal chopping blade) and pulse about 10 times. Scrap down sides. Process a further 30 seconds until creamy.
Pour into pastry shell. Smooth top.
Bake for about 1 hour and 10 minutes or until a wooden toothpick, inserted about 2 inches from edge, comes out clean.
To minimize the top of the cake from 'cracking', let the cake cool in the oven with the door slightly opened.
When cooled, remove side of springform pan. For best flavor, place cake in fridge for several hours before serving.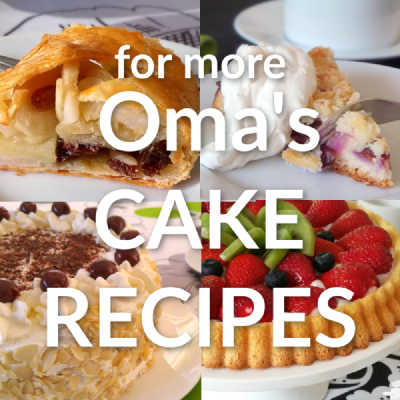 Leave a comment about this recipe or ask a question?
Pop right over to my private Facebook group, the Kaffeeklatschers. You'll find thousands of German foodies, all eager to help and to talk about all things German, especially these yummy foods. 
I pop in all the time as well, to chat and to answer questions. 
Meet with us around Oma's table, pull up a chair, grab a coffee and a piece of Apfelstrudel, and enjoy the visit.
*  *  *  *  *
Want nutritional information for a recipe?
Copy and paste the ingredient list and the number of servings into Calorie Count. 
It will give you an approximate calculation.

Need help doing conversions
between cups and grams or any such thing?
Use this site to give you all the different conversions for the different types of ingredients. 
---
---
Schwenkbraten recipe that has been a delish hit an alle familien & freunde... Total Approx. Time: Prep: 15 min. + Marinating 8 hrs min. + Grill: 15 min.

My Oma made this cake every Christmas. She iced it with a white frosting that ran down the sides. She decorated it with little silver balls (candy). It
---
Words to the Wise
"People who despise advice are seeking for trouble; those who respect a command will succeed."
Proverbs 13:13
---
❤️ Easy Cheesecake Recipe made Just like Oma
By
Oma Gerhild Fulson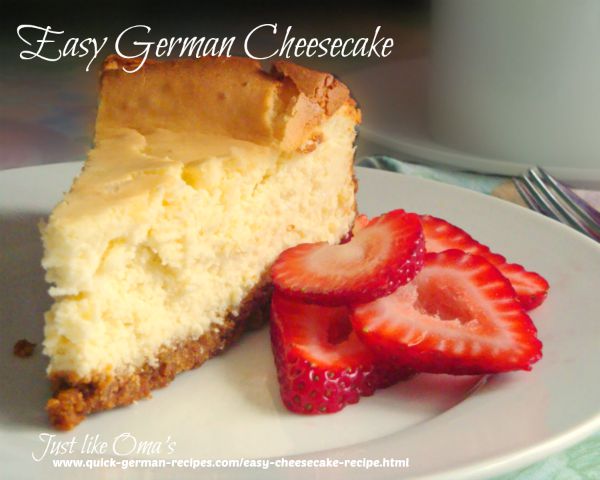 Here's an easy cheesecake recipe that makes great use of your mixer and blender. Normally using quark, this cake uses ricotta! Check out 100's of other quick German recipes here.
Ingredients:
flour,
sugar,
egg,
vanilla extract,
For the full recipe, scroll up ...