Oma's Weekday Salmon Casserole ~ Überbackener Lacks mit Spinat

➤ by Gerhild Fulson
This delicious Salmon Casserole with Spinach, akaÜberbackener Lacks mit Spinat, is so easy and healthy. A great party dish as well as a special weekday treat. This really is one of the easy ways to cook salmon.
This recipe looks long and complicated, but it really isn't. The nutmeg makes it unusual, but that's what makes it such a yummy German food. Top the dish with some dill and enjoy!
Being German, it uses cream, heavy cream that is. The recipe calls for whipping cream, but using 18% should be fine as well.

The casserole is great to make up early in the day of a party and pop it in the oven when you need it.
Cook the potatoes the day before (or use leftovers) to speed things up. Also, if you buy the cheese shredded, it will save you time. 
Spinach health benefits
Spinach has for sure started to become more and more popular for its health benefits. You can find it has become a very popular ingredient in smoothies now too! Why is this? 
Spinach has a high fiber content, which is remarkable for your body. It also contains next to no sugar, which is always a good sign for health reasons. 
Iron is an essential mineral, meaning you need to eat it because your body cannot produce it alone, and spinach is FULL of fiber! Iron is important to your body, as it brings oxygen to your body's tissues. 
Did you know that calcium is a molecule that sends healthy signals to your heart and nervous system? Another reason why spinach is such a beneficial vegetable is that it does indeed contain lots of calcium. This nutrient-rich veggie contains not only all of those essential nutrients, but many vitamins and minerals too, such as potassium, magnesium, and vitamin E. 
Needless to say, spinach will always be a wonderful addition to your diet, it's super lecker and super duper healthy! 
---
Looking for something a little more classic? Check out Oma's delicious salmon fillet recipe! A great one for dinner parties, or when you're searching for the perfect, quick, healthy dish to throw together for a cozy night of relaxing at home. 
Doesn't that look yummy!
Need that "all's good with the world" feeling? Comfort food will do that. Get your copy of Oma's German favorites in her Comfort Foods e-Cookbook.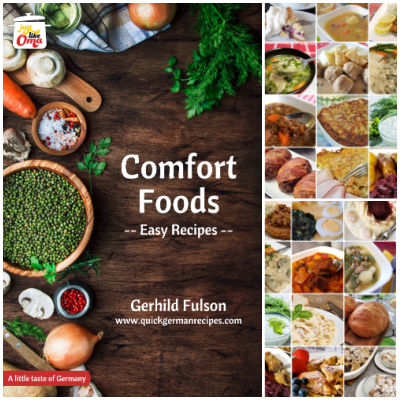 Take a peek at all Oma's eCookbooks. They make sharing your German heritage a delicious adventure!
Salmons health benefits
Is salmon good for you? Does it have any real health benefits, or did my parents just tell me that to get me to eat it as a kid?...
The truth is, salmon is excellent for you! In many ways, salmon includes minerals and vitamins that are considered to be 'essential' for the body to maintain a healthy life. 
They're called essentials because without getting these nutrients from ingesting food, your body cannot create them on its own. That's right, your body may be a wonderful machine but it needs your help too sometimes!
Salmon is rich in Omega 3, which in many cases is considered to be one of those essentials. Omega 3 is responsible for decreasing inflammation, improving cell function, and lowering blood pressure. 
Like lots of meats, salmon is incredibly high in protein, which is also considered an essential nutrient. Protein can help maintain muscles and strengthen bone health too.
The list can go on and on, salmon has many more important nutrients to it. Potassium, antioxidants, vitamin B, what a powerhouse salmon is!
What to serve with salmon casserole?
There's really no limit to what you can serve with your casserole. Anything goes with salmon! Some roasted asparagus perhaps, or potato dumplings and gravy. When it comes to sides, that's all in your hands, and up to your preference. 
But I can give you some suggestions of my very personal favorite sides that can be served alongside your yummy salmon casserole. 
Ready to make this salmon casserole?
Is the recipe below locked? Here's why. Unlock to see ALL the exclusive recipes on this site. Click here for help.
➤ As an Amazon Associate, I earn from qualifying purchases.

Oma's Salmon Casserole with Spinach
This delicious Salmon Casserole with Spinach, aka Überbackener Lacks mit Spinat, is so easy and healthy. A great party dish as well as a special weekday treat.

This recipe looks long and complicated, but it really isn't. The nutmeg makes it unusual, but that's what makes it so German. Top the dish with some dill and enjoy!
Prep Time


25 minutes


Cook Time


35 minutes


Total Time

60 minutes

Servings:

Makes 4 servings
Ingredients:
1 pound salmon fillets
2 tablespoons lemon juice
1 pound frozen spinach, thawed and well drained
1 onion, diced

1 tablespoon butter
2 garlic cloves, minced
1 tablespoon flour
1 cup cream
1 cup milk
2 large eggs
1½ pounds potatoes, cooked and thickly sliced
⅓ pound Emmental, grated
salt, pepper, nutmeg
Instructions:
Preheat oven to 400°F. Grease a 9×13-inch casserole dish.
Cut salmon into bite-size pieces and sprinkle with lemon juice, salt, and pepper.
In a frying pan, sauté onion in butter until translucent. Add garlic. Stir in flour and cook briefly.

Mix 1 cup cream and ¾ cup milk. Add to frying pan and whisk until smooth.
Add half the cheese to the sauce. Season with salt, pepper, and generous amount of nutmeg. Remove from heat.
Whisk eggs with remaining ¼ cup milk and stir into sauce.
Put potatoes in casserole. Spoon a bit of sauce over potatoes. Cover with spinach. Evenly spread salmon pieces over top.
Spoon remaining sauce over top. Sprinkle with remaining cheese.
Bake, uncovered, about 35 minutes. Cheese and sauce should be bubbly and salmon should flake when cut.
Notes/Hints:

Use Gouda or Swiss cheese.
If you make this ahead of time, put it in the fridge until it's time to bake. You will need to increase the baking time by about 10 minutes.
Use a casserole dish that is large and shallow rather than narrow and deep. It will allow the potatoes and spinach to heat up quicker.
Use kale instead of spinach.
For more easy dishes, try these easy salmon fillet recipes.
*  *  *  *  *

Unless otherwise noted recipe, images and content © Just like Oma | www.quick-german-recipes.com

Leave a comment about this recipe or ask a question?

Pop right over to my private Facebook group, the Kaffeeklatschers. You'll find thousands of German foodies, all eager to help and to talk about all things German, especially these yummy foods. 
Meet with us around Oma's table, pull up a chair, grab a coffee and a piece of Apfelstrudel, and enjoy the visit.

Make this easy German Mulled Wine recipe to enjoy as a traditional German Christmas drink. It'll make you think you're back in Germany at the wonderful Christmas markets.

Wurstsalat ... a traditional meat salad from southern Germany. In the north, it's Fleischsalat. Both are wonderfully different and utterly delicious! Perfect party pairing.
*  *  *  *  *
PIN to SAVE this recipe to your Pinterest board!
And let's be friends on Pinterest!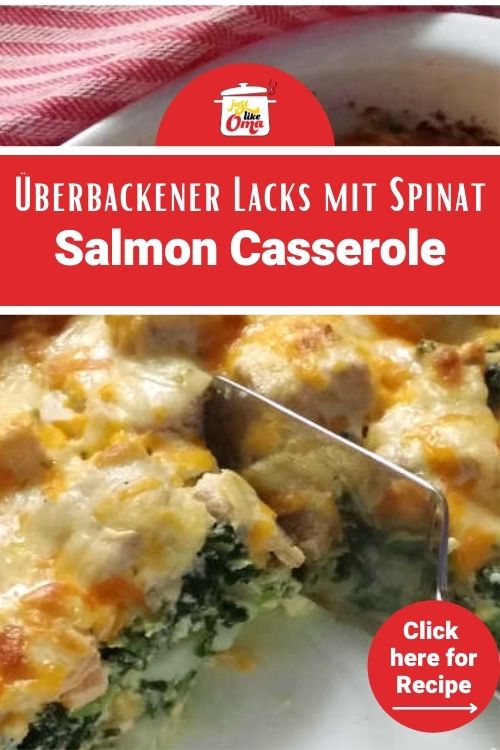 ---
Oma's Weekday Salmon Casserole ~ Überbackener Lacks mit Spinat
By
Oma Gerhild Fulson
Salmon Casserole with Spinach: delicious, healthy, and easy! Check out this great German recipe, Überbackener Lacks mit Spinat, that looks pretty enough for dinner parties.
Ingredients:
salmon fillets,
spinach,
lemon juice,
onion,
butter,
garlic,
flour,
cream,
milk,
potatoes,
cheese,
seasonings,
eggs,
For the full recipe, scroll up ...
Words to the Wise
"Those who shut their ears to the cries of the poor will be ignored in their own time of need."
Proverbs 21:13 (NLT)